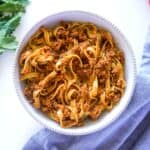 Print
Best Red Lentil Vegan Bolognese
Rich and hearty, this delicious red lentil vegan bolognese tastes like the original, no joke. Made with healthy vegetables such as mushrooms, carrots, celery, and walnuts and finished with flavorsome bolognese herbs. The whole dish tastes almost exactly the same as an authentic bolognese yet it is healthy, vegan, and loved by babies, kids, and adults. Even my husband, who adores the original bolognese, now prefers this as it makes him feel full but light.
Bolognese herbs and spices
salt

omit for babies under 1

pepper

1

teaspoon

dried basil

1

teaspoon

dried oregano

1

teaspoon

mixed Italian herbs

optional (thyme, marjoram, sage, rosemary)

½

tsp

chilli flakes

optional
Prepare the first veggie mixture. Peel and slice the onions into larger chunks. Wash and slice the mushrooms into larger pieces. Put the onions and mushrooms into a blender, add the walnuts and blend until you have tiny bits. Transfer to a bowl.

Prepare the second veggie mixture. Wash and peel the carrots if necessary and cut into chunks. Wash the celery sticks and cut into chunks. Put the carrots and celery sticks into a blender and blend until you have tiny bits.

Heat the first vegetable mixture. Put the olive oil into a deeper pan or a pot and heat over medium heat. Add the onion-mushroom-walnut mixture to the pan/pot and simmer for about 5 minutes making sure to scrape the bottom so that it doesn't burn. If needed add about ¼ cup (50 ml) water.

Add the second vegetable mixture. After about 5 minutes add the carrot-celery mixture and sauté.

Add the rest of the ingredients. Add the tomato sauce, red lentils and water and bring to a boil. Add the spices (salt, pepper, optional sweetener and spices) and lower the heat.

Cook. Cover and simmer for about 30 minutes over low heat.

Finalize. After about 30 minutes check if the sauce has thickened and if needed remove the lid and simmer without it for another 5 minutes until the water has evaporated and until you have reached the desired thickness of your sauce.

Serve with wholewheat spaghetti, fussili or any kind of pasta you have on hand. For serving options based on age, see below.
Notes:
Sauce thickness: If the vegan bolognese sauce is not thick enough for you after it has been cooking for about 30 minutes you can reduce some more by removing the lid and continuing to simmer.
Serving baby-led weaning: serve with wholewheat spaghetti and let baby grab by themselves. You will need a good full arms bib or have the baby just in a diaper as it will get messy. Serve with cucumber spears that the baby can easily grab.
Serve to 9 months old + baby: to practice pincer grasp use penne rather than spaghetti because it is easier to cut up into bite-size pieces and for the baby to pick up. Coat in a small amount of bolognese so it is easy to pick up and serve with some cucumber and cherry tomatoes cut up the size of a pinky fingernail. 
Serve to toddlers and picky eaters: for toddlers serve the same as for parents with some cut-up cucumber on the side and give them a fork that they can practice using. For picky eaters, serve the plain pasta on one side, the bolognese mixture on the other, and the cucumber separate
If making for adults and older kids: you can add more salt and more chili flakes if needed. 
Serving:
1
g
|
Calories:
250
kcal
|
Carbohydrates:
34
g
|
Protein:
13
g
|
Fat:
9
g
|
Saturated Fat:
1
g
|
Polyunsaturated Fat:
6
g
|
Monounsaturated Fat:
1
g
|
Sodium:
633
mg
|
Potassium:
1139
mg
|
Fiber:
13
g
|
Sugar:
11
g
|
Vitamin A:
10744
IU
|
Vitamin C:
17
mg
|
Calcium:
87
mg
|
Iron:
4
mg