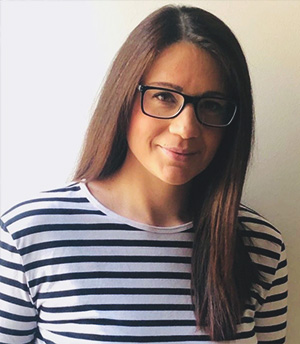 Dora is the scientific contributor to Creative Nourish from the early days.

She started studying nutrition almost 15 years ago at the Faculty
for Food Technology and Biotechnology at the University of
Zagreb, Croatia Since then she has earned her BSc, MSc and PhD in Nutritional Science in 2018.
Throughout that time, she has continually worked to advance the
conversation about Nutrition, improving access to information,
and educating the Nutritional community.
From 2011 to 2014, she was the President of the Croatian Association of Nutritionists and established an annual international conference for nutritionists which has been held since 2013, and for which she continues to work as a member of the steering committee.

Since 2014 she has also been a member of the Board of Supervisors of the Croatian Association of Nutritionists.
Since completing her studies she has also served as a public health advisor in Croatia and privately in clinical and athlete nutrition:
♦ Member of a task force focused on diabetes type II nutrition
♦ Advisor on healthy eating habits for kindergarten children and their parents
♦ Advisor for implementation of healthy eating habits in school children
♦ Nutritional advisor for pregnant and lactating women
♦ Member of the committee developing nutritional guidelines for infants and toddlers
♦ Member of task force for implementation of Federation of European Nutrition Societies "Sustainable food-based dietary guidelines" 2017-2020
♦ Member of the task force within the Federation of European Nutrition Societies for the improvement of concepts and methodologies in Nutrition
♦ Individual nutritional consultant and meal plans for overweight and obese adults, children, as well as for athletes