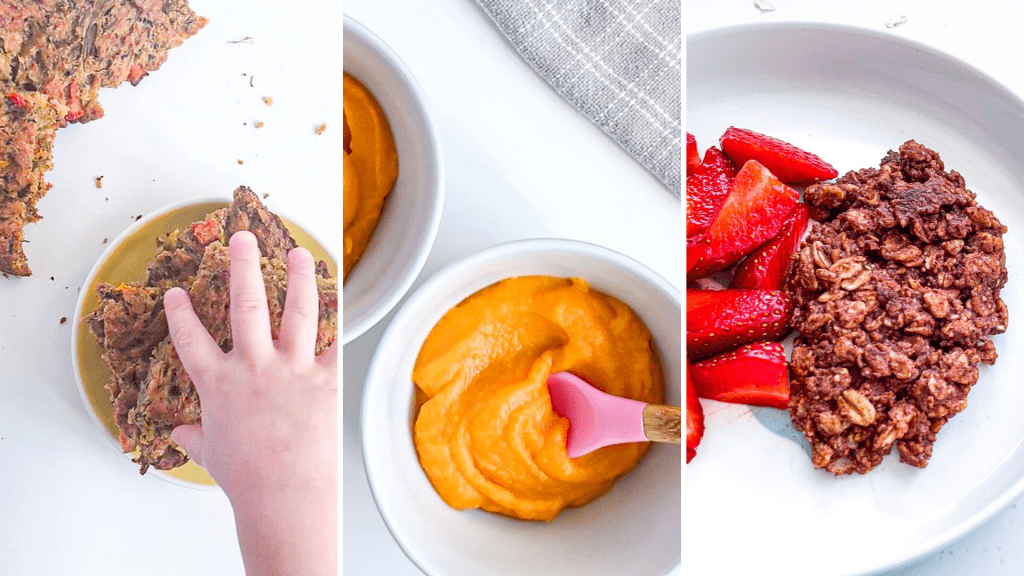 Creative Nourish is for all the parents who care about their children's nutrition. We aren't chefs, but we want our kids to eat real, whole foods. Food that tastes good, gives their growing bodies everything they need, and doesn't take forever to prepare.
Some of our kids start with purees and some are baby-led weaned. Some are picky-eaters and some eat everything (assuming these mythical children do in fact exist). But no matter the preference, we believe feeding them should be simple.
At Creative Nourish you'll find:
So if weaning your baby, or feeding your children has left you feeling tired, confused or overwhelmed, then we're here to tell you that you are not alone!
We are parents too
And like any parent these days, after my son was born, I ended up spending way too much of my (limited) free time online, researching what to feed him. I found plenty information on how (baby-led, mash, purees etc), but information on what to serve seemed conflicting.
With the huge amount of information out there, it started to feel like you need a PhD in Nutritional Science just to understand it all and put together a sensible meal plan. Lucky for me, my sister just so happened to have one of those.
So Creative Nourish became a passion project for us both. To empower parents to feel in control of their children's nutrition. To provide simple guidelines and help parents like us offer healthy food, without having to stress about every bite they eat (or the ones they don't).
We believe:
In the big picture: balance is key so we don't stress about snack foods, store-bought, or sugar
You are in charge of what you serve, your child is in charge of what they eat
In trusting our children to know when they've had enough to eat
Healthy and tasty are not 2 different things
Feeding the whole family shouldn't be hard and shouldn't take all day
Science and research matters
Who we are
Ana
Ana was the creative spark of Creative Nourish. Her passion for food developed at age 23 when she realized she could cure her adult acne with a radical change in diet. From then on, she was hooked on understanding everything she ate.
After spending most of her adult life in London and New York, she couldn't believe how many people relied on ready-made meals and poor quality food, while also living on supplements.
When her son was born she knew she wanted him to feed him the way she ate growing up – with whole foods, homemade cooking and locally sourced produce. Overall, she wanted to put her psychology degree to use to help him build a healthy all-round relationship with food.
Ana currently lives in London with her husband Mike, 3-year-old son Max, and a daughter on the way.
Dora
Dora is the nutritional and scientific brain behind Creative Nourish. She's been passionate about food ever since baking her first cake at around 12 years old and has been studying food ever since.
She quickly became interested in understanding how food affects our health and ultimately to understand how we can heal our bodies with food. She started studying nutrition over 15 years ago and since then has earned multiple degrees, including her PhD in Nutritional Science in 2018.
Throughout this time, she has also been working to advance our understanding of nutrition, advising on numerous European task forces that aim to improve the way nutritional science is applied, including as the former president of the Association of Nutritionists in her home county of Croatia.
Dora currently lives in Croatia with her husband Goran, 2-year-old son Andrej, and 2-month-old daughter Karla.
Get in touch!
We would love to hear from you. Let us know what makes your life difficult and how we can help you. Follow us on Instagram and follow us on Pinterest or just contact us here.
It takes a village! 🙂
Ana & Dora