Making classics more nutritious
Mac and cheese is such a classic, right? But when you look at the ingredients, and more importantly the nutrient content, there's just a whole lot of simple carbs and saturated fats. But with a few simple changes, we can make it a bit more nutrient-dense, and yet just as tasty as the classic dish that we all so adore.
Cauliflower Mac and Cheese Nutritional stuff
The main addition to our twist on mac and cheese is cauliflower. It's a surprisingly versatile vegetable that you can use for loads of different dishes (pizza crust, cauliflower rice, mashed "potatoes") – stay tuned for lots more cauliflower recipes from us in future!
Cauliflower is a cruciferous vegetable which like many others (e.g. broccoli) contains specific compounds called "glucosinolates" which do a great deal of good stuff for our body. They can be beneficial to the immune, cardiovascular and digestive systems and some research also shows that they help the detoxification process in the liver. Cauliflower also has high amounts of vitamins B6, C and K and is a good source of folate and fiber.
For the carbohydrate (and pasta) component of the dish we left the traditional "white" macaroni pasta since the classic dish just wouldn't be the same without it. And nutritional science does not promote restrictions of any kind but rather a balanced, diverse diet so white pasta for lunch or dinner once in a while won't do any harm.
Fats come from butter, goat's cheese, and milk if you choose the full-fat one which you really should if this dish is going to be served to toddlers. Although butter contains saturated fat it is also a good dairy product that can and should be used once in a while in all diets (if you are not dairy-free due to any restrictions of course).
The goat's cheese and milk, apart from being great fat sources, also contain protein and calcium.
Cauliflower Mac and Cheese Preparation
Although we have chosen the classic macaroni white pasta you can, of course, choose any other of your liking (shape, size or ingredient). But keep in mind that a hollow pasta (like macaroni or penne) will hold more of the cheesy cauliflower sauce and make each bite that bit tastier. The key when cooking the pasta is not to overcook it initially or it will be overly soft after it comes out of the oven.
Instead of butter you can use other kinds of fat or oil, and same goes for goat's cheese – other hard or semi-hard cheeses will do the trick.
If you prefer not to use milk, you probably want to avoid substituting with any plant-based milks as these are not fatty and don't provide the right consistency or taste.
Finally, when cooking in the oven, you can choose a larger, flatter dish if you want a larger surface area on top to get nice and brown.
Let us know in the comments below if you have tried this recipe and what you think!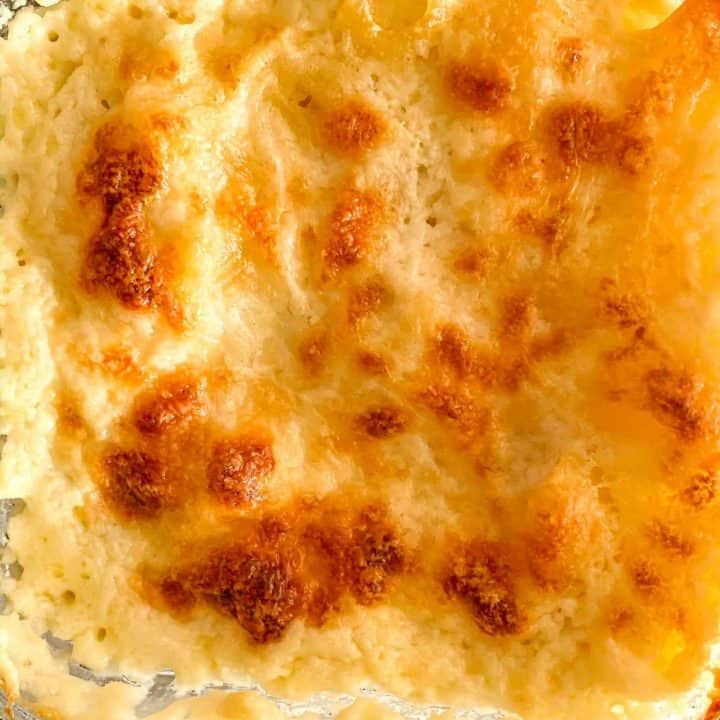 Cauliflower Mac and Cheese
A nutrient-dense twist on a classic dish that we've always loved.
Ingredients
½

cup

macaroni pasta

1

cup

cauliflower florets

2

tablespoon

butter

½

cup

milk

1

garlic clove

1

tbsp

goat's cheese
Instructions
Preheat the oven to 200°C / 390°F

Wash and cut the cauliflower florets

Boil the cauliflower florets in a pot of water for ~10 mins

Boil the pasta in a pot of water until cooked (but not overly soft)

Once the cauliflower is cooked, drain the water and combine the cauliflower, butter, garlic, and milk in a blender and blend until a smooth sauce

Mix the sauce with the cooked pasta, place in a small baking dish and top with goat's cheese

Bake in the oven for ~20 mins or until the top has browned slightly
Video
Nutrition