By the time your baby is 6 months old, it's very likely that their diet is including more and more (semi)solid foods. Around 6 months, exclusive breastfeeding often no longer meets your baby's calorie and nutrient requirements for growth and development, and they may be showing visible signs of being ready to try new things.
Congratulations and good luck – your child is ready for a big next step!
---
Signs of Readiness
Mouthing of hands and toys
Ability to sit up straight in a high chair (with minimal support)
Reaching for your food while you're eating
---
Physiological Development
By 4 Months
Gut closure – tight junctions between the gut epithelial cells are less permeable to antigens (the digestive system is developed enough to handle solid foods)
Immune system matures and can differentiate between good and bad antigens
4-6 Months
Sufficient digestive enzymes to digest solid foods
Kidneys are developed enough to tolerate protein intake
Developed insulin production in response to carbohydrates
Pancreatic amylase (to digest starch) reaches adult levels
Sucking movement refined
Chewing movements developing
6-8 Months
Chewing ability more developed
Good palmar grasping
Pincer movement developing
Ability to sit with minimal support
9-12 Months
Sitting without support
Good pincer grasping
---
Introducing Solids
There's no consensus on the best food for your baby to start with – this will often be influenced by culture, seasonality/availability of foods and even national guidelines.
The latest research, conducted in 2017, says that it doesn't necessarily matter what order foods are introduced. However, it is a good idea to offer common allergens (e.g. strawberries, peanuts) sooner rather than later. Choosing simple, nutrient-dense foods will always be a good place to start though.
Starting Out
New foods should be introduced one at a time. When your baby first starts eating solids, it's best to give each new food around 3 days before adding new food. This way, any allergies or intolerances will be easy to identify.
After a month or so, as your baby adapts to regularly processing solids, new foods can be introduced every day, but always with only one each day in case of any adverse reactions.
Frequency
When just starting out on solids, breastmilk/formula will still be providing everything your baby needs from both a calorie and nutritional standpoint. Solids should be introduced once or twice a day so your baby can get used to eating. At this stage, it doesn't matter if they only want a single bite or much more.
Gradually you'll introduce more and more solids into your baby's diet as they reduce their breastfeeding/formula consumption and start to rely on real food.If you need ideas, check out our 6 month old sample meal plan and recipes.
---
Food Textures
Learning to eat is a huge contributor to oral-motor development (the ability to use the lips, tongue, jaw etc.), which also impacts speech. The texture of the food they eat affects the way babies use their mouths, in turn impacting their development.
Babies make a big leap in their oral-motor skills around 6 to 10 months, making this a good time to introduce more textured foods if you haven't already. Waiting too long can result in aversions to more "challenging" solid foods later on.
There's no problem starting with smooth purees instead of baby-led weaning, but your baby will likely be ready for more textured food before you realize it!
---
Knowing When Your Baby's Full
In the early weeks and months of life, babies aren't very good at recognizing when they are full. Your shirt covered in spit-up milk is evidence enough. But after a few months, healthy babies develop an innate sense of satiety and are very good at regulating the amount they eat.
Because of this, it's important to recognize the signs that your baby is full and to stop feeding them when they are. Babies will inherently try to live up to the expectations you have for them. If that means finishing the arbitrary amount of food on their plate, then their inbuilt sense of self-regulation will start to be chipped away.
Just like you, some days your baby will want to eat more, and others not so much. Trying to shove another spoonful of food in their mouth at this age will hurt you both in the long run. Despite the mess, allowing your baby to feed themselves also helps with self-regulation. Just be patient!
Signs of Satiety
Some of these may be obvious, but it's still amazing how often they can be ignored. In general, babies do the same things as adults when they don't want anymore to eat:
Closing the mouth
Spoon or nipple rejection
Slower bites
Pushing plates/utensils away
Throwing food on the floor
Blocking the mouth with hands
Keeping mouth closed
Shaking the head as if to say "no"
Restlessness
Drowsiness
---
New Flavors
Infants have an innate preference for sweet and salty foods and this affinity remains until later in the child's growth and development. They will gladly accept sweet and salty foods but avoid anything bitter or sour. Unfortunately, vegetables don't always fall into that category.
But by offering bitter and sour foods more than once (studies show it can take between 8 and 15 times), you can familiarize them with the taste. This process may be accelerated if these foods are given in the same meal as the ones that the child already knows and accepts.
---
Energy and Nutrient Requirements
Check out our meal plans and what they are based on for details on the requirements for a 6-12-month-old.
Remember that if your child is gaining weight significantly faster or slower than expected, you should make sure to speak to your pediatrician.
---
Foods to Limit Before 12 Months
Cow's milk – digestive system not adapted yet
Low-fat milk and dairy products – cause excessive intake of protein and low intake of essential fats
Honey – can cause botulism
Salt – kidney's not developed enough yet
Fruit juices – high sugar content
Unpasteurized products – can contain dangerous bacteria
Smoked & cured meats / processed food – excessive salt intake
High mercury fish (shark, fresh tuna, sea bass, halibut, grouper) – excessive intake of mercury
Chocolate, especially dark – high caffeine content
---
Choking Hazards
Since molars are usually not developed until at least 12 months, it's best to avoid foods that don't dissolve in the mouth or cannot be mashed with the gums (or that you can't mash between your tongue and palate).
While your child is learning how to eat, be aware of the following common choking hazards.
| | |
| --- | --- |
| Food | How to prepare to avoid choking |
| Round food (grapes, blueberries, cherry tomatoes) | Cook or cut into halves/quarters (around the size of the nail on your baby's pinky finger) |
| Nuts | Should be ground |
| Raw, hard vegetables (e.g. carrot) | Cook, steam, grill to the point that you can mash them with your forefinger and thumb or between your tongue and palate |
| Chunks of chewy foods (e.g. nut butters) | Mix into meals or spread thinly |
| Chunks of meat or cheese | Chop finely to the size of the nail on your baby's pinky finger |
---
Food for Thought
It can feel scary when you first introduce solids. But it's helpful to know that it's pretty uncommon for children to choke. They will gag on their food though. This is a normal part of developing the motor functions to eat. But it is not the same as choking. Things like grapes are the exception though as they are perfectly shaped to fit in the throat – so cut them up!
Even so, it always helps to be prepared, so it's worth looking for local infant CPR classes – the vast majority of people will never need them, but if nothing else, at least you can feel confident you know what to do if necessary.
No matter what though, always keep an eye on your child while they are eating. There is no substitute for proper supervision!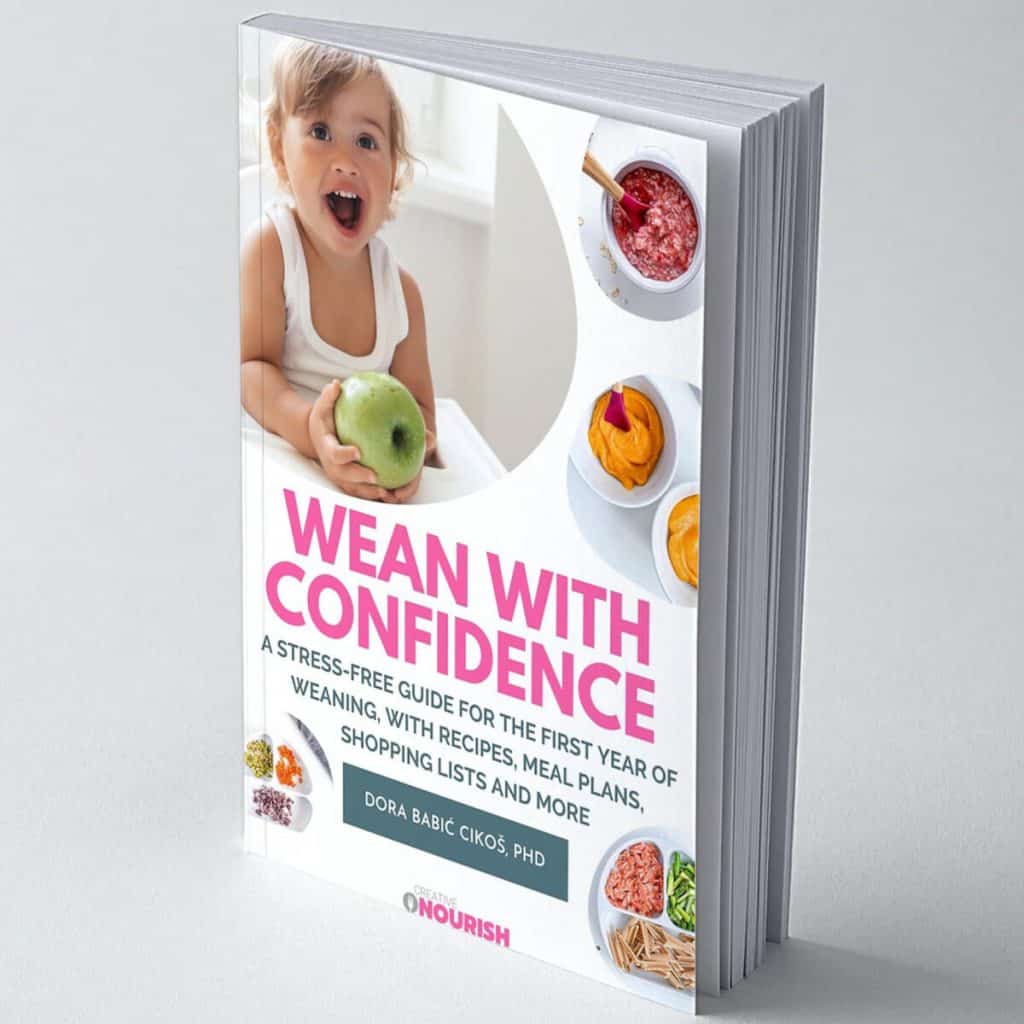 Wean With Confidence eBOOK
This is so much more than a recipe book. This is a full weaning plan written by a PhD nutritionist for your child's entire first year, based on the latest science. This will take away the mental load of wondering if you're feeding your child the right food. It's what we wish we had when we were weaning our own children.