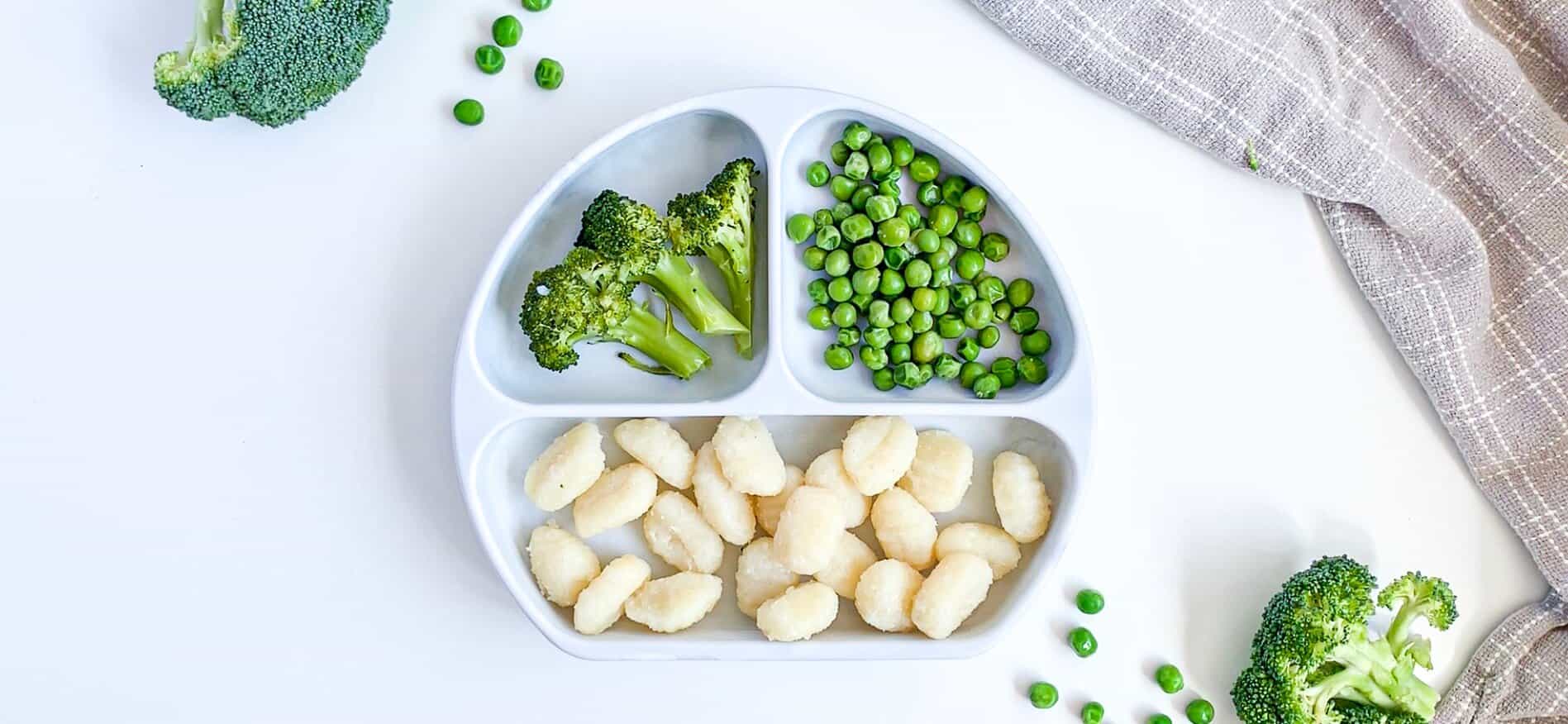 Single pot meals are the best
Wondering how to add more vegetables and legumes to a baby's meal? Or how to introduce new food that you're worried will be met with resistance? Try this meal, combining healthy, tasty greens with gnocchi made from potato and flour - here comes the Broccoli Pea Gnocchi.
With a little goats cheese grated on top, it makes a delicious meal that your baby will love and that barely takes you more than 5 minutes to prep.
Nutritional stuff
Gnocchi is made from potato and flour, providing a great source of complex carbohydrates to keep your baby full for longer after they've eaten. As an added bonus, potatoes have a surprising amount of vitamin C as well.
Broccoli is high in antioxidants and anti-inflammatories and, in particular, lots of cancer-fighting nutrients. It also contains quite a significant amount of vitamin C and chromium.
Tip: enzymes that activate antioxidants in broccoli are released once you cut the florets in halves/quarters. So leaving the cut-up broccoli for a couple of minutes prior to cooking can actually be nutritionally beneficial.
Green peas are high in starch and simple carbs so they can provide some fast-acting energy as well as a longer-lasting feeling of fullness. They also contain a high range of antioxidants that have numerous beneficial effects on the body especially in lowering the risk of chronic diseases.
Goats cheese is a great source of calcium and phosphorus. It also has a better fat profile (more "good" fats) compared to cow's cheese and is a great cow's cheese substitute especially for infants under the age of 1.
Preparation
This meal is simple to prepare, with everything going into the same pot to boil. It's a nutritious meal, full of energy, and perfect to help your 11 month old to continue developing their pincer grasp.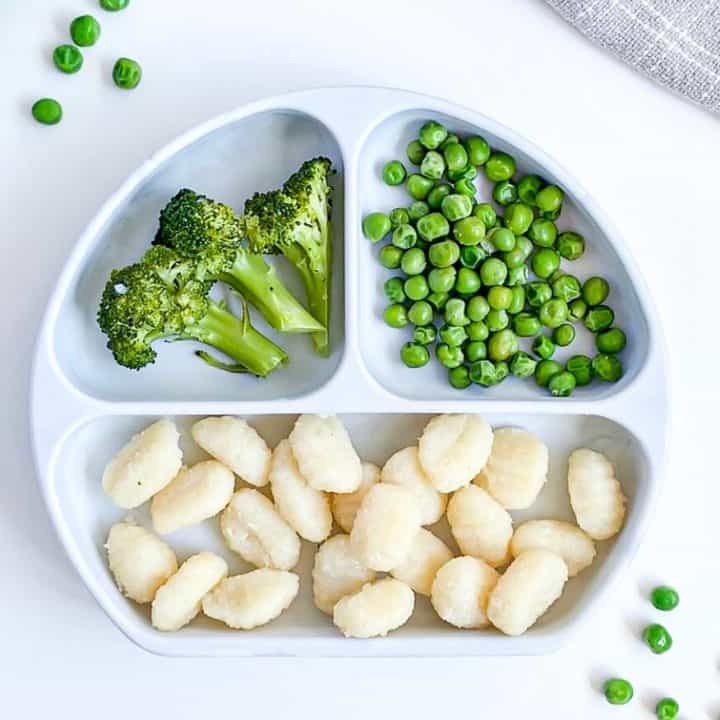 Broccoli Pea Gnocchi
1 pot, 12 minutes of cooking, loads of nutrients to keep baby healthy and growing, this Broccoli Pea Gnocchi is great recipe.
Ingredients
¾

cup

broccoli florets

½

cup

peas

1

cup

gnocchi

2 ½

tablespoon

grated medium hard goats cheese
Instructions
Wash and slice the broccoli florets

Bring the water to boil in a pot

Once boiling, add the broccoli florets and peas and cook for about 5 minutes

After 5 minutes add the gnocchi and cook until the gnocchi float on the surface of the water

Once done, drain the water and allow to cool for 5 minutes

Put in a bowl and sprinkle with goat cheese
Video
Nutrition