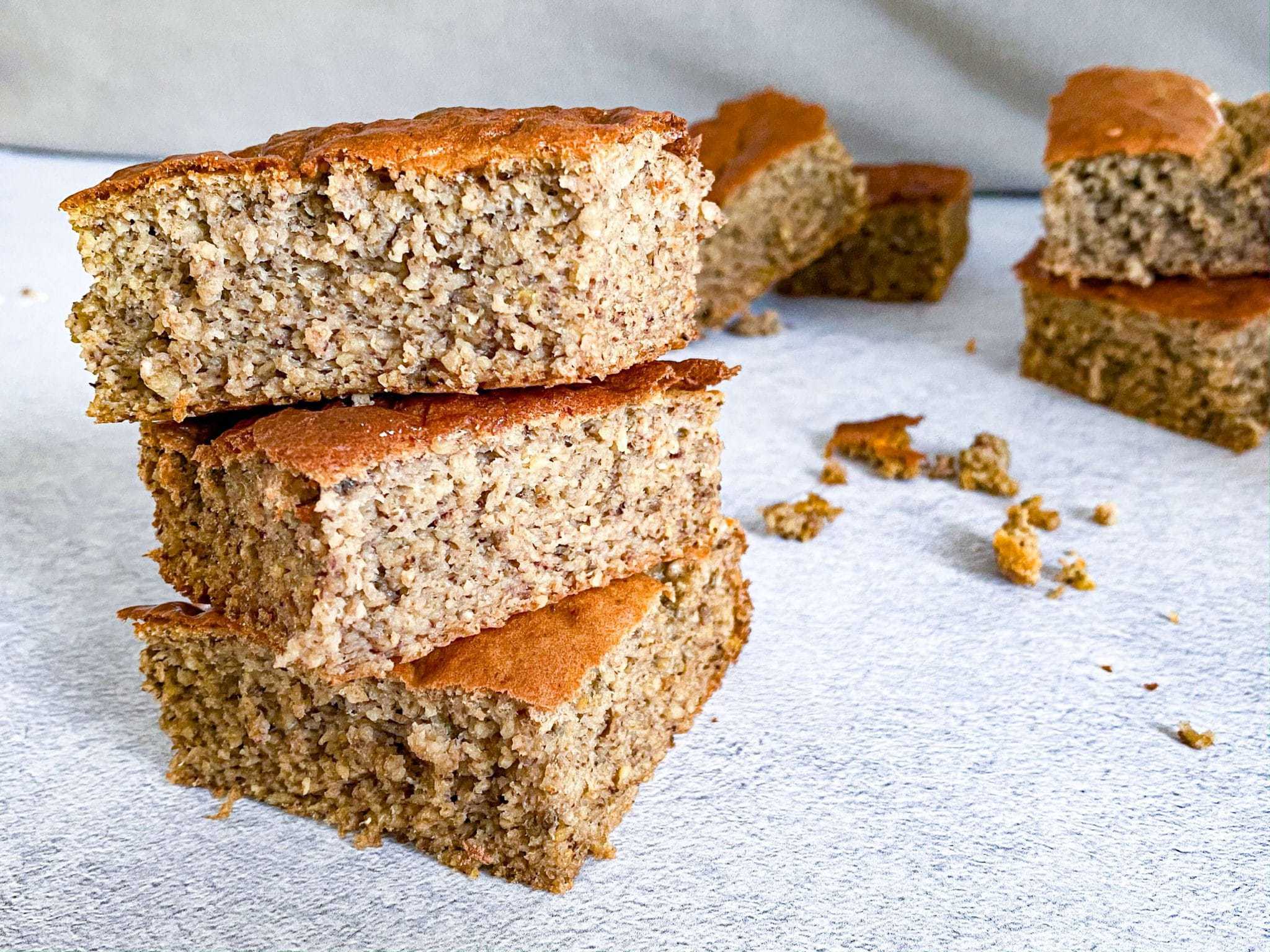 A Tasty And Healthy Dessert... or even Breakfast
With the holiday season ongoing, even though both Christmas and New Year have passed, we thought it would be nice to round up our seasonal recipes with an oat cake. It just wouldn't be right to exclude our favorite food (in case you haven't noticed, we love oats!) from our favorite holiday so our Oat Cake is here to kick-off 2020.
It's delicious, packed full of nutrients, and can easily be made dairy-free. Perfect for dessert... or breakfast... or an afternoon snack... or anytime really.
A great addition to any list of sugar free cake recipes.
Oat Cake Nutritional Stuff
Oats are a complex carbohydrate with slightly higher fat content than other grains making them all the more special when using in the kitchen. They also have a high amount of fiber, leading to a better digestive system workload as well as cardiovascular support.
Baked recipes that contain whole grains such as oat often come with bananas. They provide a sweet taste as well as creaminess and texture. Bananas are also abundant in B vitamins and vitamin C as well as the minerals potassium and copper.
Eggs are also a great source of B vitamins.
Whole animal-based milk apart from being a good protein and fat source also provides significant amounts of calcium.
Chia seeds act as an agent to additionally bind the ingredients but also because of their antioxidant and fiber content.
Oat Cake Preparation Tips
When choosing eggs, aim for organic or pasture-raised to make sure you get the best quality. If you don't have chia seeds, flaxseed makes a good substitute.
For a dairy-free option, you can also substitute the milk for a plant-based alternative.
When serving, feel free to drizzle the cake with peanut butter or add some blueberries to make it a little extra!
Sugar-free Oat Cake for Babies
A sugar-free oat cake, packed with nutrients. A perfect snack for babies.
Ingredients
3

bananas

1½

cup

oats

6

eggs

½

cup

milk

3

teaspoon

chia seeds

1

teaspoon

baking soda

1

teaspoon

baking powder
Instructions
Preheat oven to 180ºC / 360ºF

Combine all ingredients in a food processor and blend until smooth

Pour mixture into a greased baking tray or cake tin

Bake for 15 mins or until fully cooked (a knife inserted into the cake should come out clean)

Leave to cool before serving

Drizzle some peanut butter on top if desired
Video
Nutrition
Calories:
107
kcal
Carbohydrates:
15
g
Protein:
5
g
Fat:
3
g
Saturated Fat:
1
g
Polyunsaturated Fat:
1
g
Monounsaturated Fat:
1
g
Trans Fat:
1
g
Cholesterol:
83
mg
Sodium:
163
mg
Potassium:
190
mg
Fiber:
2
g
Sugar:
4
g
Vitamin A:
155
IU
Vitamin C:
3
mg
Calcium:
56
mg
Iron:
1
mg