These ABC muffins with apples, bananas and carrots are the perfect muffins for baby-led weaning. Tasty, nutritious and naturally sweetened.
This recipe was inspired by Walnut Banana Bread Muffins (Dairy-Free), Blueberry Apple Hazelnut Muffins, Best Healthy Snack Ideas For Toddlers and 16 Easy Healthy Ideas For Toddler Breakfast.
Jump to:
Apple Banana Carrot Muffins
The name ABC muffins comes from the fact that the muffins contain apples, banana and carrots. Making them not only a great baby muffin recipe but also a great recipe for a school snack or even and afternoon snack when the older kids get home. They fit perfectly into kids lunch boxes and can easily replace regular muffins. Especially store-bought ones. These ABC muffins are not only tasty but because they are naturally sweetened, they fall under the category of healthy baby muffins. That the whole family can enjoy.
Ingredients For ABC Muffin Recipe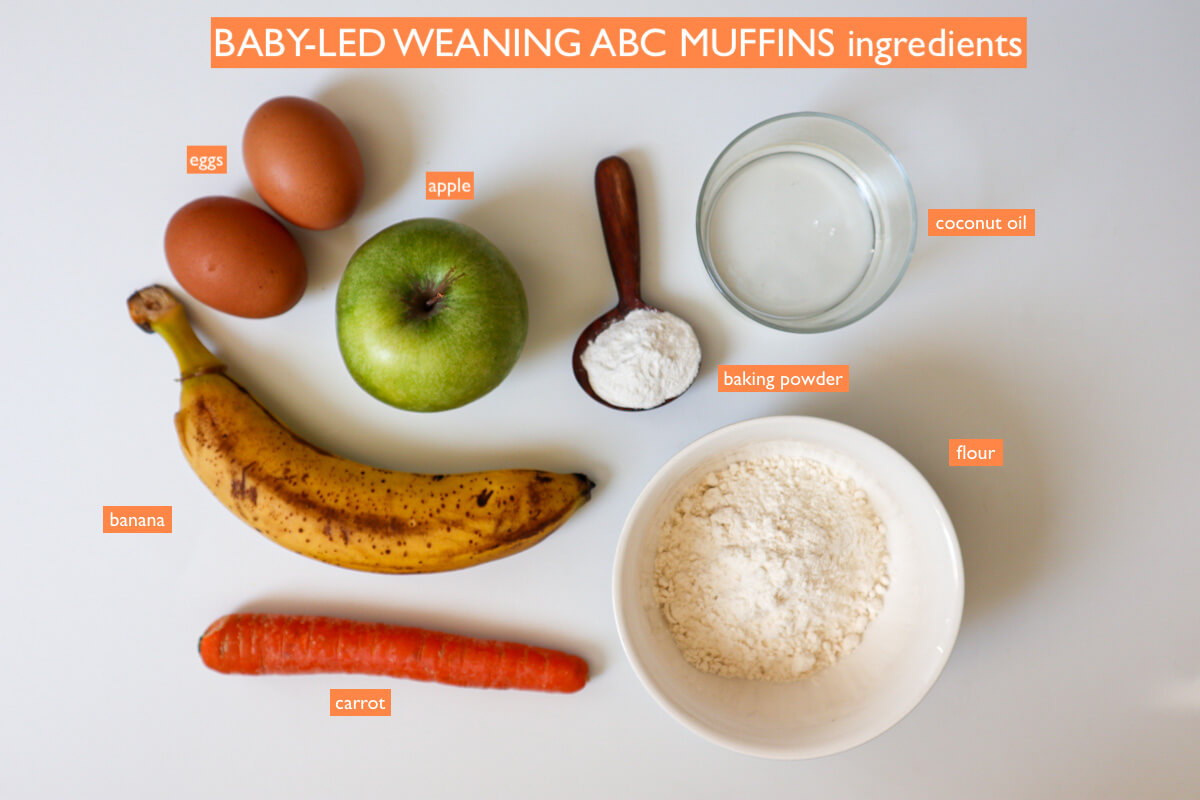 To make this delicious ABC muffins recipe, you will need the following ingredients:
apples: to ensure that these muffins really are naturally sweet, make sure you are buying sweet apples such as gala apples (red ones). Avoid green apples (Granny Smith Apples) as they are pretty sour and the ABC muffins would not taste as sweet. Another recommendation is to try and ensure you are getting organically grown apples. If not, make sure to peel the skin before use. 
banana: similarly to apples, to make sure the sweet taste of the muffins is really brought out, make sure your bananas are overripe (almost completely dark on the outside) or at least ripe 
carrots: I recommend always going for organically grown carrots. In that case you can leave the skin on which will ensure more nutrients and sweetness in the muffins. If you don't have organic carrots then do peel of the skin
eggs: as usual, organic eggs or free-range ones would be my choice
coconut oil: coconut oil is my go-to oil and fat in baked recipes and this ABC muffin recipe is no different
whole wheat flour: although you can use regular white flour as well, I would suggest using whole wheat flour just because it has slightly more nutrients than white one
baking powder: to ensure that the muffins raise sufficiently to actually be called muffins, you need a bit of baking powder as a leavening agent but you can easily replace with baking soda
How To Make Apple Banana Carrot Muffins - Step-by-Step 
To make this ABC muffins recipe, follow the below instructions step-by-step: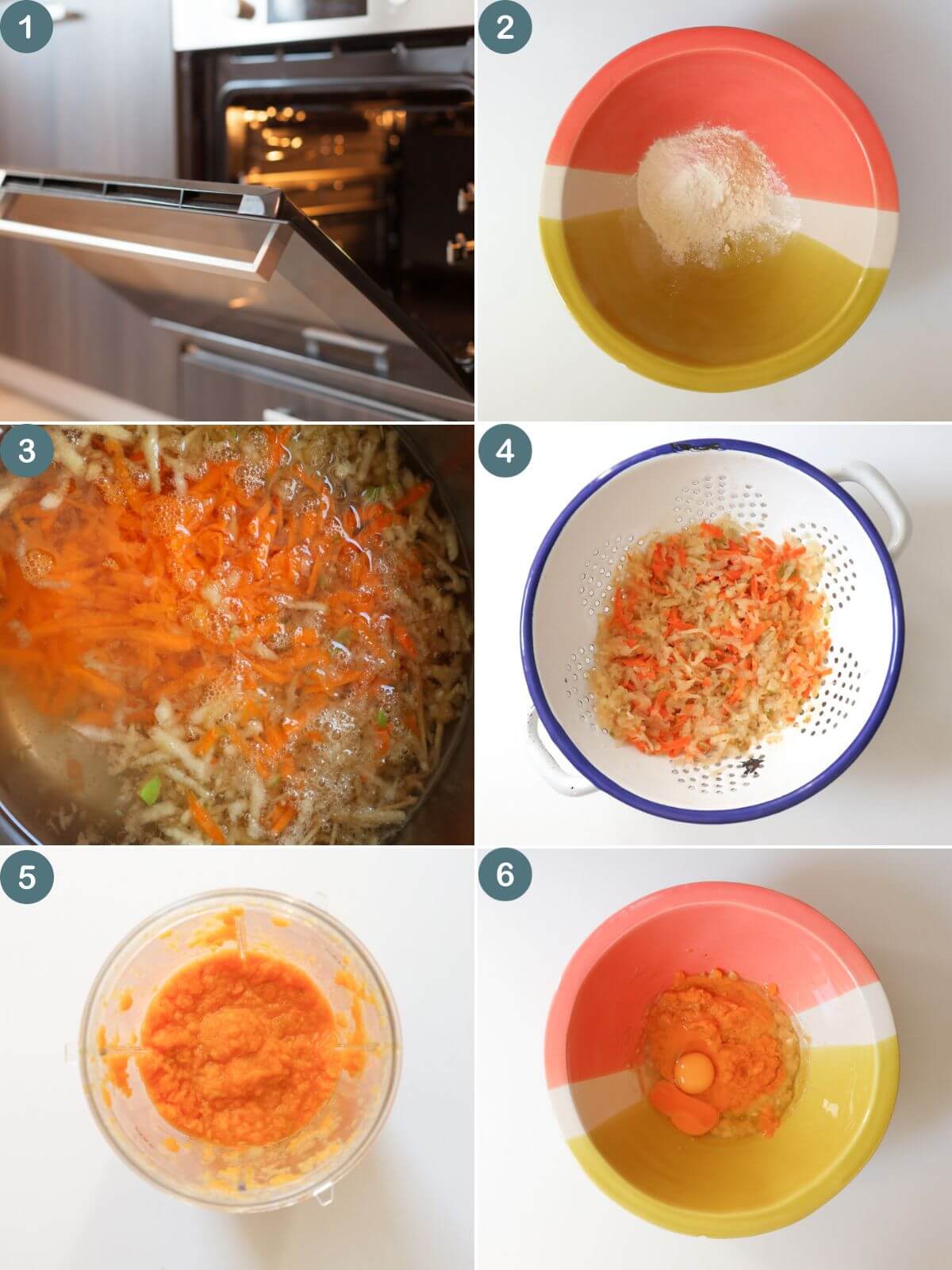 1. Preheat the oven to 180 degrees Celsius / 350 degrees Fahrenheit and line the muffin pan with muffin cups if you want. You don't have to if you are using a silicone muffin pan.  
2. In a large mixing bowl, combine the dry ingredients. 
3. Wash the apple and carrot and if necessary peel them. Grate the apple and carrot or cut into smaller pieces and put into a pot with water. Allow to come to a boil and cook for about 10 minutes until soft. 
4. Now drain the apple and carrot.
5. Puree the apple and carrot in a blender or food processor. 
6. In a large bowl add the apple and carrot puree, mashed banana, eggs and coconut oil.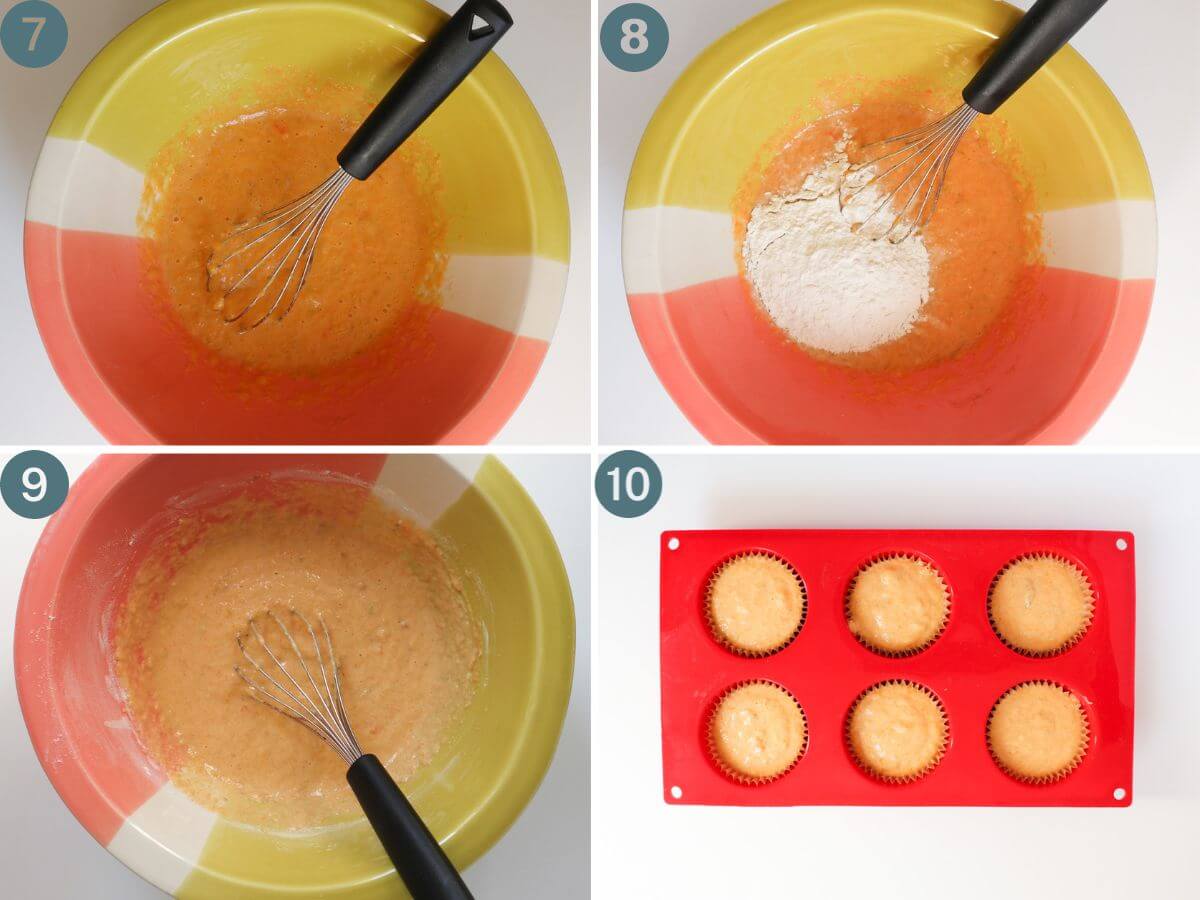 7. Mix the wet ingredients well.
8. Add the dry ingredients to the wet ingredient.
9. Gently mix with a silicone spatula or whisk. 
10. Now fill the muffin cups until they are about ¾ full and bake for about 20-25 minutes. 
11. Once done, take out of the oven and leave for a few minutes in the muffin tin. They take the muffin cups out of the muffin tin and allow to cool on a wire rack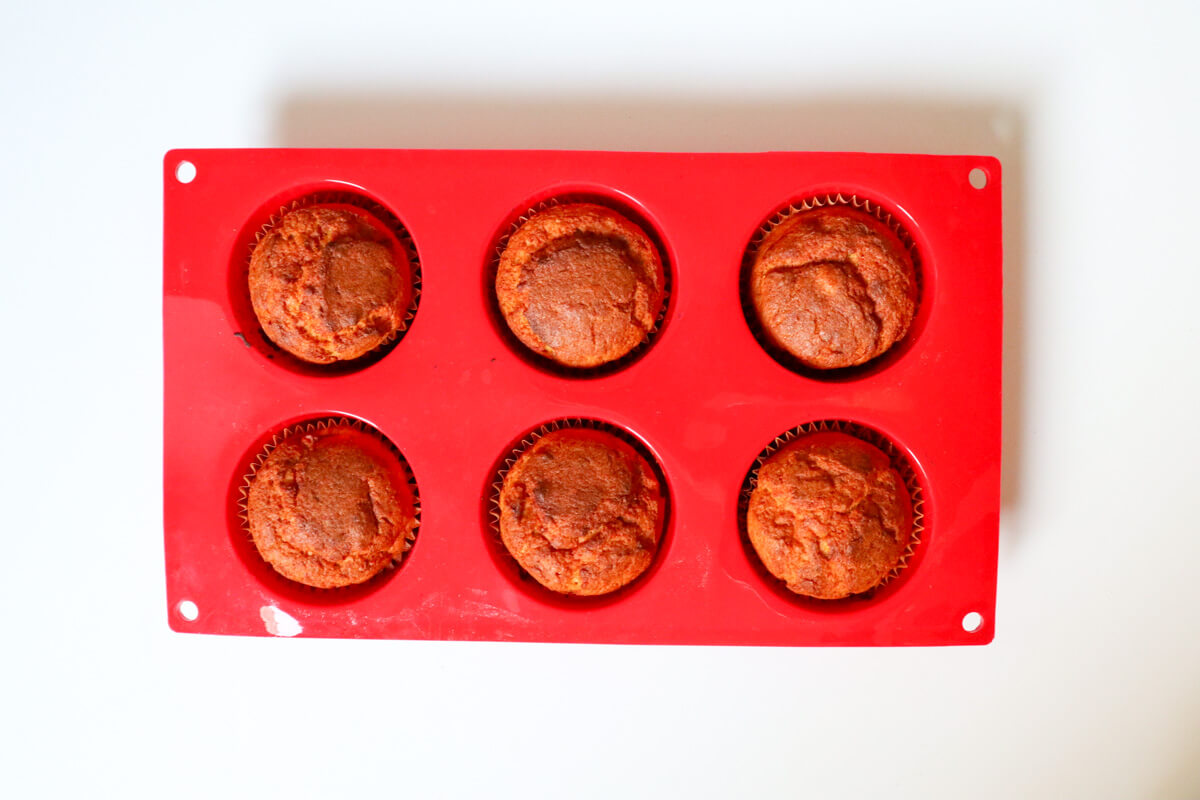 ABC Muffin Recipe Add-Ins And Serving Ideas
Here are a few of our favorite ideas for add-ins and serving.
Additions to ABC Muffins:
add some dark chocolate chip cookies into the muffin batter after joining the wet and dry ingredients
replace half of the flour with quick oats or oat flour for a nutritional boost
add some chopped nuts into the batter before filling in the muffin cups (this is for older kids that are able to chew nuts)
add some berries such as blueberries or raspberries into the batter and on top of the muffins prior to baking
Apple Banana Carrot Muffins Serving Ideas
​serve alongside some lovely juicy fruits
serve with some whipped cream (adults and older kids)
serve with some nut butters spread on top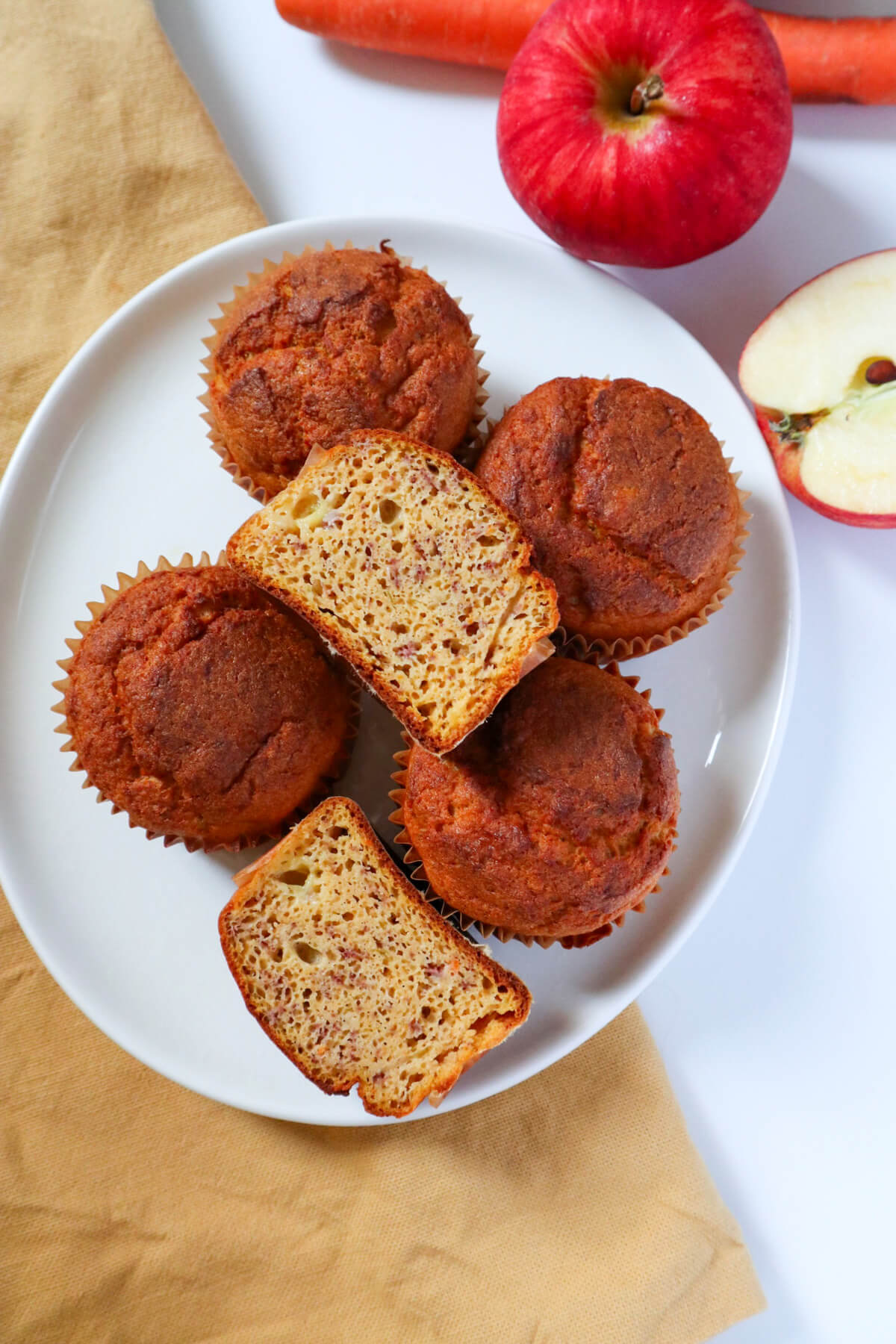 How To Store ABC Muffins
In case you want to make these muffins for baby lead weaning in advance, or you have made a bunch and have some left over, you can always save them for later.
The easiest would be storing in an airtight container in the fridge for about 3 days.
An alternative for long-term storage (up to 6 months) is putting into silicone bags and storing in the freezer.
Just make sure to allow ample time in both cases for the muffins to reach room temperature once taken out prior to serving OR you can thaw/reheat them in the microwave/oven.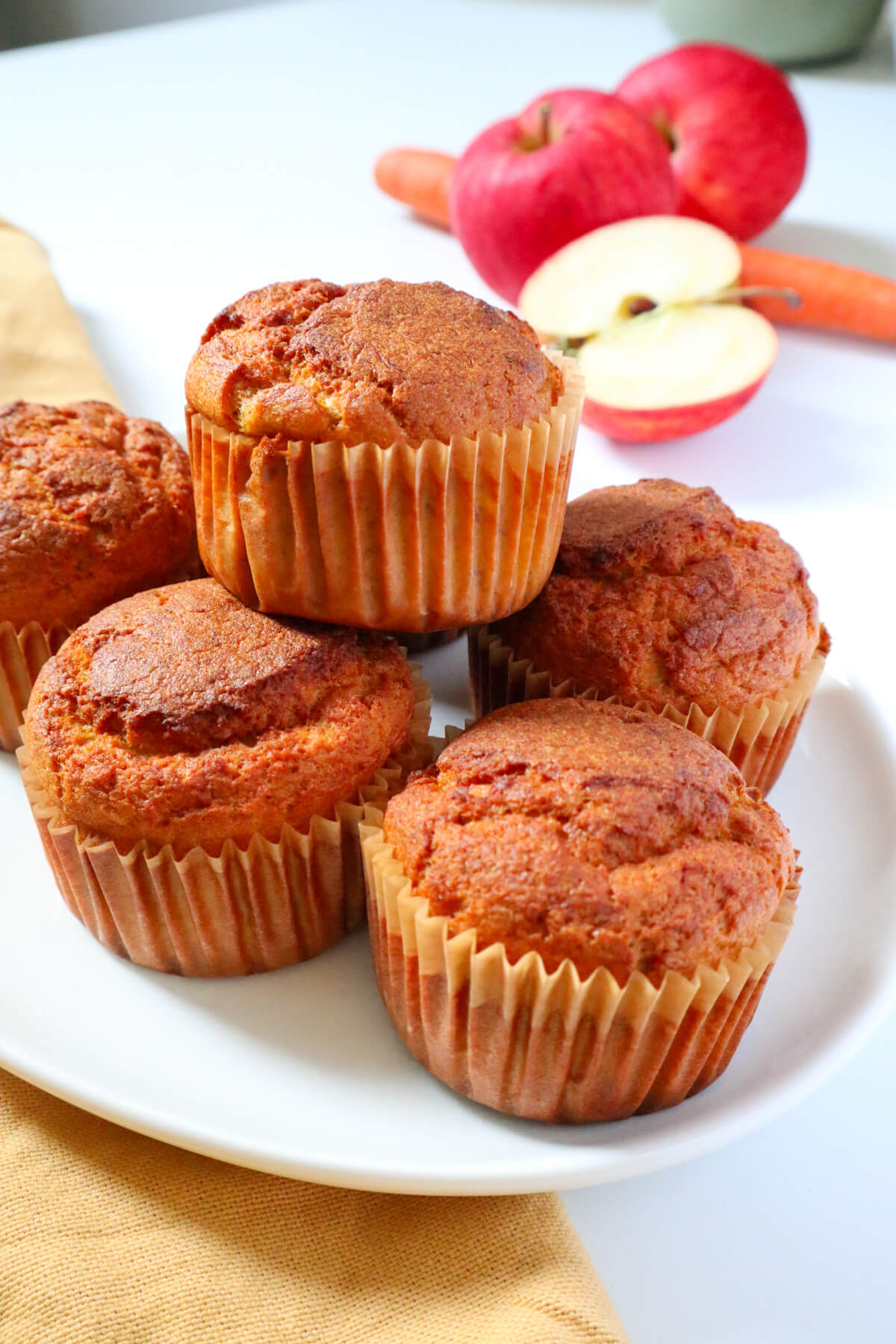 FAQ
How Will I Know My ABC Muffin Recipe Is Baked? 
The easiest way to know if your easy baby muffins have been baked is to insert a toothpick into the middle. If it comes out clean and dry then the muffins are done. If not, I would leave for a couple of more minutes to ensure they are fully baked. 
​From What Age Can My Baby Have These ABC Muffins? 
You can give these muffins to your baby from the age of 6 months. However if you have a family history of egg allergies or allergies to any other ingredient of these ABC muffins recipe, I would advise speaking to your child's doctor / nutritionists first and do a single food introduction for each of these foods prior to giving these muffins to your baby. 
Can I Use Gluten-Free Flour? 
Yes, gluten-free flour works really good with this recipe as well. 
More muffin recipes
If you've tried this or any other recipe from the blog, please rate it and leave a comment.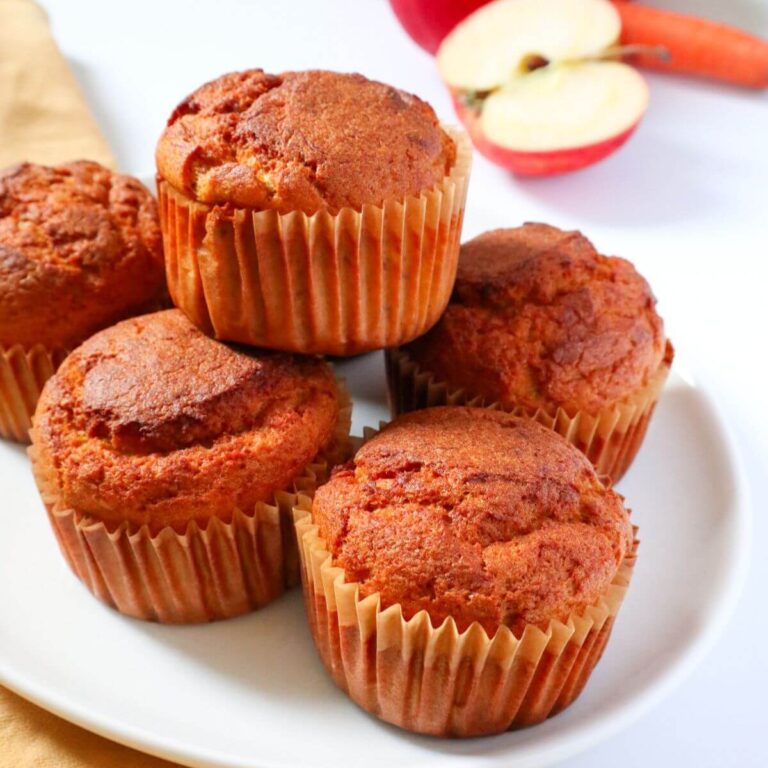 Baby ABC Muffins With Apple, Banana and Carrot
These ABC muffins with apples, bananas and carrots are the perfect muffins for baby-led weaning. Tasty, nutritious and naturally sweetened.
Ingredients
Dry Ingredients
1

cup

whole wheat flour

2

teaspoon

baking powder
Wet Ingredients
1

apple

medium-sized

1

banana

overripe

1

carrot

2

eggs

2

tablespoon

coconut oil
Instructions
Preheat the oven to 180 degrees Celsius / 350 degrees Fahrenheit and line the muffin pan with muffin cups if you want. You don't have to if you are using a silicone muffin pan.  

In a large mixing bowl, combine the dry ingredients. 

Wash the apple and carrot and if necessary peel them. Grate the apple and carrot or cut into smaller pieces and put into a pot with water. Allow to come to a boil and cook for about 10 minutes until soft. 

Now drain the apple and carrot.

In a large bowl add the apple and carrot puree, mashed banana, eggs and coconut oil.

Mix the wet ingredients well.

Add the dry ingredients to the wet ingredient.

Now fill the muffin cups until they are about ¾ full and bake for about 20-25 minutes. 

Once done, take out of the oven and leave for a few minutes in the muffin tin. They take the muffin cups out of the muffin tin and allow to cool on a wire rack
Nutrition
Serving:
1
muffin
Calories:
83
kcal
Carbohydrates:
12
g
Protein:
2
g
Fat:
3
g
Saturated Fat:
2
g
Polyunsaturated Fat:
0.3
g
Monounsaturated Fat:
0.4
g
Trans Fat:
0.003
g
Cholesterol:
27
mg
Sodium:
85
mg
Potassium:
114
mg
Fiber:
2
g
Sugar:
3
g
Vitamin A:
904
IU
Vitamin C:
2
mg
Calcium:
50
mg
Iron:
1
mg