The Most Important Meal Of The Day
I'm sure you've heard that breakfast is the most important meal of the day. And especially a baby or toddler breakfast ahead of a day of play.
That being said, every meal is important and sticking to a rough routine for meals and snacks will provide your child with a sense of order to their day and contribute to healthy eating habits.
And while we do have daily recommendations for the number of servings of each food group, these can be balanced out throughout the day, and breakfast can be what you want. Ideally, that means nutrient and calorie-dense (need lots of energy to start the day). Often it also means something quick and easy.
How To Make Breakfasts Less StressFul?
Breakfasts can be the most stressful part of the day. Especially if you are not a stay at home or work from home parent and need to leave the home quickly. So you'll need something quick and easy – and that often means something you can prepare in advance.
So with that in mind, here's a shortlist of some that we use all the time.
---
9 Nutrient-Dense Baby & Toddler Breakfasts
Almond And Blueberry Oatmeal
We'll never get tired of oats for a baby or toddler breakfast. Whether it's in pancakes, cakes, granola or oatmeal, it's pretty much the main breakfast ingredient in our house. And for good reason. They're filled with fiber and complex carbs to help start the day full of energy, and they also provide a good amount of minerals such as manganese, phosphorus and selenium.
The almonds add some more energy to the breakfast as well as some healthy fats and vitamin E.
Kefir is a great protein and fat source and provides a good amount of calcium.
Add some blueberries at the end and you have yourself an antioxidant-filled balanced breakfast.
Banana Bread
Although the term "banana bread" doesn't sound like a quick and healthy balanced breakfast at first, if you take a look at the one we prepared for you you just might change your mind.
The trick is to prepare it in advance, cut into slices and leave out the ones you will be using soon while the others are stored in the freezer for some future mornings where nothing seems to be going right with time.
Add any toppings of your liking for a delicious and energy-filled breakfast. Some of our favorites are forest fruit, nut butter, and our classic Healthy Nutella.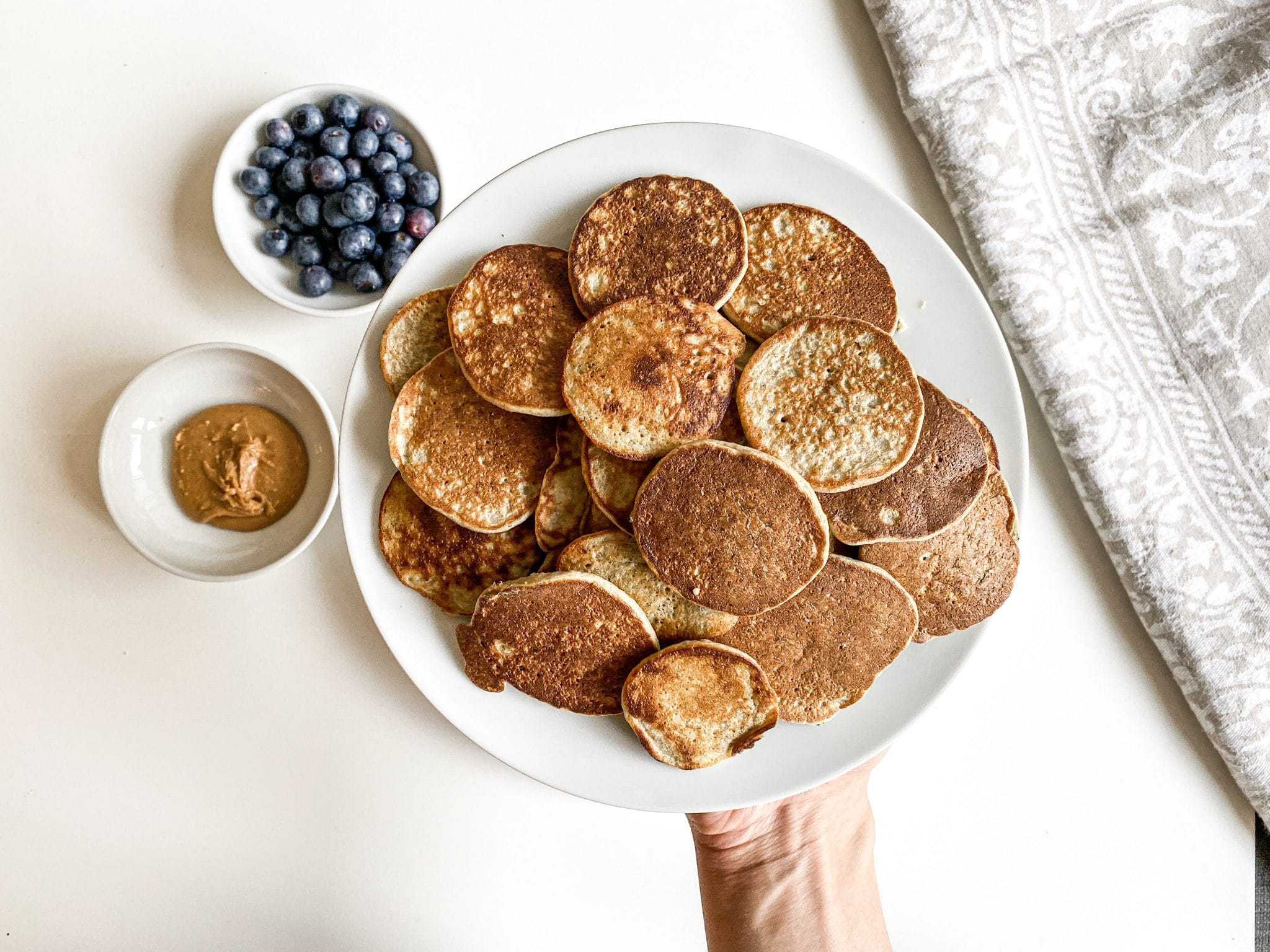 Banana Chia Pancakes
Banana and oats just seem to be a perfect combination for any healthy and nutritious sweet dish. While the bananas add some sweetness and texture the oats act like the flour component of the dish providing some fiber and complex carbs.
That's exactly why we love these Banana Chia Pancakes. Add eggs and some water and you have yourself a nutritious breakfast. These also can be prepared in advance and frozen to be used later whenever necessary.
We even succeeded in making them without the eggs for all those that have an egg-related allergy. Instead of the chia and eggs from the original recipe, you can put 2 tablespoons of chia seeds with 5 tablespoons of water and leave for about 5 - 10 minutes. As soon as the chia absorbs the water, mix with the banana, oats, and water and bake.
Add some toppings and they are good to go!
Blueberry Avocado Oats
Oats again! Well, they're just so good and versatile in breakfasts that we sometimes end up pairing them with pretty much everything. And this time it's some healthy fats and blueberries which are packed with antioxidants. If you want to add some protein and calcium to the meal, you can also soak the oats in either yogurt or kefir rather than cooking them in water. For children over 1-year-old another option is to cook them in animal-based milk.
Be sure to use a really ripe avocado when preparing this breakfast. If you're stuck with one that's a bit on the hard side, put it into a paper bag with either a banana or apple and it will be ripe in no time.
Homemade Granola
This one is definitely a favorite of ours. With a batch of granola already made, it's so easy to add it to some yogurt and have breakfast ready in no time. Or add a few tablespoons to a chia pudding and top of with some nut butter for a nice macronutrient and energy balanced breakfast.
Just make sure that any granola chunks are small enough for the age and eating ability of your child so that they don't pose a choking hazard. For small babies under the age of 1 year, when baking the granola make sure that you stir it well after removing from the oven so that there are no big bits at all. You can then add a tablespoon of the granola to an oatmeal or chia pudding and when it's mixed with a soft texture like that it should be fine.
For toddlers and older children make sure to stir it after baking nevertheless but larger quantities can be given and there is no need to mix with softer textures.
Sweet Potato Fruit Pudding
Finally a breakfast recipe without oats! But nonetheless nutritious. And tasty.
The sweet taste of the apples, peaches and sweet potatoes provide a beautiful morning pudding that can really be eaten at any time of the day. And the combination of the ingredients gives a wonderful creamy texture and orange color.
This pudding is a great constipation remedy since all the ingredients provide a good amount of fiber and water that should help the child's bowel movement and therefore help to relieve any possible pain.
It's also a great dish to be made in advance and frozen in batches to be eaten later.
Rye Bread
Sometimes all you want for breakfast is bread. And one of our favorites is this homemade rye.
Although the original recipe gives a combination of rye and wholegrain flour it can really be made 100% with rye flour. It will have a somewhat more "grainy" texture but won't be noticeable if you add a spread on top.
Smashed avocado or some nut butter are our favorites for either a balanced nutritious breakfast or snack but you can really go overboard here and add anything you like. Fruit (bananas, strawberries...), veggies (cucumbers) or butter and cream cheese are all good options also.
Quinoa Pudding
Even though chia pudding is our favorite "seed" pudding for breakfast we tried quinoa instead when we were out of chia and it went down a treat. Even now when I say "Quinoa pudding" to someone they just look at me like I'm crazy, but add some dairy or plant-based milk, something sweet and some cocoa powder and you have yourself a balanced and delicious breakfast, packed with antioxidants.
We tend to use agave syrup to sweeten this up but for children over 1-year-old, you can safely use honey as well. The choice of toppings really depends on what you have, but I would definitely recommend fruit. Bananas, strawberries, forest fruit or even tropic fruit like kiwi should give a great balance to the sweet taste of the pudding. And if you're looking for an extra calorie boost, a tablespoon of nut butter should do the trick.
Walnut Raspberry Oatmeal
Another example of a nutritionally balanced breakfast is our Walnut Raspberry Oatmeal. The oats and raspberries providing some complex carbs and fiber, walnuts providing protein and fat and kefir adding some more protein in addition to the wonderful calcium.
The choice of nuts doesn't have to be walnuts as pretty much any (unsalted) alternative will do. For children under 1-year-old, I would recommend grounding them whereas for toddlers and older children they can be cut into tiny pieces.
Raspberries can be substituted with any other forest fruit also as well as kefir with some yogurt, other dairy or even plant-based milks.
What's your go-to baby or toddler breakfast when time is of the essence?