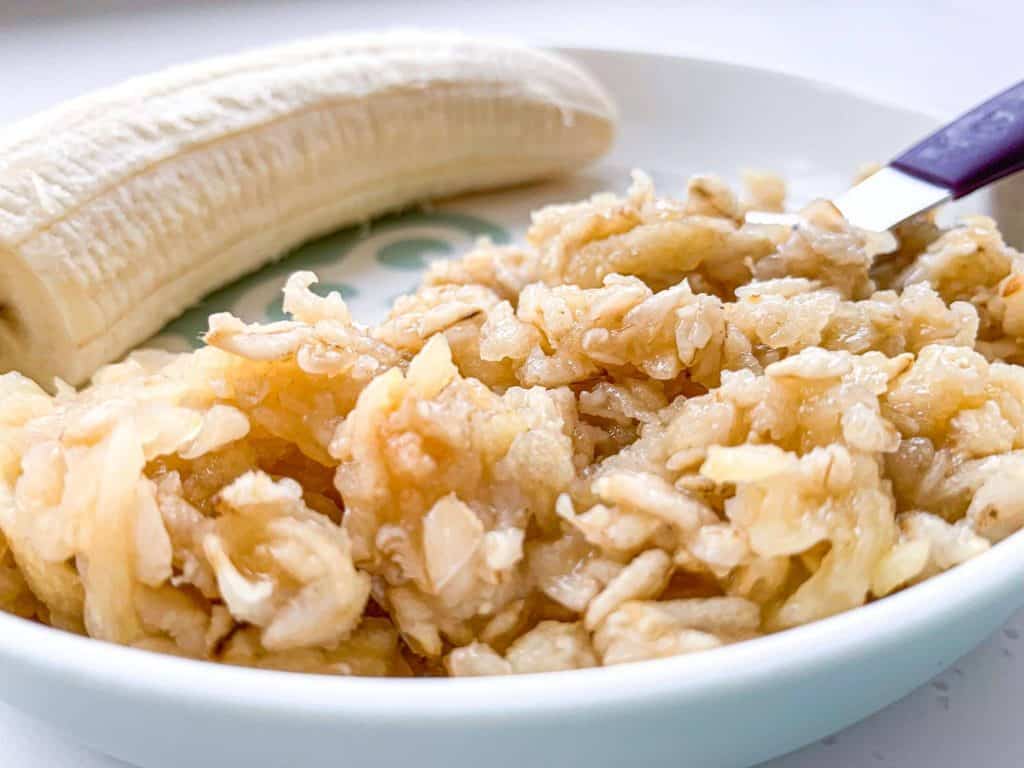 Introducing mixed foods
If you've just introduced some single foods into your baby's diet, now might be the time time to mix them up in a healthy dish for your baby to enjoy. Our Apple Banana Oatmeal is a great recipe for a 6-month-old and can be one of the first mixed foods you serve your child. The pairing of apples and bananas which are really common fruits (and can be used in pretty much any breakfast or snack) with oats makes a great, easily digested oatmeal that can be pureed, mashed or served for baby-led weaning.
Nutritional stuff
Apples are a wonderful source of nutrients of which fiber and vitamin C are the highest. They also have several phytonutrients (small compounds in foods that do wonders for our health) that can help the body defend against cardiovascular diseases as well as diabetes.
Bananas add a great taste to the meal and are high in vitamin B6 and potassium.
Oats are one of our favorite grains to use in dishes, especially breakfasts, as you can pair them with pretty much anything to make a delicious meal. They have a slightly higher fat content than other grains. They are also a good source of fiber which is great in those first few weeks when the baby is starting solids and the digestive system might need a little push to release that poop.
Preparation
This oatmeal is really easy to prepare as you just need to slice, quick-cook and serve. Serving as a puree or mashed is fine at 6-months-old. For baby-led weaning you can leave the banana cut in half next to the apple oatmeal, or cut into coins if you prefer (or even long strips). You can also cook the apple slices (instead of grating the apple) and serve beside the banana and a thick oat consistency.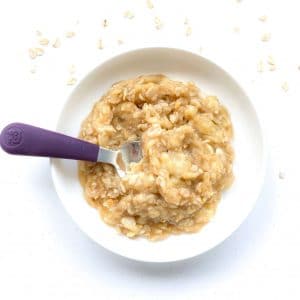 Apple Banana Oatmeal
A great, high-calorie breakfast that's quick to make and a perfect start to the day for a 6-month-old and up!
Ingredients
¼

apple

½

banana

1

tbsp

oats

2

tbsp

water
Instructions
Put the oats into a pot with water and bring to a boil over high heat. Peel and grate the apple

Add the grated apple to the oats and continue cooking for a few minutes until the apple softens

For BLW, plate the apple oatmeal next to half the banana

If you are mashing then mash the banana and add it to the cooked apple oatmeal

For puree place all the ingredients in a blender with a tbsp of water and blend; keep adding water until you reach desired consistency
Nutrition
Please follow and like us: