Our Apple Banana Oatmeal is a great recipe for a 6-month-old and can be one of the first mixed foods you serve your child.
If you've just introduced some single foods into your baby's diet, now might be the time time to mix them up in a healthy dish for your baby to enjoy. Our Apple Banana Oatmeal is a great recipe for a 6-month-old and can be one of the first mixed foods you serve your child.
The pairing of apples and bananas which are really common fruits (and can be used in pretty much any breakfast or snack) with oats makes a great, easily digested oatmeal that can be pureed, mashed or served for baby-led weaning.
It is also one of our favorite breakfast ideas for toddlers.
Apple Banana Oatmeal Ingredients
To make this delicious baby Apple Banana Oatmeal, you will need the following ingredients:
Apple. If possible, try to choose organic apples. Regardless of the choice, until the baby reaches 8 months of age it is advised to peel the apples.
Banana. The ripeness of the banana is not really an issue here if you will be serving as a puree or mashed. For baby-led weaning I would advise a softer banana so that the baby can chew easier.
Rolled oats. Tiny rolled oats are the best choice here because they will cook more easily and be easier for the baby to eat.
Apple Banana Oatmeal Nutritional Benefits
Apple. Great source of fiber and vitamin C. They also contain several phytonutrients (small compounds in foods that do wonders for our health) that can help the body defend against cardiovascular diseases as well as diabetes.
Banana. High in vitamin B6 and potassium.
Rolled oats. They are an excellent source of fiber which is important in those first few weeks of the baby starting solid food. They are also a great source of complex carbohydrates and minerals potassium nd manganese.
How To Make Apple Banana Oatmeal
Cook the oats. Put the oats into a pot with water and bring to a boil over high heat.
Prepare the fruit. Peel and grate the apple. Add the grated apple to the oats and continue cooking for a few minutes until the apple softens. In the meantime, prepare the banana according to the way of serving below.
How to baby led wean. For BLW, cut the banana in half and then press your finger down the middle of each half. You should be left with 3 long thin pieces of banana from each half (6 in total). Plate the apple oatmeal next to half the banana (3 long thin banana pieces in total).
How to mash. If you are mashing then mash the banana and add it to the cooked apple oatmeal.
How to puree. For puree place all the ingredients in a blender with a tablespoon of water and blend; keep adding water if required until you reach desired consistency.
We also have an Applesauce Oatmeal Cookies recipe that uses exactly the same ingredients and is suitable for baby and toddler.
Possible Apple Banana Oatmeal Variations
Mix the fruit. Since the banana is the fruit that gives most meals it's creamy texture and sweetness, if you choose to mix up the fruit, I would advise you change the apple. Pear, peach and plums are all great choices here. Especially in those first few months of starting solids as they provide generous fiber that can help the digestive system.
Mix the grains. This recipe doesn't really have to be all about rolled oats and oatmeal. You can change the grains and use those such as buckwheat, millet or amaranth.
Add some spices. Cinnamon is a great first spice to add to your baby's meals. With the apple and banana combination here, it truly gives a great and aromatic meal.
Need More Baby Oatmeal Recipes?
Check these out: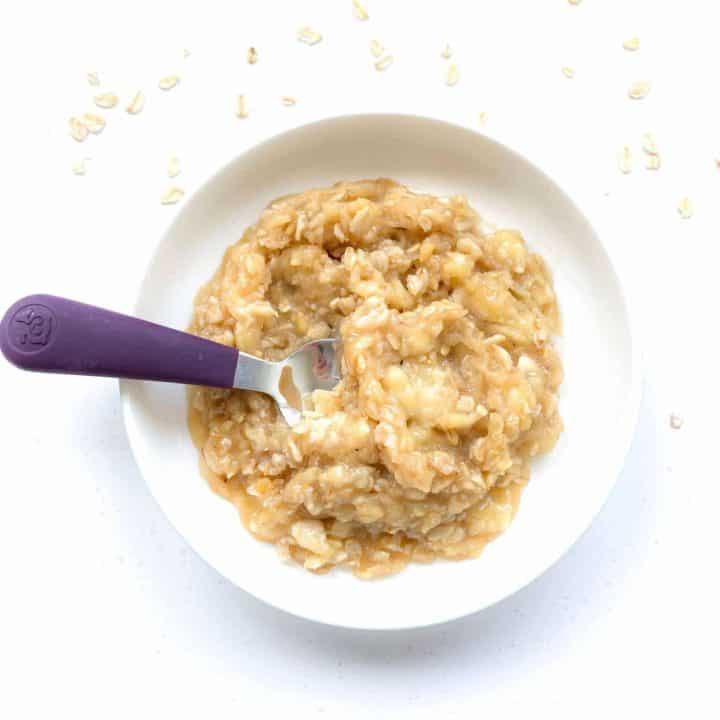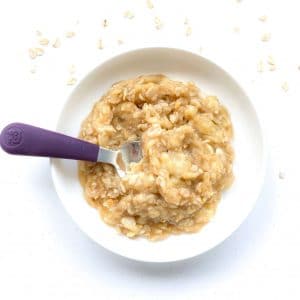 Apple Banana Oatmeal
A great, high-calorie breakfast that's quick to make and a perfect start to the day for a 6-month-old and up!
Ingredients
¼

apple

½

banana

1

tablespoon

oats

2

tablespoon

water
Instructions
Put the oats into a pot with water and bring to a boil over high heat. Peel and grate the apple

Add the grated apple to the oats and continue cooking for a few minutes until the apple softens

For BLW, plate the apple oatmeal next to half the banana

If you are mashing then mash the banana and add it to the cooked apple oatmeal

For puree place all the ingredients in a blender with a tablespoon of water and blend; keep adding water until you reach desired consistency
Video
Nutrition