Picnic anyone?
Chances are your little one doesn't want to be indoors all the time and you often need to go out to the park to let them play with something (and someone) other then what they have at home. But what happens when they get hungry and you need to give them a quick bite, preferably nutritious and with no added sugar or bad fats? Our Broccoli Cheese Cakes might just be the answer.
Since they are eaten as finger food we suggest you start offering these once your baby turns at least 10 months since they will most likely have the pincer grasp developed by then. However, if you are following the baby-led weaning method since day 1 of introducing solids then the Broccoli Cheese Cakes can probably be offered earlier – up to you based on their eating habits.
Nutritional stuff
Broccoli is our main ingredient here since it is packed with vitamin C and antioxidant and anti-inflammatory nutrients.
Our second choice of vegetables are cherry tomatoes due to their sweet taste and great nutrient content. They are a good potassium and vitamin C source as well as beta carotene and vitamin A.
To ensure the babies protein requirements are met we have chosen cottage cheese and yogurt. Apart from being a great protein source, they are also abundant in calcium and phosphorus which are both very important for children's growth and development.
Our choice of fats here is, of course, olive oil which is pretty much the best of the "good" fats that you can get. We also always choose wholegrain flour over white due to its higher nutrient content while the amount of energy stays pretty much the same.
Preparation
These require a bit more prep than most of our recipes, but once they are done, they are easy to eat wherever you are and can be frozen for later as well. Packed with nutrients, delicious and convenient – how can you ask for more.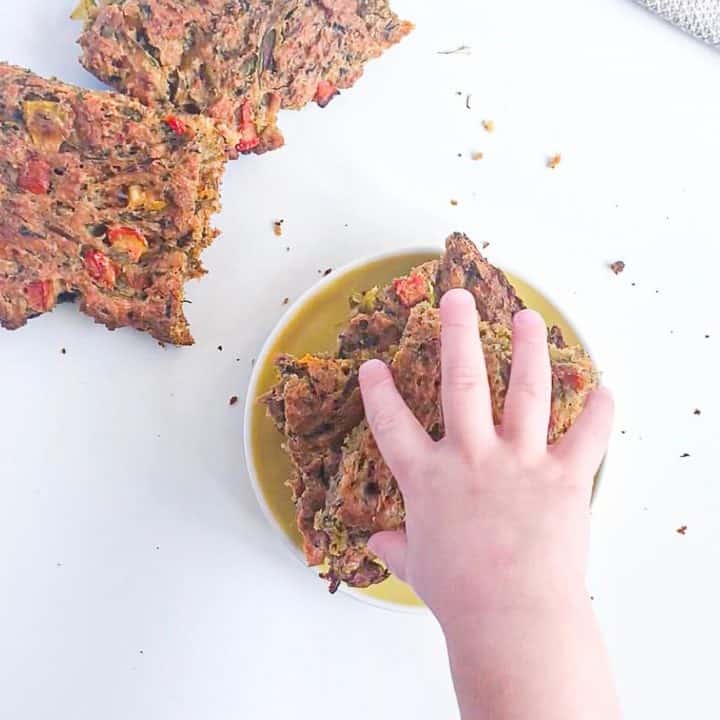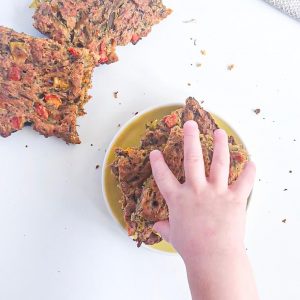 Broccoli Cheese Cakes
Broccoli Cheese Cakes - easy, quick and a perfect meal to take to the park or make a large batch and freeze for those days you don't wanna cook
Ingredients
2

cups

wholewheat flour

1

tbsp

baking powder

2

cups

broccoli florets

⅔

cup

cottage cheese

(sugar-free)

6

cherry tomatoes

3

tablespoon

olive oil

1

egg yolk

¾

cup

yogurt
Instructions
Preheat the oven to 375°F / 190°C

Cook or steam (if you have a steamer) the broccoli florets until bright green and tender (steaming retains the most nutrients)

Once cooked, mash the broccoli florets with a fork

In a bowl mix together the flour, baking powder, cooked broccoli, and cottage cheese

Add the chopped tomatoes, oil, beaten egg yolk, yogurt and mix well

Grease a baking dish with a bit of olive oil and spoon the mixture into it (or use a muffin tin if you have one!)

Bake for around 30-40 minutes or until golden

Once cooled (about 20 minutes) separate into 12 pieces and store in the fridge for up to 3 days

They can also be frozen for up to 3 months and are a perfect food to take to the park or on a plane
Video
Nutrition