This apple banana smoothie with milk is so easy, creamy, delicious and healthy. Make it in 3 minutes by blending all the ingredients and you have a delicious breakfast or snack that tastes like apple pie dessert.
Apple Banana Smoothie Benefits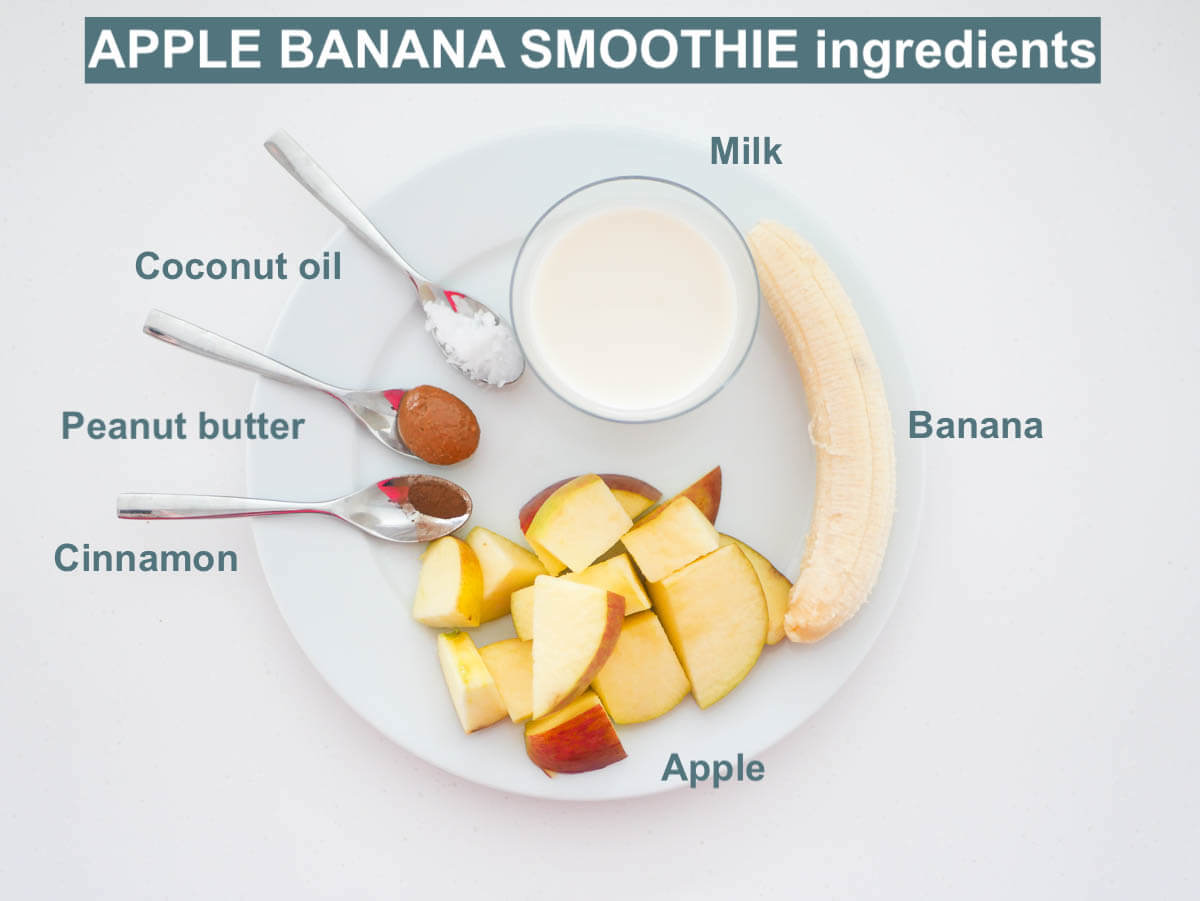 Smoothies are a great way to get as many nutrients as possible in a quick and easy drink:
apple - you can use green apple or red apple. It will change the taste a bit but the sweetness is coming from the banana so it won't change it much. Red apples tend to have a bit more "starchier" texture so they can add to the overall smoothie creamy texture in the end.
banana - can use frozen banana or fresh banana. The riper the banana the sweeter the taste so if you are using a more sour apple make sure that your banana is really dark and ripe. Bananas are rich in calories, contain good amounts of vitamins B6 and C, as well as plenty of potassium.
peanut butter - peanut butter, like other nuts and nut butters, is high in calories and fats. But it's the "good" kind of fats that can help reduce the risk of cardiovascular diseases. If buying, make sure that it is 100% peanut butter with no added palm oil, sugar, and/or salt.
coconut oil and cinnamon - give the smoothie a delicious baked goods taste. Coconut oil is also a great addition for extra calories for kids. If you are trying to cut on calories yourself, then maybe best to omit.
milk or dairy-free milk - use whichever you prefer. Dairy milk will make it thicker; non-dairy like almond or oat will make the smoothie nice and smooth. If using a plant-based milk would definitely advise that you use one that does not have any added sugar or sweeteners
optional ingredients - for more nutrition and health benefits you can add a teaspoon of flaxseeds, chia seeds, hemp seeds or 1 oz (30 g) of oats
How to make an apple and banana smoothie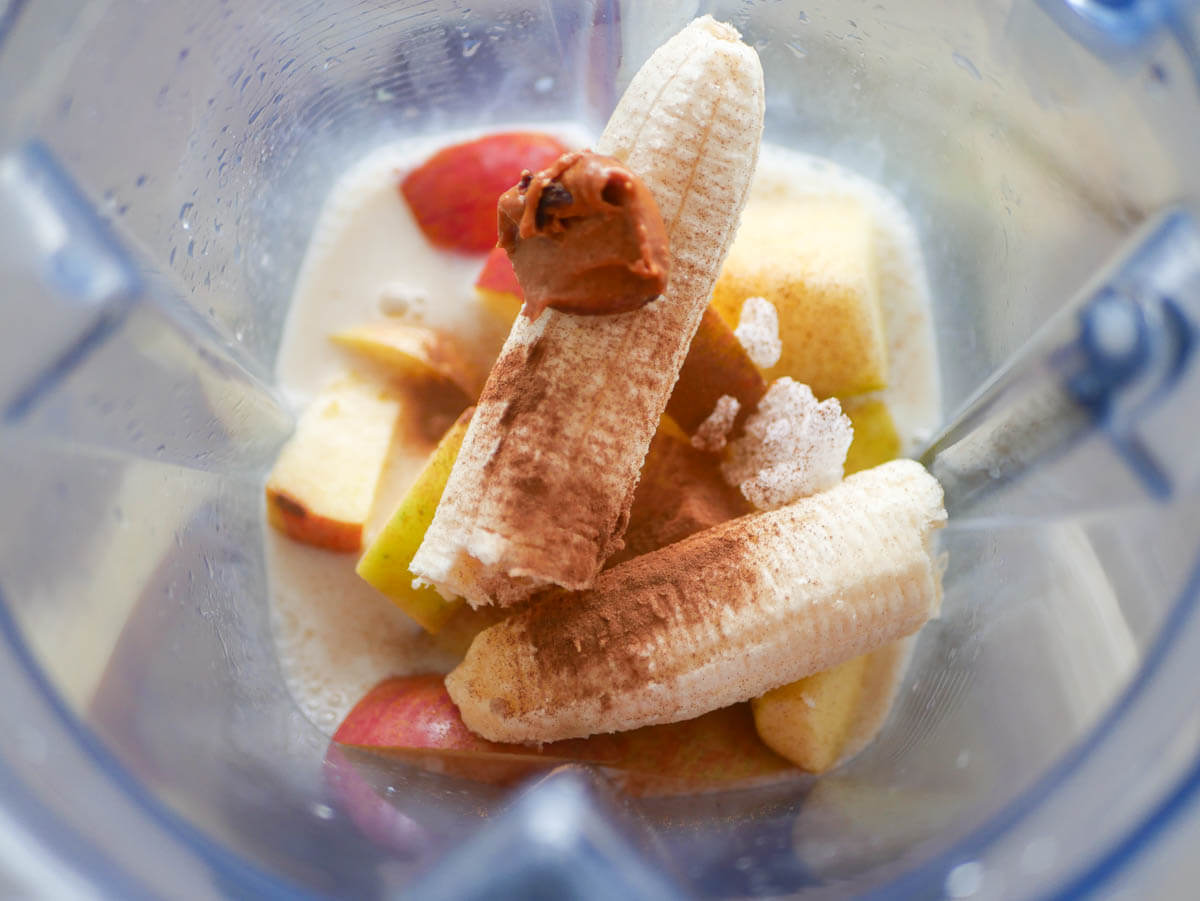 Core the apple and cut up in smaller pieces. Peel banana and break in half.
Place all the ingredients in the blender - first the liquid (milk), then the rest of the ingredients and blend.
Serve or store in fridge up to 3 days.
If you love this smoothie you will also like the Detox Spinach Apple Smoothie, Mango Pineapple Smoothie and the 13 High-calorie smoothies for weight gain.
Or if you are just a banana lover you can try Korean style banana flavored milk.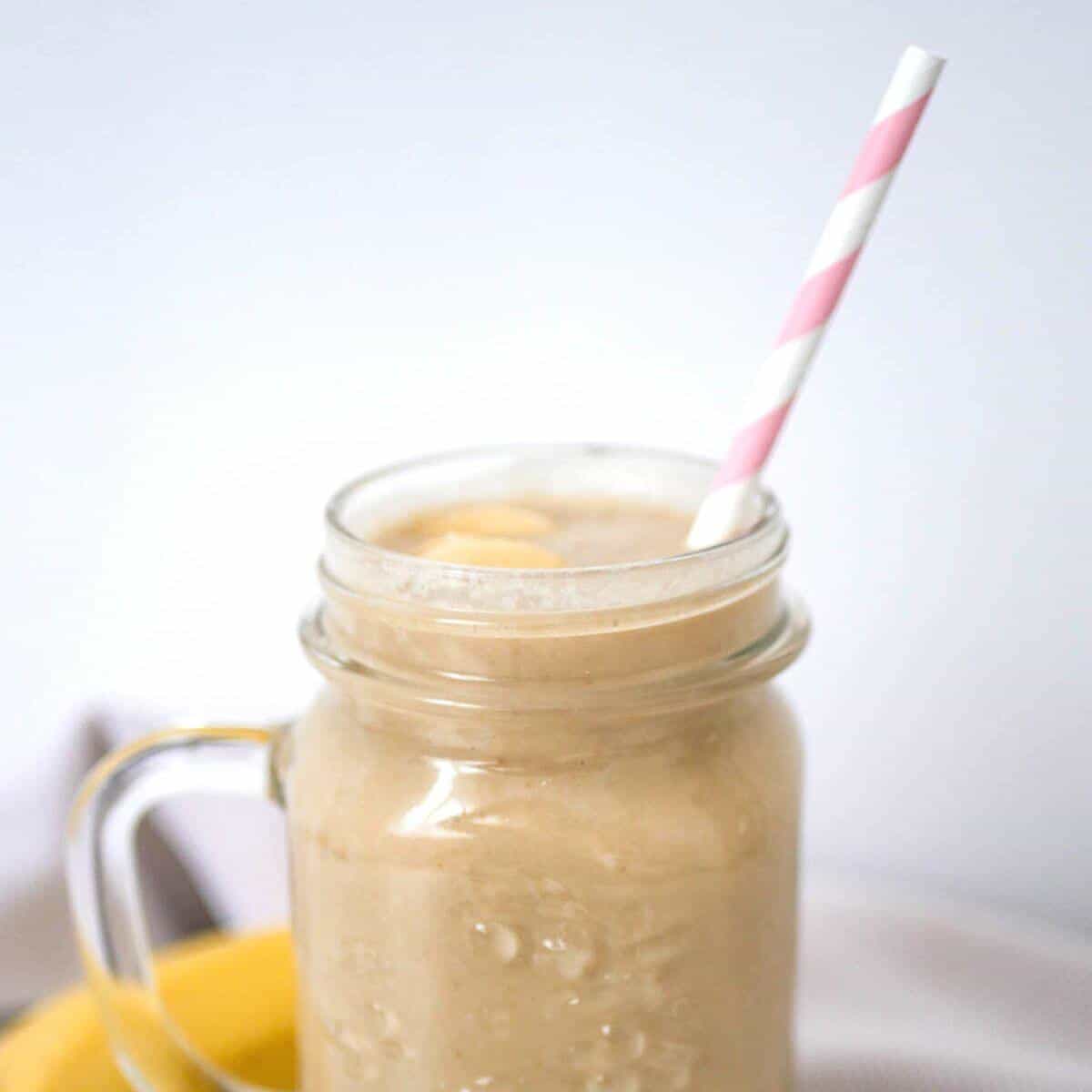 More smoothie recipes
If you've tried this recipe or any other recipe on the blog, then please rate it and leave us a comment below!