10 minutes to make, healthy and creamy Sweet Paprika Homemade Hummus Recipe that will transport to you to the Mediterranean.
With this recipe I wanted to create a bit of a different take on hummus.
Hummus is a traditional Middle Eastern dip usually served with warm pitta bread... mmm...
In our house, we eat a lot of hummus and love it. We try and eat as vegetarian as possible and this sweet paprika hummus is such a perfect addition to any vegetarian meal.
It is so easy to buy hummus in the store but many of them are loaded with oil and other additives. And although oil can be a good addition to a healthy diet most of the time, a lot of store-bought stuff contains the not-so-good kinds of oils such as palm oil. Palm oil contains fatty acids that can cause inflammation in the body.
Especially now during the lockdown (depending on where you are) you will find shops depleted of your usual products.
And also, trust me, when you try this hummus I think you will be making it for future parties and barbecues and people will be asking you... YOU MADE THIS? Yes I did 🙂 And it is so easy.
Sweet Paprika Homemade Hummus Ingredients
Chickpeas – you can buy canned or dry chickpeas. It has been reported than canned chickpeas only have a 15% nutritional reduction to the dried ones. So given the little amount of time parents have, I'd say canned chickpeas are a pretty decent option.
Tahini – a paste made of ground sesame seeds. You can easily make your own or buy a good quality one in the store.
When buying tahini from the store, check that the only ingredient is "sesame seeds". When you use it for hummus preparation, make sure to mix the paste in the container as the oils usually separate. You want to be sure to use the whole tahini product.
Garlic – use as fresh as you can get. If you use garlic that is a bit too old it may taste very strong, so if unsure start with half a garlic clove and add more as you go.
Sweet Paprika Homemade Hummus Nutrition Stuff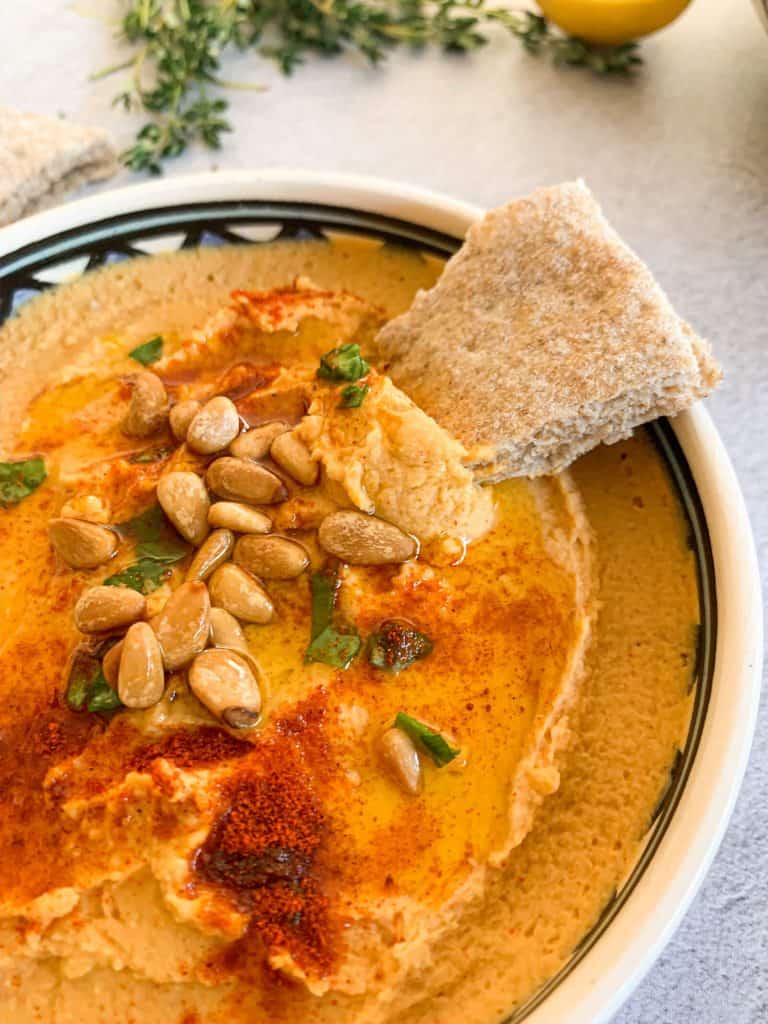 Chickpeas are a type of legume which is loaded with protein. It also contains a great amount of antioxidants and vitamins which help decrease the risk of heart disease.
Tahini, or better yet, seasame seeds are an excellent source of copper and manganese, and a good source of calcium, magnesium, iron, and phosphorus.
Lemon juice – vitamin C, vitamin C, vitamin C. Is there anything more to be said?
Garlic is one of the best seasoning agents and vegetables that you can find because it acts as a "natural antibiotic". Use it fresh. As often as you can.
Olive oil is filled with healthy fats. The kind that can minimize the risk of any cardiovascular diseases and add to the whole health of the body.
How to Make Sweet Paprika Homemade Hummus
Cooking chickpeas from scratch will give you the best tasting hummus by far. It is also not that hard – soak dried chickpeas overnight, and then boil for about 2 hours.
But, given that you are probably strapped for time, use canned chickpeas and also boil them for 10 minutes so they get softer.
After boiling drain them, wash out with cold water and then rub together with your hands so the skin comes off easily.
Then you pop it into the food processor and blend.
Once the chickpeas have blended add all your other ingredients.
Super secret tip: Then add 2 ice cubes to give it a smooth creamy texture. Trust me, the ice cube makes the difference.
(Depending on the size of your ice cubes you may need to add more than 2 but keep processing and see how creamy you make it and how much creamier you want it to be).
When serving you can top up with more olive oil, a sprinkle of parsley, more paprika, and some pine nuts.
Hummus stores for about 3 days in the fridge.
Serve with warm pitta bread... Yes!
Possible Hummus Recipe Variations
Without tahini – some people don't like the bitter taste of tahini so you can omit it.
Without cumin and sweet paprika – without sweet paprika it would just be a normal hummus. A lot of hummus recipes omit cumin also. I love adding cumin for the additional flavor.
More Family Recipes You May Enjoy
Sweet Paprika Homemade Hummus Recipe
10 minutes to make, healthy and creamy Sweet Paprika Homemade Hummus Recipe that will transport to you to the Mediterranean.
Ingredients
1

can

chickpeas

(about 9 oz or 250 g weight when drained)

3

tbsp

lemon juice

2

tbsp

tahini

2

tbsp

extra virgin olive oil

½

teaspoon

dried cumin

1

tsp

dried sweet paprika

1

garlic clove

2

ice cubes

½

teaspoon

salt
For garnish
1

teaspoon

fresh parsley

1

tsp

pine nuts
Instructions
If using canned chickpeas place them in a pot of water and bring to boil for 10 minutes. If using dry chickpeas soak them overnight and boil them for 2 hours the next day.

Drain the chickpeas, wash out with cold water and rub them with your hands so the skin comes of easily. Peel the skin.

Place in a food processor and blend until smooth.

Once smooth add all the rest of ingredients (except the ice cubes) until everything is mixed.

Add the ice cubes and mix until you reach your desired creamy consistency. If you need to, keep adding more ice cubes.

Garnish with olive oil, parsely, and pine nuts and serve with warm pitta bread.
Notes
Storage: up to 3 days in the fridge; can be frozen up to 3 months. 
Tip: Ice cube tip from FeelGoodFoodie
Nutrition
Serving:
1
jar
Calories:
114
kcal
Carbohydrates:
3
g
Protein:
1
g
Fat:
11
g
Saturated Fat:
2
g
Polyunsaturated Fat:
3
g
Monounsaturated Fat:
7
g
Sodium:
294
mg
Potassium:
53
mg
Fiber:
1
g
Sugar:
1
g
Vitamin A:
8
IU
Vitamin C:
5
mg
Calcium:
13
mg
Iron:
1
mg