Banana Oat Sheet Pan Pancakes –Breakfast of Champions
1 bowl, 1 baking tray, in the oven and you have a healthy breakfast ready for you and your kids in no time.
Make them the night before and you can wake up with food ready to be served with no prior prep, and no washing up to do!
It sounds like a dream but it's actually a tasty reality. And to make things even better, it's quick, easy, and requires just a few ingredients for the breakfast of champions!
Sheet Pan Pancakes!
We call these Banana Oat Sheet Pan Pancakes but that's only because bananas and oats are the base for our batter. We had to make a baked version of our favorite banana oat pancakes.
For the toppings you can use your imagination and preferences to make them that much more authentic and adapted to your taste. I personally love blueberries in any baked goods so I just wanted to load mine with them.
However, given that toddlers have a tendency to turn their nose up at food some new foods, I recommend you do half plain.
With Max, even though he loves blueberries, he did not like them here because they were too gooey (we loved them though). So I had to cut around the blueberries for him.
Also, labels matter. Max wasn't convinced when I referred to this as a pancake. But call it a cake and all of a sudden he couldn't get enough of it. That's a toddler for you...
So, make half with topping and half without and see what your child prefers.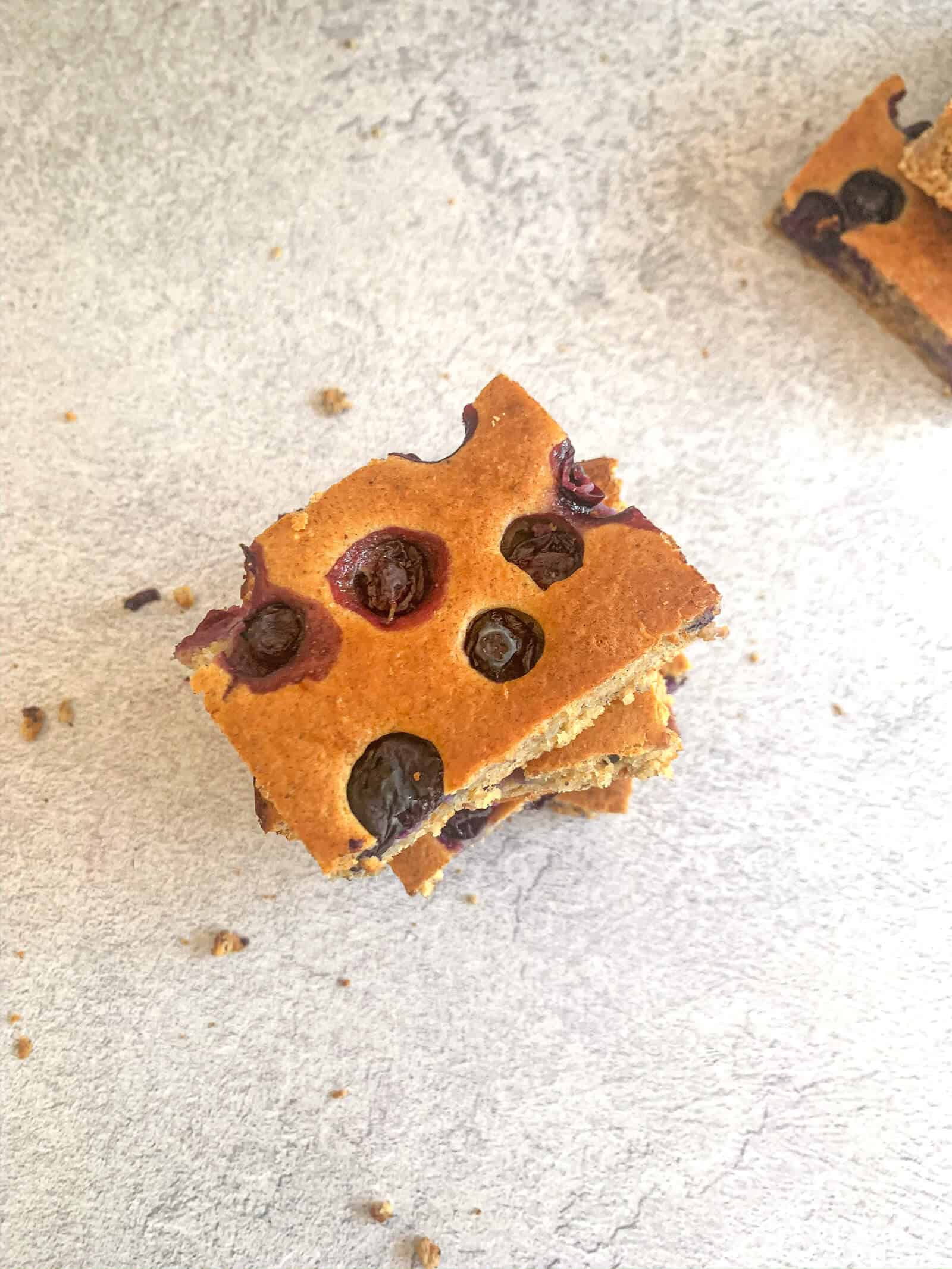 Banana Oat Sheet Pan Pancakes Nutritional Stuff
Like many of our healthy baked dishes, this one too includes bananas and oats. That's because these 2 ingredients and their combination are ideal for sweet and creamy textures that we love in our snacks and desserts (and breakfasts!).
Oats are the perfect grain for pretty much any dish and they are always our go-to grain for baked goods like these pancakes. They provide complex carbohydrates and fiber as well as a whole bunch of essential minerals. Manganese, selenium, phosphorus and magnesium to name a few.
Bananas are another source of complex carbs but when you use extra ripe ones like we do for our baked recipes, they do provide a sweeter taste since the starch has been turned into simple sugars. They are also a good source of fiber and vitamin C and provide excellent amounts of vitamin B6.
Wholegrain wheat flour is one of our favorite flours to use (when possible) for healthy breakfasts, snacks, and desserts because of its great nutrient content. Along with complex carbs and fiber, it provides a good amount of the minerals manganese and magnesium.
Eggs are a great protein source as well as a good source of vitamins B2 and B12 and minerals such as selenium and iodine.
Full-fat milk adds some more protein to these pancakes along with calcium and fat.
To add a little bit more sweetness our choice of sweetener this time we used agave syrup. You can use honey or even some homemade date paste.
How to make homemade date paste
Pour some warm water over the dates, rinse them and then blend by adding the water they were soaked in until the mixture reached the desired consistency. Dates are also a good source of copper and magnesium which makes them that much more appealing for any sweet dish.
Banana Oat Sheet Pan Pancakes Preparation Tips
Preparation is easy – mix your ingredients in a blender or food processor, pour into a baking tray, and in the oven it goes.
We found they lifted pretty easily once out of the oven, but if you're concerned just make sure you grease the tray or use some baking paper.
Otherwise mix things up with the toppings you use – the possibilities are endless!
If you're doing a family batch and different family members have different preferences (especially kids) you can give each of them a part of the baking tin and let them add their own toppings.
Try it with our homemade Nutella for something extra special!
This will get your kids involved in the preparation and give them a sense of achievement when they are tasting the end product.
Recommended Appliances
Food processors:
Check out our top 5 must-have kitchen appliances here for more!
Note: The above are affiliate links. We may receive compensation but there is no additional cost to you.
What are your favorite toppings?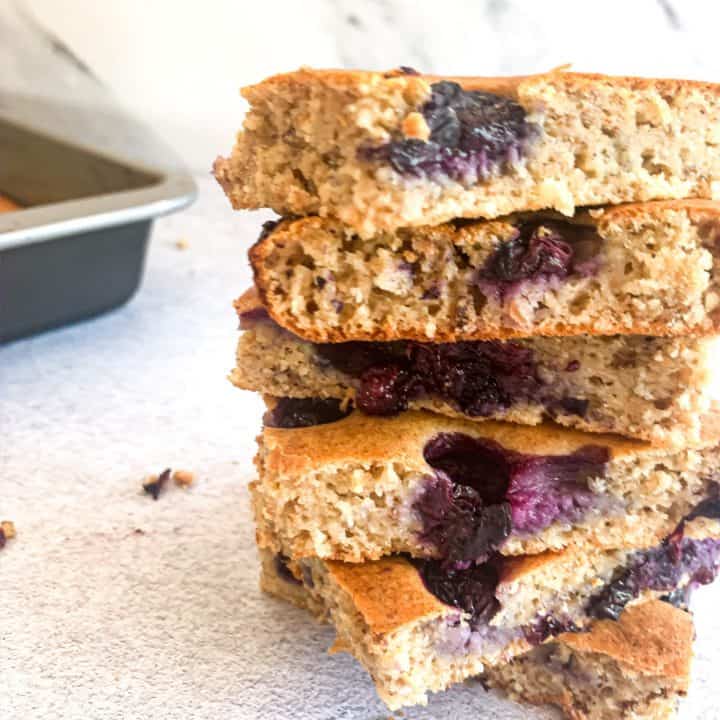 Banana Oat Sheet Pan Pancakes
A 1-bowl, one baking tray with healthy ingredients Banana Oat Sheet Pan Pancakes that your baby, toddler, kid and even the rest of the family will love.
Ingredients
1

cup

rolled oats

1

cup

wholegrain wheat flour

2

ripe bananas

3 ½

oz

full-fat milk

3

eggs

3

tablespoon

agave syrup

4

tablespoon

coconut oil

3

teaspoon

baking powder

strawberries, raspberries, blueberries, bananas....

for topping
Instructions
Preheat the oven to 200°C / 400°F

Mix all the ingredients together in a blender or food processor

Spread the batter onto the baking tray and add your toppings of choice (we used a 19.6 x 13.5 x 1.2 Inch)

Bake for about 20 minutes

After 20 minutes pierce with a knife and if the knife comes out clean the pancakes are done
Notes
Toppings: make half of the sheet pan without toppings and half with. Toddlers may not want to eat fruit that they normally enjoy if it's submerged in a pancake (this happened to us). This way you can offer two different kinds to them and introduce them to the possibility of fruit on a pancake (if they are not used to it). 
Nutrition