Longing for an Ice Cream? Try Nice Cream!
With the summer coming up and the days getting longer and hotter (if you're on the northern part of the Globe like us) you're probably wanting to treat yourself (and your kids) to some creamy and tasty ice cream.
And while it's something that should be included in a normal nutrition by any means, it is often filled with unnecessary fat and sugars.
So it's nice to have some healthy versions lying around that you can mix with the "original" ice cream and make sure that the overall nutrition balance is not disrupted.
And this is where Nice Cream comes into action! But what is it really?
Well basically it's a no-added-sugar dairy-free version of ice cream with no additional preservatives, colorings etc. It's very often banana-based with different add-ins and can include all kinds of fruit.
Since children under the age of 2 should not really have sugary stuff nice cream is a great summer treat for them. Especially when it's made from original and fresh ingredients that are also filled with nutrients. Yes!
So let's break them down!
Jump to:
Vegan Strawberry Banana Nice Cream Nutritional Stuff
Frozen bananas are often the main ingredient for nice creams. They seem to be the main ingredient for any healthy sweet dish, right? But that's just because they have the perfect texture and sweetness for our sweet tooth.
(That is why we have a ton of healthy banana recipes on this site here.)
Bananas are a great carb and fiber source and provide a good amount of certain other nutrients such as vitamins B6 and C.
For our fruit choice (apart from the bananas) for this nice cream, we chose strawberries because they're in season now and there's pretty much nothing better than fresh strawberries.
And the fact that they are rich in vitamin C, potassium and folate doesn't hurt either 😀
To give a little more creaminess and that additional flavor kick to this nice cream, we added some nut butter. It provides healthy fats and protein to the nice cream.
Agave syrup is our choice of sweetener this time but you can pretty much use any one you like (just try to avoid table sugar). This could be honey (for over 1 year olds) or maple syrup also.
Vegan Strawberry Banana Nice Cream Preparation Tips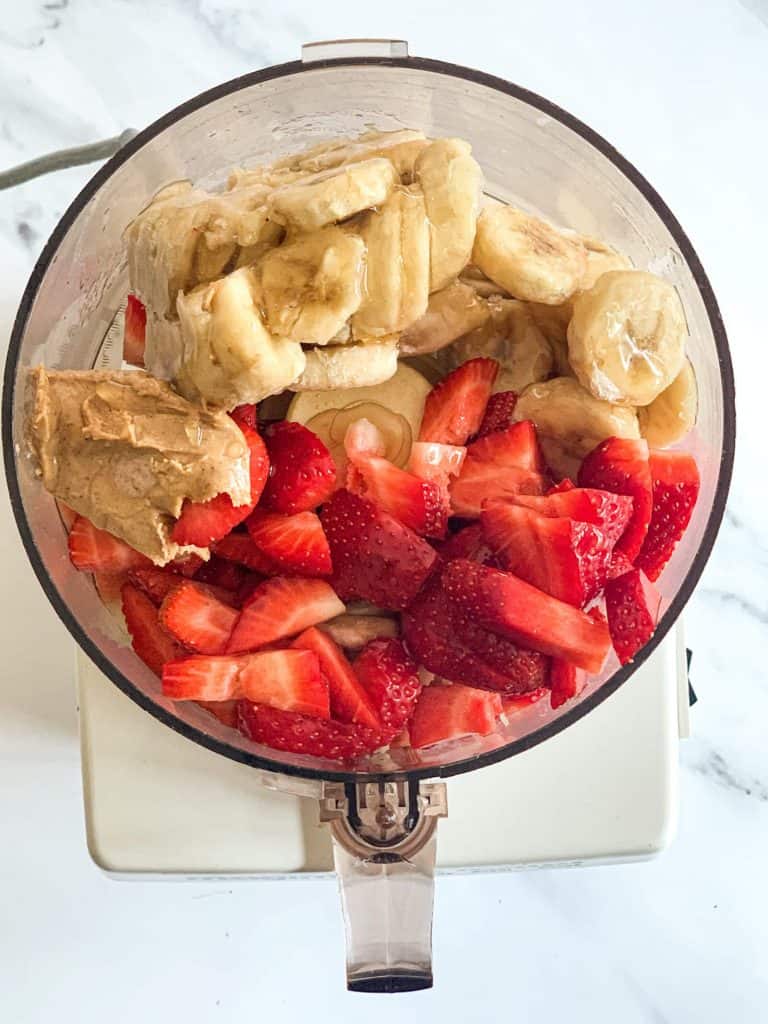 While we do recommend you keep the frozen banana as the base for your nice cream, you can really use pretty much any fruit instead of the strawberries if you don't have them handy.
We do recommend using fresh fruit if you can because it gives a slightly better aroma and taste.
Similarly, for the nut butter you can use any of choice. We love using hazelnut butter because roasted hazelnuts have that special aroma that you can rarely find elsewhere, but it's not a problem if you don't have them close by.
And if you don't even have nut butter but do have yourself some nuts and don't feel like spending time making butter, you can simply soak them in water overnight and use in the mixture the next day (rinse them before use). They should blend together with the rest of the mixture pretty easily.
For the molds, we used these non-toxic silicone molds (affiliate link) that were very affordable from Amazon. They also have reusable sticks so less plastic in our oceans (yay).
More vegan recipes you may like:
Enjoy! And let us know your thought on this spring-to-summer treat!
Vegan Strawberry Banana Nice Cream
10 min prep, healthy, dairy-free, vegan and delicious Strawberry Banana Nice Cream Recipe will be a win for all kids and toddlers.
Ingredients
Ice Cream
4

ripe bananas

cut into circles and frozen overnight

2

cups

strawberries

1

oz

nut butter

2

tablespoon

agave syrup
Instructions
Mix all ingredients in a food processor until smooth

Fill the ice cream popsicle molds with the ice cream and insert an ice pop stick in each

Freeze for at least 4 hours
Nutrition