5 ingredient super easy creamy tuna pesto pasta is a great lunch or easy weeknight meal recipe that tastes amazing served hot or as a cold pesto pasta salad.
Since our Red Lentil Vegan Bolognese with vegetables has been such a hit with readers we thought we must do another pasta recipe.
Why we love this easy dinner recipe:
5 ingredients
quick meal ready in 20 minutes (even if making homemade basil pesto or green pasta sauce) for the whole family
can be served as cold pesto pasta salad
a creamy tuna pesto pasta recipe
for children replace tuna with canned salmon due to potentially high mercury in tuna
Jump to:
Ingredients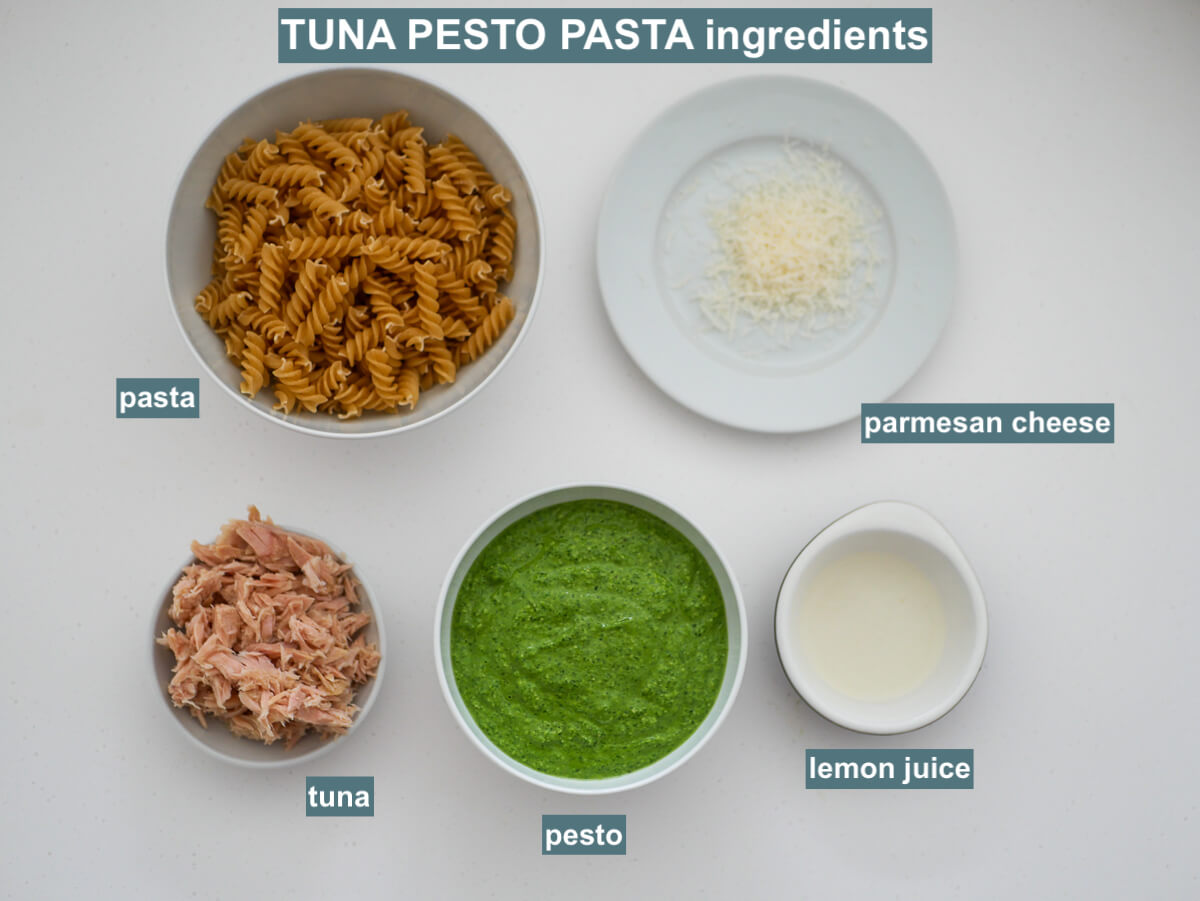 You can use either homemade pesto or store-bought pesto to make this pasta tuna pesto recipe. We have tried this recipe with both and both versions are very good.
Pasta - wholewheat pasta has more fiber but white pasta just tastes better. You can use either and any shape you like - spaghetti, fussilli, linguini or penne.
Canned tuna - use either olive oil or water packed tuna. Any other oil is just not that good for you. If you use water packed tuna you will need to add more olive oil to the recipe. Also make sure you are buying BPA free canned tuna. Tuna with the lowest mercury content is "skipjack tuna" .
Cheese - use authentically Italian Grana Padano, Pecorino Romano or Parmesan cheese. If you don't eat cow's cheese then any hard goats cheese will do or vegan cheese.
Fresh lemon juice - gives the recipe the acidity it needs
Pesto - use homemade or store-bought. We love our green pasta sauce made with spinach and cashews.
See recipe card for quantities.
Instructions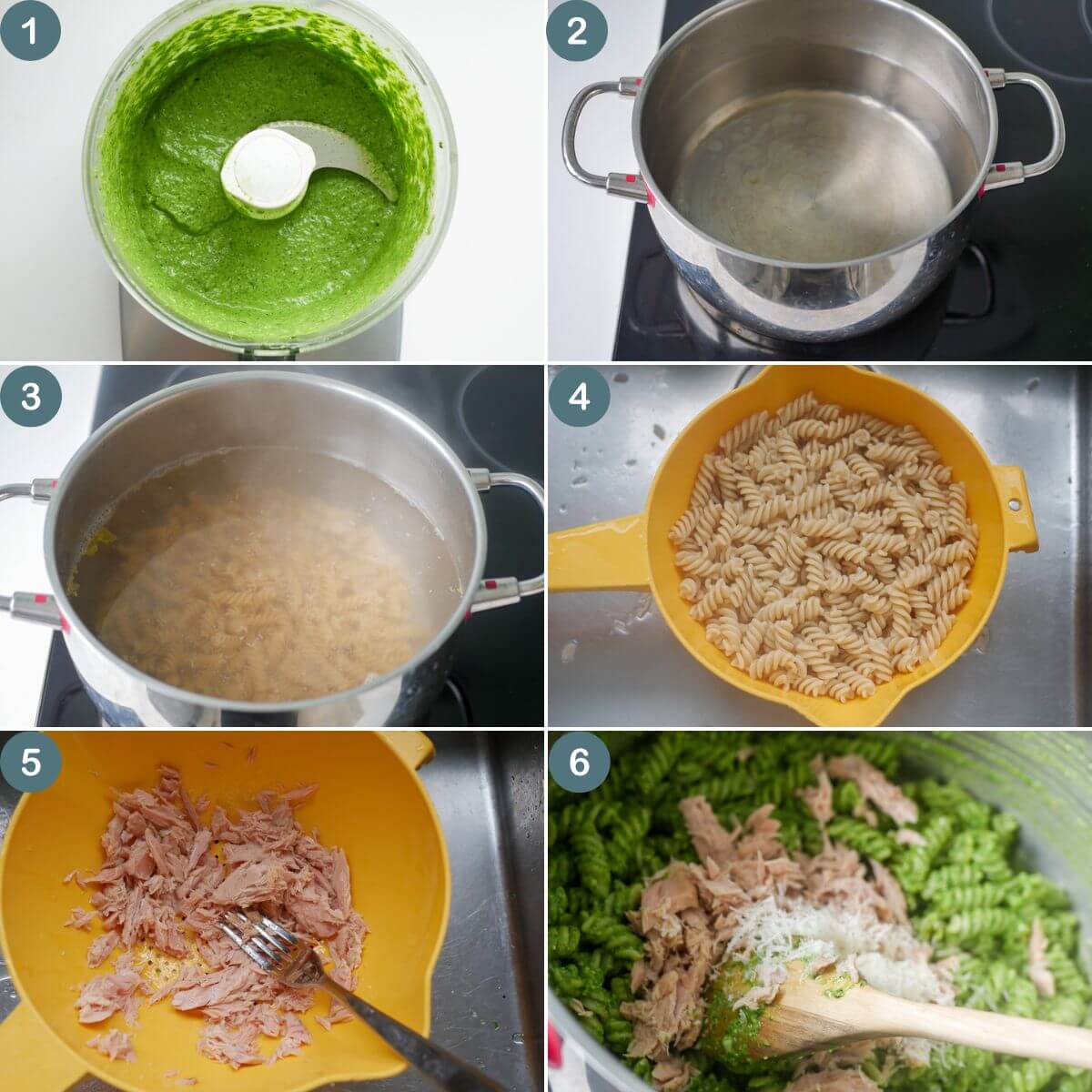 If making homemade pesto then make it first by placing all the ingredients in a food processor and processing until you have a pesto sauce.
Place water in a saucepan with a teaspoon of extra virgin olive oil and ½ teaspoon of salt and bring to boil.
Once boiling reduce to medium heat and add the pasta. The length of cooking will depend on the pasta you use so check the packaging, but it will usually be between 8-12 minutes.
Once the pasta is cooked drain it and place it back in the saucepan.
Open the canned tuna and drain it if using water packed tuna.
Shred the tuna and add to the cooked pasta together with the pesto, cheese and lemon juice.
Mix until all in incorporated.
Add more extra virgin olive oil, salt, black pepper. fresh basil to taste.
Enjoy
Substitutions
Dairy-free - you can use any hard white vegan cheese instead of parmesan
Other fish - use canned wild pink alaskan salmon
Gluten-free - purchase gluten-free pasta
Variations
Spicy - add chili pepper flakes or red pepper flakes while cooking to add heat into the dish
Add more vegetables - mix in cherry tomatoes, grape tomatoes, arugula, baby spinach leaves, olives or artichoke harts
Add more protein - cannellini beans or grilled chicken
Add mozzarella
Add some kalamata olives
Add sun-dried tomatoes
Add artichoke hearts
Add pine nuts or walnuts
Storage
Store in an airtight container in the fridge for up to 3 days.
This is a great served as a cold pesto tuna pasta or warm it up in the microwave or oven ( 140 °C / 300 °F for 15 minutes).
FAQ
Is tuna safe for babies?
It is best to wait to serve tuna to babies and toddlers until they are 2 years old because of the levels of mercury and sodium. And even then it is always best to choose safer alternatives such as wild salmon. Canned tuna in this tuna pesto pasta recipe can be replaced with canned wild salmon.
Does tuna and pesto go well together?
Yes, the saltiness of tuna and the creaminess and herbiness of pesto make this pesto pasta with tuna a delicious recipe.
Is tuna high in mercury?
Mercury in tuna varies from variety and brand of tuna. Children and pregnant women should avoid tuna and replace it with more sustainable seafood like salmon. Tuna can be enjoyed once in a while as part of a varied diet. You can use this incredible EWG Consumer Guide to Seafood which will calculate how much and what seafood you should and can eat based on your age and weight.
If you've tried this recipe or any other recipe on the blog, then please rate it and leave us a comment below!
References
Environmental Working Group. (2014, Sept. 18). EWG's Consumer Guide to Seafood: Executive Summary. Retrieved January 27, 2020
Tuna. Solid Starts. Retrieved May 1, 2022