If I asked you to make a list of foods that start with K as you can, how many do you think you could get? Personally I struggled without looking it up, but I hope you'll discover something new on this list that broadens your culinary horizons!
Before you read the list of K foods though... do you know what koulourakia are? Skip to the bottom to find out!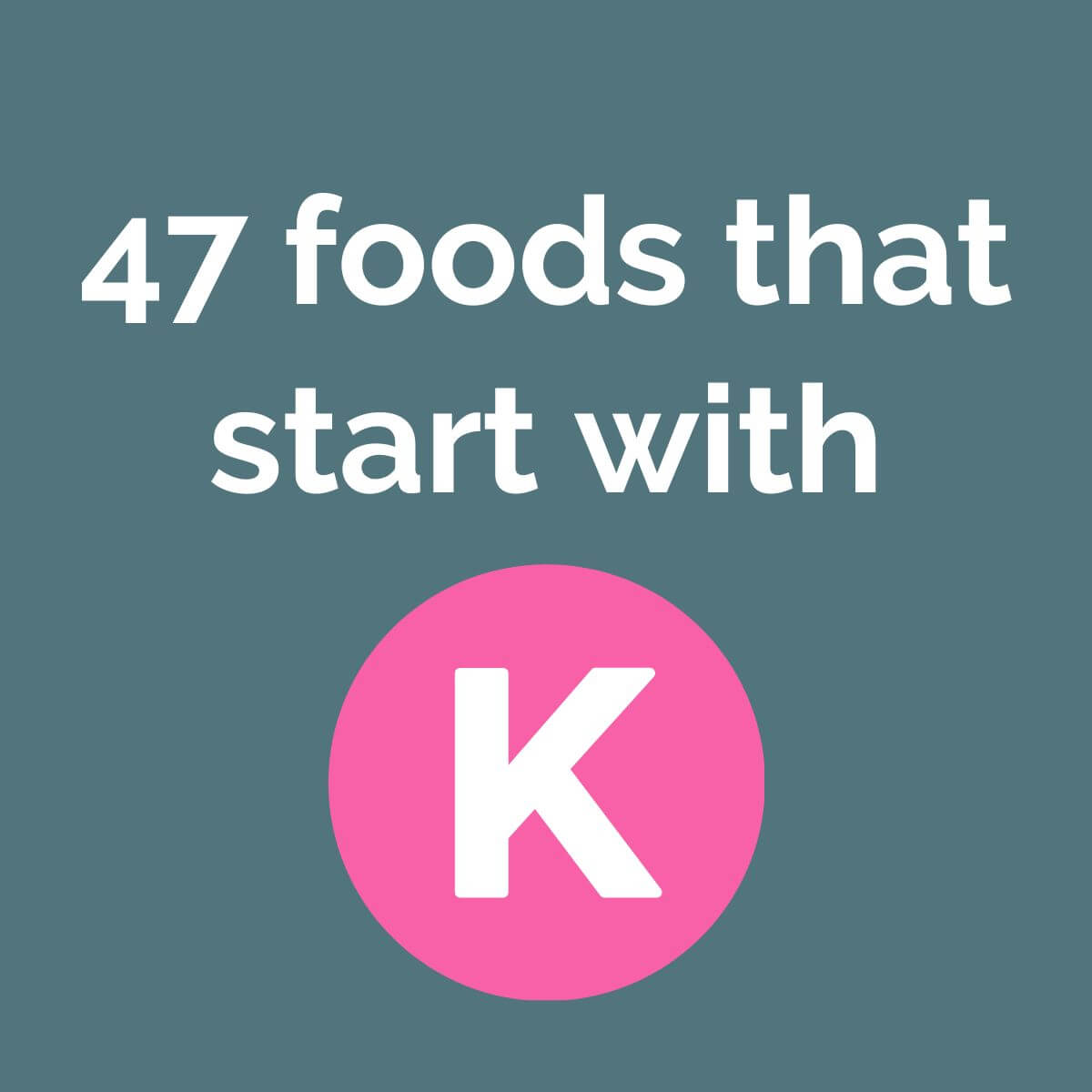 Jump to:
Produce
1. Kale
Kale is one of the best known health foods in the world today because of its high amounts of vitamin A, C, and K as well as its antioxidants.
It's part of the cabbage family and easily recognizable by its sturdy, curly leaves and bitter flavor. It's a perfect addition to nutrient bomb smoothies!
Despite its nutritional profile, it still might not be the most nutritious things that start with K.
2. Kimchi
Famously from Korea, kimchi is a traditional side dish made by fermenting vegetables (most often napa cabbage) with a spicy paste of chili pepper, garlic, ginger, and other seasonings. Kimchi boasts a tangy, pungent, and slightly sour taste.
Personally I think it's delicious, but many people find the fermented flavor to be too strong for their tastes! However in any case it is a real powerhouse of probiotics and vitamins, promoting gut health and overall well-being.
3. Kiwi
Although originally from China (and also known as a Chinese gooseberry), Kiwi fruit is pretty widely available around the world these days. It's a small, green, and slightly fuzzy fruit with a sharp, slightly sweet, slightly sour, juicy interior.
The flavor is somewhat unique, with a distinctly tropical taste. Kiwis are super high in vitamin C and fiber and although most choose not to, the skin can also be eaten and is highly nutritious.
It's a great addition to any fruit salad or perfect as a snack on its own.
4. Kohlrabi
Though lesser-known, kohlrabi (or German turnip) is a versatile vegetable belonging to the cabbage family. Its round shape and distinctive appearance make it stand out. Compared to cabbage, it's a little more crisp and crunchy with a sweeter taste and a hint of pepper.
Used raw, it's perfect in salads and cooks well as well, becoming tender with a milder flavor. If you've never used it before, try adding it to soups or stir-fries next time you get the chance!
5. Kumquat
Kumquats are fruits that look like little, oval-shaped oranges or mandarins. They are only a bit bigger than grapes though and vs. their larger lookalike citrus fruit, the skin of the kumquat is usually eaten along with the rest of it.
The skin is actually the sweetest part as the flesh inside can be very sour! They are perfect as a raw snack, with plenty of vitamin C and antioxidants.
6. Kaffir Lime
Kaffir lime basically looks a like a bumpy little lime. It's mostly known for its aromatic leaves and zesty peel. The leaves are very widely used in Asian cuisine, and in the west often associated with Thai food for example.
The fruit itself has a strong, acidic taste and is occasionally used in beverages, jams, and desserts.
7. Kabocha Squash
Kabocha squash is more commonly known as Japanese pumpkin. It's a variety of winter squash popular in Japan and other Asian countries for its sweet, nutty flavor and dense, creamy texture.
It's also pretty versatile, being easy to roast or steam making it perfect for soups, stews or curries with its natural sweetness and rich, almost nutty taste.
8. Kelp
Kelp is a hugely widespread kind of seaweed, growing in huge underwater forests near coastlines all around the world. It's become known as a superfood since it's truly a nutritional bomb – packed with minerals and vitamins and used to treat a variety of conditions.
While more recently available widely in the west, it has been popular in Asia for a long time, used in broths, soups and stews and being a key ingredient in seaweed salads and sushi rolls.
9. Kidney Beans
Kidney beans, named for their shape's resemblance to a human kidney, are surely one of the best of the beans. They were originally popularized in Central and South America and widely used for how easily they can be cooked, their great taste and rich nutritional profile.
Their flavor is relatively mild, with a slight nuttiness and smooth texture once cooked. They easily complement the flavors of many dishes, making them a really easy and protein-rich plant to add to any dish.
They are super versatile so try them in stews, chilli, tacos and many other options.
10. Kaleidoscope Carrots
Kaleidoscope carrots are a colorful and eye-catching variety of the familiar root vegetable. Their hues range from deep purple and bright orange to white and yellow, creating a stunning display when served raw or cooked.
While they taste similar to regular orange carrots, their distinctive appearance makes them an attractive addition to salads, side dishes, and vegetable platters.
Plus, the various colors indicate a diverse range of antioxidants and nutrients, making kaleidoscope carrots both beautiful and nutritious.
11. Kamut
Kamut is also known as Khorasan wheat (so it's kind of a double for foods that start with k) and is a kind of grain originally found in Egypt. The grain itself is about twice the size of regular wheat and although it tastes somewhat similar, it's actually a little sweeter due to the slightly higher amount of natural sugars.
Kamut is also higher in both protein and micronutrients vs. regular wheat, and with it's high gluten content, kamut flour very useful when baking.
12. Kettle Corn
Does kettle corn count as produce? I'm not sure, but this "K food" is essentially just popcorn, but typically air-popped in cast iron kettles instead of with oil or butter.
It's one of my favorite food items, since it's such an easy snack and delicious whether you eat it plain, add some butter, salt, caramel or whatever else you can think of!
13. Kosher Pickles
Kosher pickles are pickles made with garlic and brine, and while they are the kind most commonly sold in kosher delis, nothing about them makes them inherrently kosher!
Meat & Fish
14. Kebab
The kebab traces its roots to the Middle East and Central Asia, where it has been a culinary tradition for centuries. Typically made with marinated cubes of meat, such as lamb, beef, chicken, or even fish, threaded onto skewers and grilled to perfection.
The marinade, often a blend of spices, yogurt, and citrus, infuses the meat with incredible flavor and tenderness.
Served with aromatic rice, flatbreads, and tantalizing sauces, kebabs offer a delightful and satisfying dining experience.
15. Kielbasa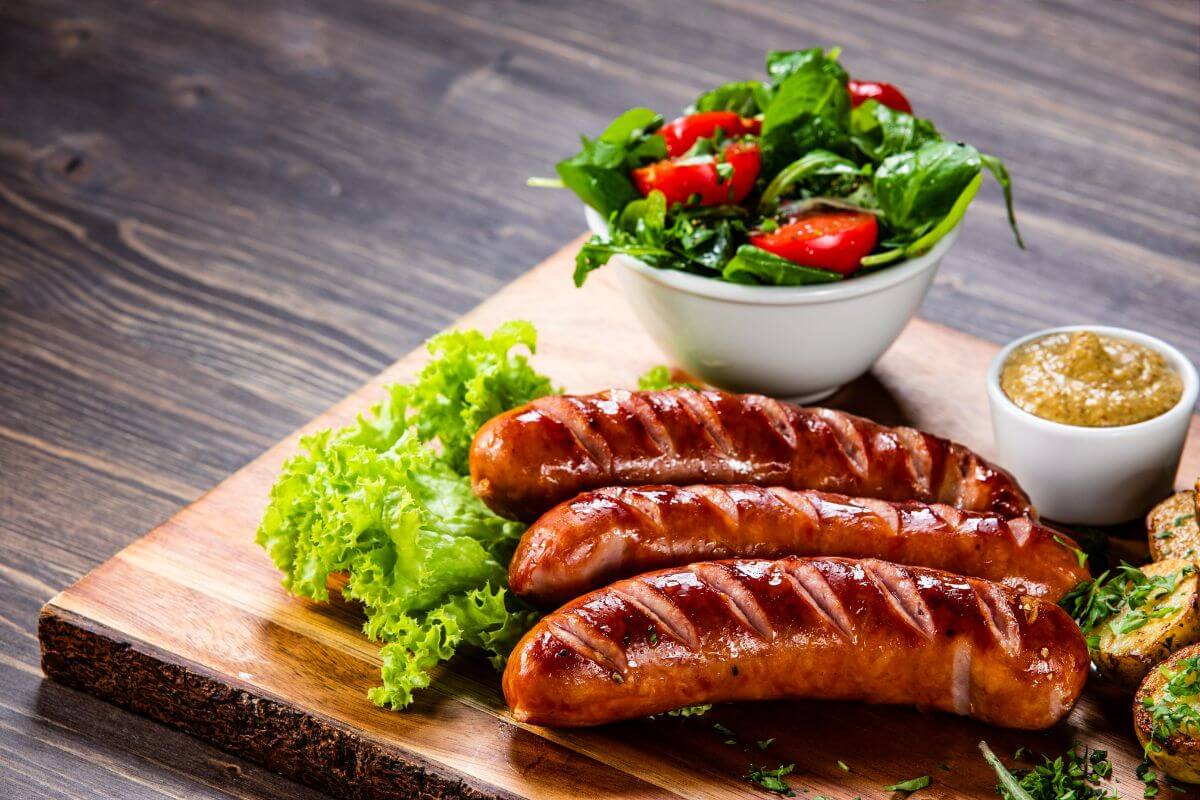 Originating in Poland, kielbasa is a flavorful sausage crafted from coarsely ground pork, seasoned generously with garlic, pepper, and other spices. This hearty sausage is often smoked, adding depth to its already robust taste.
The versatile kielbasa can be grilled, sautéed, or simmered, and it pairs wonderfully with sauerkraut or served alongside pierogies for a satisfying Eastern European feast.
16. King Crab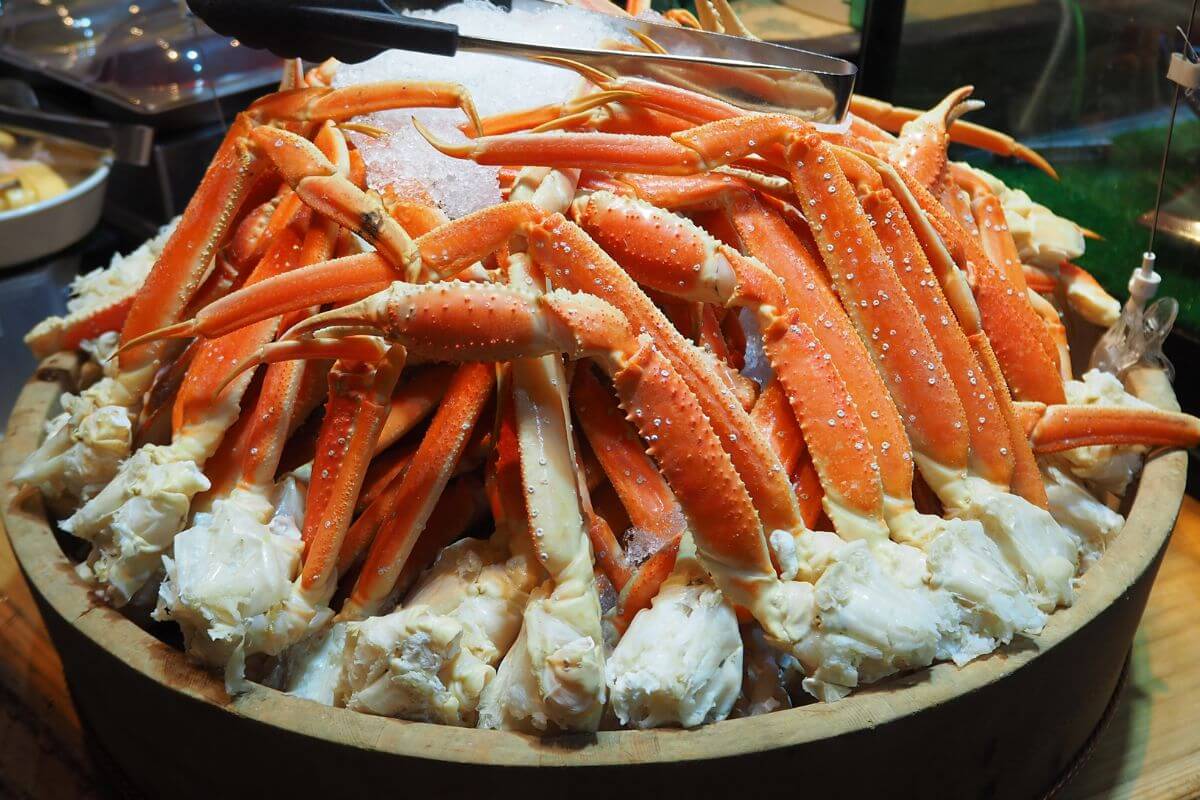 As you might guess from the name, the king crab is a massive species of crab. It's found mostly in the Northern Pacific Ocean and has a delicate texture and slightly sweet taste.
Steamed and served with a light garlic butter sauce is pretty popular as it let the natural flavors come through.
Whether cracked open and dipped in melted butter or featured in decadent crab cakes, the king crab is a luxurious treat for seafood enthusiasts.
17. Kipper
Kippers are a classic British breakfast dish, made from herring that's been split, gutted, and cold-smoked. The smoking process imparts a distinctive briny, smoky flavor, transforming the fish into a delectable morning treat.
Often served with toast, butter, and a squeeze of lemon, kippers are a nostalgic and flavorful choice for a traditional English breakfast.
Dishes
18. Kishka
Kishka, also known as kishke or stuffed derma, is a traditional Eastern European dish, particularly popular in Jewish cuisine. It consists of a sausage-like casing filled with a flavorful mixture of ground meat (often beef or chicken), matzo meal, onions, and spices.
The casing can be made from beef intestines or synthetic materials. When cooked, the kishka becomes tender and savory, offering a comforting and hearty meal for any occasion. It is often served with gravy or in soup for an extra burst of flavor.
19. Knish
A knish is a beloved snack and comfort food with Jewish roots, tracing its origins to Eastern Europe. It consists of a dough filled with various savory ingredients, often mashed potatoes mixed with onions or kasha (buckwheat groats).
The filled dough is then baked or fried to golden perfection, resulting in a delicious, handheld treat. Knishes come in various shapes and sizes, and they are the perfect on-the-go snack or side dish, offering a delightful combination of textures and flavors.
Despite the silent k in a lot of words, you do actually pronounce it in knish, making this a perfect food that starts with k.
20. Kasha
Kasha is a staple of Eastrn European and Russian cuisine. It's made from roasted buckwheat groats which, despite the name, contain no wheat and are gluten-free. Roasting gives kasha a deep, nutty flavor and a robust, hearty texture.
Often cooked with onion, it's usually served as a side dish or as a stuffing for vegetables but can also mixed with fruit and honey and eaten as an alternative to porridge. Kasha is an excellent source of plant-based protein as well!
21. Kokoretsi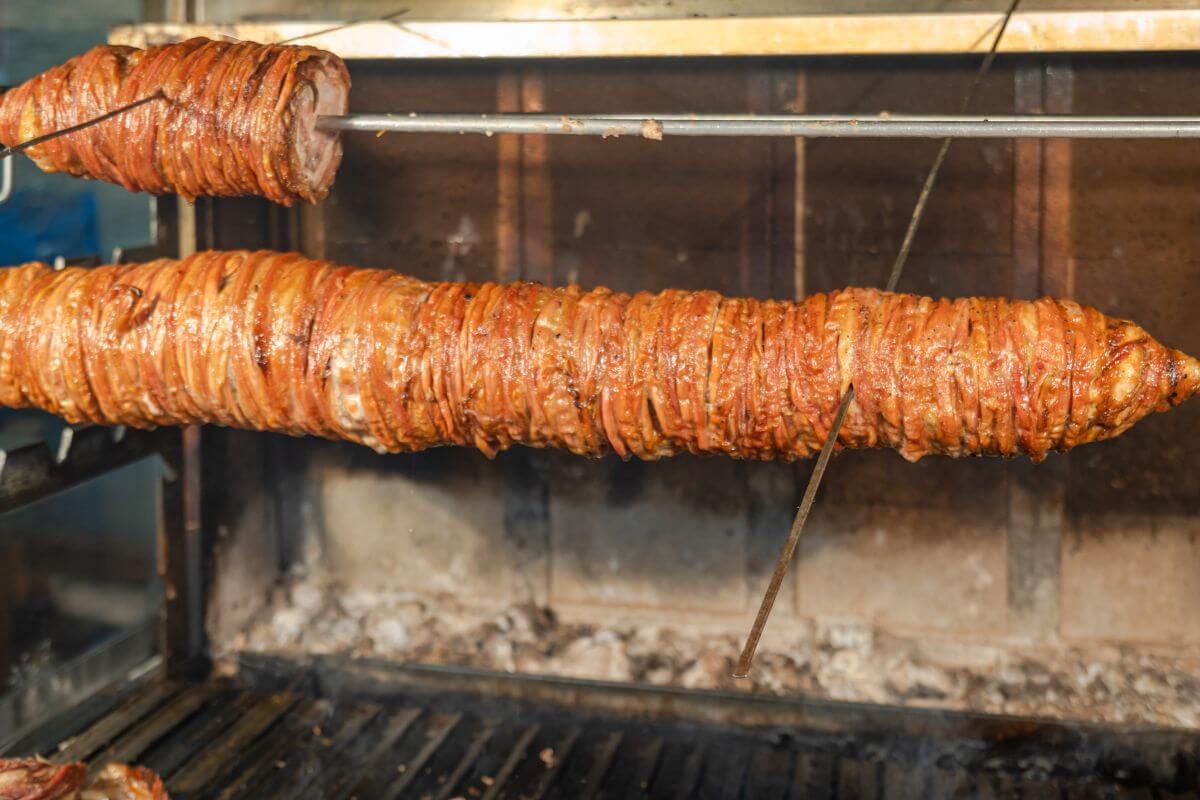 Kokoretsi is a traditional dish from Greece for the adventurous foodies among us. It consists of skewered and spit-roasted offal, including lamb or goat intestines wrapped around seasoned organ meats, such as hearts, livers, and lungs.
The combination of offal and the aromatic blend of herbs and spices results in a unique and robust flavor. Served during festive occasions and celebrations, kokoretsi is a cultural experience that showcases the diverse tastes of Greek cuisine.
22. Koulouri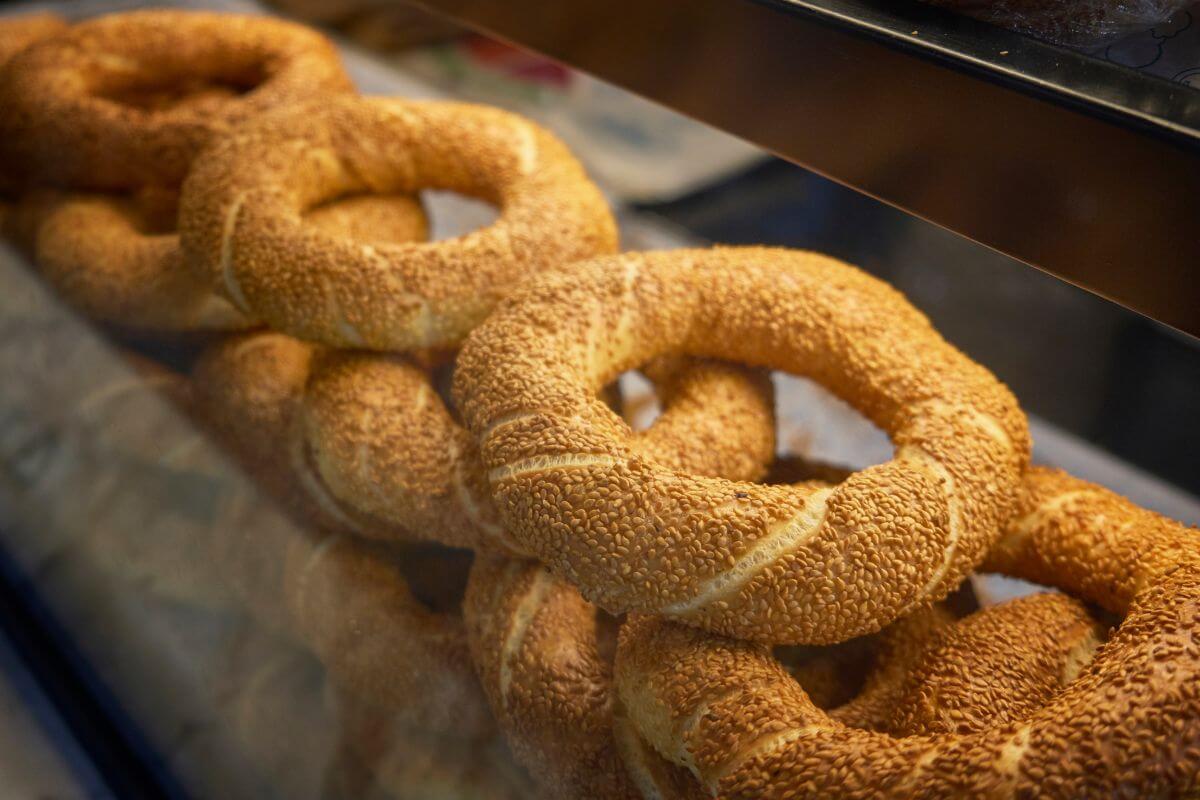 Koulouri is a popular Greek street food, particularly in Athens. These soft, ring-shaped breads are covered in sesame seeds, adding a nutty flavor and a satisfying crunch.
Koulouri vendors can be found throughout the city, offering a simple yet delicious breakfast or snack option.
Enjoyed on its own or with toppings like cheese, olives, or cold cuts, koulouri is a beloved and convenient choice for a quick bite in Greece.
23. Katsu
Katsu is a Japanese dish of breaded and deep-fried chicken or pork cutlets. If done just right it should be nice and crunchy on the outside, while staying tender and moist on the inside.
It's often served with rice as well as some shredded cabbage and tangy sauce to balance out the flavors and textures. If you've never tried it, look out for a chicken katsu curry next time you eat Japanese cuisine!
This is definitely one of my favorites out of all these foods that begin with k, but since it's fried chicken it can't be that surprising!
24. Kasha Varnishkes
Kasha Varnishkes is a cherished Jewish dish, often served during holidays or family gatherings. It consists of two main components: kasha (roasted buckwheat groats) and varnishkes (bowtie pasta).
The kasha is cooked with onions and flavorful broth, resulting in a nutty and slightly smoky taste. When combined with the tender pasta, the dish offers a comforting and satisfying flavor.
Kasha Varnishkes is a true taste of tradition, evoking fond memories of home-cooked meals and cherished family moments.
25. Khorovats
Khorovats is a traditional Armenian barbecue, widely enjoyed during family gatherings, holidays, and special occasions. It usually includes skewers of pork, lamb, or chicken, grilled over open fire.
It's more than just a meal in Armenia, but an opportunity for people to get together!
26. Kedgeree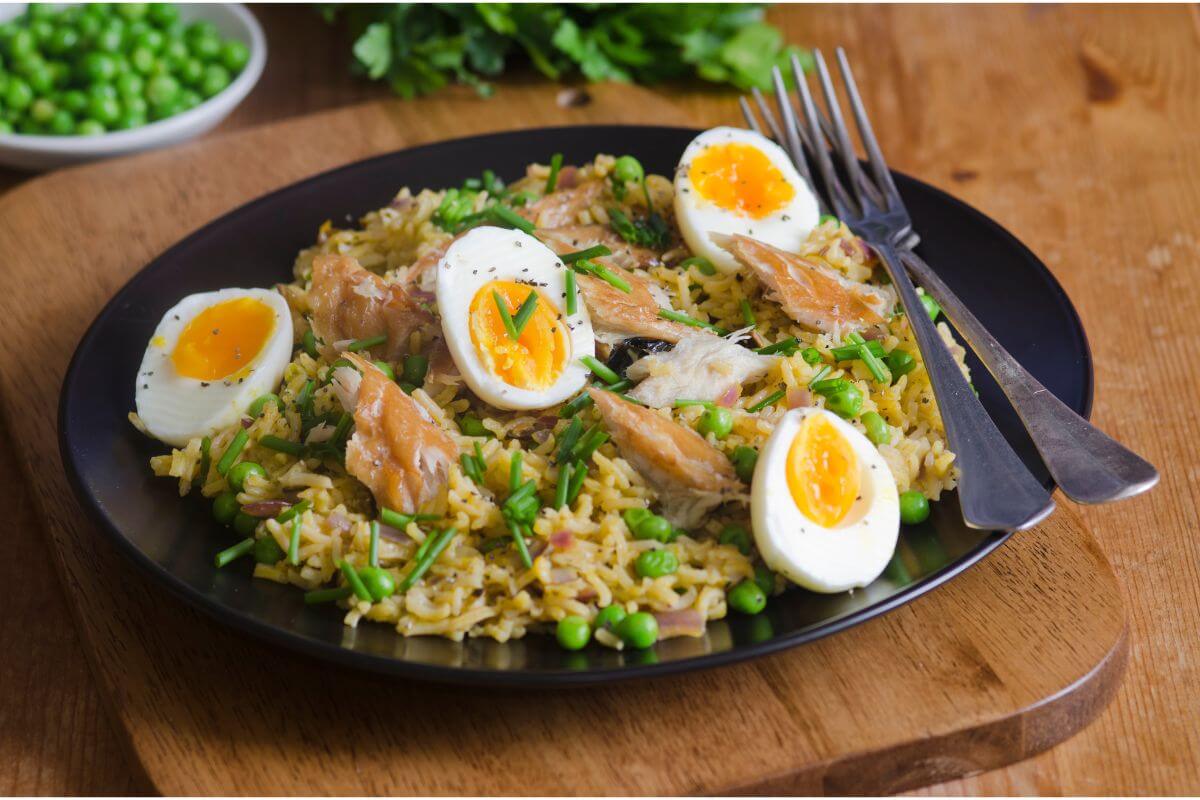 Kedgeree was originally a popular dish in southern India and is now popular in different countries and common in the UK.
Its main ingredients include smoked haddock, hard-boiled eggs, rice and curry spices. It makes a delicious meal that is a perfect for brunch.
27. Kung Pao Chicken
Perhaps one of the most popular Chinese dishes in the west, kung pao chicken is stir fried chicken dish made with chicken, vegetables, chili peppers, vegetables, peanuts and usually rice.
It combines sweet, spicy and salty flavors perfectly to leave you feeling full after a meal.
Sweets
28. Koulourakia
Koulourakia are delightful Greek Easter cookies, typically made in various shapes and sizes. These buttery, subtly sweet treats are often flavored with vanilla, orange zest, or even ouzo, a Greek anise-flavored liqueur.
They are commonly enjoyed during holidays or served alongside a cup of coffee or tea. Koulourakia are easy to make and perfect for sharing with family and friends.
29. Knafeh
Knafeh, also spelled kunafeh or knafe, is a delectable Middle Eastern dessert that varies in preparation across the region. It typically consists of layers of shredded phyllo dough or semolina dough filled with sweetened cheese, often soaked in sweet syrup.
Once baked, the knafeh is garnished with crushed pistachios or a sprinkle of orange blossom water. The result is a rich, gooey, and utterly indulgent treat that delights the taste buds with its contrasting textures and delightful sweetness.
30. Key Lime Pie
Key Lime Pie is an iconic dessert and popular food from the United States. It's creamy and tangy with a flaky graham cracker crust filled with a smooth custard made from small, tart key lime juice, sweetened condensed milk, and egg yolks.
This gives it its unique flavor and when topped with a dollop of whipped cream or meringue, it's a perfect tropical treat.
31. Kit Kat
Kit Kat is a beloved chocolate confectionery that has gained worldwide popularity since its introduction in the 1930s. Created by the British company Rowntree's, and now produced by Nestlé, Kit Kat consists of layers of crispy wafer covered in smooth milk chocolate.
Its distinctive shape, with individual fingers that can be easily snapped off, makes it a fun and shareable treat.
Is it cheating to include brands as a food beginning with k? Not according to me at least!
32. Krispy Kreme
Krispy Kremes are iconic donuts, glazed in sugar. While they started in the US, Krispy Kremes are popular around the world nowadays and if you've never tried them then you're missing out!
They are light and airy and still thoroughly indulgent, coming in original sugar glazed or a whole array of different flavors.
33. Kinder Bueno
Kinder Bueno is a delectable confectionery product by Ferrero, renowned for its luxurious taste and texture. The treat consists of a crispy wafer filled with a hazelnut cream filling and is enrobed in smooth milk chocolate.
Each individually wrapped bar is divided into two segments, making it a perfect snack for sharing or savoring on separate occasions.
Kinder Bueno is a favorite among those with a sweet tooth, offering a perfect blend of creamy, crunchy, and chocolatey goodness.
Drinks
34. Kombucha
Kombucha is the first drink on our list of foods that start with k and is made by fermenting black or green tea with cultures of bacteria and yeast. The process produces a naturally fizzy and slighty tangy drink as a result of carbon dioxide being released into the drink during fermentation.
It's known for bring a great probiotic, supporting your gut health.
35. Kirsch
Kirsch, also known as kirschwasser, is a clear, colorless fruit brandy distilled from cherries, typically the sour Morello variety. Originating in Germany, Switzerland, and the Alsace region of France, kirsch is used in various culinary applications.
It adds a distinct cherry flavor to desserts like Black Forest cake, truffles, and poached fruits. Kirsch is also enjoyed as a sipping liqueur, offering a pleasant, sweet cherry aroma and warming sensation.
36. Kahlúa
Kahlúa is a beloved coffee liqueur that originated in Mexico. Made from coffee, vanilla, sugar and mixed with rum, Kahlúa has a rich taste where the coffee really stands out alongside hints of caramel.
It's a key ingredient in classic cocktails like the White Russian and Black Russian, as well as a versatile addition to desserts, coffee beverages, and ice cream treats.
With its smooth and indulgent character, Kahlúa is a delightful companion for coffee enthusiasts and cocktail lovers alike.
37. Kamikaze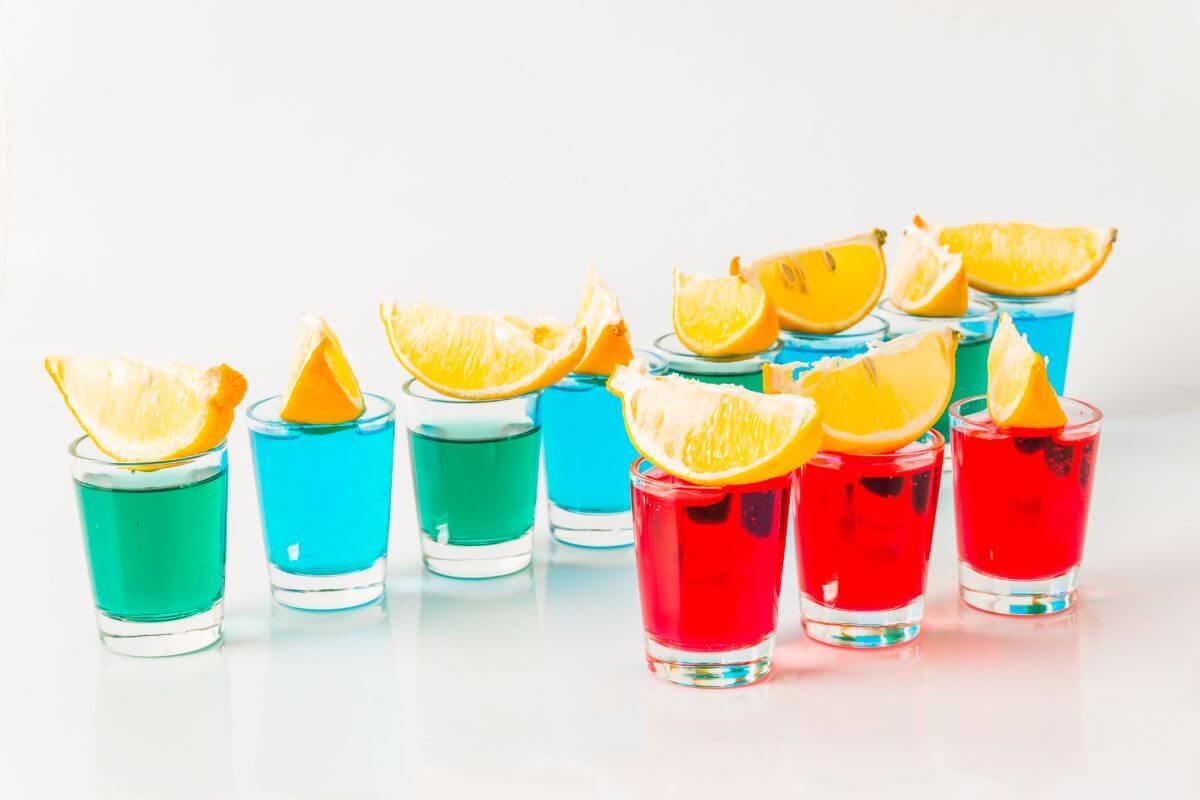 The Kamikaze is a vibrant and zesty cocktail that packs a punch. Dating back to the 1970s, it's typically made with equal parts vodka, triple sec, and lime juice, resulting in a tangy and refreshing drink with a hint of sweetness. The Kamikaze is often served as a shot and packs a real punch!
38. Karkadé
Karkadé, also known as hibiscus tea, is a popular beverage enjoyed in Egypt and various countries throughout North Africa. Made from dried hibiscus flowers steeped in hot water, this crimson-colored infusion offers a pleasantly tart and slightly floral taste.
Often served hot or iced, Karkadé can be sweetened to taste and is known for its potential health benefits, including being rich in antioxidants and vitamin C.
39. Kummel
Kummel is a traditional liqueur originating in the Baltic region, particularly popular in Germany, Russia, and Estonia. It has a distinctive flavor cominig from an infusion of caraway seeds, cumin, and other herbs and spices.
Its taste is a unique blend of sweet and spicy, with the warming sensation of the alcohol complementing the herbal notes. Kummel is enjoyed neat, on the rocks, or as an ingredient in cocktails, adding a touch of Eastern European charm to the mixology world.
40. Kriek Beer
Kriek beer is a Belgian beer known for its fruity twist. It is made by fermenting lambic beer with sour cherries, resulting in a delightful, ruby-red drink. The cherries give the beer a natural sweetness and adds a great balance to the beer's natural flavor.
41. Kentucky Bourbon
Kentucky bourbon is a type of American whiskey distilled from at least 51% corn and aged in charred oak barrels. It's known for its smoothness, sweetness, and hints of vanilla, spice, and oak, it's perfect for cocktails (like the Old Fashioned) or to be drunk neat.
42. Kinnie
Kinnie is a unique and iconic Maltese soft drink enjoyed throughout the islands of Malta. It has a bittersweet taste with herbal undertones, mainly derived from a blend of bitter oranges, aromatic herbs, and spices.
Kinnie is often served chilled and is a popular choice as a refreshing non-alcoholic beverage, especially during the hot Mediterranean summers.
It has a distinct flavor profile, making it a beloved beverage for locals and a must-try for travelers visiting Malta.
43. Kefir
Kefir is a drink made by fermenting cow or goat's milk in a calabash container, imparting a tangy and slightly sour taste. It's rich in probiotics, supporting a healthy gut and can be drunk by itself or used when cooking to add flavor to a variety of dishes.
It's also a great substitute for milk to give to kids to help them develop a healthy digestive system.
44. Kvas
Kvas is a traditional non-alcoholic Russian drink made from fermenting rye bread or other grains like barley and wheat, combined with water, sugar, and yeast. The fermentation process gives Kvas its characteristic tangy and slightly effervescent taste.
This refreshing and revitalizing drink is often enjoyed during warm weather and can be found at street stalls and markets throughout Russia.
45. Kinako Latte
Kinako Latte is a flavorful Japanese beverage made from roasted soybean flour, known as kinako, mixed with hot milk. The result is a rich, nutty, and slightly sweet drink that has gained popularity in recent years for its unique taste and health benefits.
Kinako is rich in protein, fiber, and various minerals, making this latte a nourishing alternative to traditional coffee-based drinks. Kinako lattes are often enjoyed in cozy cafes and during the colder months in Japan.
Condiments
46. Ketchup
Despite being one of the most popular sauces you can find in the US, tomato ketchup actually has its roots in southern China where it was originally a fermented fish-based condiment. Fortunately the version we eat today it free of fermented fish!
Nonetheless, the name has stuck and has come to represent the ultimate accompaniment to burgers, hot dogs, and fries. Primarily made from tomatoes, vinegar and sugar, it's probably the most asked for condiment for any kids meal.
47. Kecap Manis
Kecap manis is the last of our K foods and is a condiment popular in southeast Asia, particularly Indonesia. It's a kind of dark and sweet soy sauce often used in satay dishes.
It's particularly sweet, with plenty of palm or brown sugar added and has the consistency of a sort of honey and soy sauce blend.
Final thoughts
How many of these foods that begin with K have you tried before?
Let me know in the comments if you discovered anyting new after reading this and tell me what I left off the list that should have been there!
Also check out these other popular "Foods that start with posts"!
The best 47 foods that start with the letter K (2023)
How many foods that start with K can you think of? There are more than you think and so many delicious new things to try.
Ingredients
Produce
Kale

Kimchi

Kiwi

Kohlrabi

Kumquat

Kaffir Lime

Kabocha Squash

Kelp

Kidney Beans

Kaleidoscope Carrots

Kamut

Kettle Corn

Kosher Pickles
Meat and Fish
Kebab

Kielbasa

King Crab

Kippers
Dishes
Kishka

Knish

Kasha

Kokoretsi

Koulouri

Katsu

Kasha Varnishkes

Khorovats

Kedgeree

Kung Pao Chicken
Sweets
Koulourakia

Knafeh

Key Lime Pie

Kit Kat

Krispy Kreme

Kinder Bueno
Drinks
Kombucha

Kirsch

Kahlua

Kamikaze

Karkade

Kummel

Kriek Beer

Kentucky Bourbon

Kinnie

Kefir

Kvas

Kinako Latte
Instructions
Choose a food from the list

Discover something new to include in your diet!

Comment below and let us know what new foods you discovered