Do you know how many different kinds of food beginning with E there are? It's more than just eggs and edamame.
But since so many people are searching for the information, hopefully, this list will help you discover some new e foods, or remind you to include some old favorites in your upcoming meals.
Let us know in the comments which ones you've never heard of before.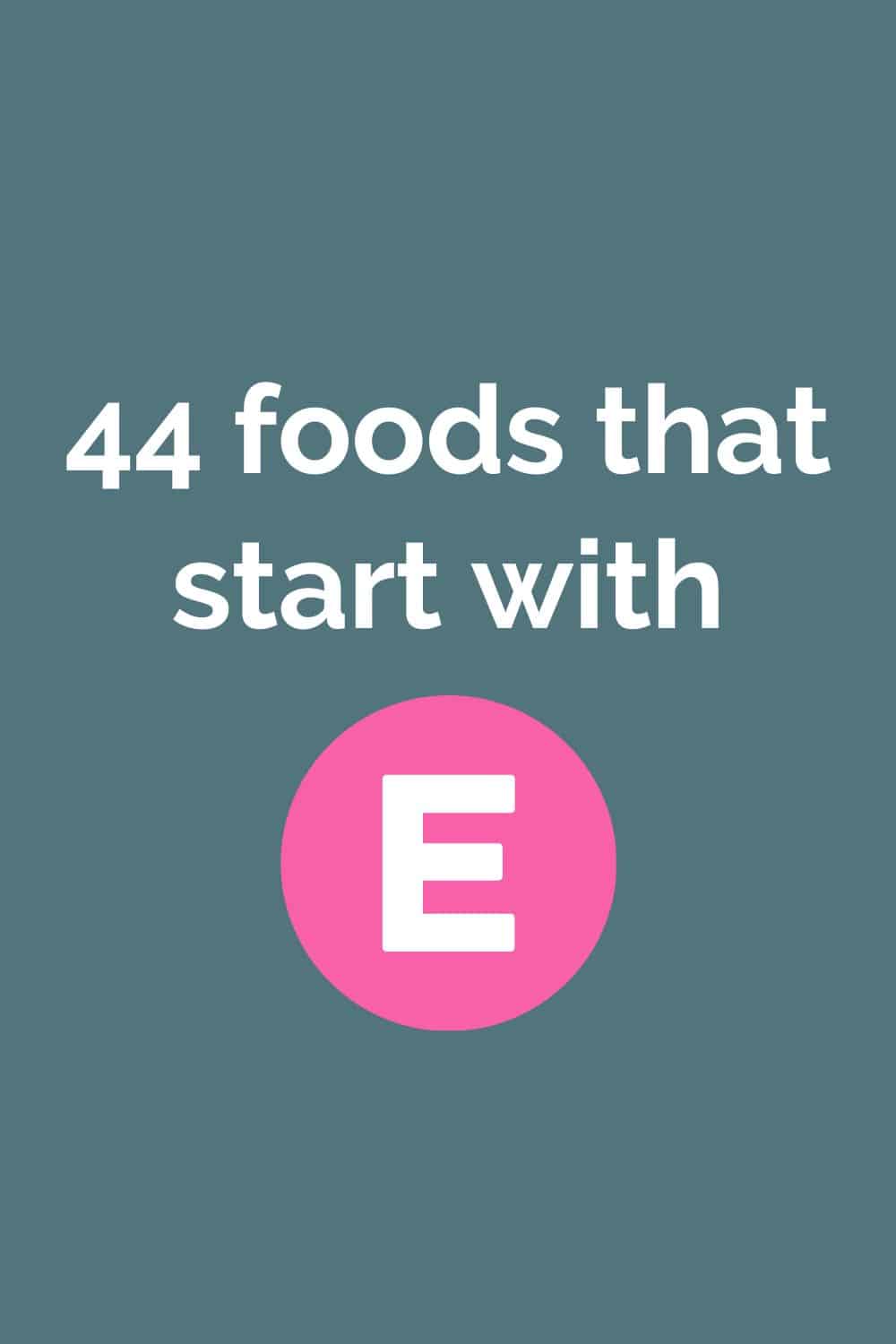 Jump to:
Produce
1. Eggplant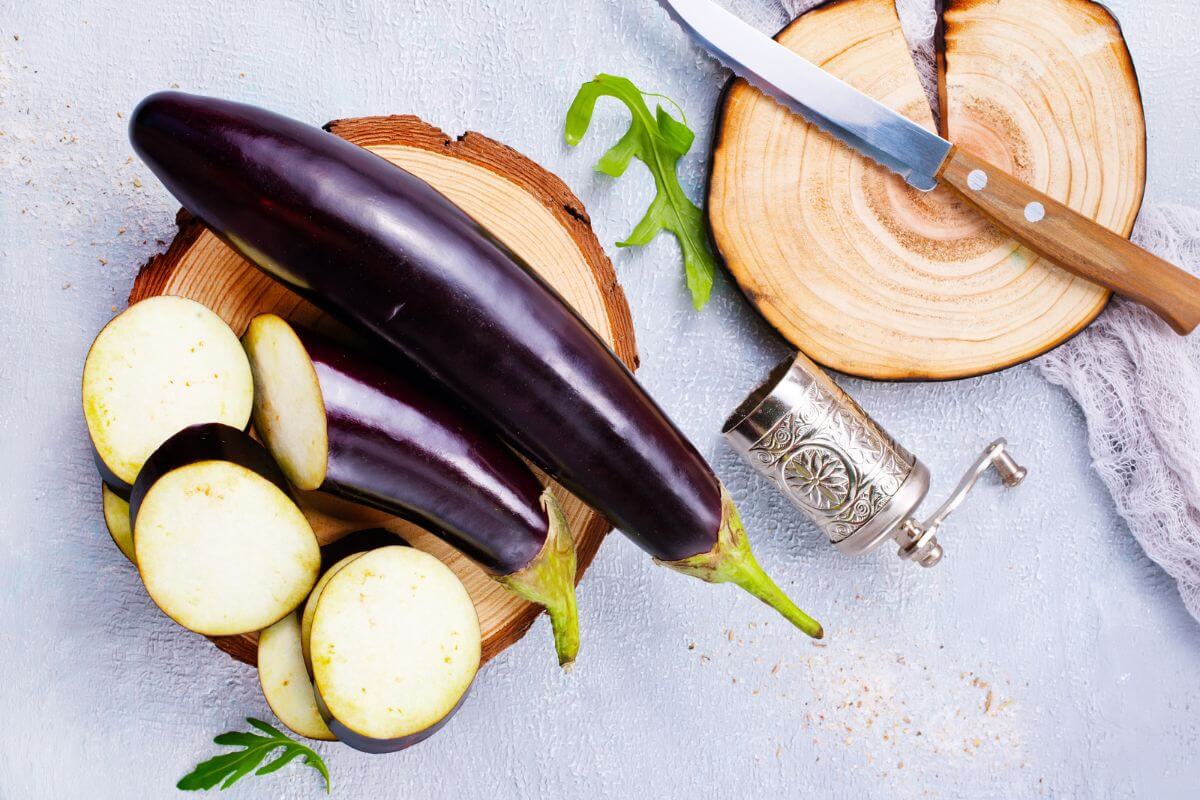 Eggplant is one of the most well-known foods that start with e on this list. It is also known as aubergine or guinea squash in many parts of the world and is part of the nightshade family. It's technically a fruit, although you wouldn't want it in a fruit salad!
It has quite spongy flesh, and dark purple edible skin, and is more usually used like a vegetable – best eaten grilled with a little olive oil. It's grown all around the world but mostly in North America – around two-thirds of the world's eggplants come from New Jersey!
2. Elderberries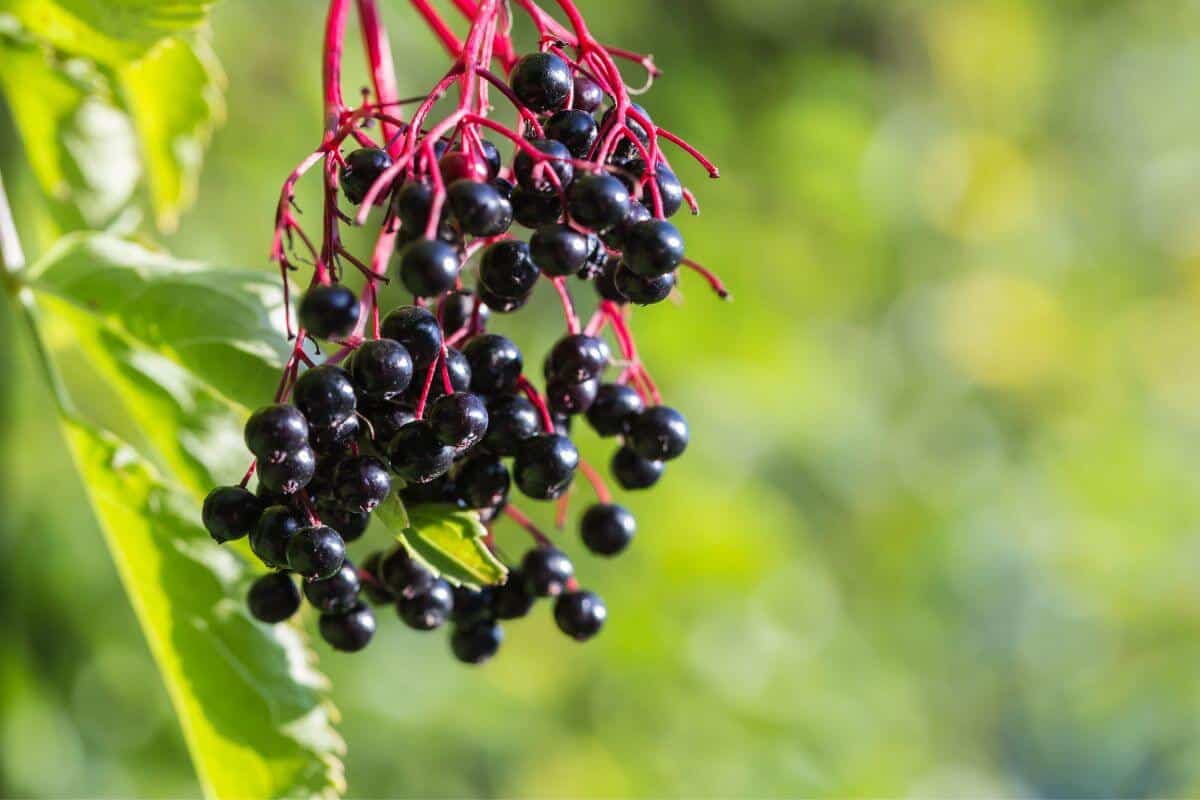 Elderberries are small, purple-black berries that grow on elder trees. They are rich in antioxidants which can support a healthy immune and cardiovascular system and help reduce inflammation making them a great addition to your diet.
However, elderberries can be harmful if eaten raw and are more often made into syrups or cordials to be used in drinks. They grow all around the world and also grow easily in the wild.
3. Early Girl Tomatoes
Early girl tomatoes are one of the most common tomatoes grown around the world. They are green while they grow and turn bright red as they ripen and can grow to about the size of a tennis ball.
Early girl tomato plants can produce multiple yields of tomatoes, so long as the plant is well cared for, so they tend to be a popular variety to grow at home. Use them to make a delicious tomato sauce that stores really well and can be used in many other recipes.
4. Edamame
Edamame, originating from East Asia, are immature soybeans, which grow in pods of 2-4 beans. They are similar to large peas, although must be cooked before eating or can be considered poisonous.
They are perfectly safe after cooking however and taste great with a sprinkling of sea salt. You can eat them right out of the pod, although typically you wouldn't eat the pod itself.
5. Endive
Endive is a leafy vegetable from the chicory family and is often considered a kind of lettuce. It can be purple or green and tastes great in salads. It has a slightly bitter taste when raw but can be grilled or baked as well before being eaten.
It can be grown in complete darkness, producing a yellow leaf instead of green and a less bitter flavor.
6. Egg Fruit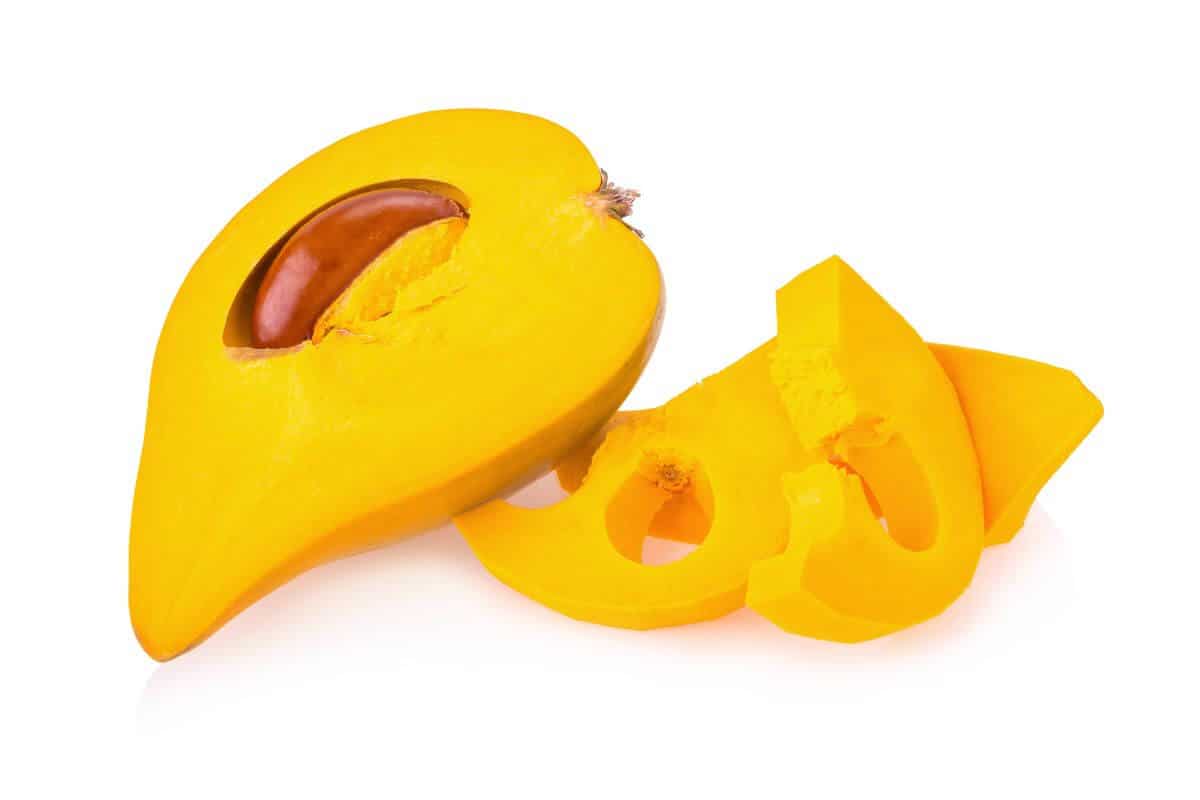 Egg fruit, also known as canistel, is a sweet fruit grown in Central America. It has yellow flesh, a large brown stone inside, and a sweet flavor. It can be eaten straight off the tree, but it's often used in desserts and milkshakes (like eggfruit nog).
Unfortunately, it doesn't stay fresh for very long which is why it's uncommon to find outside of Mexico and the surrounding Central American countries where it's typically grown.
7. Elephant Apple
The elephant apple is not on the list just to bump up the number of e - foods! It's actually a completely different kind of fruit from the apples you normally eat. It's a bit larger than the average apple and made up of about 15 overlapping carpels (almost like an artichoke).
It's native to India, Sri Lanka, and other Southeast Asian countries and is often used to make vinegar, jams, or even included in curries or soups. The trees have quite beautiful flowers as well.
8. Emu Berry
Emu berries (sometimes called emu apples, or simply emu fruit) are apple-like fruits that grow on trees in Australia.
They have a sweet and almost spicy flavor and can be eaten raw but are also often used to make jams, used in cocktails, and even used in skin-care products designed to give your skin a glow.
The trees are also used in traditional medicines by indigenous Australians.
9. Emblica Fruit
Emblica fruit is more commonly known in the west as gooseberries. They are small, round, green berries with a stone in the middle and a sour taste. They are indigenous to tropical regions of Southeast Asia and are extremely rich in vitamin C.
So if you're looking to boost your immune system, this edible fruit is actually a more efficient way to do so than by eating oranges.
10. Egusi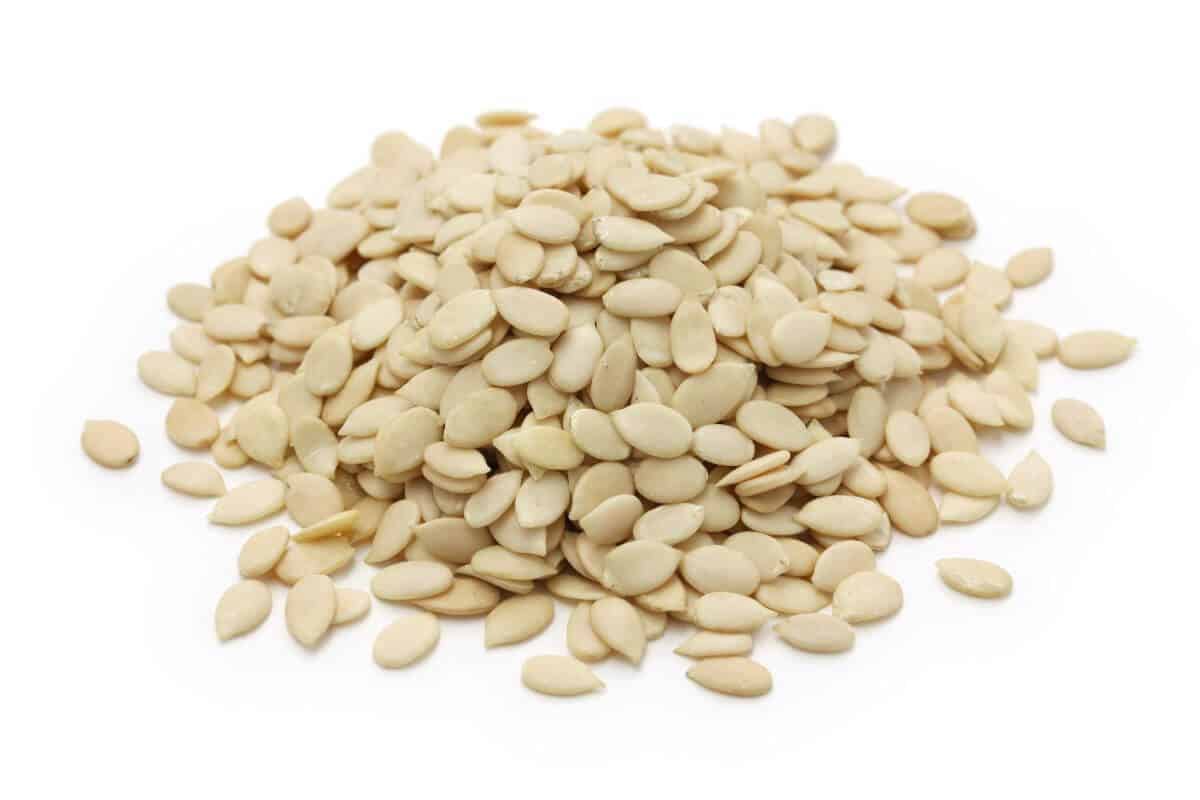 Egusi refers to the seeds of a kind of melon found in West Africa. The melon itself is too bitter for anyone to enjoy eating, but the seeds are very high in protein and have a similar taste to pumpkin seeds.
The seeds are typically sundried and often ground up to make a popular Nigerian dish, egusi soup. They can also be toasted and eaten as a snack on their own.
11. Ensete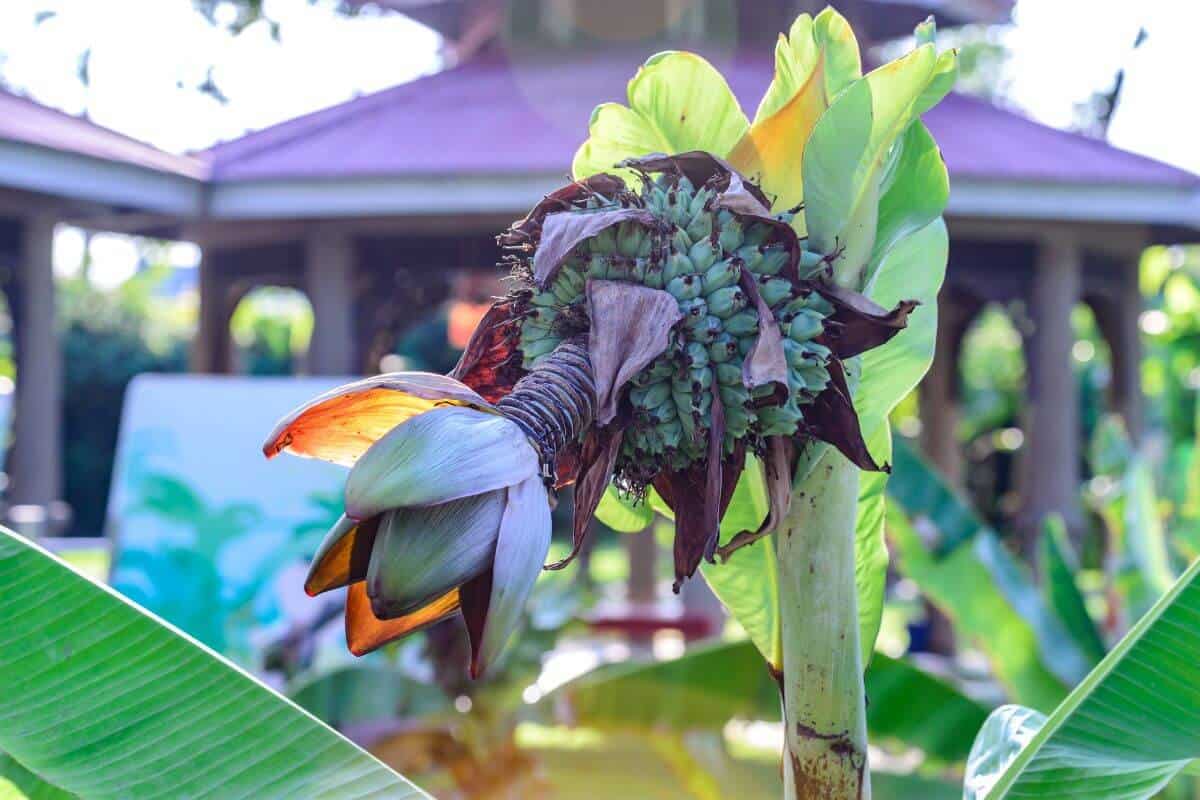 Ensete is known as the "false banana" and is a plant grown primarily in Ethiopia and the surrounding countries. The plant itself looks very similar to that of a banana, however, the fruit of the ensete is actually inedible.
Instead, it's grown for the starchy pulp from inside the trunk which is fermented underground, coming out like a dense flatbread-like food typically eaten with cheese or meat. It's a super valuable crop in Eastern Africa due to how resilient the plants are – the ensete tree can last 7 years without water!
Meat and Fish
12. Entrecote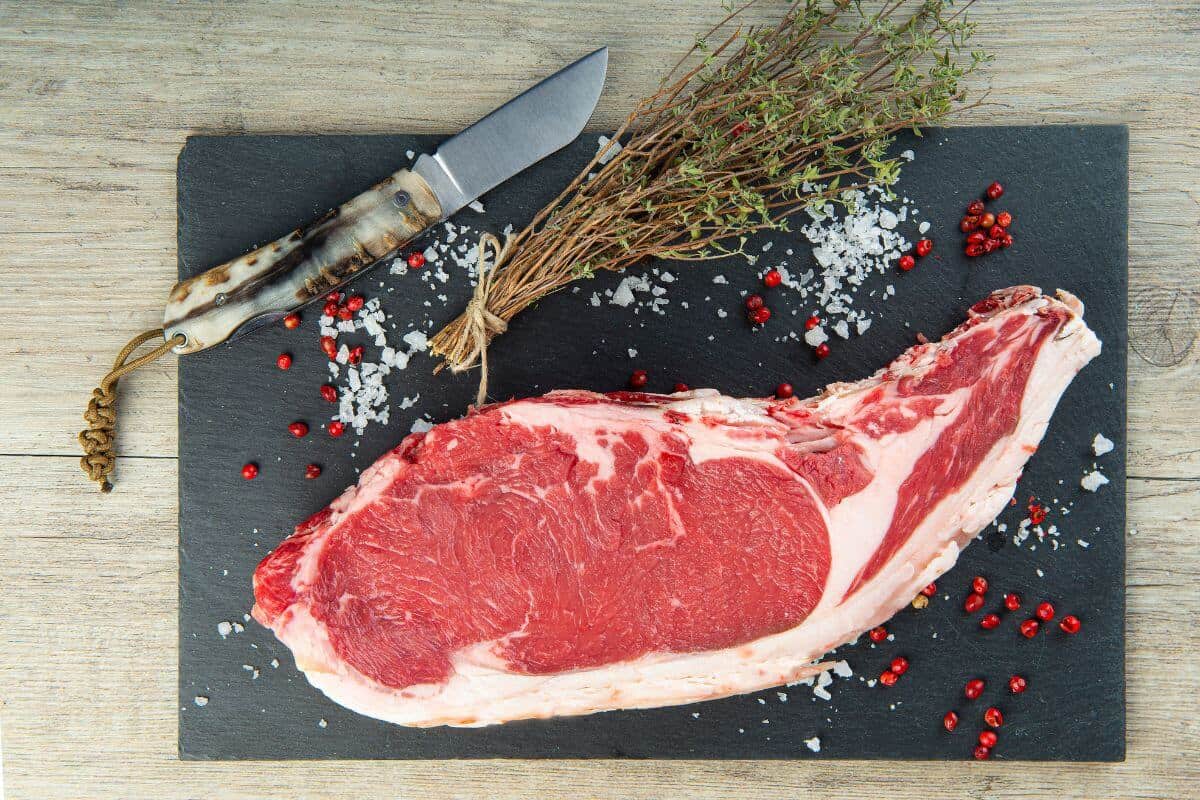 Entrecote, the French word referring to a ribeye steak, is a beef cut taken from the cow's rib. It is a preferred option for many steak lovers due to its reputation for softness and flavor.
It's relatively simple to prepare, and can be broiled, pan-seared, or grilled, typically over high heat. It goes great with roasted veggies and potatoes prepared in almost any way you can think of!
13. Elk Meat
Elk meat, also known as wapiti, particularly in New Zealand, is a lean and healthy alternative to beef. It's very high in protein and low in fat, making it a popular choice for those looking for a healthier meat option. It has a slightly gamey flavor and is best cooked over low heat to keep it tender.
It's commonly used in stews, meatloaf, or ground meat dishes so it's also pretty versatile. It can also be cured with salt and dried to make a really tasty jerky.
14. Eland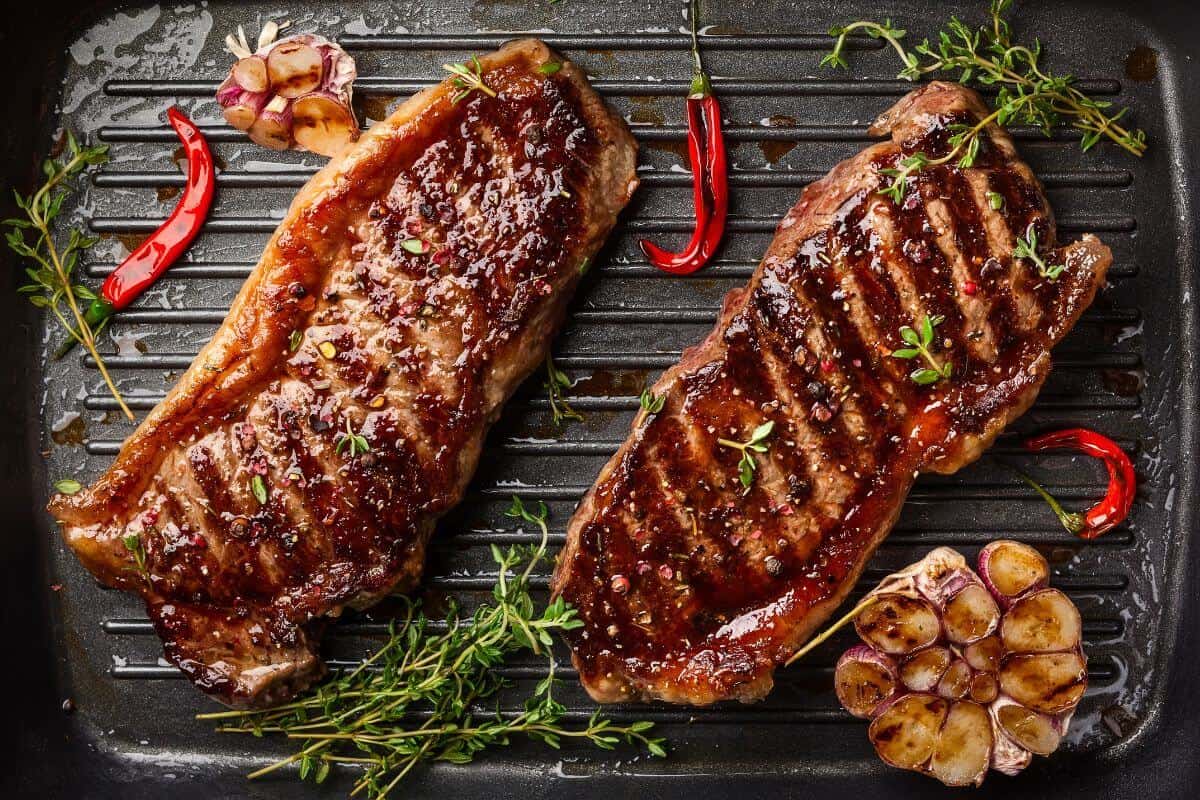 Eland is a kind of antelope that is native to southern Africa. It's actually the largest kind of antelope and while it may not be common in your local grocery stores, its meat is highly sought after in that part of the world.
The meat is lean and flavorful and is often compared to venison. Like elk, eland meat is high in protein and low in fat and can be cooked in a variety of ways, such as grilled, braised, and also often made into sausage.
15. Emu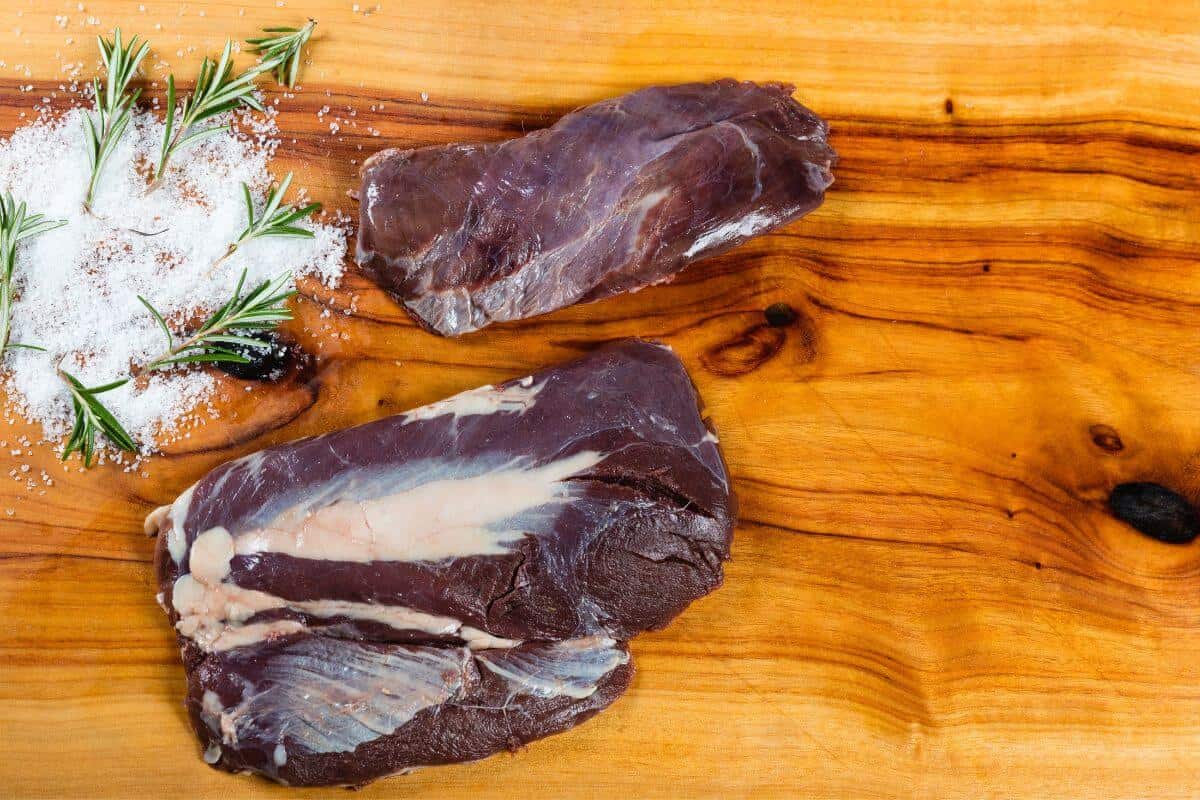 Emu is a large flightless bird, similar to an ostrich, that is native to Australia. The meat is lean and has a slightly gamey flavor. It's high in iron and protein, making it another healthy meat option.
Emu meat is commonly used as the main ingredient in stews, pies, and burgers but can also be made into biltong – salt-cured and dried meat similar to jerky.
16. Escolar
Escolar is a type of fish that is known for its rich, buttery flavor. It's a white fish often compared to tuna, hence its nickname, white tuna. It is best cooked quickly over high heat, whether it be grilled, pan-seared, or broiled.
Escolar is not recommended to be eaten in large quantities due to the natural wax esters (substances found in indigestible oils in the fish) that can cause digestive issues. It's often served as sushi or sashimi.
17. English Sole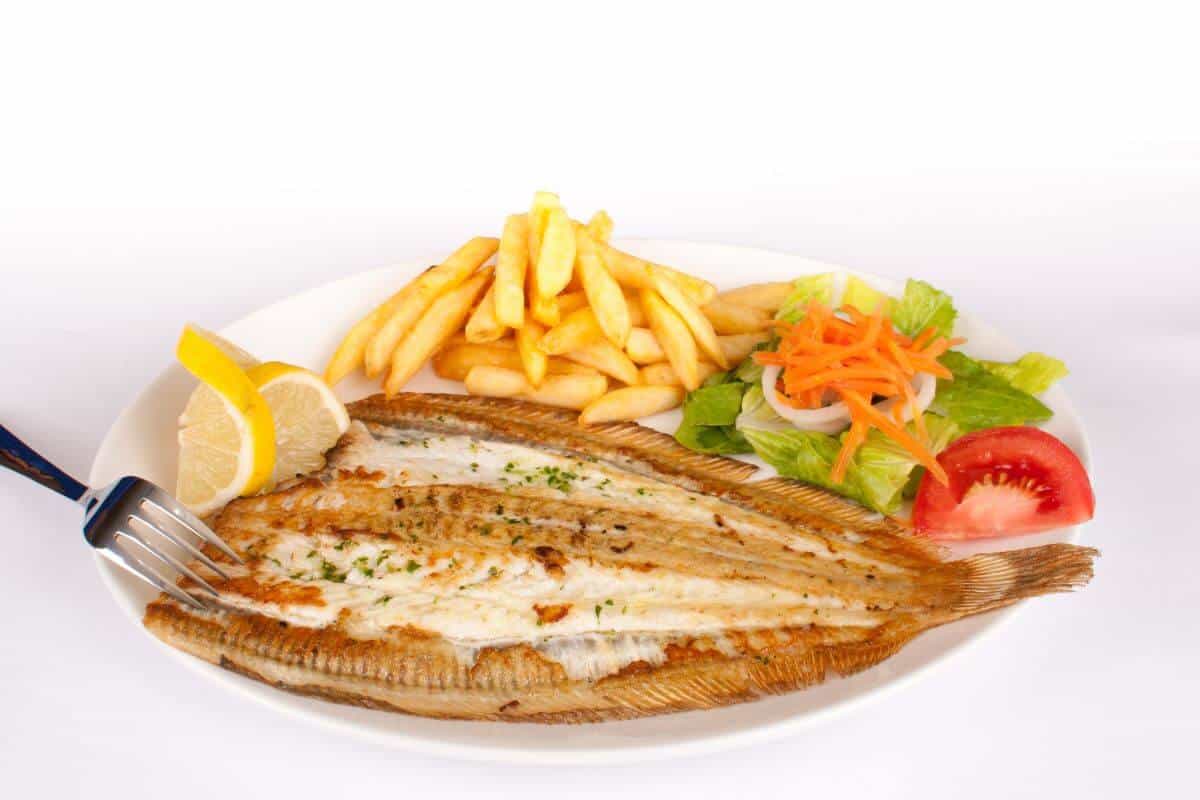 English Sole is a small flatfish found in the North Atlantic and North Sea. It's a lean fish meaning it's not particularly oily. It has quite a delicate flavor and flaky texture and tastes great prepped with a simple coating of flour, butter, and lemon juice. It can also be baked, sautéed, or poached.
It is a perfect fish to feed for baby-led weaning and kids.
18. Eel
Eels are long skinny kinds of fish that are found all over the world. They live in both freshwater and saltwater and look slimy almost snake-like with long fins that run the length of their bodies.
They have a kind of slimy texture but rich flavor and in many parts of the world, they are actually considered a delicacy. In the west is most often found as an option on sushi menus (sometimes called unagi).
If you happen to get your hands on it, it can also be grilled, sautéed, or even smoked. Add some soy sauce and enjoy.
19. Escallop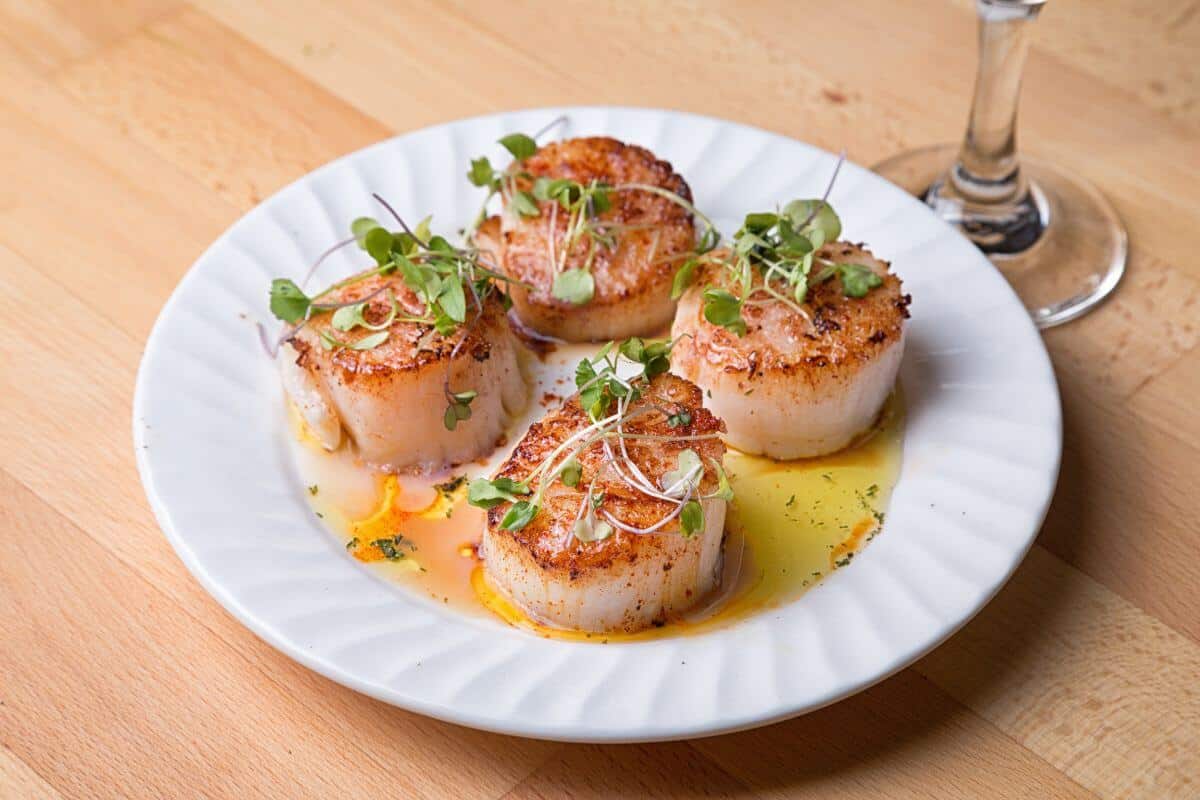 Escallop is another word for scallops – a type of shellfish that yields a white, cylindrical-shaped meat that can be cooked or eaten raw. They can become quite rubbery if overcooked, however, so if you aren't keen on eating them raw, make sure you cook them carefully!
I find it best to sear them on each side on high heat but not for very long. Cooking them in some butter is also a great way to get the most out of their smooth texture.
20. Escargot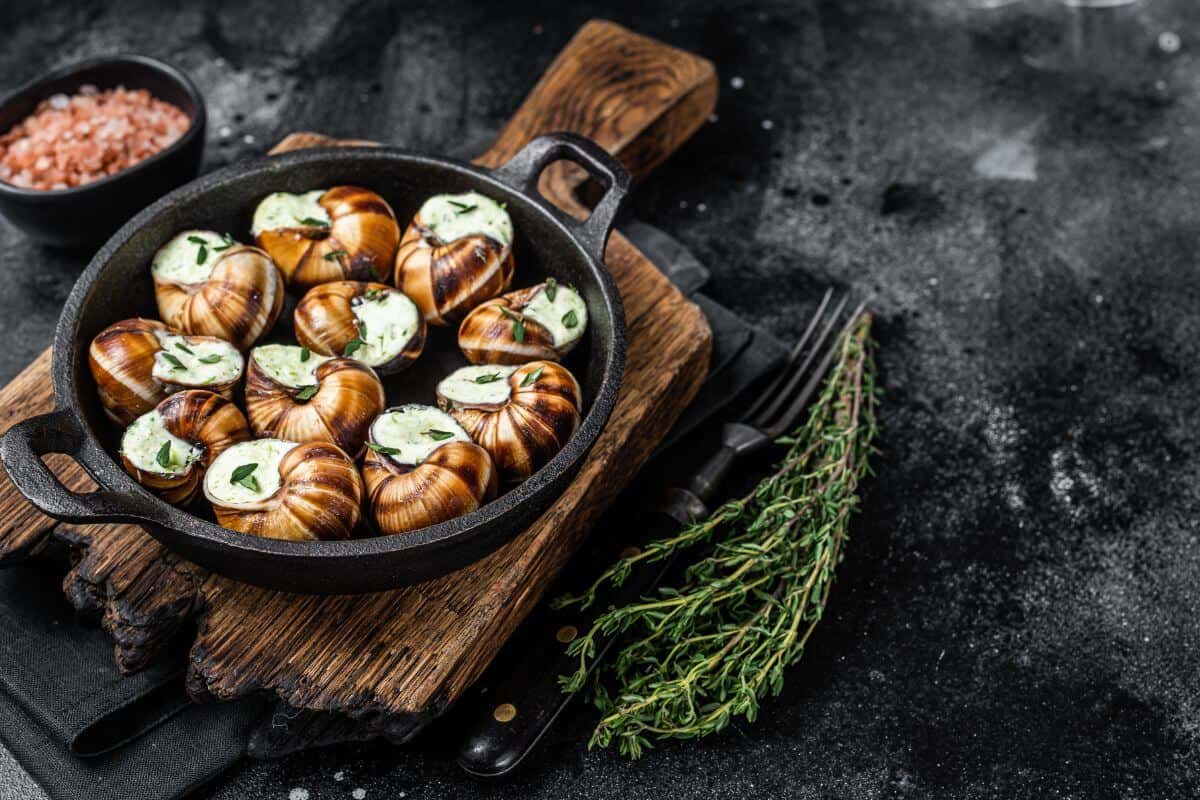 Escargot are basically just snails. And although some people might be squeamish about trying them, it's good to keep in mind that they are typically served covered in garlic butter... so there's not much not to like there!
They are fairly common in France and have a similar texture to scallops. While they may not be the first on the list of foods you think of with French cuisine, I'd recommend trying them at
Other Animal Products
21. Emmental cheese
Emmental cheese is a type of Swiss cheese that is known for its nutty flavor and large holes. It's made from cow's milk and has a semi-hard texture. It's often used in sandwiches and melted on top of dishes such as fondue. Emmental cheese is a good source of protein and calcium.
22. Edam cheese
Edam cheese is a type of Dutch cheese that is known for its semi-hard texture and mild, nutty flavor. It's made from cow's milk and is often used in sandwiches and as a snacking cheese. Edam cheese is a good source of protein and calcium.
23. El Trigal Manchego
El Trigal Manchego is a type of Spanish cheese that is made from the milk of sheep of the Manchega breed. It has a hard texture and nutty, slightly sweet taste.
It's often used as a table cheese, grated on pasta dishes, or eaten with fruit and crackers. El Trigal Manchego is a good source of protein and calcium.
24. Edelpilz cheese
Edelpilz Cheese is a type of German cheese that is made from cow's milk. It's a yellow cheese that is typically semi-hard and blue-veined.
It has a creamy texture with a strong somewhat spicy, earthy flavor. It's often used as a spreadable cheese, in sandwiches, or as a topping for crackers.
25. Eggs
Eggs are a staple food in many households – they are super versatile, used in tons of recipes (like Easy Cheese and Egg Quesadilla and see others below), are a healthy source of protein and fats, and are easy to find anywhere in the world.
They are also a great source of vitamin D and other micronutrients (mostly in egg yolks). Most of the eggs we eat are from chickens, although you can often easily find duck and quail eggs too.
They can be cooked in many different ways, including scrambled, fried, poached, and boiled. Some people even eat raw eggs, although I wouldn't recommend it!
We regularly have a stock of pre-made hard-boiled eggs in our fridge as they make an easy low-calorie snack, sometimes just eating the egg whites.
They can also be used as an ingredient in many dishes, such as quiches, omelets, egg salad, and frittatas, although breakfast pancakes are probably what we use them for most.
Dishes
26. Egg Noodles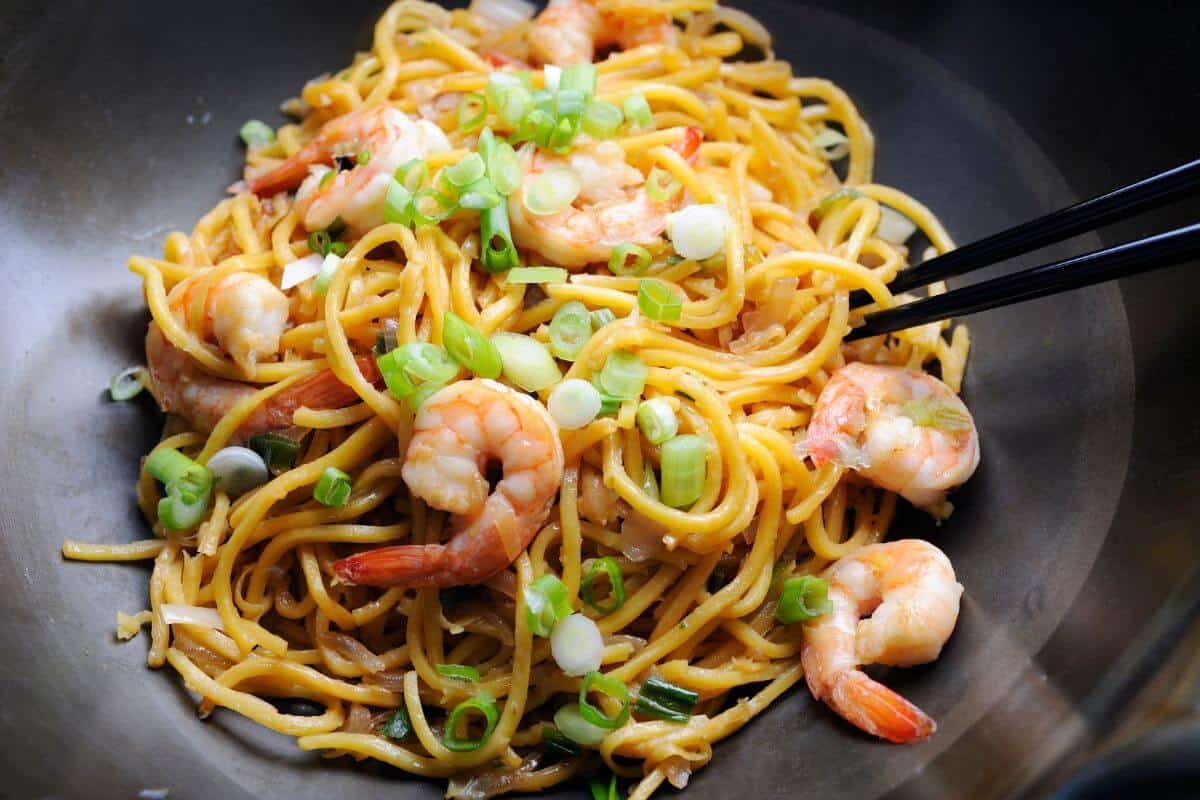 Egg noodles are a kind of noodle made from wheat flour, eggs, and water. They are a popular dish in many Asian cuisines, especially in China and Japan, often used to make dishes like chow mein or used in stir-fries or soups.
They have also become very popular in Western dishes such as chicken noodle soup.
27. Egg Roll
An egg roll is a Chinese dish made from a mixture of meat and vegetables wrapped in a thin pastry and then deep-fried in vegetable or peanut oil. They are often served as an appetizer or side dish and can be filled with a variety of ingredients such as pork, shrimp, or beef.
They are best served hot and with a side of sweet and sour or hot mustard sauce. They are a common item on menus in Chinese restaurants.
28. Eggs Benedict
Eggs Benedict is one of my favorite brunch orders, especially as it's one of those things I never make myself at home. It's a poached egg served on top of a toasted English muffin and topped with hollandaise sauce.
Even better if it's served with some crispy bacon as well. It's not something I eat often but it always feels like a treat when I do.
29. Empanadas
Empanadas are a super popular main dish in Latin America. They are turnovers filled with meat, cheese, or vegetables, often deep-fried or baked. They can be either an appetizer or main course and are easy to mix up with a variety of fillings.
There are lots of different versions of them in different cuisines so they are definitely something you should try out at home with whatever ingredients you have on hand. Just pick up some puff pastry.
30. Enchiladas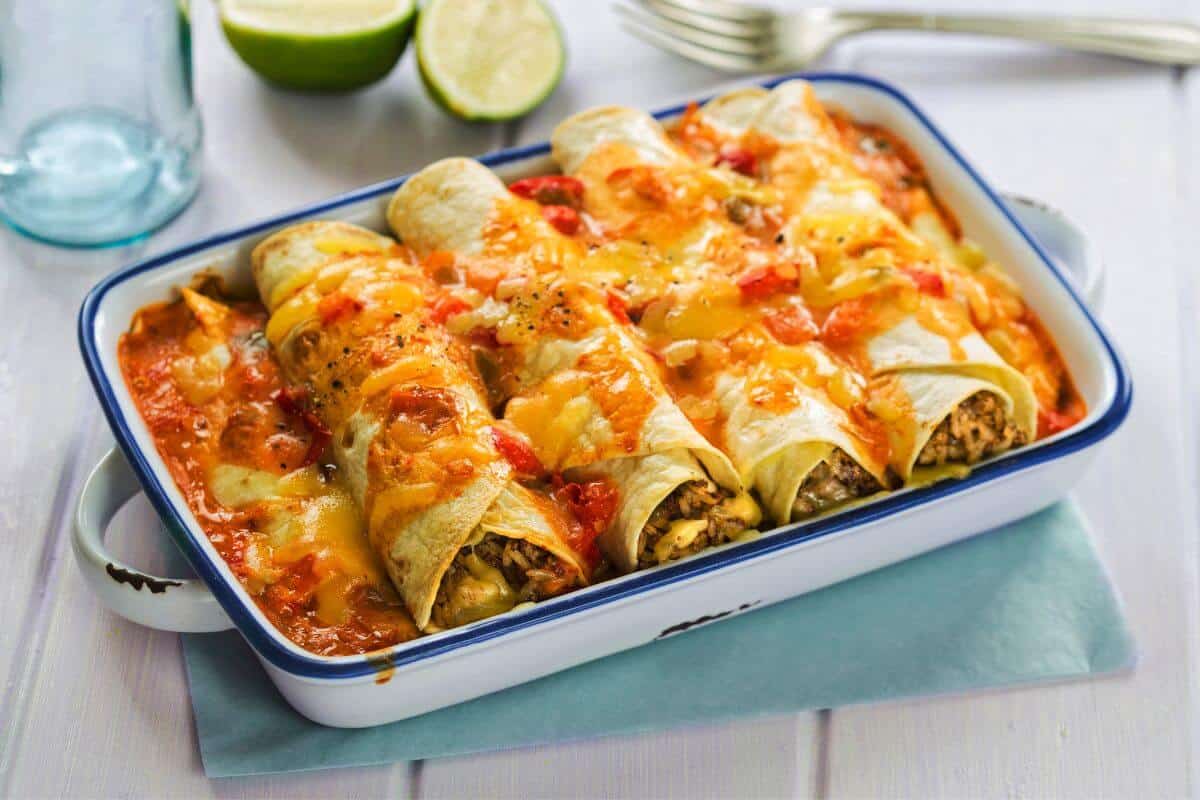 Enchiladas are a traditional Mexican dish made from a tortilla (either corn tortillas or wheat tortillas) filled with meat or cheese and topped with a tomato or chili sauce and more cheese before being baked in the oven. They are one of my favorite dishes to make at home particularly when I have leftover chicken.
We often wrap the tortillas with chicken, red peppers, onions, and cheese before topping them with cheese. The chili is usually left off in our house though as we make it child friendly!
31. Eggplant Parmesan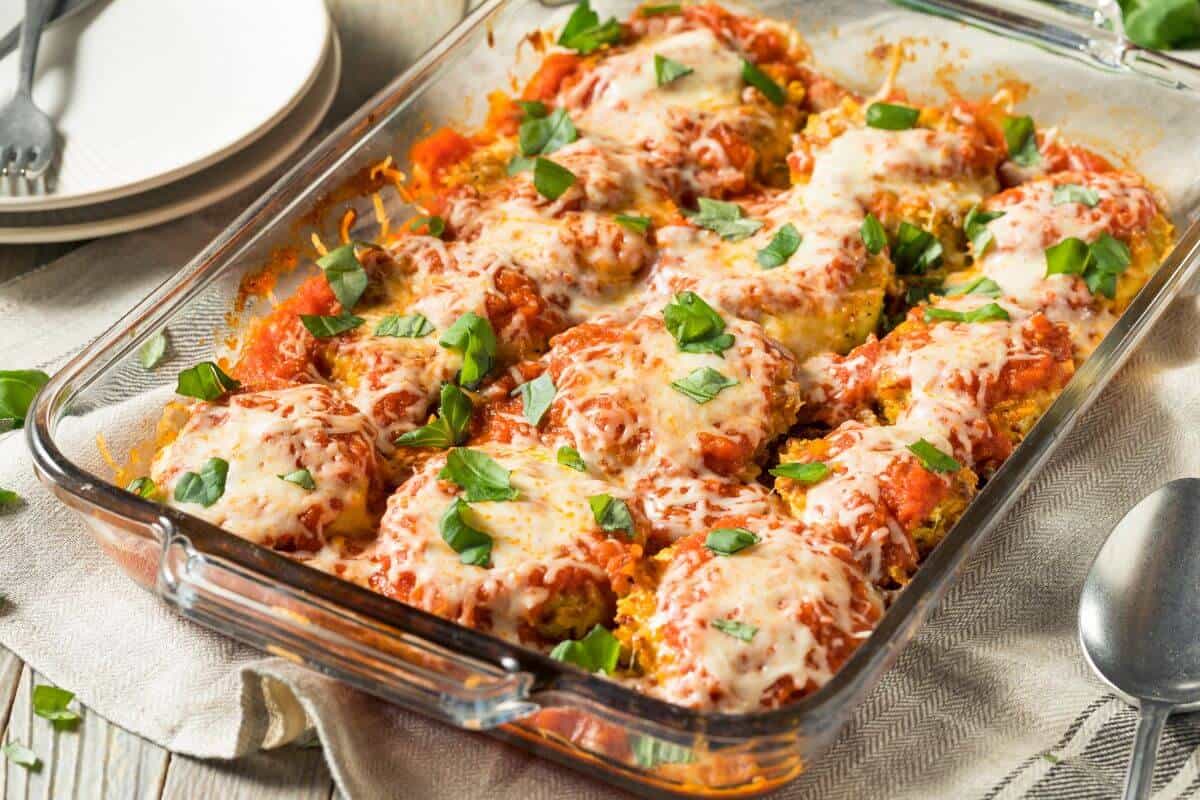 Eggplant Parmesan is a classic Italian dish that's also super popular in the United States. It's made from breaded and fried eggplant slices, layered with mozzarella. Then just top with marinara sauce and Parmesan cheese and bake until golden.
The eggplant makes it such a hearty and filling dish so it's a great meat-free meal option and a delicious way to add eggplant to your diet.
32. English Muffins
English muffins are a type of bread that is made with flour, yeast, and milk. They are often split and toasted before being served with butter and jam or used as the base of a sandwich. They are a staple in many breakfast and brunch menus.
33. Eggy Bread
Eggy bread, also known as French toast, was one of my favorite foods growing up, and certainly one of my favorite foods that start with e. It's made by first soaking bread in beaten eggs and then frying it in a pan (optionally with a little butter). Sometimes we'd eat it sprinkled with sugar or cinnamon or even with a little syrup and fresh fruits.
34. English Trifle
English trifle is a traditional British dessert that consists of layers of sponge cake, fruit, custard, and whipped cream. It is often served in a glass bowl so you can actually see the layers, making it a great centerpiece dessert made for special occasions.
However, it definitely does not include any beef, peas, or onions... no matter how much Rachel from Friends might think so.
35. Elbow Macaroni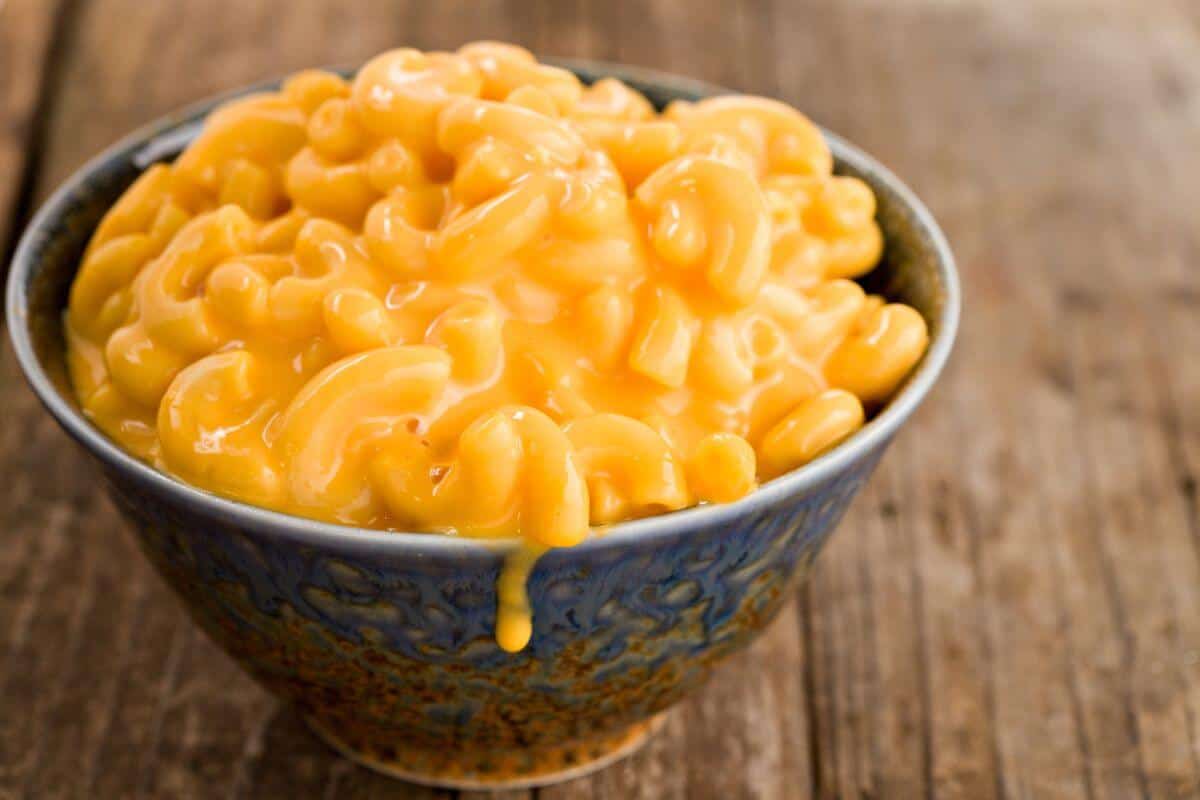 Elbow macaroni is a classic pasta shape that is often used in cheesy dishes like macaroni and cheese. It's a small, tube-shaped pasta that is bent in the middle, giving it its elbow shape.
This pasta is perfect for holding sauces and grated cheese, making it a popular choice for many different dishes.
Sweets
36. Éclair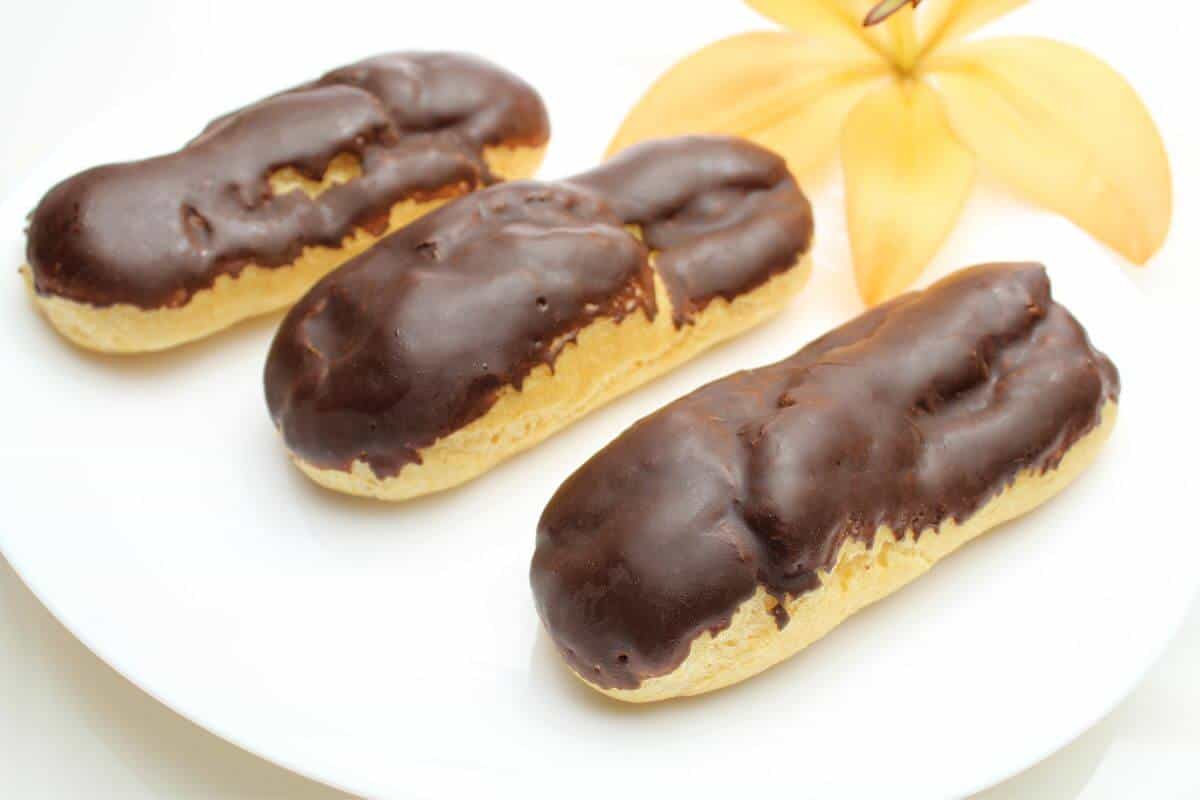 An éclair is a long, thin pastry made from choux pastry and filled with a creamy custard or pastry cream. They are often topped with chocolate icing or a dusting of powdered sugar.
Éclairs are a traditional French pastry and can be found in bakeries all over the world. Of all the desserts on the list, this is by far my favorite food that begins with e.
37. Easter Eggs
Easter eggs are not necessarily a dessert, but whenever I think of an Easter egg, I'm definitely thinking of one made of chocolate! However, every year we also take hardboiled eggs and dip them in food colorings and decorate them for Easter.
Easter eggs can even refer to plastic eggs as well, although usually these are filled with mini chocolate eggs.
38. Egg Custard
Egg custard (or creme anglaise if you're feeling fancy) is a classic dessert made from eggs, sugar, milk, and vanilla. It's usually made to be served with something rather than eaten alone – a great option is to bake it inside a pastry crust for example. The custard is creamy and delicious and goes well served with a sprinkle of ground nutmeg on top.
39. Ensaimada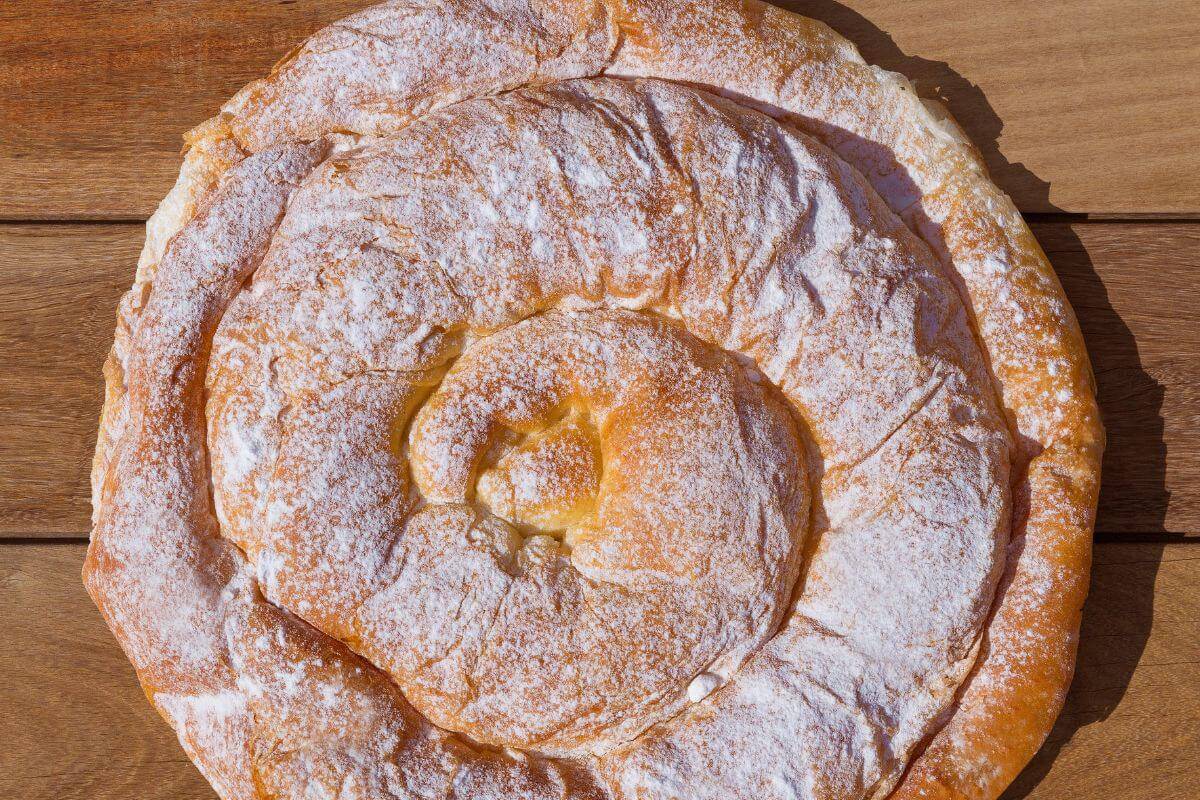 Ensaimada is a traditional Spanish pastry, originally from Mallorca, typically made with flour, butter, sugar, and yeast. After it's rolled out, it's shaped into a spiral before being baked.
It is sometimes filled with sweet cream or chocolate and ideally dusted with powdered sugar after it's been baked.
40. Elephant Ears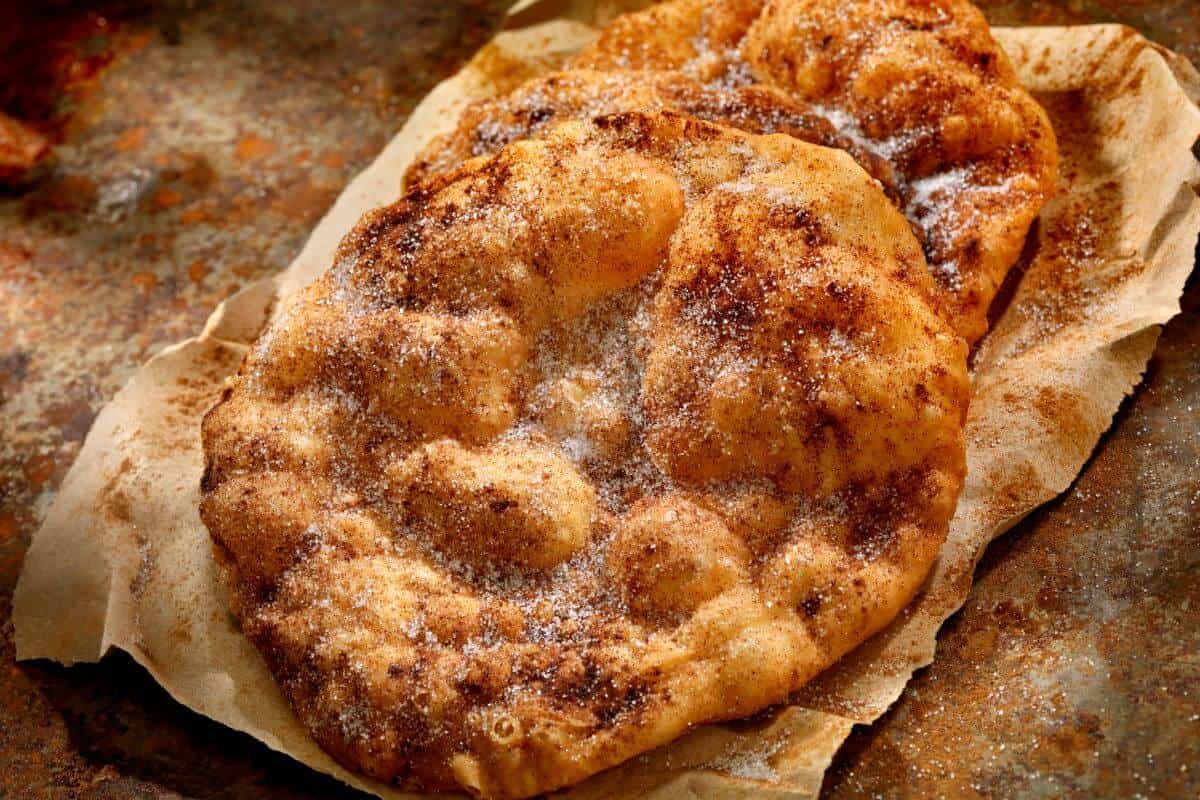 Elephant ears are another pastry dessert, although this time deep-fried rather than baked. They are normally made out of simple homemade dough which is made into a kind of elephant ear shape before being deep-fried in vegetable oil (although they can be baked if you really don't want to fry them).
They can be served with a variety of different fillings, such as fruit or chocolate.
Drinks / Other
41. Extra Virgin Olive Oil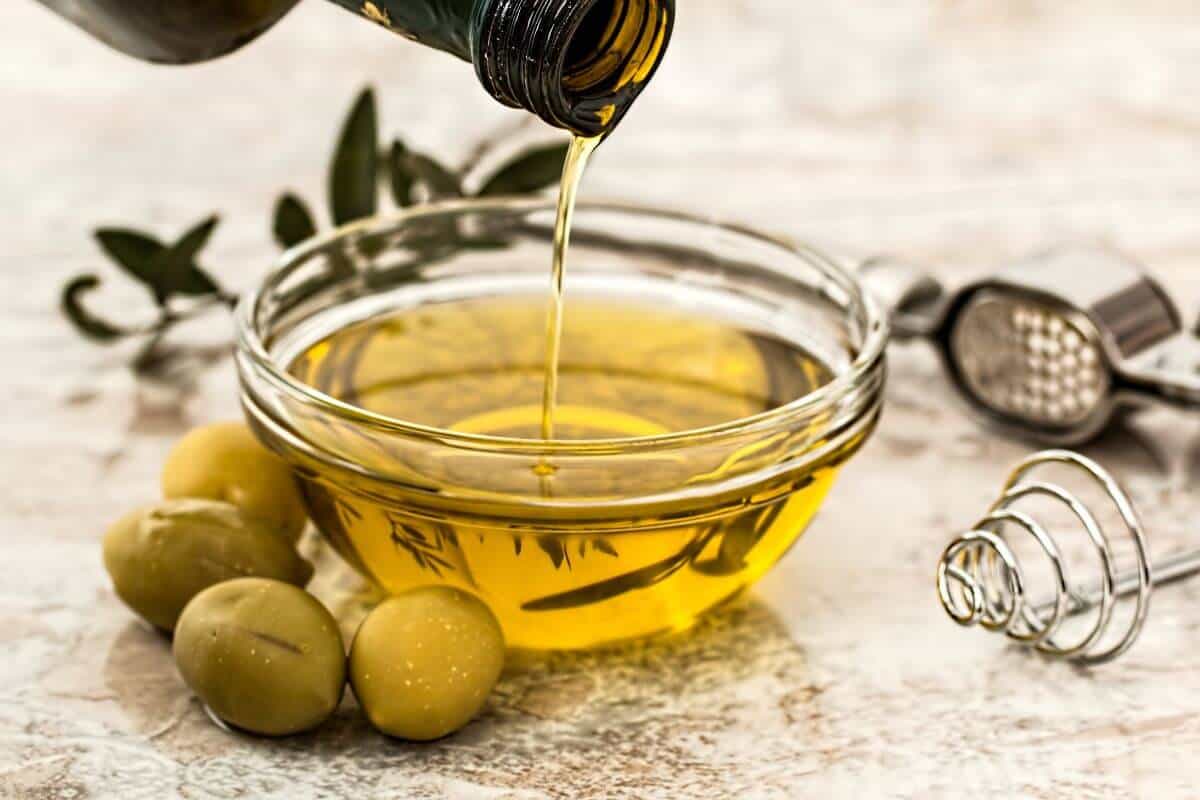 Extra-virgin olive oil is one of the most essential foods in my kitchen and something I use every single day. It's made from olives that are pressed and extracted without the use of chemicals or solvents.
It is considered to be the highest quality olive oil and is great for cooking, baking, and salads. It doesn't have the highest smoke point so if you're frying something it's not ideal though.
42. Earl Grey Tea
Earl Grey tea is a type of black tea that is flavored with bergamot oil. It is named after Charles Grey, 2nd Earl Grey, who was British Prime Minister in the 1830s. The tea has a distinct, citrusy flavor and is often served with lemon or milk.
43. Eggnog
Eggnog is a traditional drink served around Christmas made from eggs, milk, sugar, nutmeg, and often cinnamon as well. It tastes great with some rum or brandy mixed in for the grown-ups but is also super tasty without so it can be served for the kids too.
44. Espresso
What would life as a parent be without espresso? I truly don't know how I would cope! In particular, espresso is the type of coffee made by forcing hot water through finely-ground coffee beans.
The result is a strong, concentrated coffee that some drink as is, or otherwise can be mixed with milk to make macchiatos, cappuccinos, flat whites, lattes, and more.
Final Thoughts
There are so many great foods that begin with the letter E, and loads that I bet you've never tried before, so hopefully this can help you discover a few new things to try! Let me know in the comments how many of these you already knew or what new foods you've discovered!
Also check out these other popular "Foods that start with posts"!
44 delicious foods that start with E (2023)
How many foods that start with E can you think of? There are more than you think and so many delicious new things to try.
Ingredients
Produce
Eggplant

Elderberries

Early Girl Tomatoes

Edamame

Endive

Egg Fruit

Elephant Apple

Emu Berry

Emblica Fruit

Egusi

Ensete
Meat and Fish
Entrecote

Elk Meat

Eland

Emu

Escolar

English Sole

Eel

Escallop

Escargot
Other Animal Products
Emmental Cheese

Edam Cheese

El Trigal Manchego

Edelpilz Cheese

Eggs
Dishes
Egg Noodles

Egg Roll

Eggs Benedict

Empanadas

Enchiladas

Eggplant Parmesan

English Muffins

Eggy Bread

English Trifle

Elbow Macaroni
Sweets
Éclair

Easter Eggs

Egg Custard

Ensaimada

Elephant Ears
Drinks
Extra-Virgin Olive Oil

Earl Grey Tea

Eggnog

Espresso
Instructions
Choose a food from the list

Discover something new to include in your diet!

Comment below and let us know what new foods you discovered