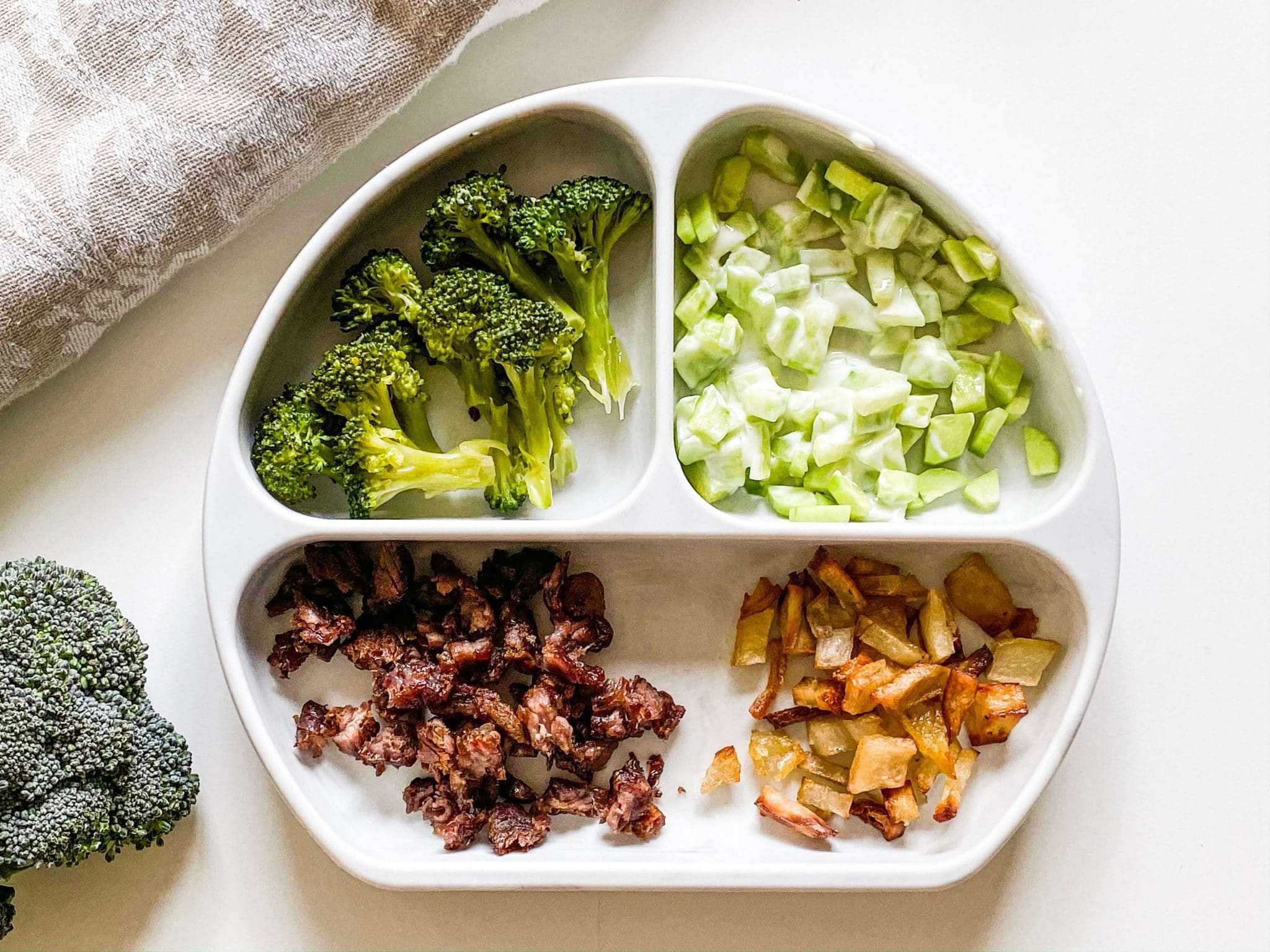 Because a "salad" should be a good thing
We all know that salads are meant to be healthy (it actually depends on the dressing but we'll talk about that another time). Incorporating them in our diets is also a great way to eat raw vegetables.
Same goes for our babies. Or at least it should. But green leaves don't look too attractive to them most of the time. Even so, it's still helpful to introduce salad-like meals and let our kids expect them as a regular side-dish for a nutritious lunch or dinner (or even a meal itself).
Adding them to a meal they already know, surrounded by foods they already enjoy is a great place to start. And this lamb dish with a cucumber salad does just that.
Nutritional stuff
Lamb is our main ingredient as it's full of protein and iron and often a fan favorite with the kids. Although we prefer using lean lamb meat, it still contains plenty fats which also make it super tasty.
Broccoli and potatoes are our choice of vegetables, with potatoes providing lots of carbs in the form of starches. Broccoli is super high in vitamin C, helping the iron absorption from the lamb, and also contains lots of antioxidants and anti-inflammatory nutrients.
For our salad, we chose cucumber. Both for its easy preparation and high nutrient content (especially vitamin K). Cucumbers are also loaded with water so if you have trouble with your little one drinking water eating a cucumber is a decent substitute.
To make the cucumber tastier (although my son actually loves plain cucumber sticks) we poured greek yogurt over it which also adds additional fats and calcium to the whole meal.
Preparation
This meal is part of our 9-12-month-old recipes, so shouldn't be served as a puree but rather as finger food. Instead of lamb, you can use any other meat and instead of potatoes, starchy vegetables like sweet potato, carrots or butternut squash are great too.
Broccoli can be substituted with other similar green vegetables if you want as well.
Instead of the greek yogurt you can pretty much use any other but make sure that it is made from whole milk and has a thicker consistency so that it can really act as a dressing to the cucumber.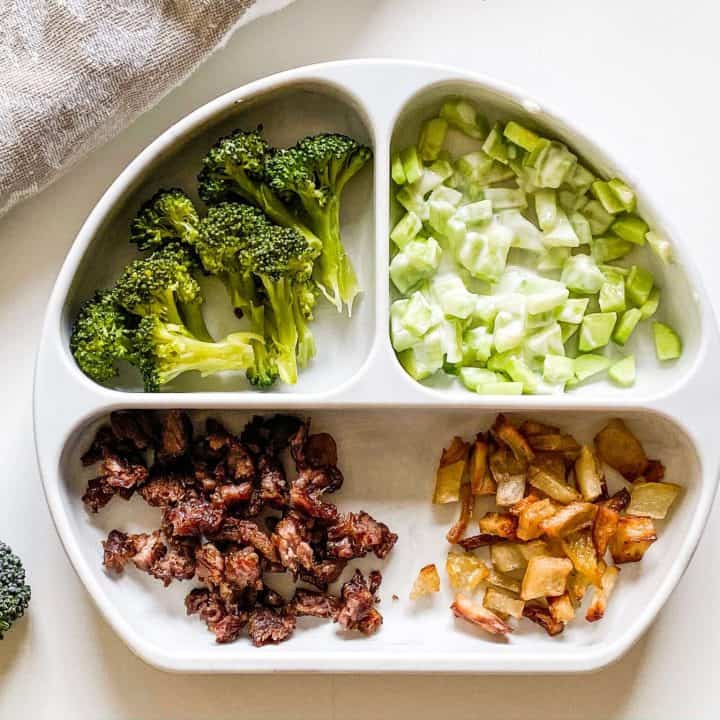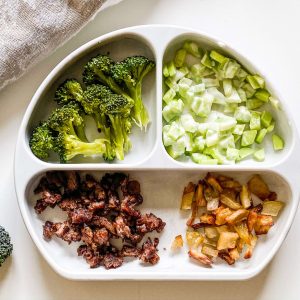 Lamb and Cucumber Salad
Another one of our staples - 10 minute prep time, full of nutrients and a perfect recipe to start introducing salads to your baby.
Ingredients
1.8

oz

(50g) lamb, lean meat, without skin and bone

½

medium-sized

potato

1

teaspoon

olive oil

1

cup

broccoli florets

1

cucumber, peeled and chopped

1

tablespoon

greek yogurt
Instructions
Preheat the oven to 200°C / 390°F

Wash, peel and slice the potato

Wash and cut up the broccoli

Place the potato and lamb on a tray, drizzle with olive oil and bake for about 45 minutes

Boil or steam the broccoli (~20 minutes)

Peel and chop the cucumber, then mix well with the 1 tablespoon of greek yogurt

Once cooked, allow food to cool before serving
Video
Nutrition