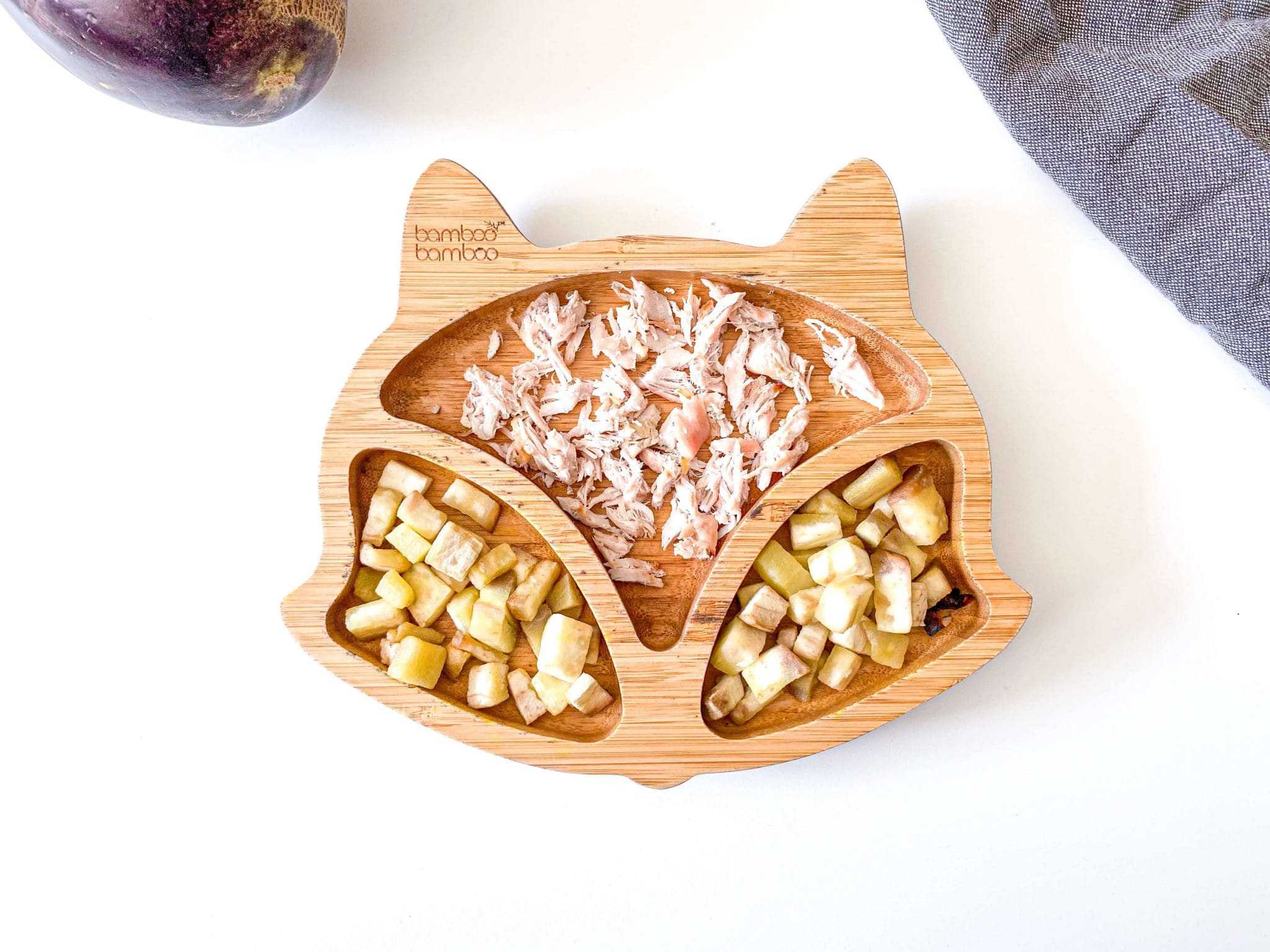 Perfect macronutrient combination
At 9 months of age, meals are beginning to get a bit more structured and we can start serving typical "breakfast" foods in the morning and "lunch and dinner" foods throughout the rest of the day. Chances are, you now have already included lots of different foods into your child's diet, so there should be lots of potential combinations. Ideally, you'd try to balance all 3 macronutrients (protein, carbohydrates, and fats) in the main solid meal of the day. This meal does just that with turkey meat, eggplant, and olive oil.
Nutritional stuff
Turkey meat is full of protein and has significantly less saturated fat and cholesterol than red meat. It also has a lot of vitamins B3, B6, and since it is of animal origin, vitamin B12.
Eggplant is a vegetable and therefore of the 3 macronutrients contains mostly carbohydrates (although far less than in fruits or grains). They have a good amount of fiber to help with digestion and are also a good source of copper.
Olive oil is often our "go-to" fat due to its great fatty acid composition. It has lots of monounsaturated acids (the "good" ones) which help raise HDL ("good" cholesterol) to prevent cardiac diseases.
Preparation
At 9 months, this meal is best served as finger food for the baby to start getting accustomed to feeding themselves (if they haven't already). If you don't feel ready for this, it can be mashed/pureed instead.
When choosing your cut of turkey, dark or white meat is fine, however, the darker meat is higher in fat but also contains more iron. If you want, you can also substitute it all together with chicken.
For the eggplant, make sure to remove the skin. It may contain pesticides, especially if not organic, while it's also a little chewy for a 9-month-old and once baked can taste a little sour.
Turkey Eggplant
Quick prep, one dish, in the oven and there you have a healthy balanced meal for your baby that can be prepared in no time.
Ingredients
0.9

oz

turkey

1

cup

peeled and sliced eggplant

1

teaspoon

olive oil
Instructions
Preheat the oven to 200°C / 390°F

Wash and peel the eggplant and slice into small cubes

Place the eggplant on a baking tray, drizzle with olive oil and bake in the oven

After 20 minutes add the turkey and bake for a further 15 minutes or until the turkey is fully baked

Once finished, allow to cool for at least 5 minutes before serving/storing
Video
Nutrition