Because simple can still be delicious
If you are thinking about oatmeal for your little one's breakfast, then we have just the meal for you – Blueberry Avocado Oatmeal. A great combination of energy, complex carbohydrates, and "good" fats to start the day.
Nutritional stuff
Oats are one of the best grains to choose for breakfast. They are super easy to make, mix well with just about everything and taste great. They have lots of fiber to help your baby's digestive system and are packed with complex carbohydrates to keep them full.
Avocado is our go-to food for "good" fats. It's easy to mix up with other foods and has a good amount of calories to keep your baby full for even longer than if they were eating plain oats.
Blueberries are one of the best foods you can eat to build up on antioxidants, whether using fresh or frozen berries. Without cutting them up, they can be a potential choking hazard (especially when large) so just make sure you cut them up or mash them into the oats before serving!
Preparation
The Blueberry Avocado Oatmeal is super easy to prepare, whether you want to mix everything together or leave separate avocado strips for your baby to eat with their fingers.
Keep it on the thicker side, and it's a great meal for practicing spoon skills too. You know… except the aftermath that you have to clean up. Bibs with sleeves have been our life savers.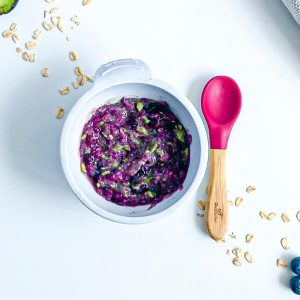 Blueberry Avocado Oats
Blueberry Avocado Oatmeal – quick, easy, simple – full of antioxidants, good fats and carbs for baby's healthy growth and development.
Ingredients
2

tbsp

oats

4

tbsp

water

1

tbsp

blueberries

¼

medium sized

avocado
Instructions
Place the oats with water in a pot and bring to a boil over high heat

Continue cooking on low-to-medium heat until the oats absorb the water

About 3 minutes before the end of cooking oats, put the blueberries into the pot to cook with the oats

In the meantime, peel, slice or mash the avocado

Once the oat-blueberry mixture is cooked, allow to cool for at least 5 minutes and either mix in mashed avocado or serve alongside avocado strips
Nutrition
Please follow and like us: