Blueberry Avocado Oats is a great combination of energy, complex carbohydrates and "good" fats to start the day.
If you are thinking about oatmeal for your little one's breakfast, then we have just the meal for you - Blueberry Avocado Oatmeal. A great combination of energy, complex carbohydrates, and "good" fats to start the day.
Blueberry Avocado Oats Ingredients
To make these Blueberry Avocado Oats, you will need the following ingredients.
Oats. Tiny rolled oats are the best choice here because they will cook more easily and be easier for the baby to eat.
Avocado. Although it's really hard to ensure just the right amount of ripeness for an avocado, try to ensure that it's not too firm for this recipe as it will be easier to blend.
Blueberries. If you can get your hands on fresh blueberries, these would be the better choice here definitely. But frozen ones will do just fine also.
Blueberry Avocado Oats Nutritional Benefits
Oats. They are an excellent source of fiber which is important in those first few weeks of the baby starting solid food. They are also a great source of complex carbohydrates and minerals potassium nd manganese.
Avocado. A great source of energy and "good" fats.
Blueberries. Apart from being rich in loads of vitamins and minerals, blueberries are also one of the best foods you can choose for antioxidant intake.
How To Make Blueberry Avocado Oats
Cook the oats and blueberries. Place the oats with water in a pot and bring to a boil over high heat. Continue cooking on low-to-medium heat until the oats absorb the water. About 3 minutes before the end of cooking oats, put the blueberries into the pot to cook with the oats
Add the avocado. In the meantime, peel, slice or mash the avocado. Once the oat-blueberry mixture is cooked, allow to cool for at least 5 minutes and either mix in mashed avocado or serve alongside avocado strips
Serve. The Blueberry Avocado Oatmeal is super easy to prepare, whether you want to mix everything together or leave separate avocado strips for your baby to eat with their fingers.
Possible Blueberry Avocado Oats Variations
Mix the fruit. You don't necessarily need to use blueberries for this meal. Actually I think any other fruit will do but I would still recommend choosing some from the berry family first.
Mix the grains. This recipe doesn't really have to be all about rolled oats and oatmeal. You can change the grains and use those such as buckwheat, millet or amaranth.
Add some spices. Cinnamon is a great first spice to add to your baby's meals. But other sweet tastes such as vanilla are also good.
More Oatmeal Recipes
Check out these oatmeal recipes also: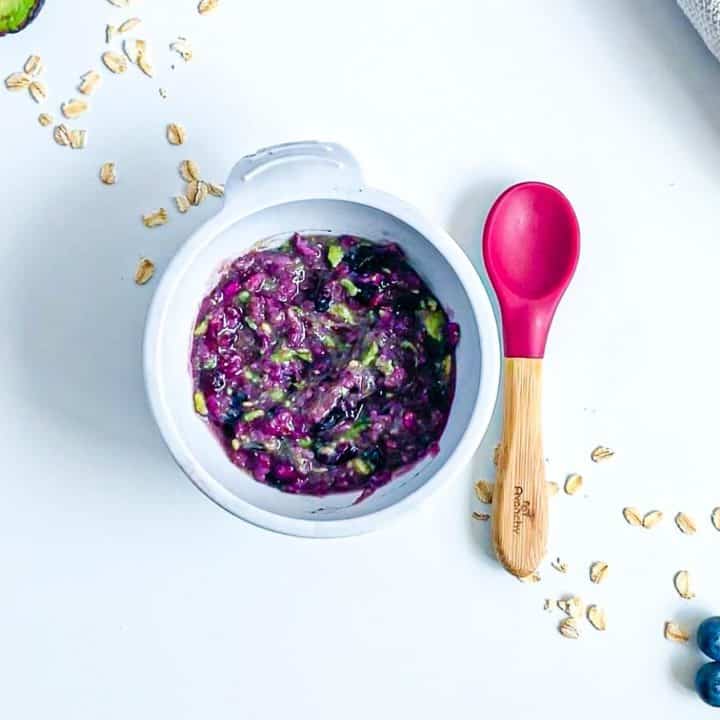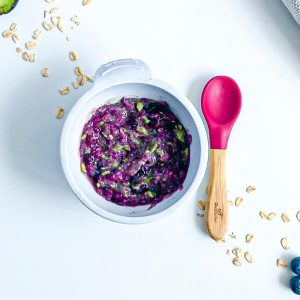 Blueberry Avocado Oats
Blueberry Avocado Oatmeal - quick, easy, simple - full of antioxidants, good fats and carbs for baby's healthy growth and development.
Ingredients
2

tablespoon

oats

4

tablespoon

water

1

tablespoon

blueberries

¼

medium sized

avocado
Instructions
Place the oats with water in a pot and bring to a boil over high heat

Continue cooking on low-to-medium heat until the oats absorb the water

About 3 minutes before the end of cooking oats, put the blueberries into the pot to cook with the oats

In the meantime, peel, slice or mash the avocado

Once the oat-blueberry mixture is cooked, allow to cool for at least 5 minutes and either mix in mashed avocado or serve alongside avocado strips
Video
Nutrition