Perfect start to the day
One of the best and most nutritious breakfasts (or snacks) is pairing grains with fruit. It is a way to include a load of vitamins and minerals as well as carbohydrates to start the day full of energy. And if you choose to add some seasonings such as cinnamon or toppings like ground nuts both the nutritional value and taste are even better. For a 7-month-old we love the Forest Fruit Millet recipe since it is quick and easy to prepare and because the neutral grainy taste of the millet is perfect for the sweet and sour forest fruits.
Nutritional stuff
In this recipe, we chose millet for its valuable mineral content, like phosphorus and magnesium. Millet also has lots of fiber, especially a type called lignans, which are great for digestion.
Blueberries and raspberries were our choices of forest fruits for their high amount of antioxidants that can help the body fight disease. They also have some more fiber to help the normal functioning of the gut. Both blueberries and raspberries also have special nutrients that can help regulate blood sugar and prolong satiety (so your 7-month-old is not asking for more food 5 minutes after breakfast).
Preparation
If you have chosen to start solids with purees and mashed foods, this is a good meal to serve with a slightly lumpier consistency if you want. With this recipe, you can just stir in the raspberries and sliced blueberries at the end of cooking the millet to let them soften up and serve like that once it cools down. For baby-led weaning serve the cut up blueberries and raspberries with a thick millet consistency.
You can also choose to substitute millet with the same amount of other grains like oats, amaranth, buckwheat or quinoa. Blueberries and raspberries can also be substituted with any other forest fruit (or just double the amount of either if easier).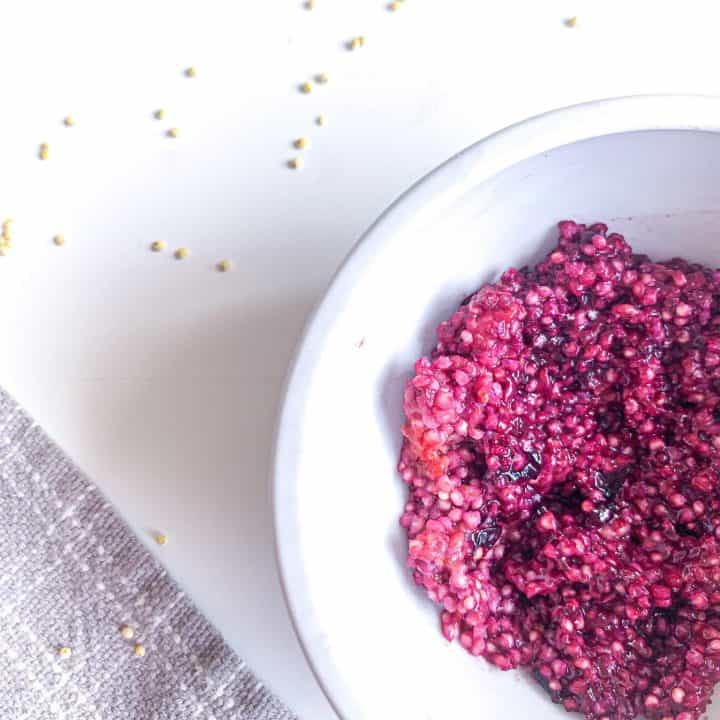 Forest Fruit Millet
A healthy breakfast, packed with vitamins, minerals, and fiber so your baby starts the day off the best way, and stays full for longer.
Ingredients
2

tablespoon

millet

4

tablespoon

water

1

tablespoon

blueberries

1

tablespoon

raspberries
Instructions
Place the millet and water in a pot and bring to boil over high heat then simmer until all the water has been absorbed

A few mins before the millet is fully cooked, add the blueberries and raspberries to the pot and stir

Once cooked, allow to cool for at least 5 minutes before serving/storing
Video
Nutrition