For a twist to your regular milk serving, this 3-ingredient vanilla milk is just the thing to serve as a great snack or drink for your kids.
This recipe was inspired by Healthy Strawberry Banana Milkshake, Healthy Banana Milk, Best Strawberry Milk (2 ways) and Homemade Chocolate Milk.
Jump to:
Plant-based Milk and Kids
Milk is one of the foods (drinks) that we always have to have available in our house. Not only is it an excellent source of protein but also it is a great drink to meet the daily liquid requirements. While my kids were babies, they wouldn't think of having whole milk as a drink, but as they have gotten older, cow's milk has become something that they want to drink on a daily basis.
And while dairy products are a great way to get some extra protein, fats, energy and calcium into the body, the amount of plain milk they would drink surpasses the daily recommendations.
So to mix things up a bit, I have been changing things up a bit and offering dairy-free milk such as almond milk, oat milk and hazelnut milk.
​This Vanilla Almond Milk 
But even when giving them different types of plant-based beverages, they came to a point where they just got bored with the taste so were looking for something different for their taste buds. So as a trial run, I bought vanilla milk at the grocery store and they went crazy over it.
Which got me thinking that I don't really need to buy expensive plant-based flavored milks at the store. I can just as easily make a homemade version with just a few ingredients. And that's the short story about my kids new favorite drink.
Ingredients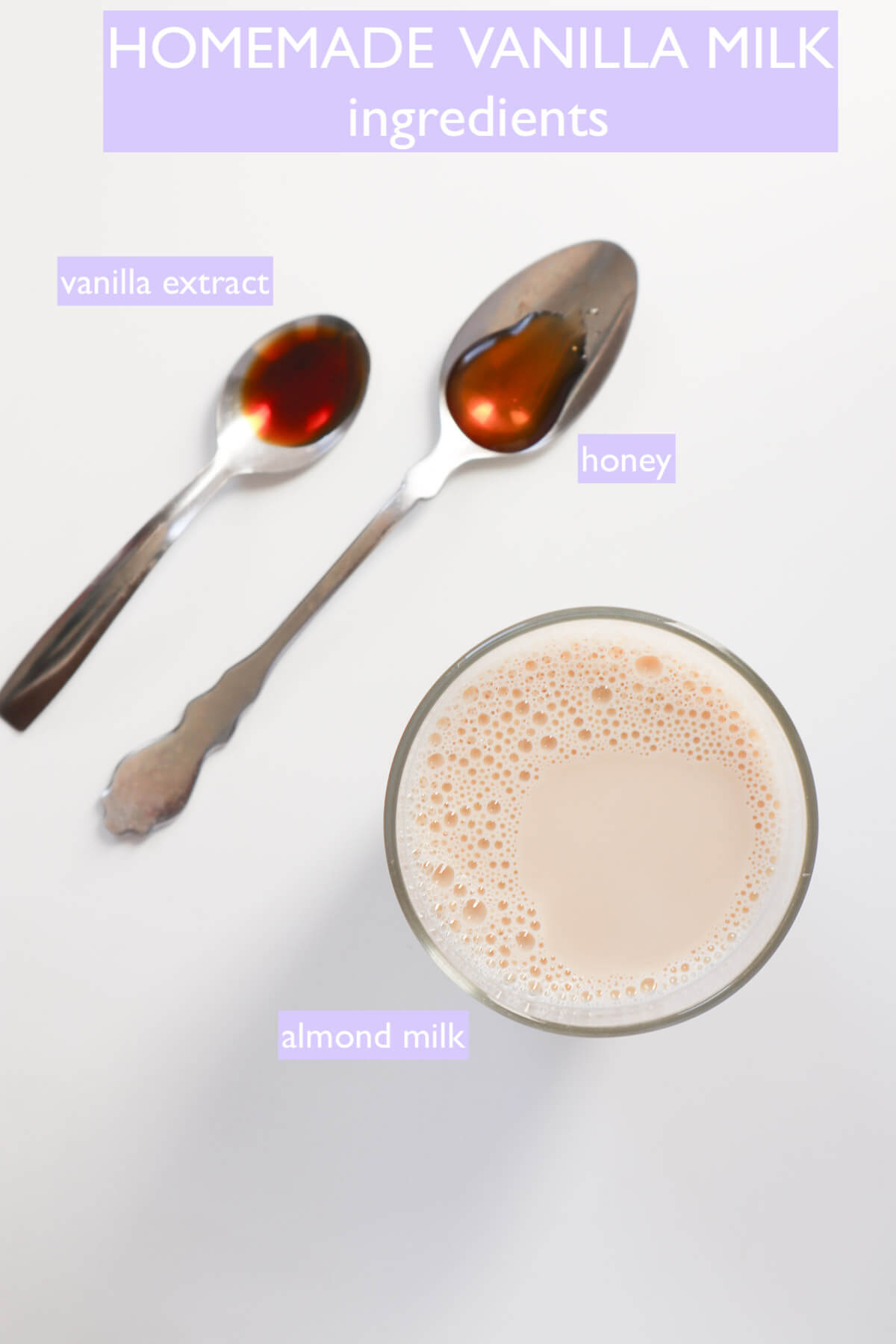 To make this flavored milk you will need the following simple ingredients: 
almond milk: I usually make vanilla nondairy milks and therefore use almond milk as the basis but you can just as easily use other kinds of milk such as cow's milk or any other plant-based milk. You can use store-bought plant-based milks or even homemade ones such as homemade almond milk if you like to make your own almond milk. You can make your own milk using a nut milk bag or a juicer.
vanilla extract: I like to use non-alcoholic vanilla extract just because it is the easiest vanilla product you can buy. But you can also use vanilla powder or a vanilla bean 
honey: this really is an optional ingredient and depends on how sweet of a milk you or your kids like. The honey provides a subtle sweet taste and is a natural sweetener so if you need to, you can add a bit to reach that sweet taste. Apart from honey maple syrup, date syrup or some agave syrup are all good choices as well. If you like more of a neutral taste, then feel free to skip this
How To Make Vanilla Almond Milk - Step-by-Step 
It's really easy to make this vanilla almond milk. Just follow these few simple steps: 
1. Put all the ingredients into a measuring cup
2. Stir with a whisk
3. Optional step: heat in a medium saucepan if you want to make warm milk or a hot vanilla almond milk recipe 
4. Pour into a mug or cup
5. Serve
Variations To Your Homemade Vanilla Milk
​Try one of the following options: 
use different varieties of milk: almond milk, oat milk, hazelnut milk, coconut milk, soy milk, cow's milk are all nice alternatives to your regular milk
change the type of vanilla: instead of vanilla extract, use real vanilla powder, unsweetened vanilla or scrape a vanilla bean for a natural flavor
make it chocolate: to make a chocolate homemade vanilla milk, add half a teaspoon of raw cocoa powder or 10 grams of dark chocolate (or add vanilla extract to our homemade dark chocolate milk)
make a vanilla ice shake: add some vanilla ice cream, especially in the summer months to for a great taste to your vanilla ice shake
How To Store Vanilla Milk
Vanilla almond milk is best if it is served and drank as soon as it is made. However, you can make larger amounts and store in a clean (preferably pasteurized) glass bottle with a lid in the fridge for about 24 hours.
If you are using store-bought milk this can even come up to 48 hours. When you want to serve, bring it out of the fridge, shake well and either serve cold, bring to room temperature or you can also warm vanilla almond milk in a medium saucepan. 
This homemade flavored milk is not suitable for freezing. 
FAQ
Can I Use Cane Sugar Instead Of A Liquid Sweetener? 
​You can but you will need to heat the milk when you add the cane sugar and stir until the sugar dissolves in the milk. 
​Is Vanilla Milk Healthy? 
​Vanilla almond milk is a great way to add some extra nutrients to your kids nutrition. If you are using cow's milk or any other animal-based milk, you will get some extra fat, protein and calcium. If using plant-based milk like I often do, then based on the type of milk and manufacturer you can get some extra vitamin B and vitamin D. 
How Many Mg Calcium Does One Cup Of Milk Have? 
One cup of cow's milk approximately has 300 mg calcium. Plant-based milks have less and it varies from 0 mg calcium from almond milk to 250 in soy milk. 
More Related Recipes
If you've tried this or any other recipe from the blog, please rate and leave a comment.
Homemade Organic Dairy-Free Vanilla Milk Recipe
For a twist to your regular milk serving, this 3-ingredient vanilla milk is just the thing to serve as a great snack or drink for your kids. 
Ingredients
1

cup

almond milk

½

teaspoon

vanilla extract

1

teaspoon

honey

optional
Instructions
Put all the ingredients into a measuring cup

Optional step: heat in a medium saucepan if you want to make warm milk or a hot vanilla milk recipe 
Nutrition
Calories:
62
kcal
Carbohydrates:
7
g
Protein:
1
g
Fat:
3
g
Polyunsaturated Fat:
2
g
Monounsaturated Fat:
2
g
Sodium:
325
mg
Potassium:
7
mg
Fiber:
1
g
Sugar:
6
g
Vitamin C:
0.04
mg
Calcium:
301
mg
Iron:
0.03
mg