Light and colorful meal
When reaching the 1-year mark, babies have already a long list of foods they have tried and (hopefully) are enjoying, so the meal planning possibilities can be endless.
For a light lunch or dinner, our Quinoa Tomato Risotto provides different textures and colors and a perfect chance to practice fork and spoon skills.
Nutritional stuff
Quinoa is high in protein and we often use it in our recipes for that reason. It is also high in zinc, copper, and phosphorus and has significant amounts of fiber to help keep the digestive system moving.
Apart from adding great color to the dish, tomatoes are a wonderful source of vitamins C and K as well as a specific nutrient called lycopene. Lycopene is an antioxidant which can be beneficial to the cardiovascular system.
Peas provide a good amount of vitamins K and B1 and add another color to the plate. They contain a good amount of antioxidants which can provide an anti-inflammatory effect as well as regulate blood sugar and protect the body from heart diseases.
For a calcium boost, you can top off the meal with some grated goat cheese and add a splash of olive oil for the "good" fats.
Preparation
At 1 year of age we are looking for textured food, ideally not serving any more purees or mashed food. The quinoa tomato risotto can be served with each food separately on a plate or mixed them together to be more risotto-like.
You can substitute the quinoa in the dish with grains like rice, barley, amaranth or millet if you wish to (just be careful with the amount of rice you use in general due to arsenic content) and the peas with green beans. For cheese, you can use cows or any other kind as you prefer (or leave it out altogether if you want).
If you like this you may also like our list of rice bowl recipes.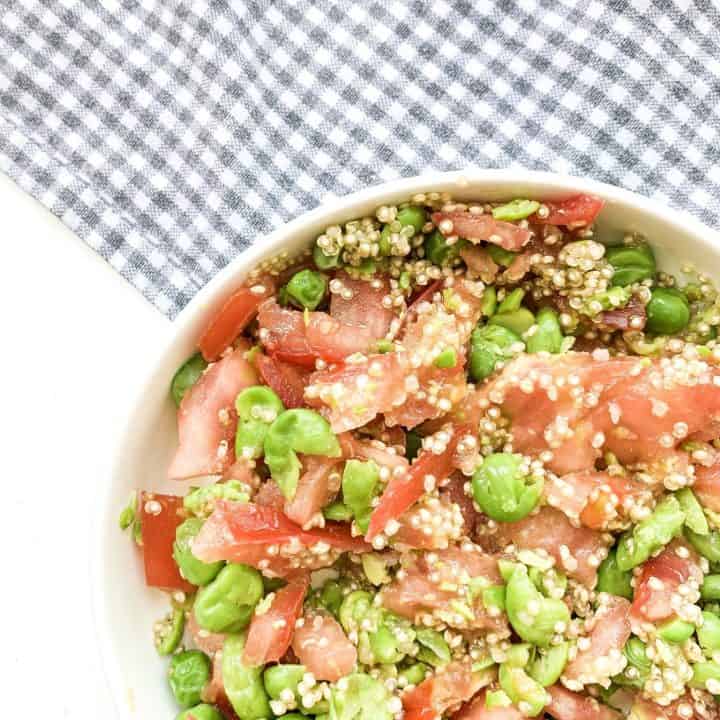 Quinoa Tomato Risotto
A simple, colorful, and healthy meal that gives your baby the perfect opportunity to practice those fork and spoon skills!
Ingredients
1

tablespoon

quinoa

2

tablespoon

water

½

cup

peas

1

medium

tomato

1

tablespoon

goat cheese

1

tablespoon

olive oil
Instructions
Wash the quinoa under running water, add to pot with the water, bring to boil and then simmer until the quinoa absorbs all the water

In a separate pan, cook the peas in water

Wash the tomato and chop into small pieces

Once cooked, allow the quinoa and peas to cool for ~10 minutes before serving

Drizzle with olive oil and sprinkle with goat cheese
Video
Nutrition