A list of healthy rice bowl recipes that will be loved by the whole family and perfect for lunch or dinner. Including rice bowl with salmon, Japanese rice bowl, teriyaki rice bowl, with beef, shrimp, pork and vegan rice bowls.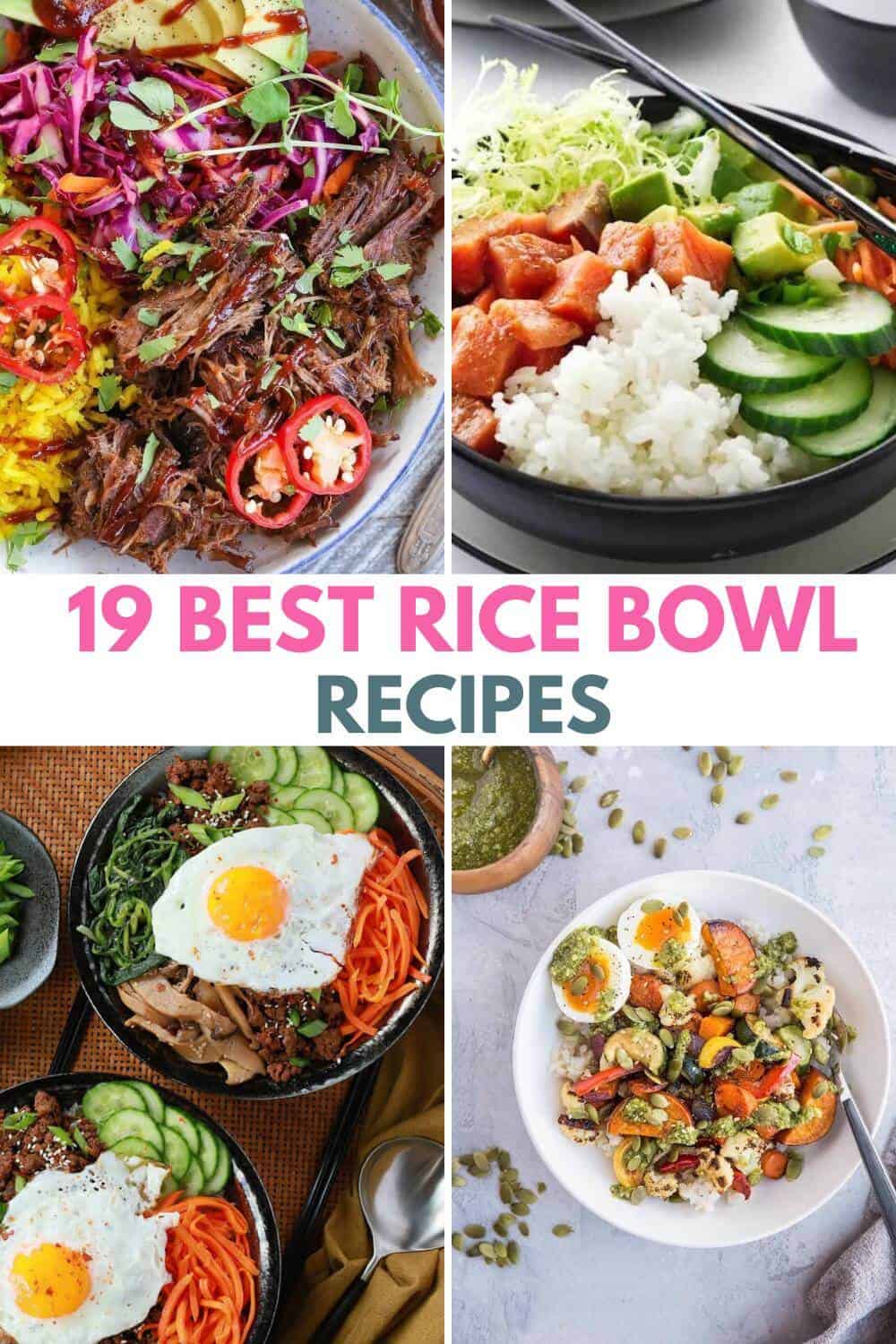 I love these types of recipes - they can be so versatile and with so much flavour.
What kind of rice is used in rice bowls?
You can choose to use white rice, brown rice or antioxidant rich wild rice. Or if you love these bowls so much and want to eat them every day you may wanna change up your grain - you can use quinoa, farro, cauliflower rice or bulgur wheat instead of rice.
My preference has always been bulgur wheat.
Why we love these recipes:
great for meal prep so you have them ready for a busy weeknight
packed full of vitamins and minerals because you can use so many vegetables
great for the whole family, from baby-led weaning babies to older picky eaters
easy dinner bowls
How to make rice bowls?
Depending on the vegetables and protein you are using they can be made either ahead of time or on the day.
They are great for meal prepping for weeknight meals or take to work lunches. You can use raw or cooked vegetables and If you are using a dressing store the dressing separately so your food does not become too soggy.
To make a rice bowl it is as easy as picking a protein (below you will find rice bowls with salmon, chicken, tuna, beef, shrimp and some vegan variations), choose the type of rice you will use, choose the vegetables and the dressing.
The vegetables and dressing will really make flavour - the bowls can be made as Mexican rice bowls, Japanese rice bowls, Mediterranean and many different versions.
We will take you through our favorite rice bowls.
Jump to:
Rice Bowl with Salmon, Tuna and Shrimp
Chicken Rice Bowl Ideas
Beef Rice Bowl
Pork Rice Bowl
Vegetarian and Vegan
Below you will find our favorite plant based rice bowls.