Finger Food Veggie Meal
Since I've started serving my 1-year-old more and more finger food meals I noticed how much I'm limited by the veggies I can serve. Especially in the winter-to-spring months. There's just no way he'll pick up anything like spinach, swiss chard or anything remotely mushy. I think he finds them too slimy. But whatever the reason, I don't want it to limit what I can include in his diet.
But he loves eggs. And I've always loved a good veggie omelet. Not only are they really nutritious but also so easy to make. So I decided to use this as a way to include one of the veggies my son will never eat on its own in his very first omelet.
First Omelet Nutritional Stuff
Spinach is probably one of my favorite veggies because it is so versatile. I can use it mixed with potatoes as a side dish to fish, steamed and pureed for a great pasta or rice sauce, or raw in salads and smoothies. And now in omelets too ?.
Spinach is an excellent source of numerous minerals such as iron, potassium, folate and magnesium. It's also abundant in vitamins like A, C, and K.
Mozzarella is a great cheese for kids because it can be used in various forms that's easy for them to grab – shredded, cut into pieces or melted on top of meat or veggies. It's a classic Italian cheese and if you use the authentic one made from buffalo milk you will add to the healthy fat content of the meal which is particularly preferable for children under the age of 2.
Eggs are a great source of protein and of certain B vitamins like choline, biotine and vitamin B12.
And olive oil is always our top choice of a healthy fat.
First Omelet Preparation Tips
The trick for a really great omelet is to heat up the pan with olive oil before you throw in the spinach-egg mixture. Tilt the pan so the eggs are evenly spread and then let them sit for a moment while they cook.
Since you're serving this to a baby/toddler, you'll want to look as interesting as possible. So you may want to spread the mozzarella around on the half cooked eggs and forget about folding them over. You'll end up with an omelet that looks a little like a pizza. Perfect to cut into triangles for little hands to grab.
You can make this with frozen spinach if you don't have any fresh, raw leaves – just be sure to thaw them in advance and add them at room temperature to the egg mix.
You can also substitute in other kinds of cheese if you prefer. Grated hard cheese are great too. Or you can skip the cheese, particularly if you're worried about your child's iron intake (dairy can lower iron absorption somewhat).
Does your child like eggs? How do you serve them?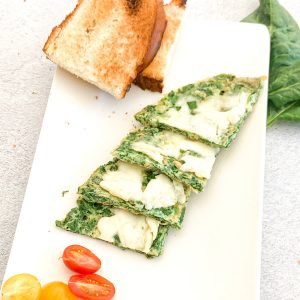 Spinach Mozzarella Omelet
Eggs are a fantastic food to include in your child's diet – they are just so versatile! So for their very first omelet, check out our simple recipe here.
Ingredients
1

egg

1

tablespoon

olive oil

1

cup

spinach

raw

1

garlic clove

1

tablespoon

mozzarella

shredded, wholemilk
Instructions
Wash and chop up the raw spinach and garlic and combine with the egg

Heat the olive oil in a pan before adding the egg mix

Once about half cooked, add the mozzarella

Allow to cool and serve with wholegrain toast
Nutrition
Calories:
242
kcal
Carbohydrates:
3
g
Protein:
10
g
Fat:
22
g
Saturated Fat:
5
g
Polyunsaturated Fat:
2
g
Monounsaturated Fat:
13
g
Trans Fat:
1
g
Cholesterol:
175
mg
Sodium:
180
mg
Potassium:
252
mg
Fiber:
1
g
Sugar:
1
g
Vitamin A:
3151
IU
Vitamin C:
9
mg
Calcium:
135
mg
Iron:
2
mg