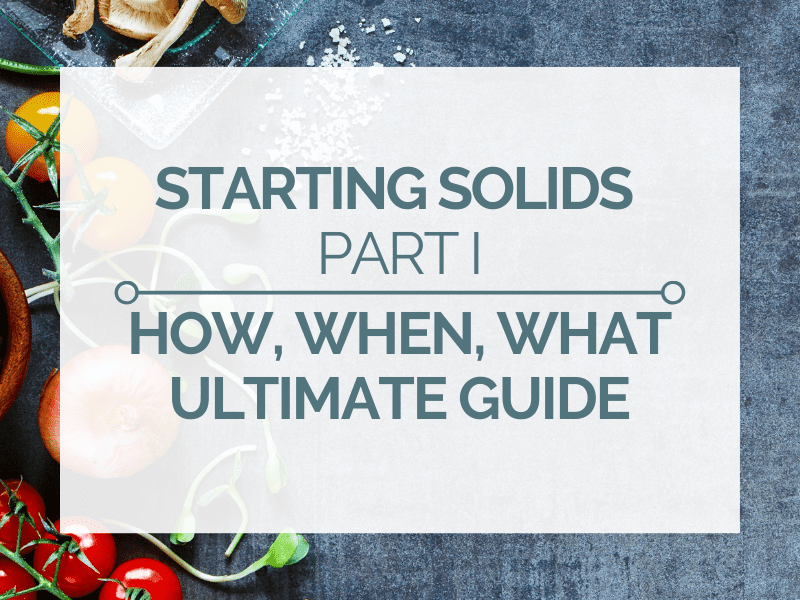 By the time your baby is 6 months old, it's very likely that they are starting solids (or have already done so). By around 6 months, exclusive breastfeeding/formula is often no longer sufficient to meet your baby's calorie and nutrient requirements for growth and development, and they may be showing visible signs of being ready to start eating.
Congratulations and good luck – your child is ready for a big next step!
It's obviously a big step for you too! And if you're like me then it can feel like there's so much to read before you feel ready. So we've broken it down so you have a simple, straightforward guide to everything you need to know before you start.
Starting Solids – How To Know When Your Child Is Ready
The number 1 sign of readiness is when your child starts actually showing an interest in food. If you find yourself defending your food from invading hands, then your child is probably ready to actually get their hands on them.
But there are also a number of physiological signs to keep an eye out for.
Physiological Signs Of Readiness
Mouthing hands and toys
Asking to be fed much more regularly
Ability to sit-up straight in a high chair (or with minimal support)
Good head and neck control
Able to (partially) close lips over a spoon
Diminished tongue thrust reflex
Starting Solids – Preparation
Before your child is even ready, you'll probably want to prepare for when they are. That means getting a high chair so they can sit with you at the table, getting utensils, bibs, and cups. Below is a list of our favorite ones, with something for every budget.
Note: some of the below are affiliate links, however all recommendations are completely our own.
High Chairs
Ideally, your high chair will have decent back support, a footrest, and a removable tray. By supporting a good posture, your child will stay comfortable for longer and will be able to concentrate on the meal in front of them. Meanwhile, the removable tray makes cleaning much less of a pain.
We love the Tripp Trapp as it's easily adjustable as your child grows, and provides great support. As they get bigger you can just remove the tray and pull them up to the table too.
Spoons
Sure you can grab a spoon out of your drawer and use that. However, they may be too big and having something soft is helpful when feeding an inexperienced eater with soft gums. Even if you are not starting with baby-led weaning we still recommend you hand a spoon to your child from the beginning so they learn to develop fine motor skills and feel more in control.
We love the Bumkins as they are ergonomically designed and help improve fine motor skills and strengthen the pincer grasp. The design also stops an over ambitious new eater from sticking a spoon too far into their mouth as well!
Bowls
Children can learn to use proper breakable bowls earlier than you might think. But when they are first starting to eat, they won't be particularly coordinated and having something that sticks to the tray will come in handy.
We love the Ananchy as it stays put pretty well and is made from sustainable materials.
Plates
Like with the bowls, you'll be surprised how quickly you can give your child the same ones you are using. But, as with bowls, life is made a lot easier by having one that sticks to the table and separates different kinds of food.
The EzPz Happy Mat stays in place really well and makes cleaning up much easier as it catches things that fall out the sides. Each segment is a great size whether your serving small portions to a 6-month-old or much more for an hungry 10-month-old.
Cups
Once again, children can use a proper glass earlier than you would think. Giving them a shot glass to drink will allow them to copy the way you drink very quickly. However, you'll still want a good cup that can be dropped on the floor every 5 minutes without making a giant mess.
The Munchkin 360 cup is the best option as it allows your child to use the same mouth position as an open cup but without the spills. While they learn to drink, cups will be thrown to the ground a lot so having something that doesn't spill is crucial!
Bibs
Feeding is going to get messy. It's best to just accept that as unavoidable from the beginning. But you'll still want to avoid a full wardrobe change after every meal if possible!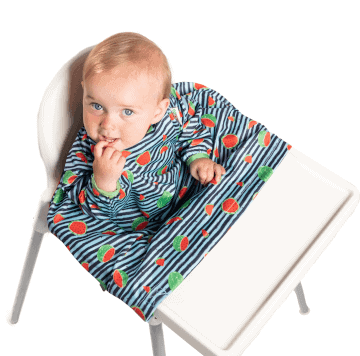 Our top choice bib recommendation is one that is so ingeniously designed that it really minimizes the mess. The others are great too, but somehow food will make its way into any gap available!
Blender
Having a decent blender will make food prep much easier, especially if you're starting out with pureed foods. Choose one that's easy to use and most importantly easy to clean!
Food Storage
With a small needy human to take care of, any way you can do things more efficiently will make a big difference. That includes prepping lots of food at once and not starting fresh for every meal. And that means you need good food storage. We prefer glass or silicone options as they are the safest for your child.
Starting Solids – How To Begin
Starting solids for the first time can feel a little scary. I know it was for me. And even as a nutritionist focused on baby and toddler nutrition, it was still stressful not knowing how my own baby would react. But it is definitely exciting too. It's opening up a whole new world of experiences for you to share with your child.
If you've already been researching all the different ways to feed your child, the chances are that you've already seen people advocating for one of 2 main methods. Purees or baby-led weaning? Chunky or smooth purees?
And how can you know which is the right one to choose? Well, let me tell you a secret. There isn't one right decision. There's only the right decision for you and your family. How you feed your baby ultimately depends on what you're comfortable with. There is no scientific evidence that indicates that starting with one kind is better than another (e.g. BLW vs. purees). And there's no rule saying you can't do a combination of both.
Purees
Pros
Easy to keep track of the quantity of food eaten
More choice of food
Less mess
Cons
Can be time-consuming
You need to feed the baby
Possible difficulty introducing textured food and self-feeding later on
How to Start
Set aside plenty of time
Choose one puree to start with (see below for what foods to choose)
Don't overload your spoon
Encourage them to open their mouth if needed (you can gently stroke the lips with the spoon) but don't force the spoon in
Accept that food might come back out of their mouths – they are still learning how to actually eat
Look for signs that they are done (see below) – they might eat for ages or might be done after 1 or 2 spoons and either one is fine
Click here for more information on different stages of puree foods
Baby-Led Weaning
Pros
Babies can eat at their own pace
Less preparation time
Introduction to different textures early on
Cons
Possible lower calorie and nutrient intake
Inability to control the amount of food eaten
Can lead to a huuuuuge mess depending on what they are eating
Fewer food choices
How to Start
Set aside plenty of time
Choose one food to start with (see below for what foods to choose)
Cut food into chunks or strips that are large and easy to grab (and too large to choke on)
Put food directly on the tray in front of your child
Let them take the lead (hence baby-led) – let them eat and play with the food as long as they are interested
Don't set expectations for how much they eat – offer more if they finish, but don't worry if they don't eat anything
Starting Solids – Choosing Food To Start With
There's no consensus on the best food for your baby to start with – this will often be influenced by culture, seasonality/availability of foods and even national guidelines.
The latest research, conducted in 2017, says that it doesn't necessarily matter what order foods are introduced. However, it is a good idea to offer common allergens (e.g. strawberries, peanuts) sooner rather than later. Choosing simple, nutrient-dense foods will always be a good place to start though.
New foods should be introduced one at a time. When your baby first starts eating solids, it's best to give each new food around 3 days before adding a new one. This way, any allergies or intolerances will be easy to identify.
After a month or so, as your baby adapts to regularly processing solids, new foods can be introduced every day, but always with only one each day in case of any adverse reactions.
Simple First Food Options
Soft cooked fruits or vegetables are easy go-to options. They contain loads of micronutrients and are easy to prepare. Just ensure food has fully cooled before serving.
How Much Food Is Enough?
Again, there aren't strict guidelines on how much your baby needs to eat and how often during the day. During the first year of the baby's life, we should feed according to baby cues. However, it doesn't mean you need to feed them every half hour.
In general, a consistent schedule when it comes to feeding will be helpful. That way the baby will know when its time to eat time, time to play, and time to sleep. Routines work wonders. There will be times when your baby will want more or less food during the day and that is fine, you should continue to follow their cues.
When you first start out, aim for 1-2 solid meals per day and gradually move on from there. At about 9 months of age, your baby will start to need more solids and will gradually move to 2-3 solid meals per day. Whether this is before or after 9 months is completely up to the individual but you should be aware that if they start needing more solids at this point then it's completely normal.
Number Of Solid Meals Per Age:
6-8 months: 1-2 solid meals per day
9-11 months: 3 solid meals per day
11-12 months: 3 solid meals per day + 1 snack (optional)
12 months: 3 solid meals per day + 2 snacks
For feeding schedules and meal-plan ideas click here
What To Avoid?
While the choice of what to serve is up to you, there are foods that should definitely be avoided until your child is at least a year old:
Honey: can cause botulism since it may contain spores of the bacteria that aren't killed in the stomach until after your child is a year old
Cow's milk: digestive system not adapted yet (fermented products such as yogurt, kefir, and cheese are fine)
Low-fat milk and dairy products: cause an excessive intake of protein and low intake of essential fats
Salt: kidneys not developed enough yet
Smoked & cured meats; processed food: excessive salt intake
Sugar: completely unnecessary
Fruit juices: excessive intake of sugar; can cause digestive problems
High mercury fish (shark, tuna, sea bass, halibut, grouper): excessive intake of mercury
Unpasteurized products: can contain dangerous bacteria
Starting Solids – Common Concerns
Choking
For foods that pose choking hazards as well as what to do if your child is choking, take a look at our blog post here. Overall its something you should be well prepared for, but not something to be worried about with every bite your child takes.
Messiness
There's really nothing to say here apart from sit back, relax, and clean it up later. If you start the meal anxious about the mess your baby is going to make, your baby will probably pick up on that and they won't be able to relax either.
Believe me on this. I am a huge control freak (or was a control freak before I had my baby) and the thought of a messy dining room floor sounded horrific. But with time I got used to the fact that my son should explore his food, eat at his own pace, and have an enjoyable time eating. And each and every time it's a mess but each and every time I clean it up. It gets easier with time. And fun for me to watch him also.
So embrace the mess – it's much more enjoyable that way!
Baby Playing With Food
At times you will see that your baby is playing with food rather than eating. Especially if you are going with baby-led weaning. This is completely normal! If they are hungry, they will eat.
Learning to eat is a multi-layered experience. Your child is not just learning how to put food in their mouth, but they are learning about food itself as well. Everything is new to them, and playing with their food is one of the ways they are exploring the world around them.
Ultimately, it will help them have a good relationship with food later on.
Knowing When Baby Is Full
Observe their cues. It's as easy as that. They will let you know and show signs that they don't want to eat anymore. The signs are obvious when you are looking for them!
Turning their head away
Clamping lips
Throwing food on the floor
Spitting food out
Pushing food away
Honoring your baby's signs of fullness and their ability to control their satiety is an important part of starting solids, one that will make them more sure to have a healthy relationship with food as they grow older.
What was your approach to starting solids? Tell us about your experience below!