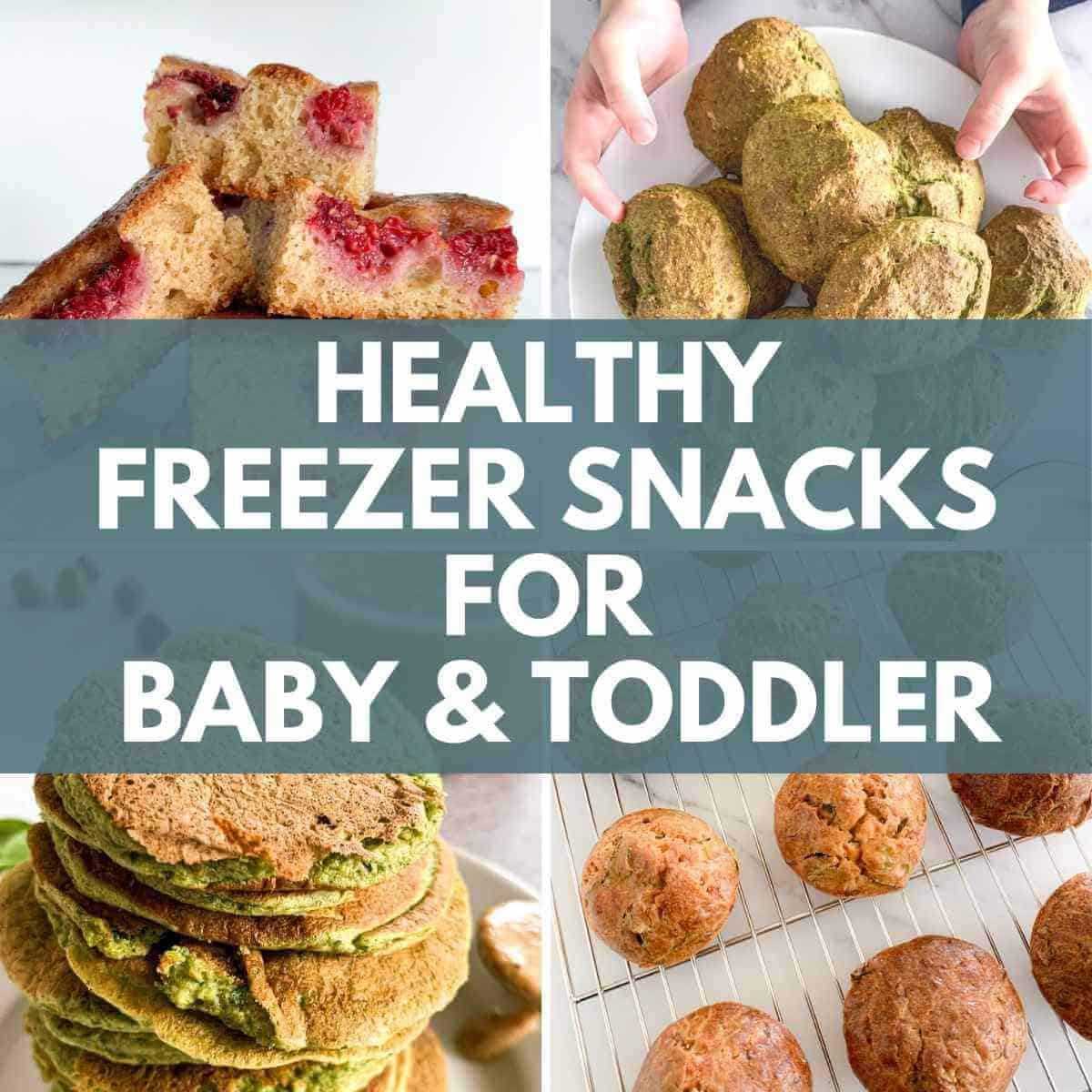 Snacks just may be the hardest meals of the day for me to serve to my toddler.
Not because they're complicated to prepare but simply because they require a certain amount of time.
And thinking about serving 2 snacks per day (EVERY DAY) makes me wonder... who has the time for that?
Jump to:
Why We Love Freezer Snacks
One of the greatest mom hacks I've come upon is freezer snacks.
There's something liberating in making huge batches of food and freezing them in small portions to have them readily available for snack time.
Not every meal can be frozen and taste delicious later when it's thawed but lucky for us many can.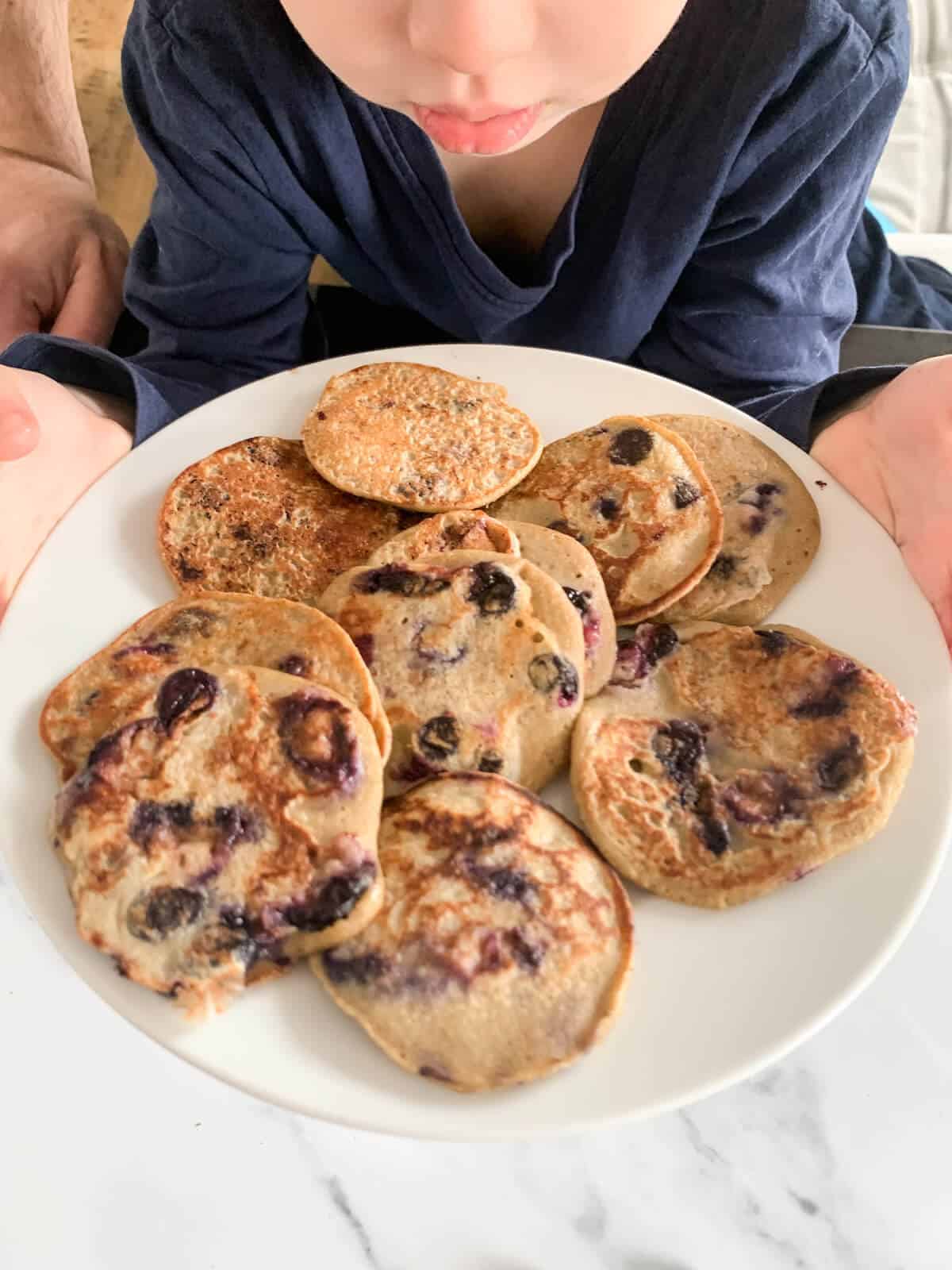 Snacks That Can Be Frozen And Thawed
Baked Ideas For Freezer Snacks:
Frozen Freezer Snacks:
Most of these snacks are perfect snacks for babies for baby-led weaning, as finger food and for toddlers, and even big kids and us adults. And they are all healthy toddler snacks which is what we want to be serving our kids.
How To Freeze Food
Whether I'm making muffins, cakes, pancakes or banana bread I always let the baked batch cool and then I divide it into servings.
For muffins it's easy since they come in muffin cups. I just put them in a silicone bag and in the freezer. Since they are already in the muffin cups, there's no worry that they will stick to each other when frozen.
Banana bread and cakes I cut up into servings and place on a silicone tray or that is narrow enough to fit in the freezer.
After a few hours when I'm sure that the banana bread slices/cakes are frozen, I take the silicone tray out, remove the frozen snacks and place them in a silicone bag and in the freezer.
That way I avoid them sticking to each other while freezing and makes it easier for me to take out.
As far as pancakes go, I either do it the same way as with the banana bread and cakes if the pancakes are small enough or I place a little parchment paper in between each and freeze them for a few hours like that before transferring all of them into one bag.
For frozen freezer snacks like ice cream and popsicles it's easy. Simply put them in the freezer once they are done.
And if I run out of silicone bags I use these glass Pyrex containers which are non-toxic.
How To Thaw Freezer Snacks
If we're talking about baked freezer snacks, then I just take them out of the freezer in the morning.
This does mean that I have to have a plan in advance on which snacks I will be serving that day.
But that's a good thing since that way I don't feel cornered and stressed when it comes to snack time.
Once the snacks are thawed you cannot really freeze them again.
So if your child refuses to eat them you can still serve within the next 2 days. Or eat them yourself 🙂
Creative Nourish Freezer Snacks Recipes for Babies and Toddlers
In case you need some help and ideas on which freezer snacks to prepare in advance, we have a list of quick and easy recipes.
They pretty much all require minimal preparation time.
And you are left with huge batches of snacks that you can freeze and take out any time you need. Or want.
Baked Ideas For Freezer Snacks
Frozen Freezer Snacks
Final Note
So whether you're a mom or dad who just doesn't have the time to prepare 5 fresh homemade meals per day, or you just don't want to spend hours per day in the kitchen, this list is for you.
I've found that if I make just 1 or 2 of these recipes per week I have a huge amount of food in the freezer that I can use literally any day. And even take out on outings, trips and parks.
More Like This