Whether it's a cold, flu, stomach bug, or you simply need to rehydrate after heavy exercise, you can make your own homemade electrolyte drink with simple natural ingredients to get you back on your feet.
*This post has been written by Dora Babic-Cikos, PhD Nutritional Science
If you like healthy drinks full of nutrients you can check out our How To Make Strawberry Juice, Healthy Blueberry Spinach Smoothie or the Detox Apple Spinach Smoothie with Lemon.
Jump to:
What are Electrolyte drinks?
Electrolytes are essential minerals found in the bodily fluids - blood, sweat, urine and other bodily fluids. And therefore they are also easily lost through those fluids.
Key electrolytes in the body include sodium, potassium, chloride, calcium, magnesium, phosphate, sulphate and bicarbonate.
Drinks with electrolytes are a great way to recover from an electrolyte imbalance (which can lead to muscle cramps) and loss of fluids to make sure you are giving back to your body what it has lost.
You can find a large variety of different electrolyte drinks on the market. Whether it's electrolytes drinks from grocery stores that are already in their liquid form or pharmacy-bought powders such as Pedialyte powder.
Electrolyte drinks can also be found under the name of oral rehydration solutions (ORS).
Store-bought Rehydration drinks
The thing with store-bought electrolyte drinks is that besides having electrolytes and fluids, they also very often have harmful ingredients such as artificial colors, artificial ingredients or artificial flavors. And they don't taste that great very often.
And I really want to avoid those even for myself, let alone for my kids. So it was only natural to develop a natural electrolyte drink recipe that will not only do the job but also taste good.
Natural Homemade Electrolyte Drink
Natural electrolyte drinks are really easy to make and you already probably have all the required ingredients laying around in your kitchen anyway.
The key is to ensure the body gets enough salt but also you'd want it to taste good so a fair amount of sweetness is necessary.
To avoid your homemade electrolytes tasting and looking bland, you'd want to add some natural juices. Those can add to the vitamin and overall nutrient content of your healthy electrolyte drink as well.
How to make ORS at home - ingredients
Making homemade electrolytes is fairly easy and quick using our simple recipe. You just need a few fresh ingredients to get you started:
water
fresh fruit juice - lemon and orange are the best option in my opinion, they are high in vitamin C. In this case you are making your own from fresh lemons and oranges.
salt - pink himalayan salt is always my first choice
sweetener -I am an advocate of natural raw honey
See recipe card for quantities.
How to make a healthy electrolyte drink? Step-by-step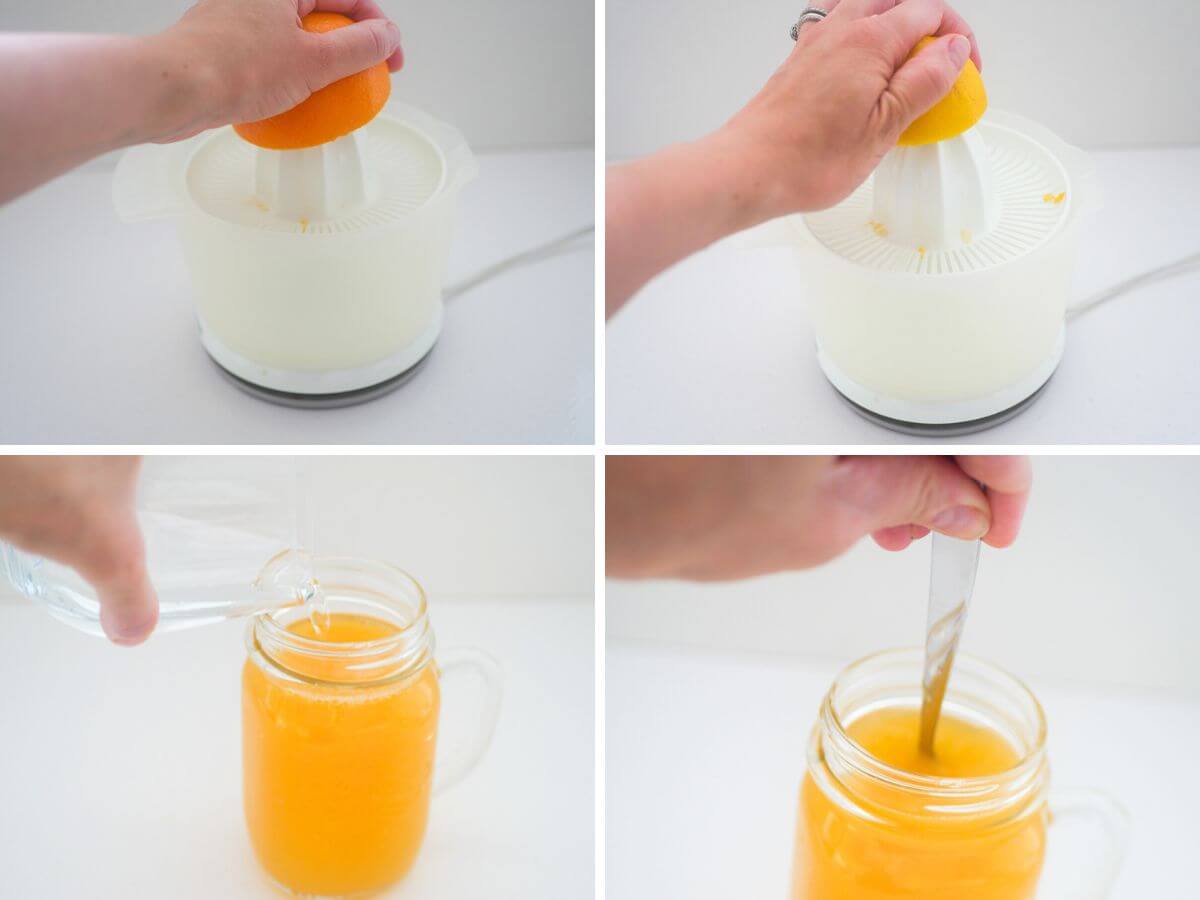 You can make your own electrolyte drink at home really easily using simple ingredients and following this easy recipe.
Make orange and lemon juice out of the oranges and lemons in a citrus juicer or juicer.
Combine all ingredients in a blender or simply stir in a jar.
Store in jars in the fridge or in small portions in the freezer.
Serve in a glass or pop it into your water bottle.
Substitutions for a DIY electrolyte drink
Even though salt is one of the main things you need for your natural electrolyte drink, and it is not to be substituted, other ingredients can be changed to better accommodate what you have at home.
Lemon juice - instead of lemon juice you can just increase the amount of orange juice or substitute it with lime juice
Orange juice - orange juice can be substituted with pretty much any other fruit juice that has some sweetness to it. Kiwi, pineapple or even apple juice can be a good choice.
Honey - even though I always tend to use raw honey as the most natural sweetener, if you are vegan or just don't have and/or want to avoid honey, you can use any other sweetener of choice. Pure Maple syrup, coconut sugar or even refined sugar as the very last resort can be used.
Salt - I prefer to use himalayan salt but just in case that is not an option for you for whatever reason you can also use table salt, Celtic sea salt or other
Variations and add-ins for your electrolyte beverage
If you want to give your electrolyte drinks a different flavor and spice things up each time you make, you can use one of the suggestions to variations below.
Herbs - to give it an extra taste add some fresh herbs such as parsley, mint and or basil
Fresh citrus fruit - to give it some extra taste, you can add some cut up citrus fruits such as orange, lime, grapefruit or lemon
Ice cubes - for a cold drink especially during the summer months, add some ice cubes.
What equipment do you need for your DIY electrolyte drink
Making a homemade electrolyte drink is easy with minimum equipment needed.
If you are using solely orange and lemon juice (so citruses) then all you need is a good citrus juicer. I prefer the electric one (for obvious reasons) but a manual one will do the job just fine.
If you are using any other fruit juice, then a juicer would be preferable. Another option could be blending the fruit with a good quality blender and then draining it through a cloth.
How to store homemade ORS
fridge - store in the fridge for up to 3 days. Stir before serving.
freezer - freeze in ice cube trays, silicone bags or glass containers and keep for up to 3 months. Thaw overnight in the fridge or at room temperature.
Homemade electrolytes top tips
If I was to give one tip for great and natural electrolyte drinks it would be to always use fresh juice. Not the store bought juices. That way you can be sure you are really using the most natural and original ingredients for your natural electrolytes.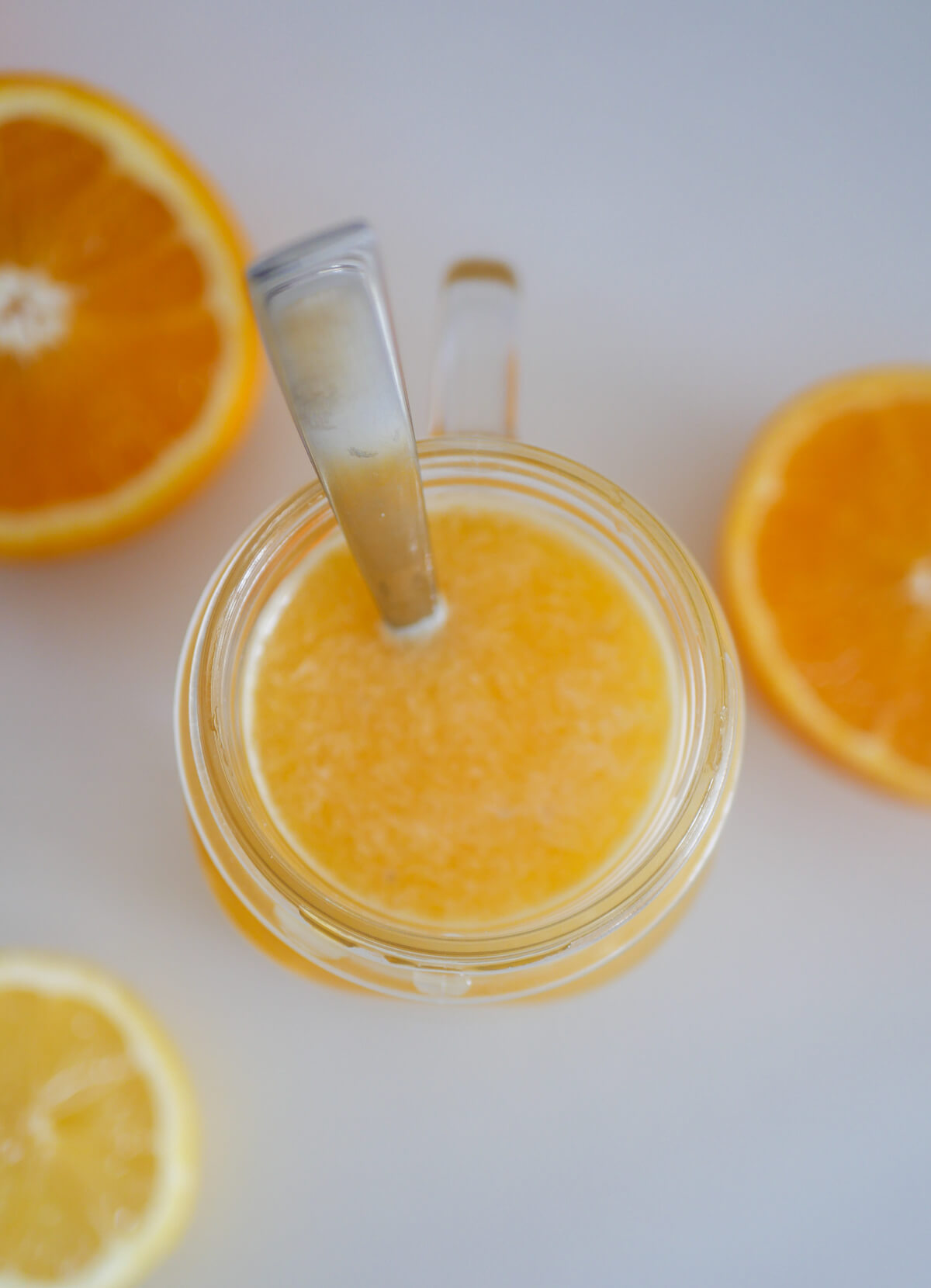 FAQ
Can I use a store-bought fruit juice?
I don't recommend using store-bought fruit juices just because making your own from fresh fruit at home is just so much healthier. But I do understand it might not always be convenient. So if you do need to buy it, make sure it is labelled as 100% fruit juice and with no added sugars.
How often should I give this electrolytes drink if my child has a cold?
If you're child is eating and drinking well with a cold, an oral rehydration drink might not be necessary. If however you see that they are not peeing as usual and are showing signs of dehydration then 1 serving per day should be enough.
How are homemade electrolyte drinks given for the stomach bug?
With excessive vomiting and if you or your child is unable to keep anything down, even water, then the electrolyte drinks need to be given slowly. To start it should be no more than 1 teaspoon every 15 minutes and then if it is tolerated well it can be gradually increased in the amount (e.g. 1 tablespoon) and frequency (every 5 minutes).
MORE RELATED RECIPES
If you've tried this recipe or any other recipe on the blog, please rate it and leave a comment below!
Homemade Electrolyte Drink
Whether it's a cold, flu, stomach bug or you simply need to rehydrate after an extensive workout, this homemade electrolyte drink is the easiest and fastest recipe to get you back on your feet.
Ingredients
½

cup

orange juice

approx. 3 oranges

¼

cup

lemon juice

approx. 2 lemons

1

cup

water

1

tablespoon

honey

raw

¼

teaspoon

salt

himalayan
Instructions
Make orange and lemon juice out of the oranges and lemons in a citrus juicer or juicer.

Combine all ingredients in a blender or simply stir in a jar.

Store in jars in the fridge or in small portions in the freezer.

Serve in a glass or pop it into your water bottle. 
Nutrition
Serving:
2
g
Calories:
67
kcal
Carbohydrates:
17
g
Protein:
1
g
Fat:
0.2
g
Saturated Fat:
0.03
g
Polyunsaturated Fat:
0.03
g
Monounsaturated Fat:
0.02
g
Sodium:
298
mg
Potassium:
161
mg
Fiber:
0.2
g
Sugar:
15
g
Vitamin A:
126
IU
Vitamin C:
43
mg
Calcium:
13
mg
Iron:
0.2
mg