If you're looking for a recipe for pancakes without milk that turn out fluffy and delicious then this recipe is made for you.
This recipe was inspired by Pink Beet Pancakes, Healthy Blueberry Pancakes, Sweet Potato Pancakes and Apple Pancakes for Baby-led weaning and toddlers.
Jump to:
No Milk Pancakes
Milk, whether dairy or dairy-free milk, is almost always the ingredient for a homemade pancake recipe. So the fact that perfect pancakes can be achieved without oat milk, soy milk or almond milk as well as turn out dairy-free pancakes, might seem odd.
But the truth is, milk isn't a required ingredient for traditional pancakes. And yes, you can make regular pancakes without it. For breakfast, lunch or a simple snack.
Milk Substitutes for the Classic Pancake Recipe
While it might sound odd and a little bit too simple, the ideal substitute for milk for delicious pancakes is actually water. So, you don't necessarily need a milk alternative if you're looking to make vegan pancakes. A cup of water will do the trick to achieve fluffy homemade pancakes. 
Easy Homemade Pancakes Ingredients
To make the best pancakes without any milk, you just need a few simple ingredients:
flour: I almost always use all-purpose flour because it's the one I usually have at home.
baking powder: for these pancakes you need to use a leavening agent and baking powder is a great option here.
salt: enhances the flavour of the pancakes. 
sugar: I like to use coconut sugar in my sweet recipes, especially pancake ones.
eggs: the eggs help achieve fluffy pancakes. It is preferable that the eggs are at room temperature.
coconut oil: I usually use coconut oil for pancakes because it adds a special aroma to them.
How To Make This Easy Pancake Recipe - Step-by-step guidance with photos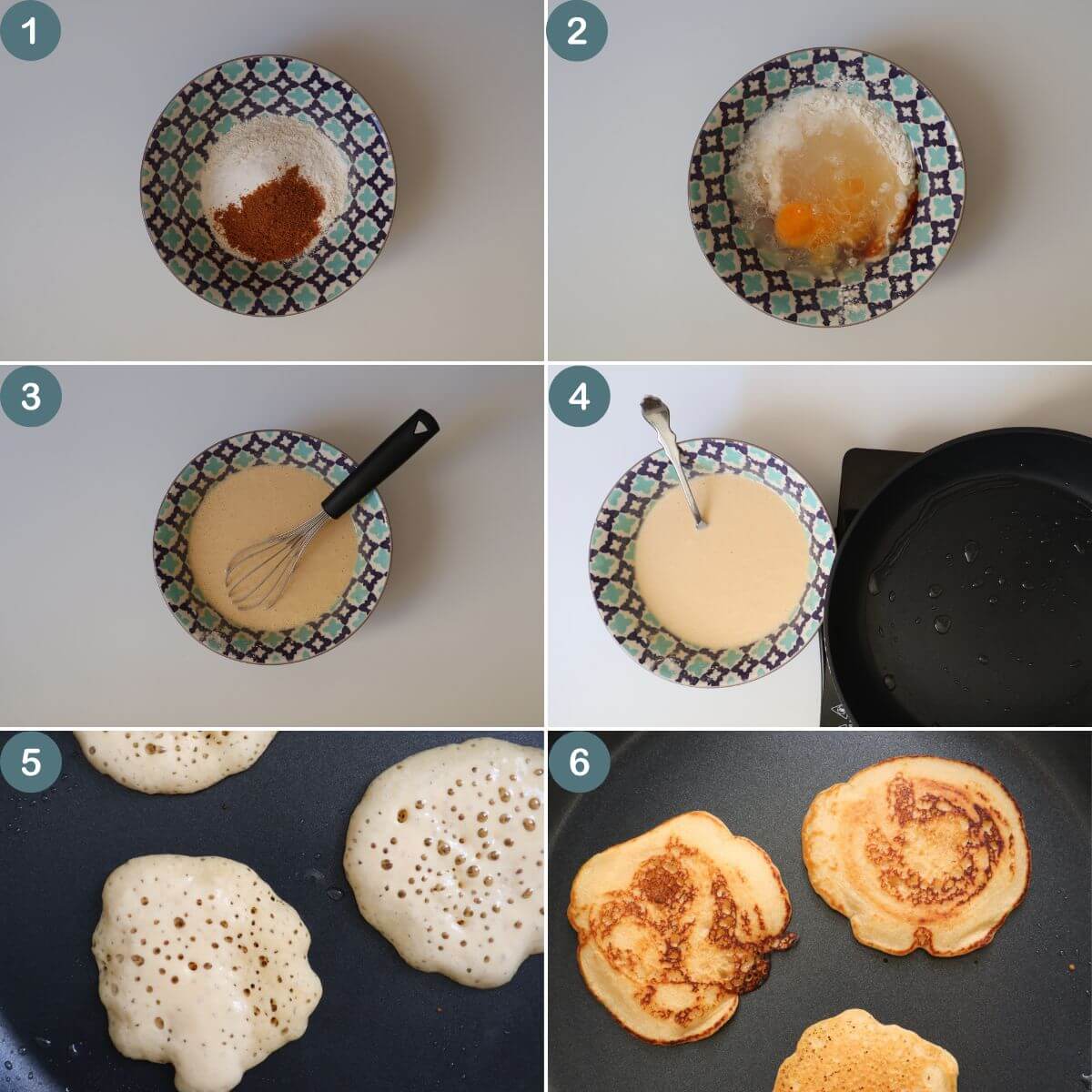 1. Mix all the dry ingredients together in a large mixing bowl.
2. Make a well in the middle of the dry ingredients and add the wet ingredients one by one to the mixing bowl.
3. Whisk altogether until you have a smooth pancake batter.
4. Heat a pan or skillet over medium heat and add some coconut oil to your pan/skillet (feel free to skip this step if you are using a non-grease pan or skillet). 
5. Pour about two tablespoons of the batter to the skillet. If you have a large skillet then you can make 2 or 3 pancakes at once and allow to bake for about 1-2 minutes until bubbles on the pancake form. 
6. Flip using a silicone spatula and bake for another minute. 
7. Transfer to a plate and allow to cool before serving.  
Substitutions
​You don't need to strictly follow this recipe to achieve amazing pancakes. You can easily substitute some of the ingredients in the original recipe and make a new recipe for yourself to your liking. Some of the possible substitutions: 
flour: instead of all-purpose flour you can use gluten-free flour, whole wheat flour or even buckwheat flour and self-rising flour
coconut oil: if you are fine with a non-vegan dairy option, then you can use melted butter instead of coconut oil. Even olive oil can be a good substitute.
egg: I highly recommend using eggs in this recipe but if you do want eggless pancakes, then you can use chia or flaxseed egg. The pancakes might not be as fluffy though
coconut sugar: if you decide to swap coconut sugar for a different sweetener, I recommend you still go for a natural option such as maple syrup. But if you do decide to use traditional white sugar, it will work as well.
No Milk Pancake Toppings and spreads
Even though these pancakes can be eaten on their own, with no additional toppings or spreads (yes, that's just how delicious they are), it doesn't hurt to upgrade them with some delicious add-ons.
Some of our favorites are:
fresh fruit: especially in the summer months, cut of fresh fruit is a refreshing and delicious addition to this recipe
Healthy Nutella spread: my personal favorite
nut butters (especially peanut butter): they are filled with the good types of fat and energy so they are a great topping for your little ones
chocolate chips: these might not be the healthiest option but the kids love them so much so every once in a while, they can find themselves on the pancake plate
jam: homemade one preferred but storebought ones will also do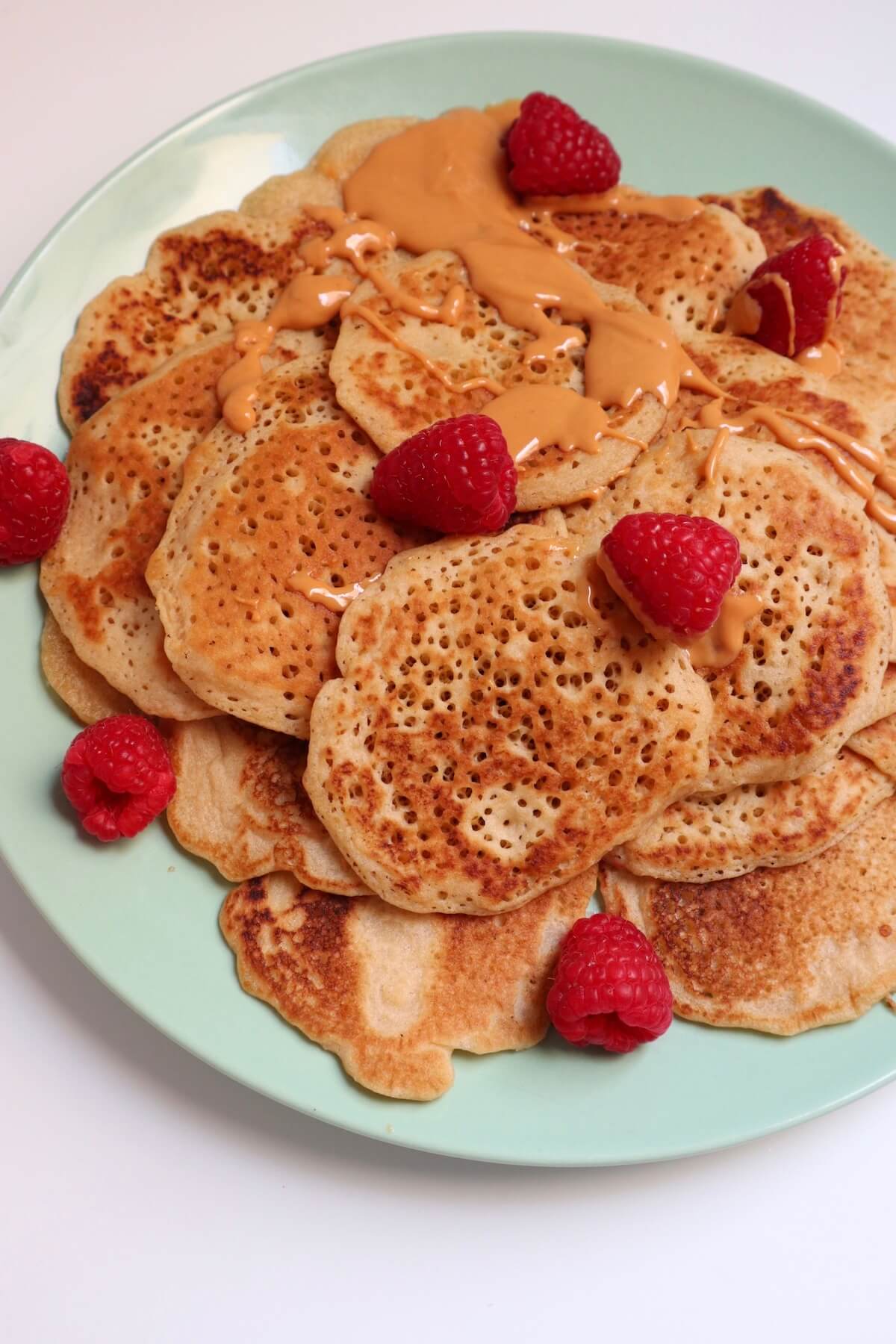 How To Store Leftover Pancakes
If you're left with some leftovers after your pancake meal (although doubtful), there are a few simple was of storing them for later.
When you store them in an airtight container in the fridge, they can stay there for up to 3 days. Just remember to leave them at room temperature a bit before serving.
For long-term storage, a silicone bag is a better option and you can safely put them in the freezer for up to 3 months. They can easily be thawed at room temperature, in the microwave or the oven.
FAQ
Can you make vegan pancakes with sparkling water?
Absolutely. You don't necessarily need to have plain water to make pancakes without milk. Plain water is just almost always available, free and more convenient. But if you want to use sparkling water, go for it!
Can I add berries to the batter while baking? 
Yes. Adding fresh fruit, especially berries, is a great way to change the way pancakes are served especially if you're dealing with little picky eaters. Once you pour the pancake batter into the skillet or pan, add you fruit and then just follow the "how to" steps as usual. 
Can whipped pancakes replace baking powder in pancakes? 
Definitely! The trick is to separate the egg whites and the egg yolks and whip the egg whites until firm. Then gently fold with a spatula to ensure that the air remains. For a full-on tutorial and recipe, check out our How To Make Fluffy Pancakes Without Baking Powder.

More Related Recipes
If you've tried this or any other recipe from the blog, please leave a comment below and rate it.
An Easy "How To Make" Pancakes Without Milk
If you're looking for a recipe for pancakes without milk that turn out fluffy and delicious then this recipe is made for you.
Ingredients
Dry Ingredients
1

cup

all-purpose flour

1

tablespoon

coconut sugar

1 ½

teaspoon

baking powder

pinch

salt
Wet ingredients
1

egg

¾

cup

plain water

2

tablespoon

coconut oil

additional coconut oil for baking

optional
Instructions
Mix all the dry ingredients (flour, salt, sugar) together in a large bowl.

Make a well in the middle of the dry ingredients and add the egg, coconut oil and water.

Whisk until you have a smooth batter.

Heat a non-stick or regular pan over medium heat.

If using a regular pan, pour some coconut oil.

Pour 2 tablespoons of the batter onto the pan.

Bake for about 2 minutes, until the bubbles on the pancake form.

Flip using a silicone spatula and bake for another minute.

Allow to cool before serving.

Serve with toppings or spreads of choice.
Nutrition
Serving:
1
pancake
Calories:
50
kcal
Carbohydrates:
7
g
Protein:
1
g
Fat:
2
g
Saturated Fat:
2
g
Polyunsaturated Fat:
0.1
g
Monounsaturated Fat:
0.2
g
Trans Fat:
0.001
g
Cholesterol:
10
mg
Sodium:
45
mg
Potassium:
12
mg
Fiber:
0.2
g
Sugar:
1
g
Vitamin A:
15
IU
Calcium:
25
mg
Iron:
0.5
mg