Say hello to the adorably delicious Mini Pancakes, aka Pancake Cereal! It is one of the easiest recipes that is suitable for adults, children, toddlers and baby friendly. It's a guaranteed crowd-pleaser for kids and grown-ups alike.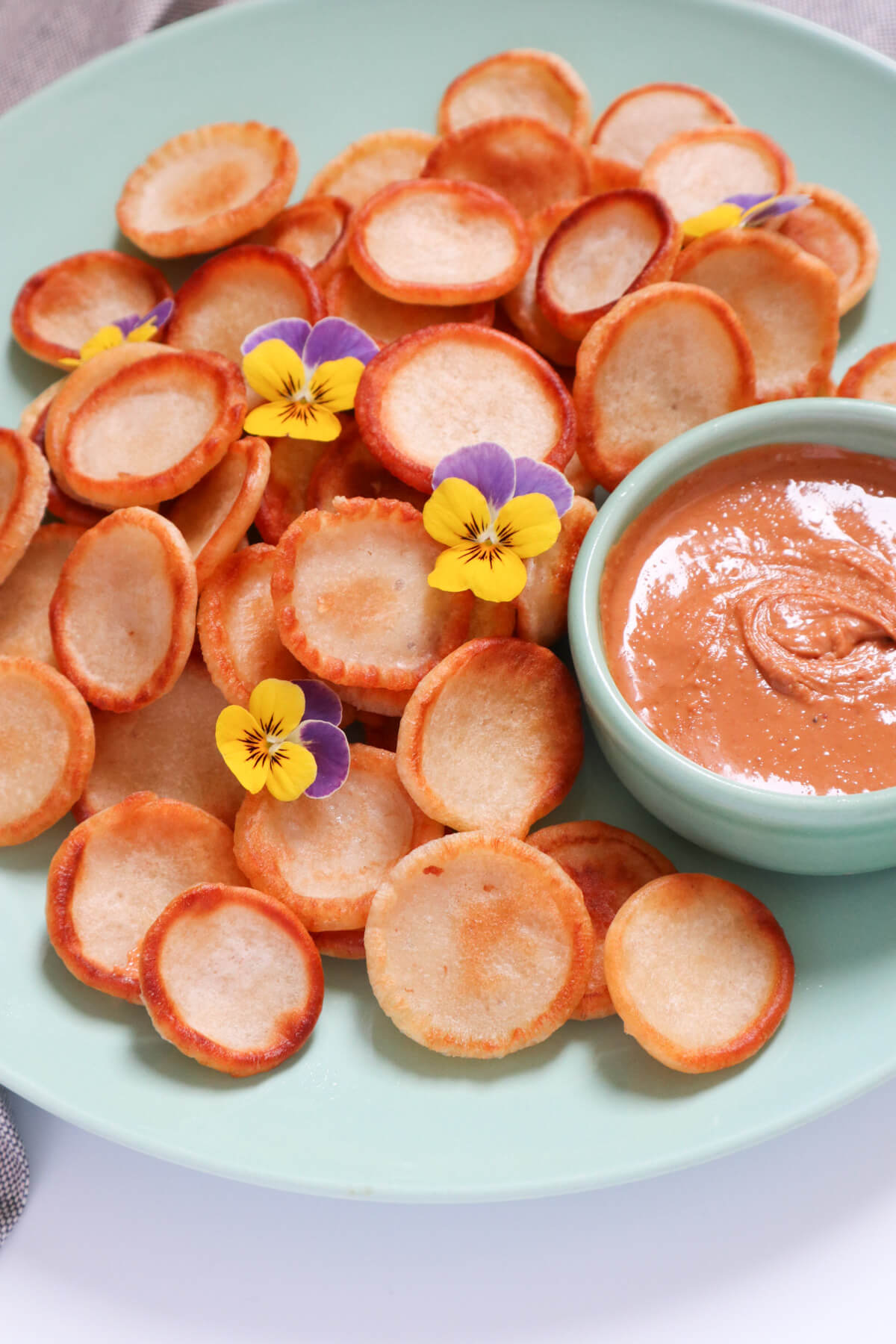 Jump to:
If you like this recipe you will also love Fluffy Eggless Pancakes , How to make Pancakes without milk, Apple Pancakes for Baby-led Weaning and Toddlers, Fluffy Pancakes Without Baking Powder, Baby Friendly Mini Pancakes or Fluffy Silver Dollar Pancakes or our whole range of pancake recipes.
Miniature Pancakes
These pancakes have taken a great portion of the media a while ago when someone first posted them online. Even though they are just a miniature version of your regular pancakes, or any other pancake recipe for that matter, they've really become quite popular really quickly.
Whether it's due to the fact that mini food is very interesting or that the tiny pancakes are a great food for babies to grasp to and hold when starting weaning, the baby food media has also become quite fascinated by them.
Little Pancakes
If you're looking for a great and quick breakfast for busy mornings or something to add to your brunch recipes, these easy mini pancakes should make the cut. With their fluffy texture and simple ingredients these small pancakes will easily become your new favorite pancake recipe. All you need is some basic pantry ingredients, a skillet and a few minutes of your time and you'll get the best fluffy mini pancakes you could wish for.
Ingredients For The Perfect Mini Pancake Recipe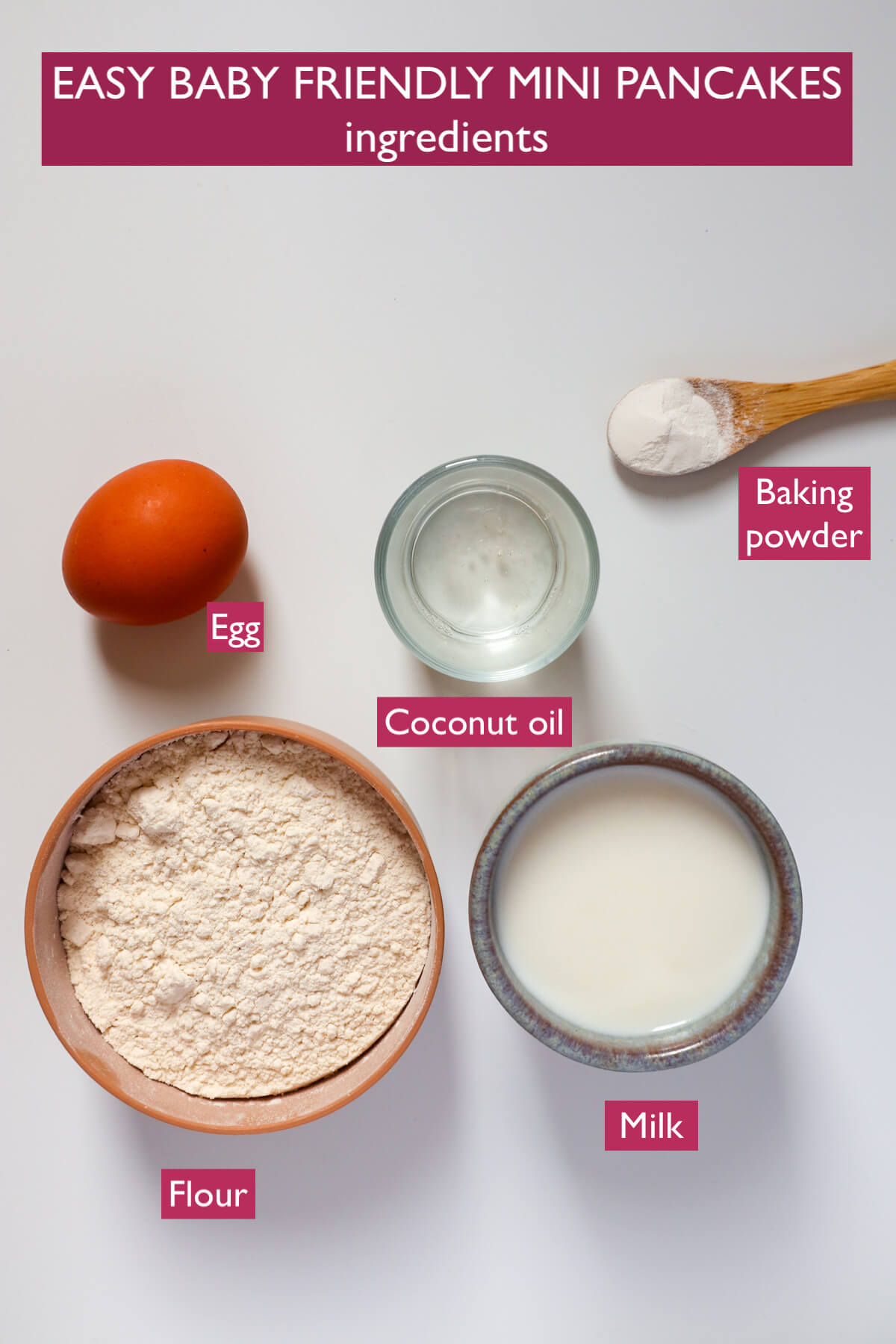 To make these simple homemade pancakes, you will need the following ingredients:
all-purpose flour: I like to use all-purpose flour when making pancakes but you can easily use any other flour
baking powder: to make these pancakes nicely thick and fluffy you need to add a leavening agent like baking powder
egg: helps bind the ingredients. I use organic eggs
milk: any milk of choice is fine here. I sometimes use cow's milk but other times plant-based ones such as almond milk or oat milk
coconut oil: I've found coconut oil to be the best fat component to add to the pancakes
How To Make Delicious Mini Pancakes - Step-by-Step Instructions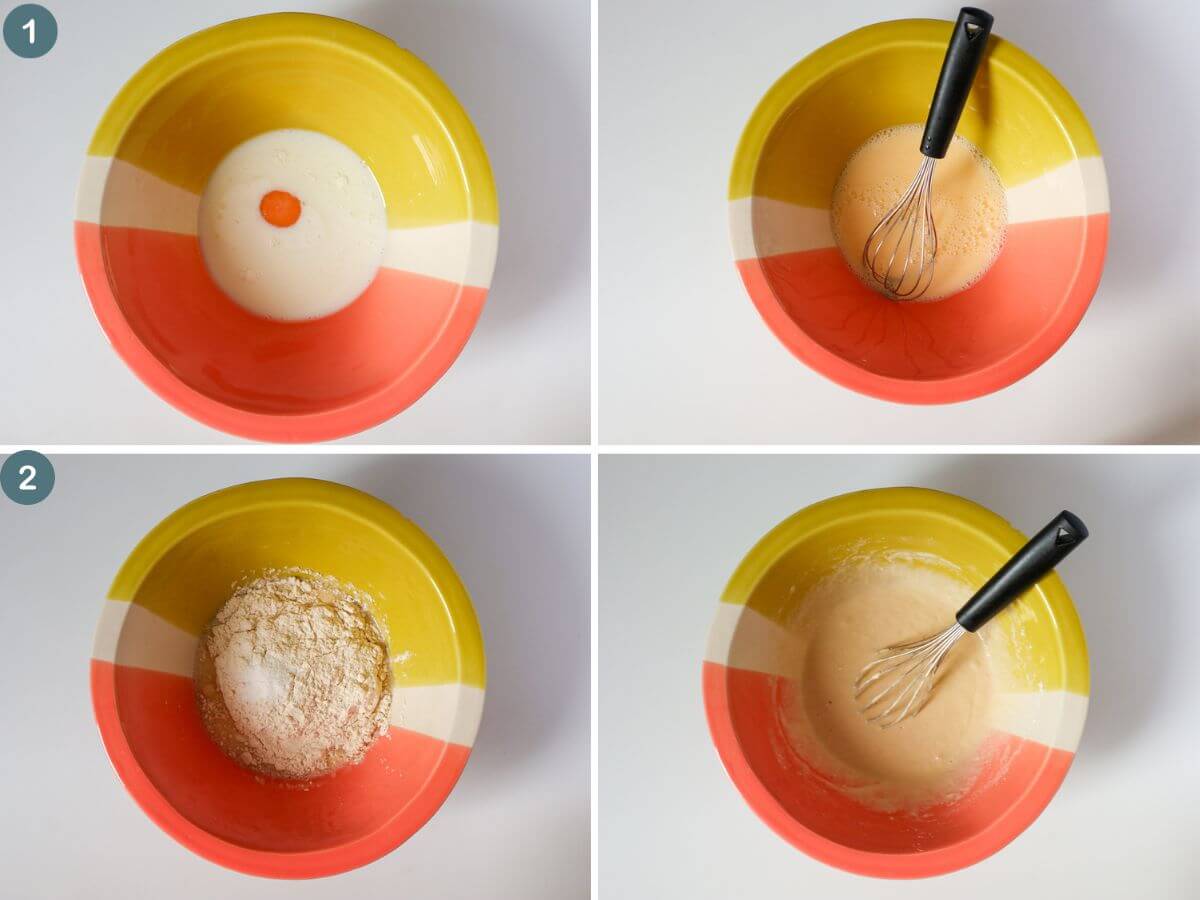 Follow these step-by-step photo instructions to make amazing miniature pancakes for the whole family:
1. Put all the wet ingredients into a large mixing bowl and mix.
2. Add the dry ingredients and mix until you have a smooth pancake batter. I actually do this in my Nutri Bullet but you can use a hand- or stand-alone mixer as well.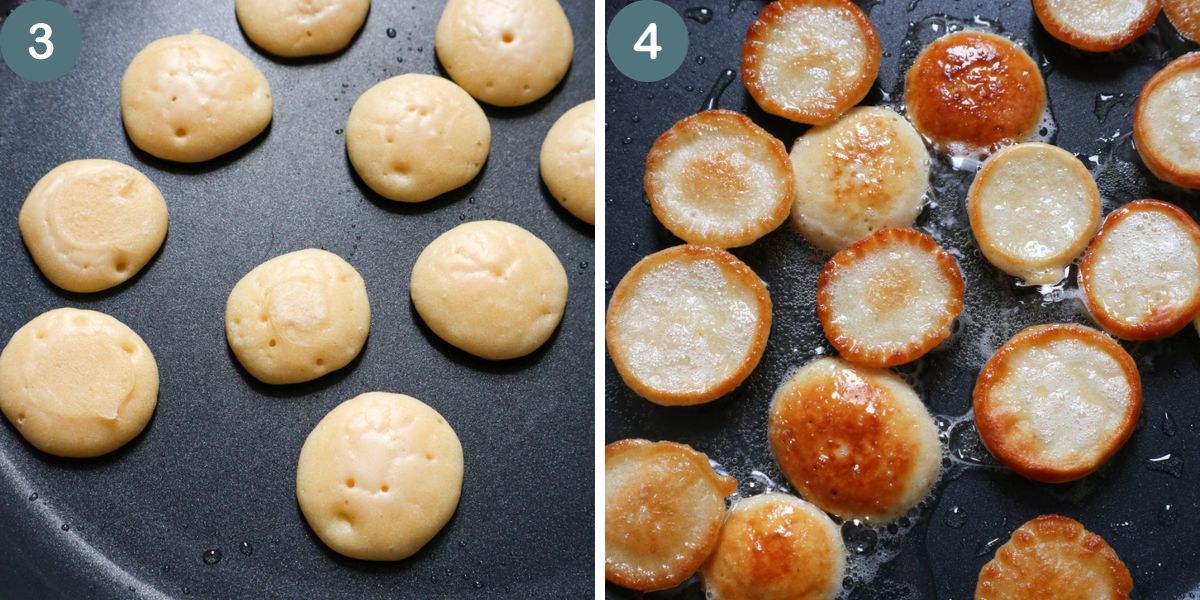 3. Heat a non-stick skillet or griddle over medium heat. If you feel necessary you can brush it with some butter or coconut oil. Use a small scoop or spoon to add bits of the batter to the skillet. Cook the pancakes until bubbles form on top.
4. Flip and continue cooking for about a minute until golden brown.
5. Allow to cool slightly and serve a bunch of pancakes with spreads and toppings of choice.
Ideas For Mini Pancakes Toppings And Spreads
Check out some of our favorite toppings and spreads to add on top of the pancakes:
fresh fruit: not only is it nutritious and full of vitamins but also refreshing and adds to a great start of the day
peanut butter: a classic, peanut butter is the nut butter we use the most for our pancakes. Rather than using some sweet store-bought spreads, peanut butter without added palm oil and salt is one of the best choices for your pancake topping
chocolate chips: if you do want to add some additional sweetness to your pancakes, sprinkling some dark chocolate chips is a good idea
maple syrup: you can just stick to the traditional toppings and spread some maple syrup on top. For extra flavor, add some lemon juice. Trust me.
​How To Store Leftover Mini Pancakes
In case you have some leftover pancakes, you can safely store them in an airtight container in the refrigerator for up to 3 days. Make sure to slightly heat them before serving so that they're not really cold.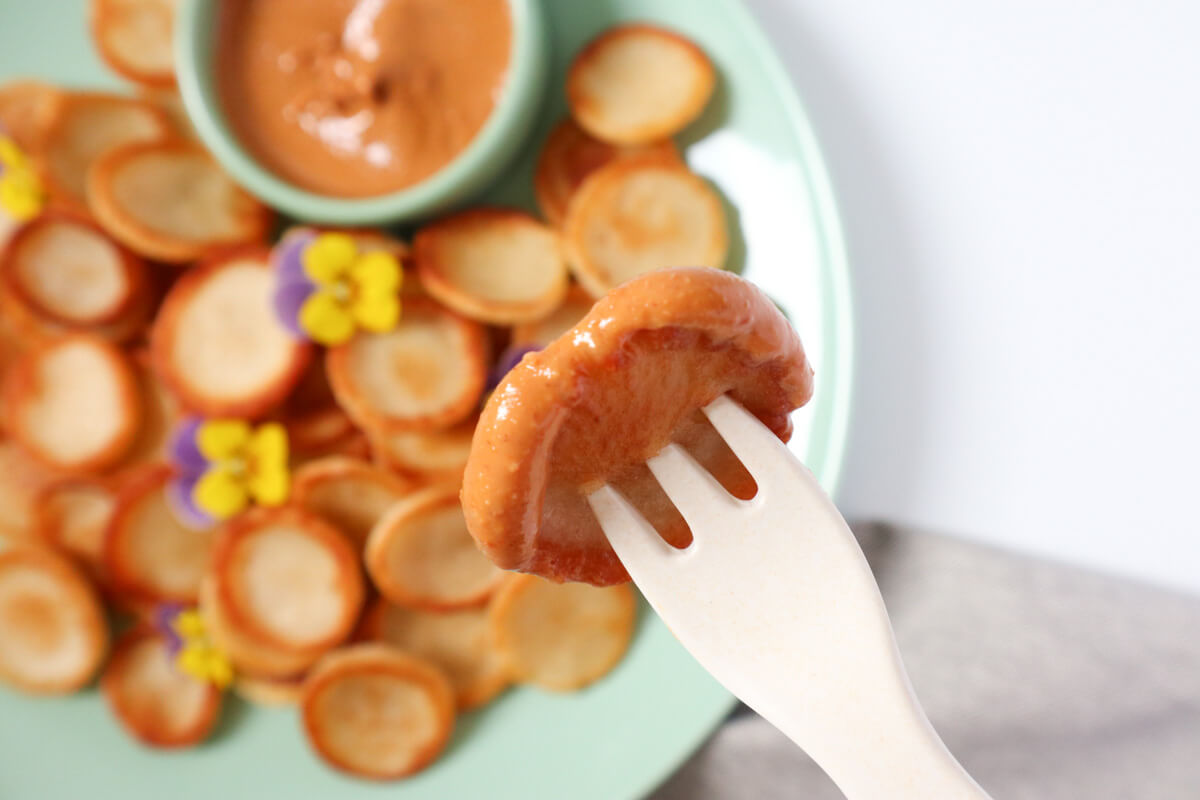 FAQ
Can I Freeze These Pancakes? 
​Absolutely! You can freezer them in freezer bags such as these silicone bags and keep in the freezer for up to 3 months. Make sure to thaw before serving. Either on a defrost option in the microwave or oven or at room temperature. 
How Do I Know When To Flip The Pancakes? 
When you see bubbles forming on top of your batter and the edges turning slightly cooked, then it's time to flip. The bottom (top when you flip) should already be golden brown. 

Can I Make The Pancakes Savory? 
Of course. Since the pancake batter doesn't include sugar, you can serve these pancakes with savory toppings and spreads and have an amazing brunch. 
More Related Recipes
If you've tried this or any other recipe from the blog, please leave a comment below and rate it.
Easy Baby Friendly Mini Pancakes Recipe
Say hello to the adorably delicious Mini Pancakes, aka Pancake Cereal! It is one of the easiest recipes that is suitable for adults, children, toddlers and baby friendly. It's a guaranteed crowd-pleaser for kids and grown-ups alike.
Ingredients
Dry Ingredients
1 ½

cup

all-purpose flour

1

teaspoon

baking powder
Instructions
Put all the wet ingredients into a large mixing bowl and mix

Add the dry ingredients and mix until you have a smooth pancake batter. I actually do this in my Nutri Bullet but you can use a hand- or stand-alone mixer as well

Heat a non-stick skillet or griddle over medium heat. If you feel necessary you can brush it with some butter or coconut oil. Use a small scoop or spoon to add bits of the batter to the skillet. Cook the pancakes until bubbles form on top

Flip and continue cooking for about a minute until golden brown

Allow to cool slightly and serve a bunch of miniature pancakes with spreads and toppings of choice
Nutrition
Calories:
25
kcal
Carbohydrates:
3
g
Protein:
1
g
Fat:
1
g
Saturated Fat:
1
g
Polyunsaturated Fat:
0.1
g
Monounsaturated Fat:
0.1
g
Cholesterol:
4
mg
Sodium:
13
mg
Potassium:
14
mg
Fiber:
0.1
g
Sugar:
0.3
g
Vitamin A:
14
IU
Calcium:
13
mg
Iron:
0.2
mg