These simple and delicious fluffy silver dollar pancakes are one of the easiest and nutritious meals you can make for your whole family.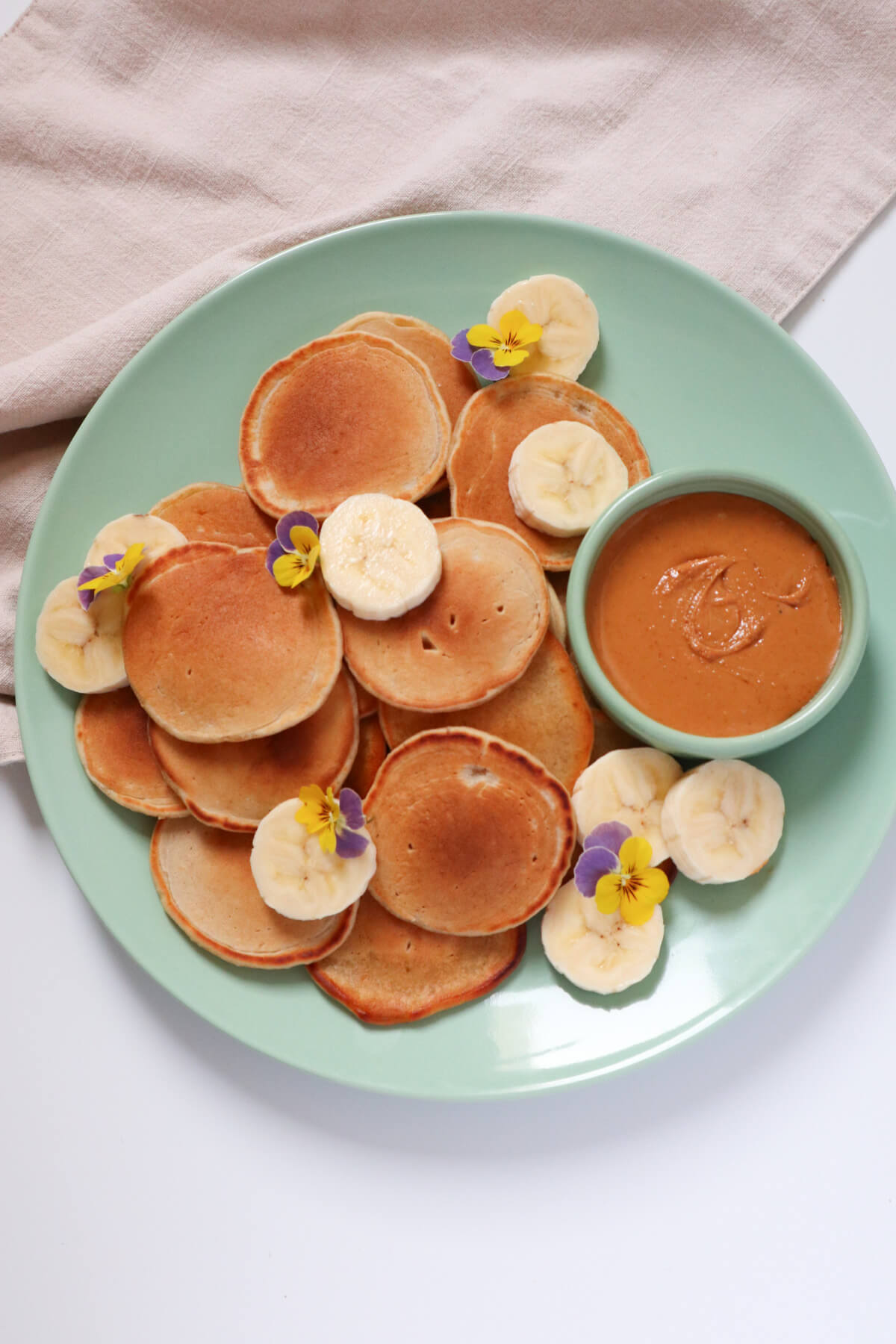 This recipe was inspired by An Easy How To Make Fluffy Eggless Pancakes Recipe, Best Fluffy Oat Flour Pancakes, 11 Easy Eggless Pancakes.
If you love healthy pancake recipes you can also try out readers favorites such as Fluffy Pancakes Without Baking Powder, Baby Friendly Mini Pancakes or Pancakes without milk recipe.
Jump to:
Tiny Pancakes
Pancakes are one of the most common breakfast items in my family. Whether they're large and thin, smaller and thick or little pancakes, my kids will always have pancakes as their first breakfast choice.
So naturally I had to think about different recipes that would ensure that they are getting nutrients and energy in those pancakes as well -making them more of a healthy pancake recipe.
And one of them being this pancakes recipe.
They are called silver dollars because they are smaller than regular pancakes and the size of a silver dollar.
While regular pancakes are about 6 inches in diameter, these pancakes are about 2 - 3 inches. And they're usually stacked upon each other.
You can pretty much try these adorable mini pancakes with any pancake batter recipe you have but it is preferable to have the batter slightly thicker to allow for the small pancakes to have their form.
Ingredients For Silver-Dollar Pancakes
To make these fluffy and tender pancakes on busy mornings, you'll need the following ingredients:
all-purpose flour: I like to use all-purpose flour when making pancakes but I've also tried with a number of different flours such as oat flour, buckwheat flour and almond flour and these all work
coconut sugar: if I want to add a sweet ingredient to make my pancakes more sweet, I almost always go for coconut sugar. It is slightly healthier than regular sugar and doesn't spike up the blood sugar as quickly so for me is definitely the better option
baking powder: to make these pancakes nice and fluffy you'll need a leavening agent and I always prefer baking powder to baking soda
egg: I like using eggs in pancake recipes to bind the ingredients and I almost always use organic eggs
milk: for this recipe you can use both cow's milk or any plant-based milk of choice
coconut oil: I like to use coconut oil as my choice of fat for pancakes, but you can use a little butter instead
How To Make - Step-by-Step
Follow these easy steps to make the best pancakes for your kids:
Put all the wet ingredients into a large bowl and mix until combined.
Add the dry ingredients to the wet ingredients and mix until you have a smooth batter. You can either whisk, use a stand-alone or hand mixer or like I do use a Nutri Bullet. Let the batter rest for a few minutes.
Heat a non-stick skillet or griddle over medium heat. If needed, you can put some coconut oil to grease it a bit. Pour about one tablespoon of batter into circles on the skillet leaving about an inch in between them. Bake for about 2-3 minutes until small bubbles form on top.
Flip the mini pancakes and continue baking for about another 1 - 2 minutes until golden brown. The easiest way to flip them is by using a silicone spatula.
Continue with the remaining batter until you have all your mini pancakes.
​Serve with toppings and spreads of choice.
Substitutions and Add-Ins to Homemade Mini Pancakes
In case you want to spice up the original recipe, feel free to add in some of the following ingredients:
fresh fruit such as berries or bananas
dark chocolate chips
chopped nuts
cinnamon
shredded coconut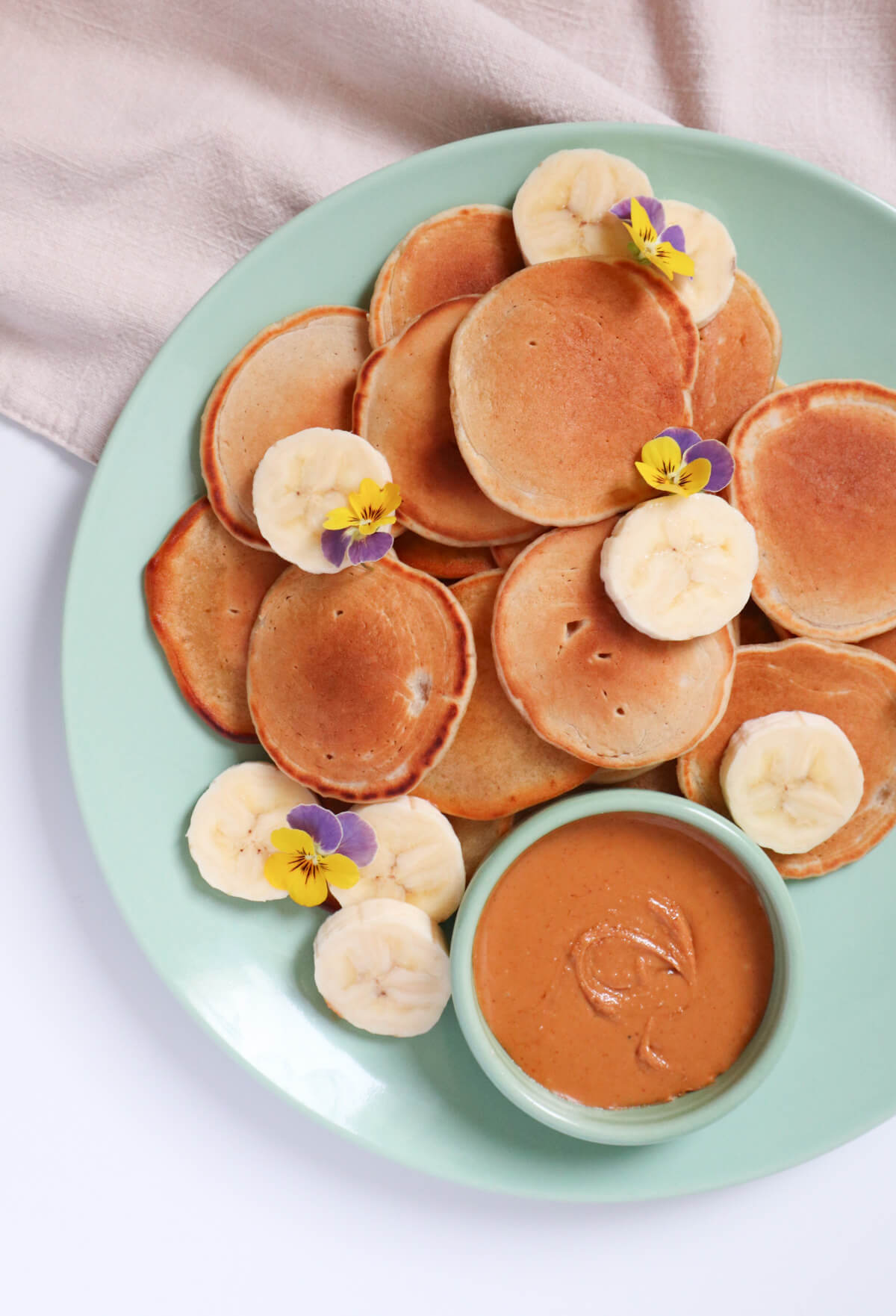 Topping Ideas
Try serving these pancakes with some of the following pancake toppings. One of the best and easiest ways of serving these pancakes is just stacking a number of pancakes on top of each other and adding toppings.
fresh fruit
chocolate sauce
cream cheese
peanut butter
lemon juice
chopped nuts
jam
whipped cream
maple syrup
Storing Mini Silver Dollar Pancakes
In case you have some leftover pancakes or you simply want to make them ahead of time and store, the easiest way of doing so is in an airtight container in the fridge for up to 3 days.
You can also freezer them but in that case store them in silicone bags and up to 3 months in the freezer.
FAQ
Why Are They Called Silver Dollar Pancakes? 
They are called such due to the fact that they are about the size of an American silver dollar. 

How Big Are Silver Dollar Pancakes? 
They are smaller than regular pancakes, almost half in size. Regular American pancakes are about 6 inches in diameter whereas silver dollar ones are about 2 - 3 inches. 
Can I Make Keto Silver Dollar Pancakes?

You can make these keto by using almond flour and by omitting the coconut sugar from the recipe. But bear in mind that the texture of the pancakes will be slightly different than the original one.
More Related Recipes
If you've tried this or any other recipe from the blog, please leave a comment below and rate it.
The Best Fluffy Silver Dollar Pancakes Recipe
These simple and delicious silver dollar pancakes are one of the easiest and nutritious meals you can make for your whole family.
Ingredients
Dry Ingredients
2

cups

all-purpose flour

2

tablespoon

coconut sugar

1

teaspoon

baking powder

pinch

salt
Instructions
Put all the wet ingredients into a large bowl and mix until combined

Add the dry ingredients and mix until you have a smooth batter. You can either whisk, use a stand-alone or hand mixer or like I do use a Nutri Bullet. Let the batter rest for a few minutes. 

Heat a non-stick skillet or griddle over medium heat. If needed, you can put some coconut oil to grease it a bit. Pour about one tablespoon of batter into circles on the skillet leaving about an inch in between them. Bake for about 2-3 minutes until small bubbles form on top.

Flip the mini pancakes and continue baking for about another 1 - 2 minutes until golden brown. The easiest way to flip them is by using a silicone spatula

Continue with the remaining batter until you have all your mini pancakes

Serve with toppings and spreads of choice
Nutrition
Calories:
31
kcal
Carbohydrates:
5
g
Protein:
1
g
Fat:
1
g
Saturated Fat:
1
g
Polyunsaturated Fat:
0.04
g
Monounsaturated Fat:
0.1
g
Cholesterol:
1
mg
Sodium:
13
mg
Potassium:
14
mg
Fiber:
0.2
g
Sugar:
1
g
Vitamin A:
9
IU
Calcium:
13
mg
Iron:
0.3
mg