Starter Baby-Led Weaning Balanced Meal
If you've decided to go the baby-led weaning route, then chances are you are limiting yourself somewhat to the few foods you are least worried about your baby choking on. Nevertheless, you still need to try provide a balanced meal that provides plenty of energy.
And an important thing to focus on with BLW is including all macros in each meal. Protein, carbs and fat. Even the smallest amounts will do.
With our Sweet Potato Lamb 6-month old recipe, its easy to do so.
Sweet Potato Lamb Nutritional Stuff
Lamb is a really tasty meat, so it's no wonder we often recommend serving it to babies. It has lots of protein and fats which are both necessary for developing bodies. It also provides a fair amount of other nutrients like selenium, zinc, phosphorus, and vitamin B12.
Sweet potato is such a great veggie to include to any meal particularly because of its sweet taste and creamy texture. And so easy to cut into BLW appropriate sizes. It's one of the best sources of vitamin A, but also contains a good amount of vitamin C as well as dietary fiber. Certain types are high in iron too.
Olive oil is a great source of healthy fats. It also helps add some easy calories to the meal to give you child some extra energy.
Sweet Potato Lamb Preparation Tips
When prepping for baby-led weaning, we like to think about how the food is going to be picked up. Long strips of sweet potato are easy to grab and eat without too much coordination. And leaving the lamb chop intact also makes it easy to grab. While your child learns the action of eating it's more likely that they just suck on the lamb chop (especially if they have no teeth) so that's what you should expect.
You can easily change up the ingredients to make other simple baby-led weaning meals as well.
Lamb can be changed with any other meat, sweet potato with another vegetable (although we prefer to leave it to the starchy ones like potatoes, carrots or parsnips).
Olive oil can be substituted with any other fat or oil of your liking – sunflower, linseed, coconut or even butter.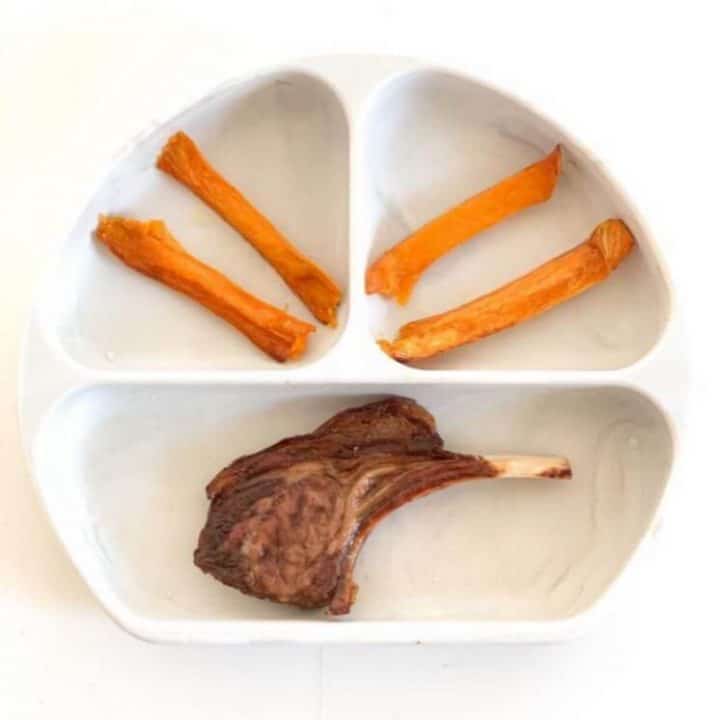 Sweet Potato Lamb
A simple meal to prepare for baby led weaning. Perfect for new eaters or slightly more experienced eaters alike. And tasty for you too.
Ingredients
1.8

oz

lamb

lean meat, skinless, boneless

1

sweet potato

1

teaspoon

olive oil
Instructions
Preheat the oven to 360°F / 180°C

Wash, peel and slice the sweet potato into thin long pieces

Cut the lamb into thin long pieces or leave as chops

Drizzle everything with olive oil and bake for at least an hour
Video
Nutrition
Calories:
187
kcal
Carbohydrates:
23
g
Protein:
6
g
Fat:
8
g
Saturated Fat:
3
g
Polyunsaturated Fat:
1
g
Monounsaturated Fat:
4
g
Cholesterol:
19
mg
Sodium:
77
mg
Potassium:
437
mg
Fiber:
3
g
Sugar:
5
g
Vitamin A:
16031
IU
Vitamin C:
3
mg
Calcium:
38
mg
Iron:
1
mg