Fruit and vegetable combination for a healthy treat
Have you ever thought to use beetroot to make pudding? No, because who would?! But we actually did it. With its naturally sweet flavor and striking color, combined with raspberries and a little cinnamon, it makes a delicious treat that can be served any time of the day.
It takes just 5 minutes to make and results in a super tasty dish packed with micronutrients.
Beetroot Raspberry Pudding Nutritional stuff
Beetroot has a huge amount of micronutrients and compounds that provide great benefits to the body. Special nutrients called betalains provide anti-inflammatory and antioxidant properties and are a great source of folate. They also contain good amounts of potassium and manganese. (Just be warned that the red color can still be seen in urine or stools after eating but this is totally normal and harmless so don't rush to the doctor.)
Raspberries are a great source of fiber and also provide significant antioxidant and anti-inflammatory benefits.
Beetroot Raspberry Pudding Preparation
The amounts in our recipe are intended for an 8-month-old which also means that a more textured puree is ideal (rather than smooth puree). If you are sticking to the puree, then you can use raw beets for this recipe and simply add them to the blender with the raspberries, cinnamon and water. If you prefer a chunkier puree or finger food for baby-led weaning then the beetroot should be cooked first.
The cinnamon is optional but we love the way it enhances the flavor.
Instead of the raspberries, you can use pretty much any other forest fruit but if you are using round fruit such as blueberries and serving as finger food make sure they aren't too large and cut them up if needed.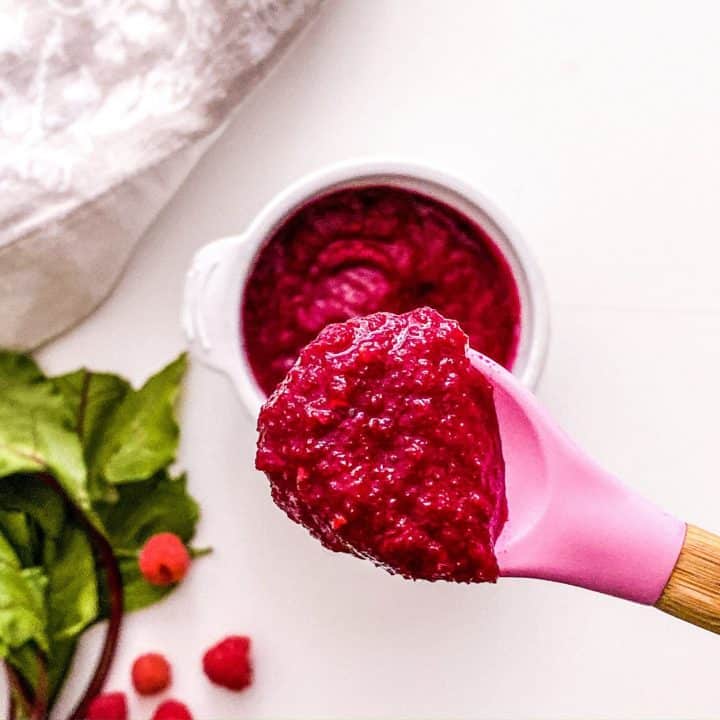 Beetroot Raspberry Pudding
A simple, sweet, delicious, healthy dish absolutely packed with micronutrients. And just 5 minutes to make!
Ingredients
1

medium-sized raw beetroot

½

cup

raspberries

½

teaspoon

cinnamon

water as needed if serving as a puree
Instructions
Puree
If serving as a puree, wash, peel and cut up the beetroot

Add all ingredients to a blender/food processor and blend until you get to your desired consistency
Baby-led weaning
If baby-led weaning method, cook the beetroot in a pot of water until soft

Allow to cool before cutting into thin sticks o

Serve with the raspberries and sprinkle with cinnamon
Video
Nutrition