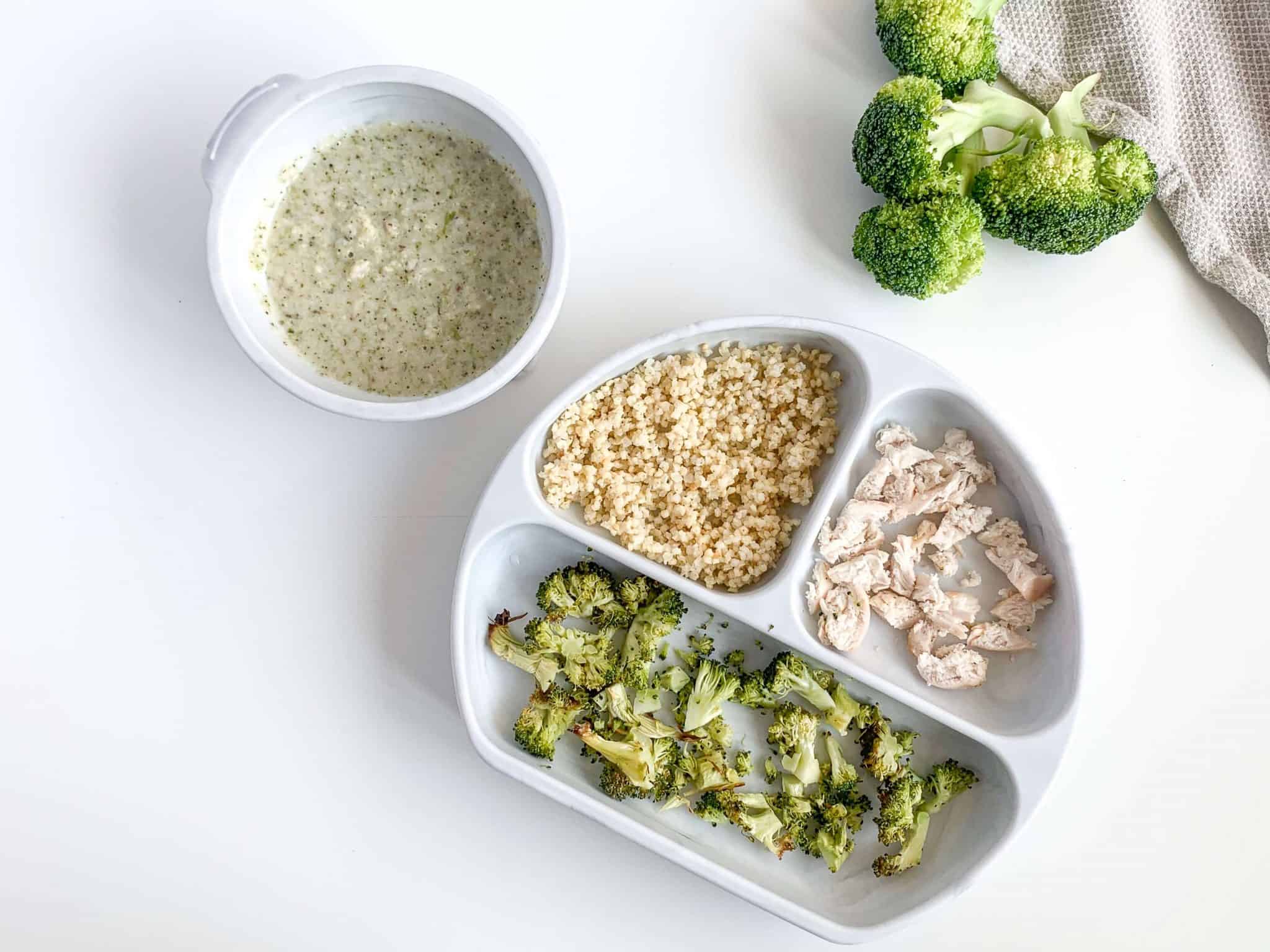 Bring on the balanced meals
Chicken, broccoli, millet. Lean protein, vitamins, minerals, and complex carbohydrates. Topped off with a teaspoon of olive oil for just the right amount of healthy fats. This all makes the chicken broccoli millet the perfect lunch and/or dinner for your 8-month-old.
Nutritional stuff
Chicken is a great source of protein, providing the body with all essential amino acids. The white meat is very low in fats, while the dark meat will provide more calories and some saturated fats. Either choice is fine.
Broccoli is one of the "dark green leafy" vegetables providing a bunch of great nutrients for your baby's development. Mainly anti-cancer and anti-inflammatory nutrients but (perhaps surprisingly) broccoli also has a significant amount of omega 3s. These aren't as easily absorbed as those found in fish, but they are also not negligible.
To assure that the meal provides the right amount of complex carbohydrates for stable blood sugar and prolonged energy sources we have added a grain. This time we chose millet for its high quantities of magnesium and fiber.
A splash of olive oil at the end provides a great amount of the "good" fats and energy which are important for the baby's development.
Preparation
Whether you are following baby-led weaning or are still pureeing for your 8-month-old, the chicken broccoli millet is a great meal. Both nutritionally as well as for the child to get to know different textures, colors, and tastes.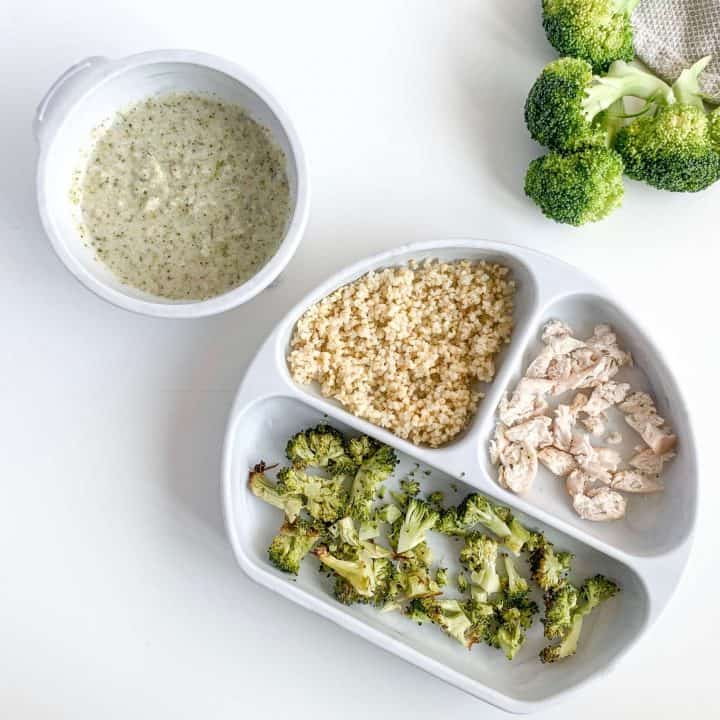 Chicken Broccoli Millet
Chicken Broccoli Millet – a healthy recipe for an 8-month-old, loaded with protein, anti-inflammatory nutrients and healthy carbohydrates to keep your baby full.
Ingredients
1.8

oz

 chicken

dark and/or white meat, without skin and bone

½

cup

broccoli florets

1

tablespoon

millet

2

tablespoon

water

½

teaspoon

olive oil
Instructions
Preheat the oven to 400°F / 200°C

Wash and slice the broccoli florets

Place the chicken and broccoli onto a baking tray and drizzle with olive oil before putting into the oven for 20-30 mins

While baking, place millet into a pot with water and bring to boil. Once boiled, cover and simmer until the millet fully absorbs the water

Once baked slice the chicken into small pieces (size of baby's pinky fingernail), same with broccoli. Or you can puree if preferred
Video
Nutrition