What's not to love?
Sometimes it's hard to find something your children will enjoy eating. This is not one of those times. This is a healthy, balanced meal that goes down a treat every time. You'll be hoping they don't finish it so you can instead. Or you know... you can just make extra Potato Carrot Lamb for yourself.
Nutritional stuff
Lamb is red meat, making it very high in iron – one of the most important and deficient nutrients in children between the ages of 6 and 12 months. Apart from iron, lamb also contains significant amounts of selenium and zinc and is a great protein source.
Both potatoes and carrots are starchy vegetables which means their carbohydrate content is higher than most other vegetables. Carrots also contain beta-carotene which is a crucial nutrient for healthy eyesight whereas potatoes are a good source of vitamin C (perfect to absorb the iron in the lamb).
Onions will complement the flavor of the dish while adding antioxidant and antimicrobial benefits.
Finally, olive oil adds some "good" fats which have been shown to be beneficial for the maintenance of a healthy cardiovascular system.
Preparation
This is an easy meal to prep, taking very little time and all going into the oven together (so there's less to clean afterward). For a 12-month-old, Potato Carrot Lamb should be served as finger food since children this age will already have moved on from purees.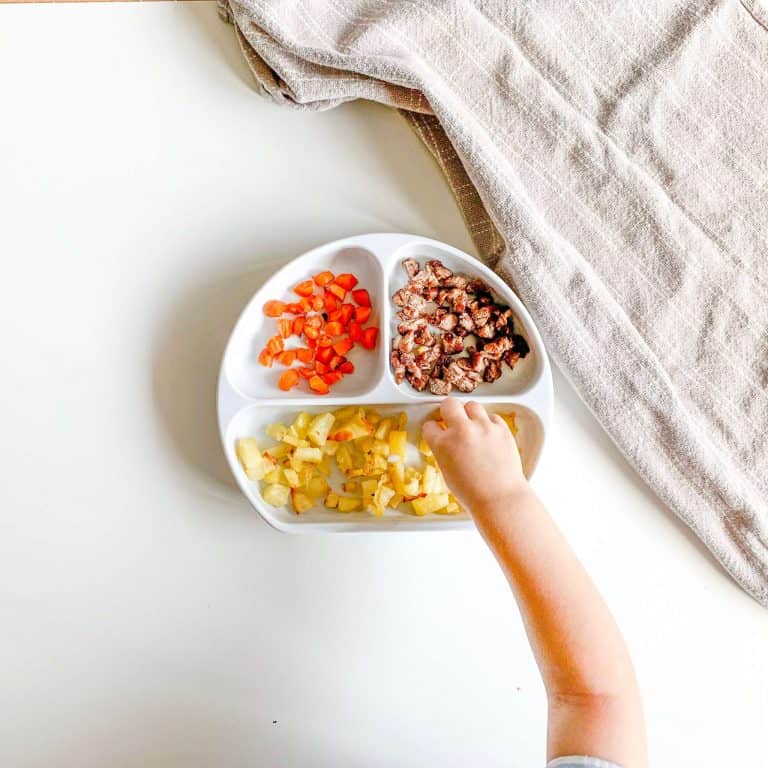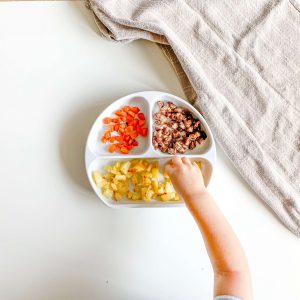 Lamb Carrot Potato
An easy-to-prepare, 1-dish meal that you'll want to make more of so you can eat it too.
Ingredients
1.8

oz

lamb

lean meat

1

medium-sized

potato

1

medium-sized

carrot

1

tablespoon

chopped white onion

2

tablespoon

olive oil
Instructions
Preheat the oven to 390°F / 200° C

Peel and wash the potatoes and carrots under running water and slice them into small pieces

Slice the lamb into small pieces

Arrange the lamb, potatoes, and carrots in a baking tray, sprinkle with onions and drizzle with the olive oil

Put in the oven and allow to bake for ~1 hour

Once finished, allow to cool for 10 minutes before serving/storing
Video
Nutrition