5 minutes to make, this overnight delicious and healthy best Banana Chia Pudding recipe is a nutritious recipe for a perfect make-ahead breakfast or snack. Great for babies and kids also. 
Why you will love this recipe: 
5 minutes to make a creamy pudding
great for meal prep
full of vitamins, minerals and healthy fats for a healthy breakfast 
you can add a variety of different toppings to suit your taste 
make in the evening, pop it out of the fridge in the morning and you have breakfast already 
Jump to:
Ingredients 
We use nutritious yet simple ingredients to make this recipe.
Ripe banana - yellow, firm, fresh, and ripe bananas are sweeter than greenish bananas so the riper the banana the sweeter the banana chia seed pudding will be. You mash the banana before mixing it with the chia seeds. Fresh bananas are high in fiber, pottasium and vitamin B6. 
Chia seeds - the star of this recipe, chia seeds are high in alpha-linoleic fatty acids (ALA), magnesium, phosphorus, vitamin B1, B3 and calcium. They can come in a variety of different colors such as white chia seeds, brown chia seeds or black chia seeds. You can use whichever you have on hand. We use black chia seeds. 
Plant-based milk or real milk - I love using coconut milk, but you can use any type of milk you like, such as oat milk, soy milk, almond milk, hemp milk or even water. We soak the chia seeds and mashed banana in milk overnight to have a creamy chia seed pudding 
Nut butter - Right before the banana chia seed pudding is ready to be eaten, spoon in a teaspoon of your favorite nut butter. Peanut butter works great here, so does almond butter, but I also love homemade hazelnut butter or even homemade nutella.
Optional - add a teaspoon of cocoa powder for a chocolate banana chia pudding; add fresh fruit like berries on top (raspberries and blueberries work best)
How to make this banana chia seed pudding recipe? 
Take a bowl and mash the banana with a fork. If you are very averse to having bits of banana then blend it with the milk in a blender.
Add the chia seeds to the banana and mix.
Add the milk to the mixture, give it a good stir and make sure all the chia seeds are covered.
Cover and place in the fridge overnight (or wait an hour until the chia seeds absorb the milk)
Once removed from the fridge add the nut butter, some berries and any other favorite toppings (vanilla extract, banana slices, cocoa powder)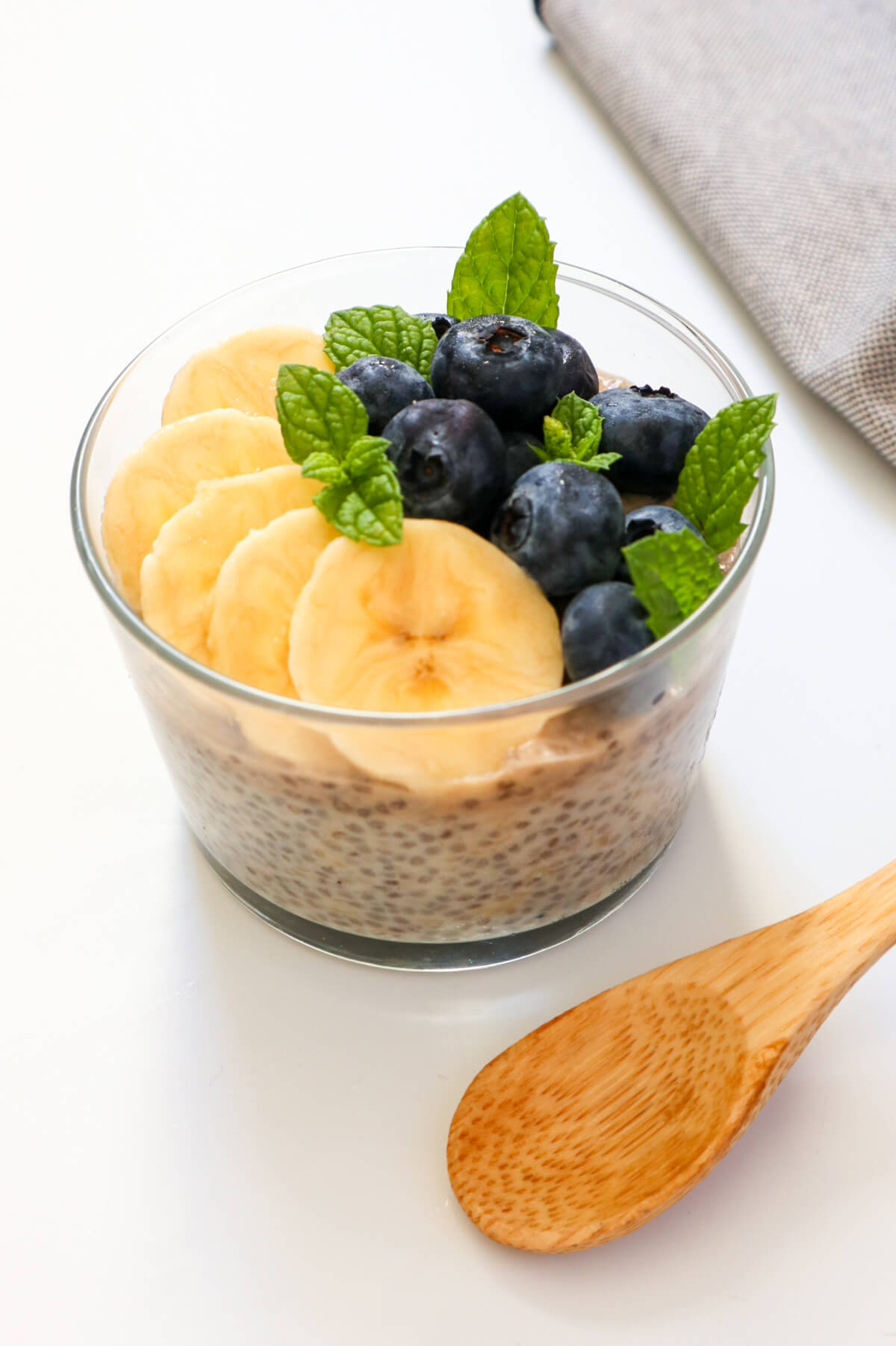 Storage
store in airtight container or mason jars in the fridge for up to 3 days
store in airtight container in freezer up to 3 months 
thaw in fridge overnight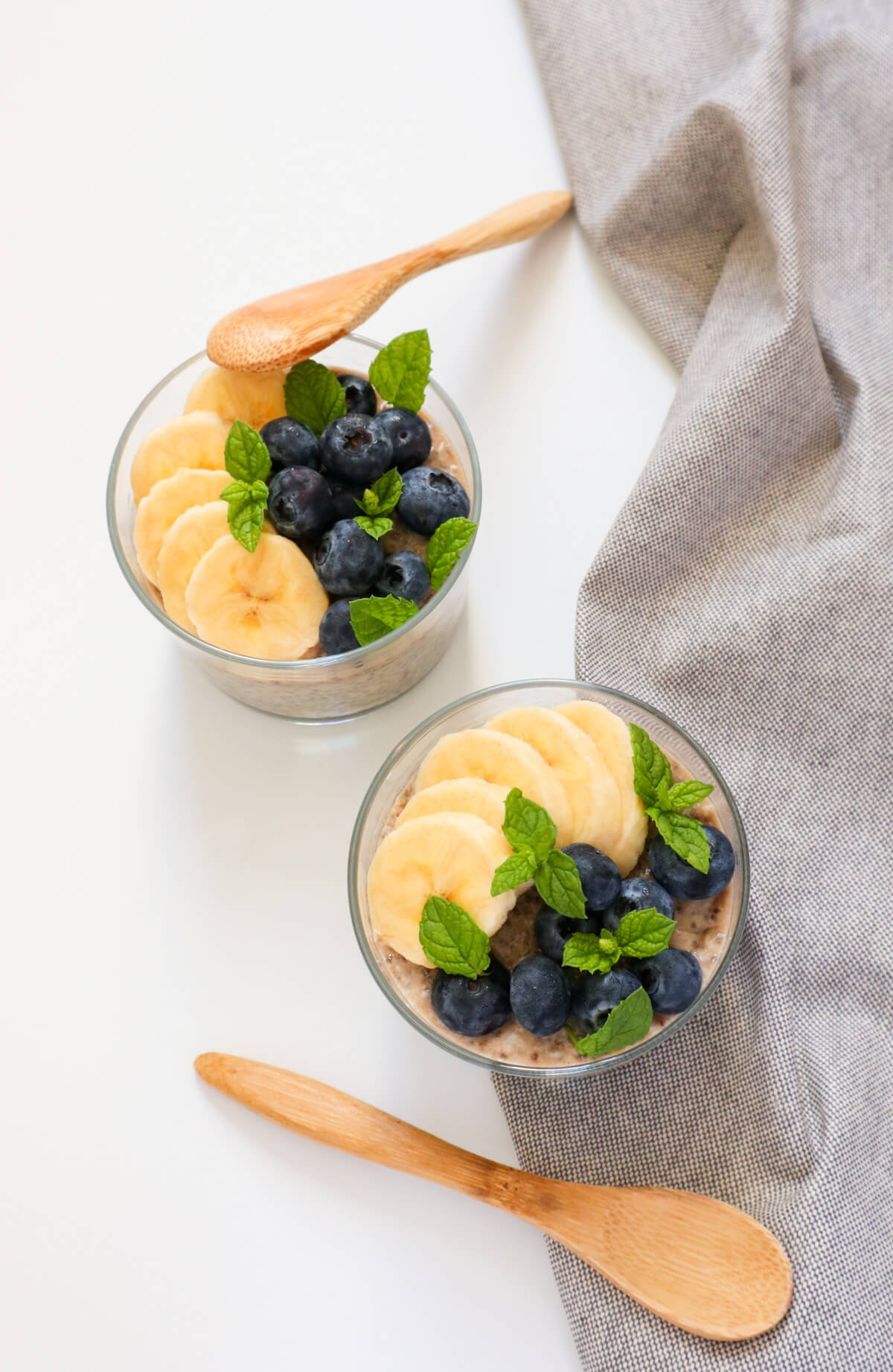 Variations
Below are some toppings for your chia seed pudding
a teaspoon of cocoa powder to make banana chocolate chia pudding
cinnamon
nutmeg
vanilla extract
coconut flakes
lindseeds
nut butters
banana slices
strawberries, blackberries, blueberries, raspberries
dates or prunes
chopped hazelnuts
slivered almonds
chocolate chips
protein powder
touch of maple syrup or honey
FAQ
Is this a chia pudding for babies recipe? 
Yes, this banana chia pudding recipe is a great healthy breakfast recipe for your baby from 6 months old or older. You can make it with breastmilk or formula until the baby is 12 months old. Afterwards you can use whole milk or plant-based milks (look for ones without sugar, minimal preservatives and added ingredients but added calcium). 
Are chia seeds healthy? 
Yes, chia seeds are very healthy. 1 ounce (28 grams) of chia seeds which is a single serving has 11 grams of fiber which is a notable portion of RDI for women (25g RDI) and men (35g RDI).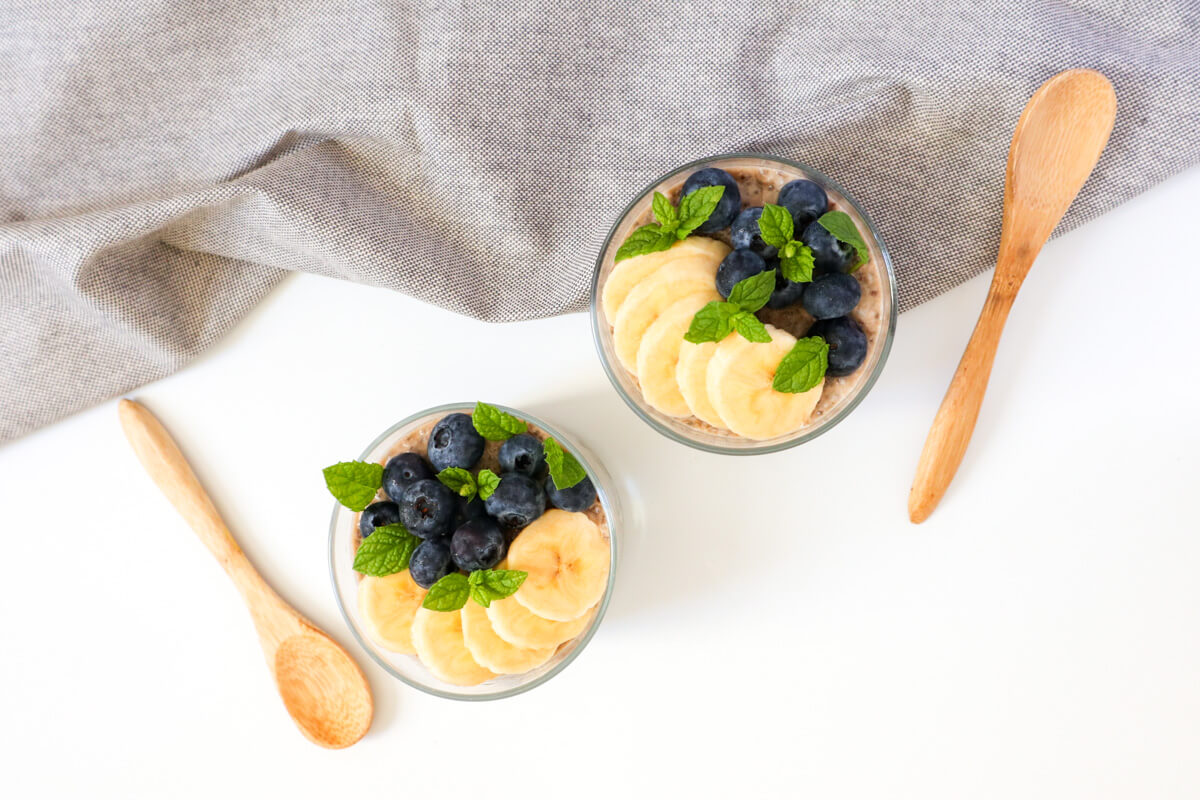 More breakfast recipes
If you've tried this recipe or any other recipe on the blog, then please rate it and leave us a comment below!
Healthy Banana Chia Pudding
5 minutes to make, this overnight delicious and healthy best Banana Chia Pudding recipe is a nutritious recipe for a perfect make-ahead breakfast or snack. Great for babies and kids also. 
Ingredients
1

ripe banana

3

tbsp

chia seeds

⅔

cup

plant-based milk
Instructions
Take a bowl and mash the banana with a fork. If you are very averse to having bits of banana then blend it with the milk in a blender.

Add the chia seeds to the banana and mix. 

Add the milk to the mixture, give it a good stir and make sure all the chia seeds are covered. 

Cover and place in the fridge overnight (or wait an hour until the chia seeds absorb the milk)

Once removed from the fridge add the nut butter, some berries and any other favorite toppings (vanilla extract, banana slices, cocoa powder)
Notes
other toppings include:
a teaspoon of cocoa powder to make banana chocolate chia pudding
cinnamon
nutmeg 
vanilla extract 
coconut flakes 
hemp seeds
flaxseeds
lindseeds
nut butters
banana slices 
strawberries, blackberries, blueberries, raspberries 
dates or prunes
chopped hazelnuts 
slivered almonds 
chocolate chips 
protein powder
touch of maple syrup or honey
Nutrition
Serving:
1
g
Calories:
303
kcal
Carbohydrates:
43
g
Protein:
8
g
Fat:
13
g
Saturated Fat:
1
g
Polyunsaturated Fat:
10
g
Monounsaturated Fat:
2
g
Trans Fat:
0.1
g
Sodium:
224
mg
Potassium:
569
mg
Fiber:
16
g
Sugar:
15
g
Vitamin A:
95
IU
Vitamin C:
11
mg
Calcium:
433
mg
Iron:
3
mg