My son has just reached the 1-year mark and it's time for us to start weaning from the bottle.
This whole process does make me a bit anxious – not because I'm afraid of it but because I know how happy it makes him to see his bottle right before bedtime. And I don't want him to lose that.
So being the nerdy nutritionist that I am, I've researched everything I could in the hopes of making this experience easier for the both of us. So if you've got these same feelings as I have, then this is an article for you.
*Note: this post is not about weaning from breastfeeding but only about weaning from the bottle.
This post is part of our Starting Solids series. if you haven't already read it, check out part 1 of our Starting Solids guide here. You'll find lots more general information specifically on starting solids there.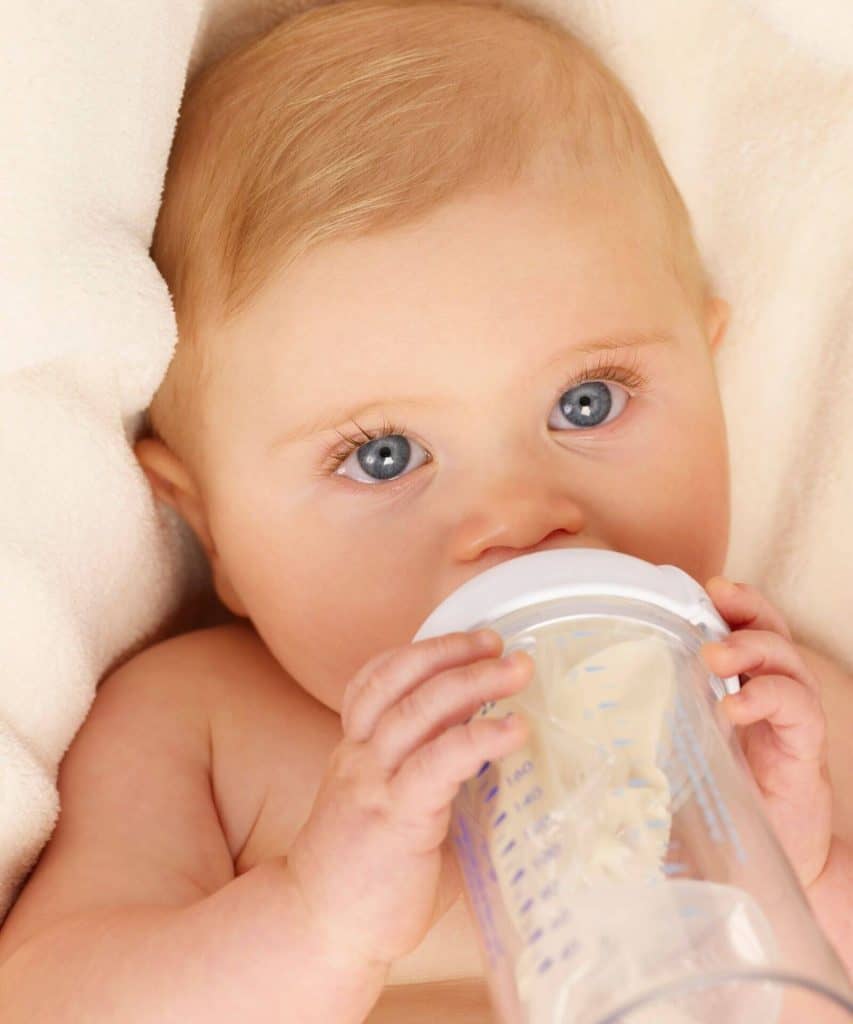 Weaning From The Bottle – Why?
If your child loves the bottle so much, and it makes your life easier too, then why bother taking it away?
The answer is centered around their physical development. So while it might be convenient to keep the bottle, it's actually important you phase it out.
Reasons why include:
Lower risk of mouth muscle malformation due to sucking
Lower risk of tooth decay
Better nutritional balance achieved by reducing reliance on milk
Reduced risk of iron deficiencies (excessive milk consumption can lead to lower iron absorption)
Weaning From The Bottle – When?
The American Academy of Pediatrics recommends you start weaning from the bottle once your baby hits the 12-month mark. The idea is to have them completely weaned by 18-months but sooner is always better than later.
After this age, not only are children harder to wean, but you have a greater chance of causing some degree of the problems mentioned above.
Weaning From The Bottle – How?
This is the million-dollar question. But it doesn't have to be super complex – let's just break it down into pieces:
First Priority: Open Cup Drinking
Weaning from the bottle doesn't mean weaning from milk. So you still need a delivery system of sorts! Well you use an open cup, so why shouldn't your child!
So before you even start the process of weaning from the bottle, make sure that your baby has mastered open cup drinking.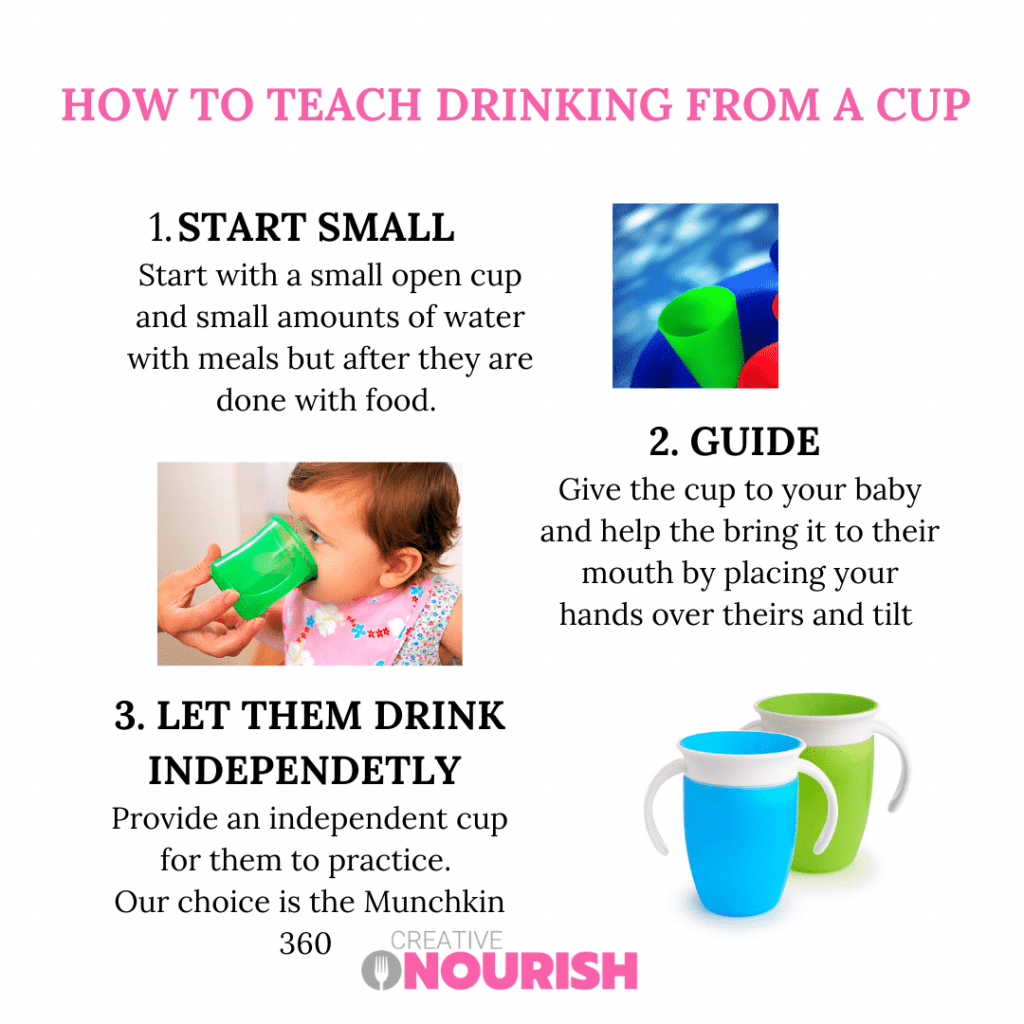 Take a look at our choice of cups:
The Munchkin 360 cup is the best option as it allows your child to use the same mouth position as an open cup but without the spills. While they learn to drink, cups will be thrown to the ground a lot so having something that doesn't spill is crucial!
For an even easier option, just grab a shot glass and let your child learn to drink from that instead.
Note: the above are affiliate links. Clicking them will not cause you to incur any cost whatsoever but helps support this site.
Easy Weaning: Gradually Phasing Out the Bottles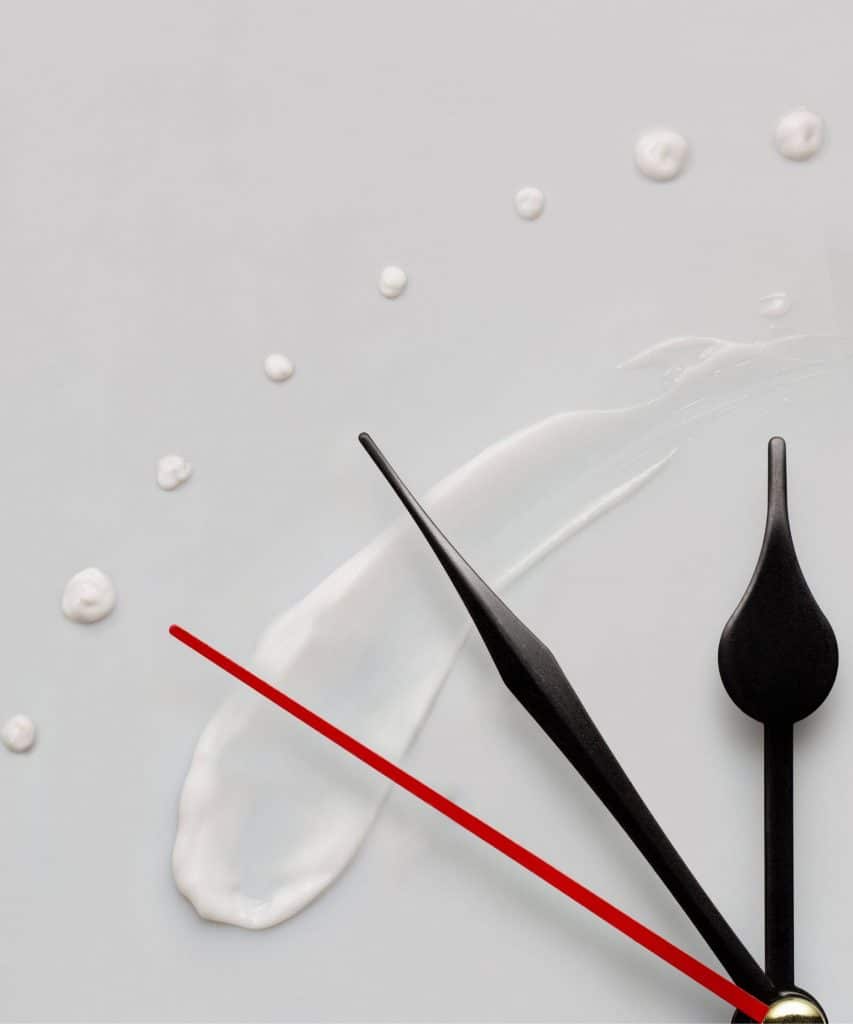 Once your child can manage an open cup, it's time to start removing the bottles.
While some parents prefer to go cold turkey and just remove them all, I have found that a more gradual approach is actually much easier and results in much less drama.
Since my son started eating solids I made sure that his bottles were balanced against his solid food intake.
He breastfed for about a month and a half but couldn't really latch properly so I decided to exclusively pump in order for him to get the benefits of breastmilk. That lasted until he was about 10-11 months old and after that he had formula.
Importantly, until he hit 6-months he was mostly fed on demand. Then once solid meals became a regular part of his routine, his bottles were adjusted to how much food he ate.
We started with 5 bottles a day, moved to 4 when he no longer finished his last bottle of the day, and made it to 2 bottles by the time he hit the 1-year mark. You can see the meal plans per age which he also followed here.
Instead, or as well as lowering the number of bottles, you can also gradually reduce the amount in each bottle. I actually did both. So before I removed a bottle from his daily meal plan I first reduced the amount.
From 7 to 6 to 5 to 4 oz. Once he was taking 4 oz I removed the bottle altogether. And each time I did so he didn't notice. Or at least he didn't show it ?!
There are a few ways of approaching this – based on the number and timing of the bottles your baby is used to.
Mid-morning and/or mid-afternoon bottles
If your baby is still having their mid-morning and/or mid-afternoon bottles, start by tackling those first. And the easiest way to do this is to simply substitute them with milk in a cup. I would start with ¼ or ½ a cup at first.
So when you would usually serve a bottle, serve milk in a cup and a small solid snack. Take your time since it might not be acknowledged by your baby the first day but give them a week or two before moving onto the next step.
The morning bottle
Our next challenge is the morning bottle. Once you're down to just a morning and evening bottle, this one will be the easiest to tackle next, and ideally skip straight to breakfast.
This is easiest done but gradually delaying that morning bottle. So when your baby wakes up, gradually extend their morning routine. Change their diaper, get them dressed, even play for a while.
You can also reduce the amount of milk in the bottle so that they are hungrier for breakfast. Do this for about a week until your first bottle is at the same time you would be having breakfast anyway. Then remove the bottle altogether.
You can serve milk in a cup alongside breakfast if you're worried they're not getting enough throughout the day. But bear in mind that they only need about 16 oz (2 cups).
Bedtime Bottle
This one's the hardest for sure. Not just for your baby, but for you too if you rely on that last bottle to help put your child to sleep. But you've come this far so stick with it!
There are 2 ways of eliminating the bedtime bottle – depending on the timing of your current bedtime bottle.
Bedtime bottle after the bedtime routine
Bedtime bottle before the bedtime routine
If your bedtime bottle is after your bedtime routine, your first step will be to move it beforehand instead. For example, that means giving your baby their last bottle before bath time instead of right before they go to sleep.
For me, this was my routine:
6:15 pm bedtime bottle
6:30 pm bath time
7:00 pm bedtime
With your last bottle before bedtime, start serving a small solid snack at the end of the day as well. Gradually reduce the milk in the bottle and replace it with milk in an open cup instead.
My son would refuse to drink from the cup sometimes. But soon enough, he realized that if he wanted some milk, then that was the only way he'd get it.
Once you've come this far, either stop serving milk altogether or keep a small amount in a cup. Whichever fits in best with your child's daily diet.
And congrats! The bottles are gone. Put them away. Pack away that bottle brush and any special drying racks you have. It's finally over!
Final Note
The number 1 piece of advice I can give you is this: be patient. Some children might lose the bottle with no issues at all. Others will struggle. But hang in there and remember that as hard as it might be for you, that's likely because your child is having an even harder time letting go.
Hang in there, offer support, and in a few weeks you'll have forgotten all about this.