Sweet in taste and with a creamy texture, mango is one of the best first foods to start your baby on.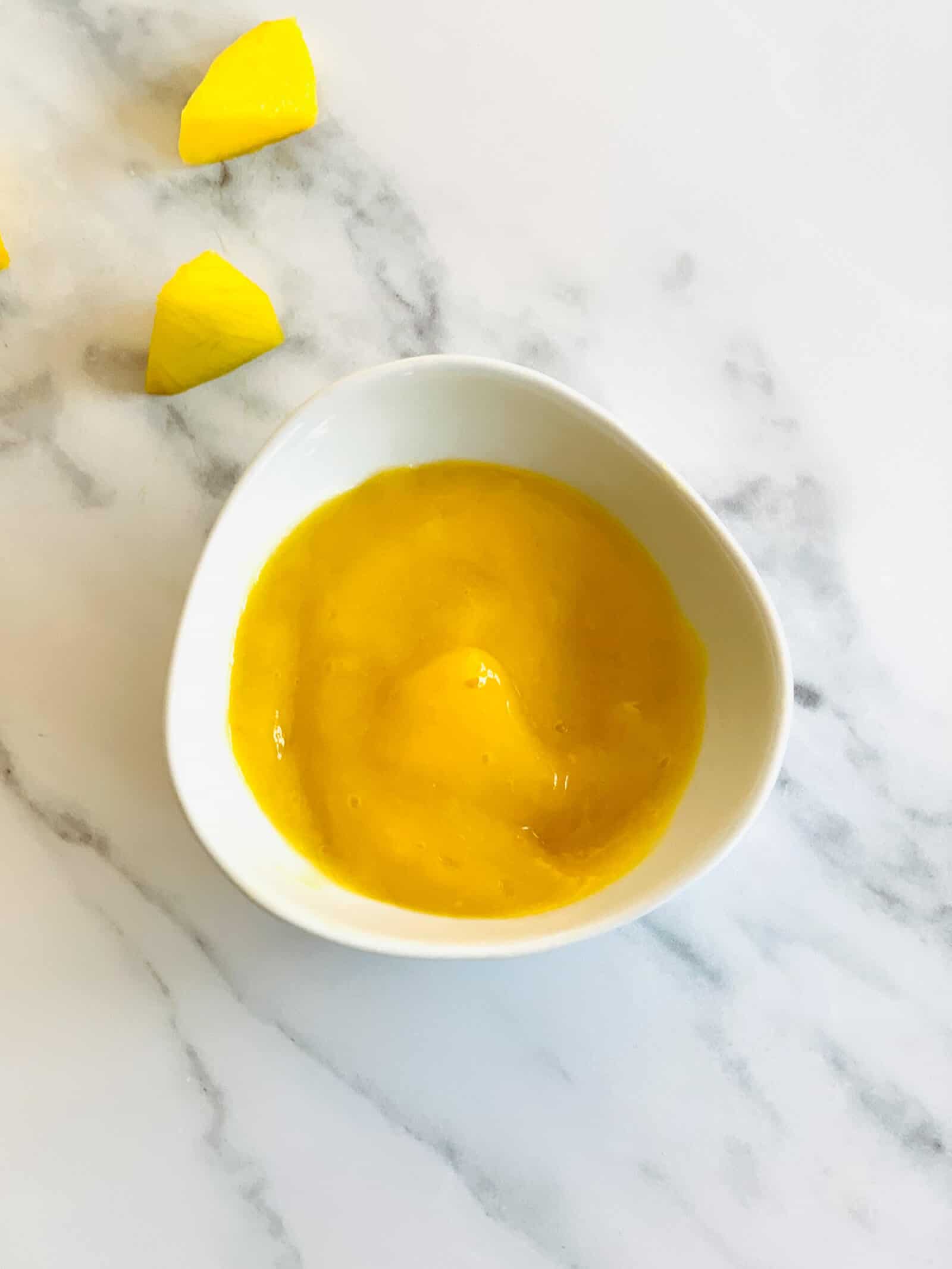 As you might already know, I am a huuuge fan of fresh, local and seasonal produce. But there are a few foods that most of us don't have locally available and have to compromise because they are just so good. Mango being one of them.
Mango is one of those foods that tastes perfect all on its own. So a single-food mango baby puree is a must-have when you start your baby on solid foods.
And not just because it's so easy to make but also because it tastes perfect, has a wonderful creamy texture and is full of great nutrients to keep your baby growing healthy.
So how do you make the perfect mango baby puree?
Jump to:
Mango Baby Puree Ingredients
Mango (obviously): when purchasing make sure that the mango is a little soft to the touch and free of any signs of deterioration. You don't want it to be squishy or have any dark spots or cracks.
If it's not fully ripe, leave it at room temperature for up to 7 days. A ripe mango can be stored in the refrigerator for about 3 - 5 days.
Mango Baby Puree Nutritional Benefits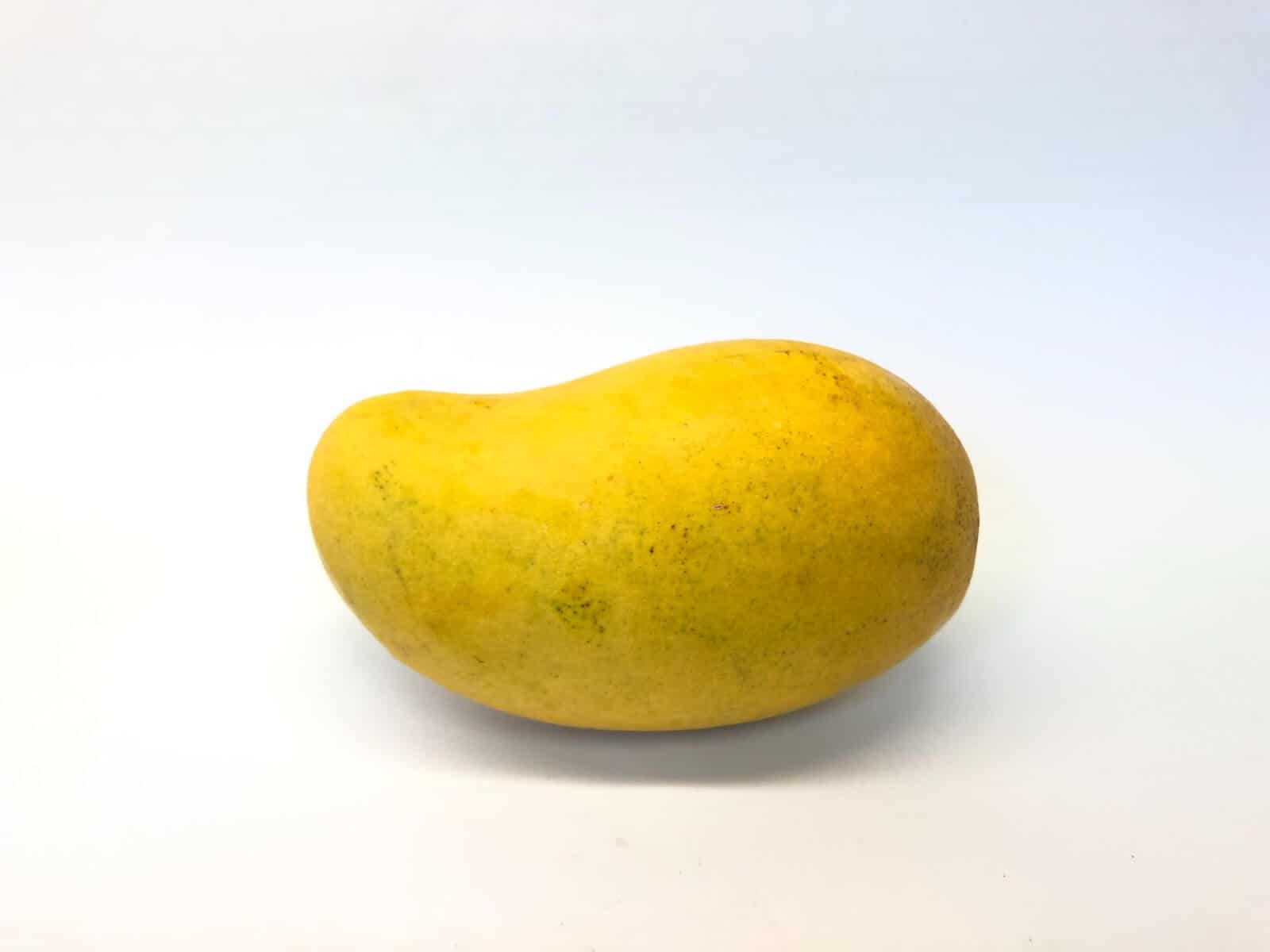 Mango: Mango is a fruit that's really rich in vitamin C. But what most people maybe don't know is that it's also a great source of beta-carotene which is a precursor of vitamin A.
Another important thing for babies when they start solids is dietary fiber. This is because their little digestive systems might not be developed fully yet and the introduction of solids can lead to constipation.
So this is where food high in dietary fiber comes handy. And mangoes are just that.
They also contain a fair amount of B vitamins as well as minerals such as copper.
How To Make Mango Baby Puree
Mango is one of those fruits that doesn't require any cooking before serving. Not even for a 6 month old's mango baby puree. Yessss!!!!!
Cut the mango. Peel the mango and then cut around the seed. For the mango baby puree you don't really need to cut it further if you will be using a blender.
Blend. Now that you've prepared your mango, just throw it in the blender. And blend until smooth. You can add a tablespoon of water to make it smoother but you will most likely not need it.
There are certain blenders that were created just for baby food but we have always used this blender for both our baby foods and every day for our (adult) smoothies.
Serving size is just for guidance, but if your baby needs more or less food please follow their cues.
Possible Variations
Mango doesn't necessarily need to be served as a baby puree. See some variations below.
Mashed. If you're over the puree stage, transitioning from purees to finger food or simply want to start with mashed rather than smooth baby purees then this recipe is perfect if you modify the "how-to" part. Instead of putting in the blender, you can simply mash the food up together. You'd probably want your mango to be a fully ripe here so that it's easier to mash.
Lumps. If you're just a step away from finger food, you can also blend or mash one half of the mango and the leave the rest in pieces and then mix. That way your child will get used to new textures.
Finger food. Mango can be a good finger food also. The only downside is that it can be slippery. You'd also want your mango to be fully ripe here so that it's easy for your baby to chew on and avoid choking. Cut the mango into longer sticks after you've removed the skin, or into small cubes if your baby has mastered the pincer grips.
You can read more about how to transition to finger foods here.
More Baby Puree Recipes:
Looking for other single-food baby puree recipes? Check out these:
Recipe
How to Make Mango Puree for Baby
Easy, no cook Mango Puree for your baby. Sweet in taste and with a creamy texture, mango is one of the best first foods to start your baby with.
Instructions
Peel the mango and cut around the pit.

Cut the bigger pieces into cubes and place in a blender.

Blend. Add a tbsp of water and keep adding water until you reach the desired consistency.
Nutrition
Calories:
124
kcal
Carbohydrates:
31
g
Protein:
2
g
Fat:
1
g
Saturated Fat:
1
g
Polyunsaturated Fat:
1
g
Monounsaturated Fat:
1
g
Sodium:
2
mg
Potassium:
348
mg
Fiber:
3
g
Sugar:
28
g
Vitamin A:
2240
IU
Vitamin C:
75
mg
Calcium:
23
mg
Iron:
1
mg