Sweet in taste and with a creamy texture, apples are one of the best and most nutrient-dense foods you can give your baby.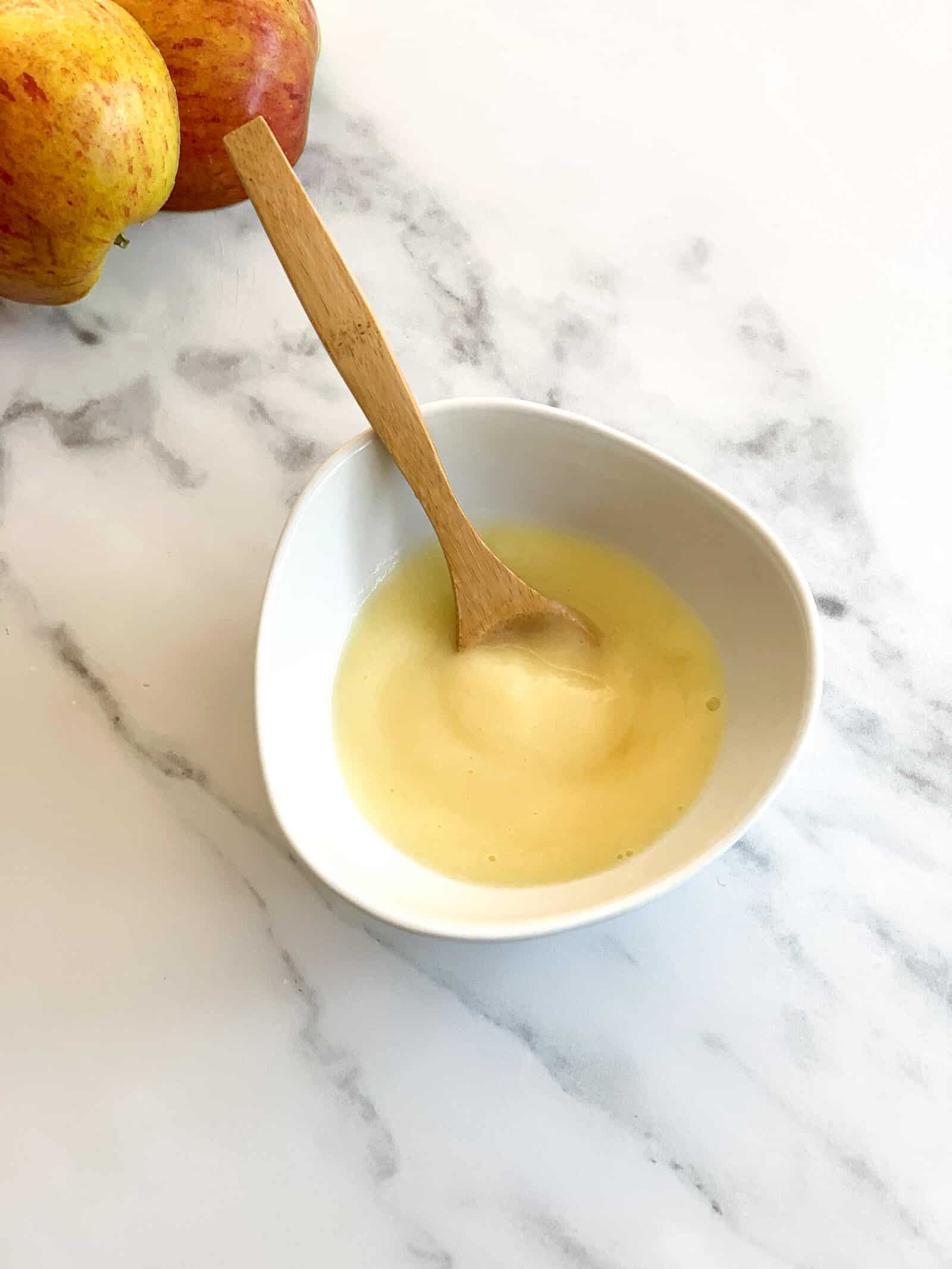 If you've already gone through blogs and blogs and pages and pages of baby food tutorials, especially baby puree ones, then you probably know that apple is often recommended as one of the first foods to start with.
The sweet taste and creamy texture make it a perfect baby puree. And a quick and easy one too.
Introducing apples as one of the first baby foods is also helpful for loads of food combinations later on. You can pair them with a whole bunch of other foods (like this strawberry puree recipe) to make more delicious and nutritious baby purees. Sometimes I think apples saved my sanity when I was out of ideas for baby food.
So it's a good thing to always have a few lying around at home cause they can do wonders for different meals.
But first, let's master the basic single-food baby apple puree. Just follow a few crucial steps and you'll have your little one stuck on this baby puree in no time.
Jump to:
Ingredients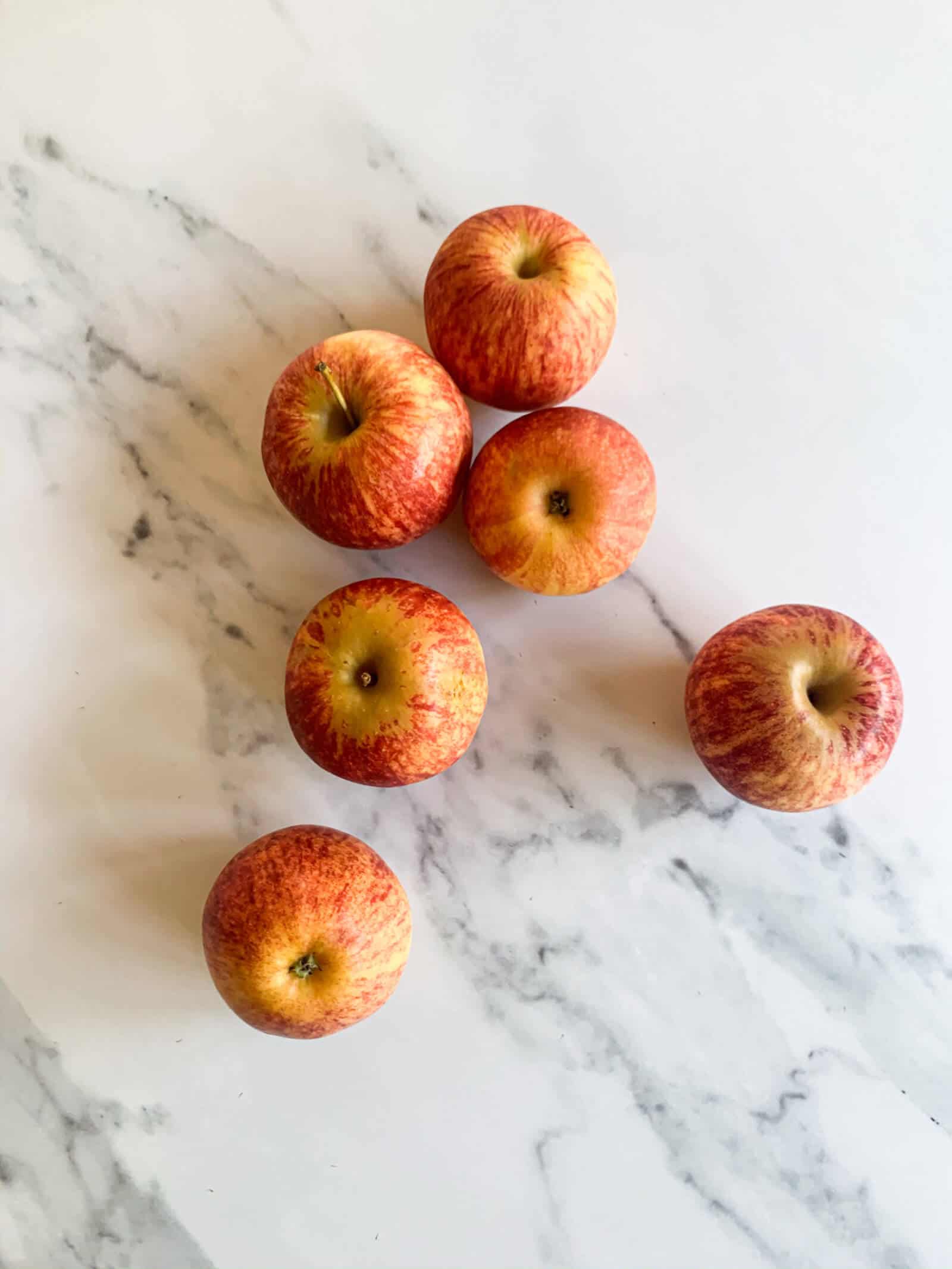 To make this Apple Baby Puree, you'll need (drumroll...):
Apple: if you have the possibility, choose organic. It is not necessary to have organic ones for a 6-month-old baby cause you'll be removing the apple skin anyway, which can contain the most pesticide residues.
However, if you'll be serving to older babies or toddlers and kids and will not be removing the skin (since it is not required for babies 8 months and older), organic ones are a better option.
The reason we recommend removing the skin (and cooking fruit for that matter) is because babies' digestive systems are not yet capable of fully digesting the skin and uncooked fruit which may cause gastrointestinal problems.
Nutritional Benefits
Apples are the second most consumed fruit in the US after bananas and there's a really good nutritional reason for that also.
They're a rich source of dietary fiber and vitamin C but more interestingly they contain loads of different substances we call polyphenols.
These polyphenols in apples have shown to help the digestive tract by their possibility to increase the good bacteria in the gut.
Apples are also rich in several antioxidants such as flavonoids and phenolic compounds which can promote heart health.
How To Make Apple Baby Puree
Wash and peel. Especially if you have a non-organic apple it'll need thorough washing and peeling of the skin. This is to ensure that no pesticide residues go into our Apple Baby Puree.
If you have organic apples, then peeling off the skin might not be necessary, but if you're offering to a child younger then 8 months, I'd recommend peeling them nonetheless.
Babies that have just started eating solids could have a hard time digesting the skins even in puree form, which might cause tummy issues that can easily be avoided.
Cut. This Apple Baby Puree requires thermal processing (e.g. cooking, steaming, baking, etc.) and will later be processed into a puree so it really doesn't matter how you cut them up.
I just cut into cubes so that they fit into my baby cooker but if you're baking, steaming over a pot, or boiling in water, I'd say bigger pieces will also do.
Process. I prefer steaming the apple. That's because steaming is the process that retains the most nutrients in foods. And the best investment I made into my baby's nutrition was buying a baby cooker. I have this one but really any that steams and blends (2 in 1) is ideal.
You can also boil in water (don't put too much water) or bake in the oven. I don't really like baking because it dries up the food too much so they don't have that nice creamy texture in the end. If steaming or boiling, make sure to leave the water from the steaming/cooking to add to the puree if needed later.
Cool. I prefer to let it sit and cool for about 10 minutes before blending. But if you're in a hurry you can blend immediately.
Blend. Put the apple in the blender (if not using the 2-in-1 baby cooker, we use this one for baby purees and our adult smoothies) and blend until a smooth consistency is reached. You might need to add some water (teaspoon by teaspoon) to reach a smooth puree consistency although I never really had to. The apple was always just moist enough to provide that consistency.
Possible Apple Baby Puree Variations
Mashed. If you're over the puree stage or transitioning from purees to finger food then this recipe is great if you modify the "how-to" part. You'd still want to follow all the how-to instructions until you reach the "blend" part. Instead of blending simply mash with a fork and mix.
Lumps. If you're just a step away from finger food, you can also blend or mash one half of the cooked/steamed/baked apple and the leave the rest in pieces and then mix. That way your child will get used to new textures.
Finger food. Apple can also be a great finger food. When cutting it before steaming/cooking/baking, choose longer and thinner sticks if your baby is still on the palmar grasp or cut into cubes if they've mastered the pincer grasp. Or you can grate fresh apple.
If you think your child is ready to transition to finger food check out our Transitioning to Finger Food post here.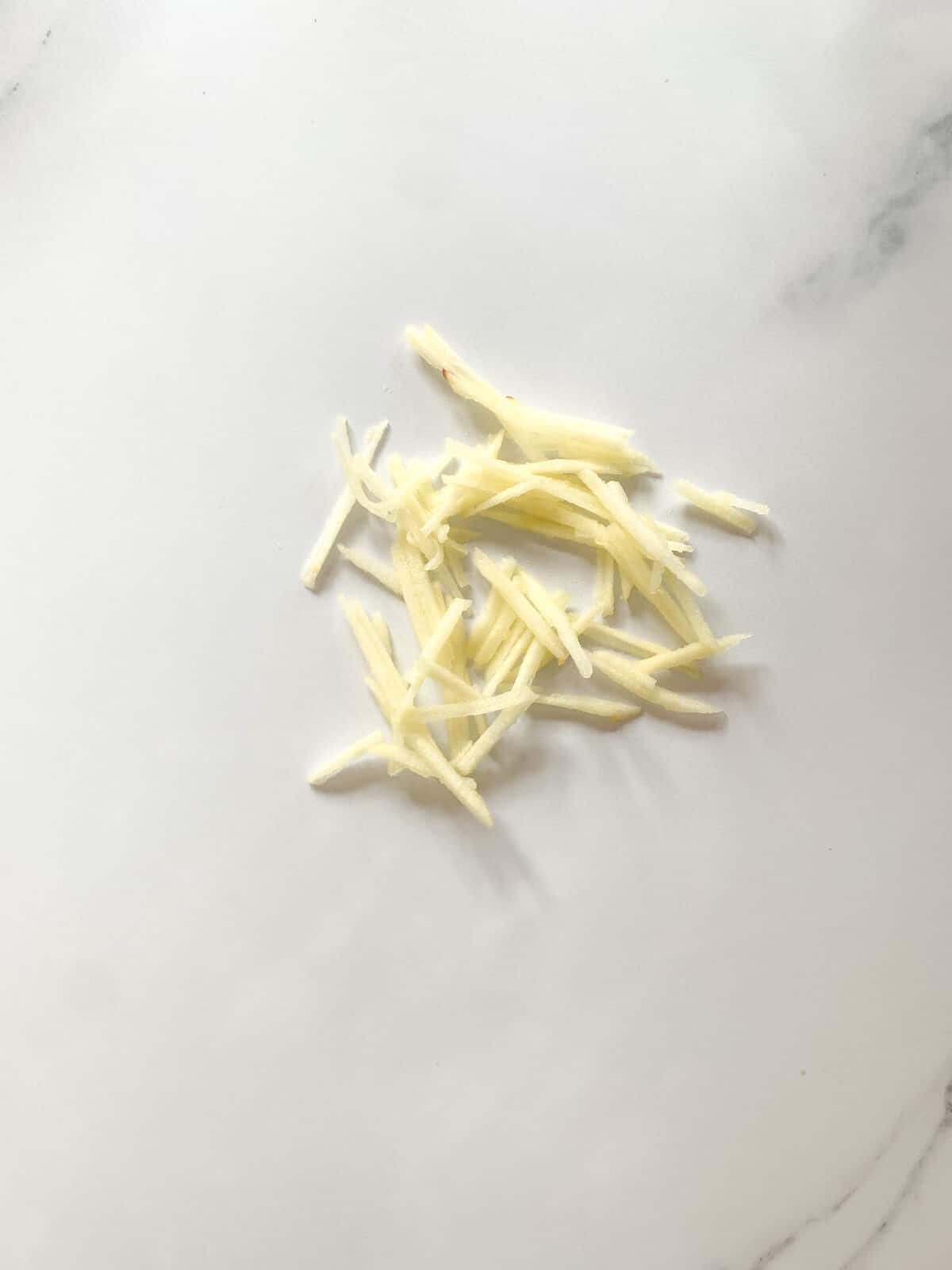 More Homemade Baby Puree Recipes
Looking for more apple recipes? Check these out: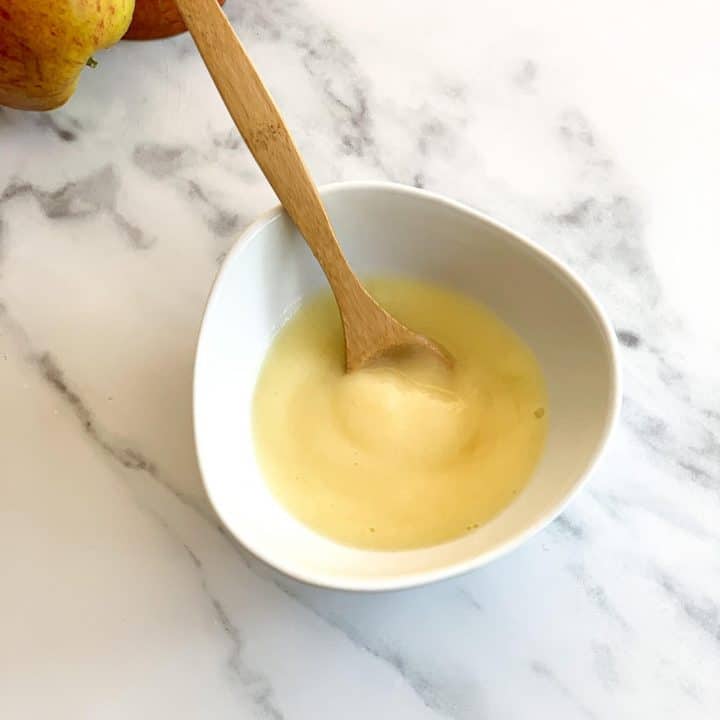 How to make Apple Puree for Baby
Easy, delicious homemade apple puree for a weaning baby. A perfect puree to start your weaning journey.
Instructions
If you have a baby cooker, set the baby cooker and steam.

If you are steaming with a steamer basket, place the cut up apples in the steamer basket over a pot filled with water and turn the heat to high and cover the pot. Should take about 10-15 minutes.

Remove the apples and place in your blender.

Blend until you get a nice puree consistency and keep adding water teaspoon by teaspoon if you need it to be more smooth.
Nutrition
Calories:
95
kcal
Carbohydrates:
25
g
Protein:
1
g
Fat:
1
g
Saturated Fat:
1
g
Polyunsaturated Fat:
1
g
Monounsaturated Fat:
1
g
Sodium:
2
mg
Potassium:
195
mg
Fiber:
4
g
Sugar:
19
g
Vitamin A:
98
IU
Vitamin C:
8
mg
Calcium:
11
mg
Iron:
1
mg