The most important thing to know when starting solids is that whatever happens is fine. This is completely new for your baby and they might love it or hate it.
It's pretty overwhelming to start weaning and introducing solids to your little one. You are probably not sure when to start, with what food, how to prepare it or offer it to your baby. You're not sure how your baby will take it and what to do next.
Firstly, choose one food at a time and offer it for about three days in a row for the first month. Later on, new foods can be introduced each day but always one at a time. That way you can easily identify any allergies.
We chose sweet potato. Why? Well, it's loaded with great nutrients and its full texture and sweet taste should make it easier for the baby to accept it.
Baked Sweet Potato Ingredients
To make this Baked Sweet Potato, you will need the following ingredients:
Sweet potato. It's best to choose an organic one if possible. Nevertheless, sweet potato should be washed and peeled before baking.
Baked Sweet Potato Nutritional Benefits
Sweet potato. Sweet potato is a great source of beta-carotene and vitamin A as well as antioxidants and anti-inflammatory nutrients that help our bodies fight diseases.
How To Prepare Baked Sweet Potato
Heat the oven. The easiest way to prepare sweet potato is to bake it in the oven for about an hour. This brings down the prep time to just 5 minutes and you still have an hour left before it is done and should be served. So preheat your oven to 360°F / 180°C.
Prepare the sweet potato for baking. Wash and peel the sweet potato and cut into strips about the width of your pinky finger.
Bake. Once the oven is preheated, place the sweet potato in the oven and bake for about 30 minutes. When it is finished, let it cool for about 5 minutes prior to serving or further preparing or storing.
How to BLW. For BLW serve as is. It has to be so soft you can mash it between your fingers.
How to mash and/or puree. To mash/puree baked sweet potato, either use a fork and mash to get some chunkier (but still soft) bits or simply put in a blender and blend. If needed, add tablespoon by tablespoon water while blending until the desired consistency is reached.
Baked Sweet Potato Tips
Best way to serve Baked Sweet Potato. Baked Sweet Potato is perfect for both baby-led weaning (BLW) and pureeing/mashing. For BLW you can just serve as is since it's already cut prior to baking. Otherwise, you can puree or mash as you prefer.
How much of Baked Sweet Potato to serve. At 6 months of age, we suggest half a sweet potato for one meal... bearing in mind that at the very beginning, your little one might not have more than a couple of bites!
Additional starting solids tips. Just remember – this is completely new for your baby and if they show signs of resistance at first (or even a few times), that's completely fine. Just keep going with it and over time your baby will get used to eating.
More Starting Solids recipes?
Need more recipes for starting solids with your baby? Check these out: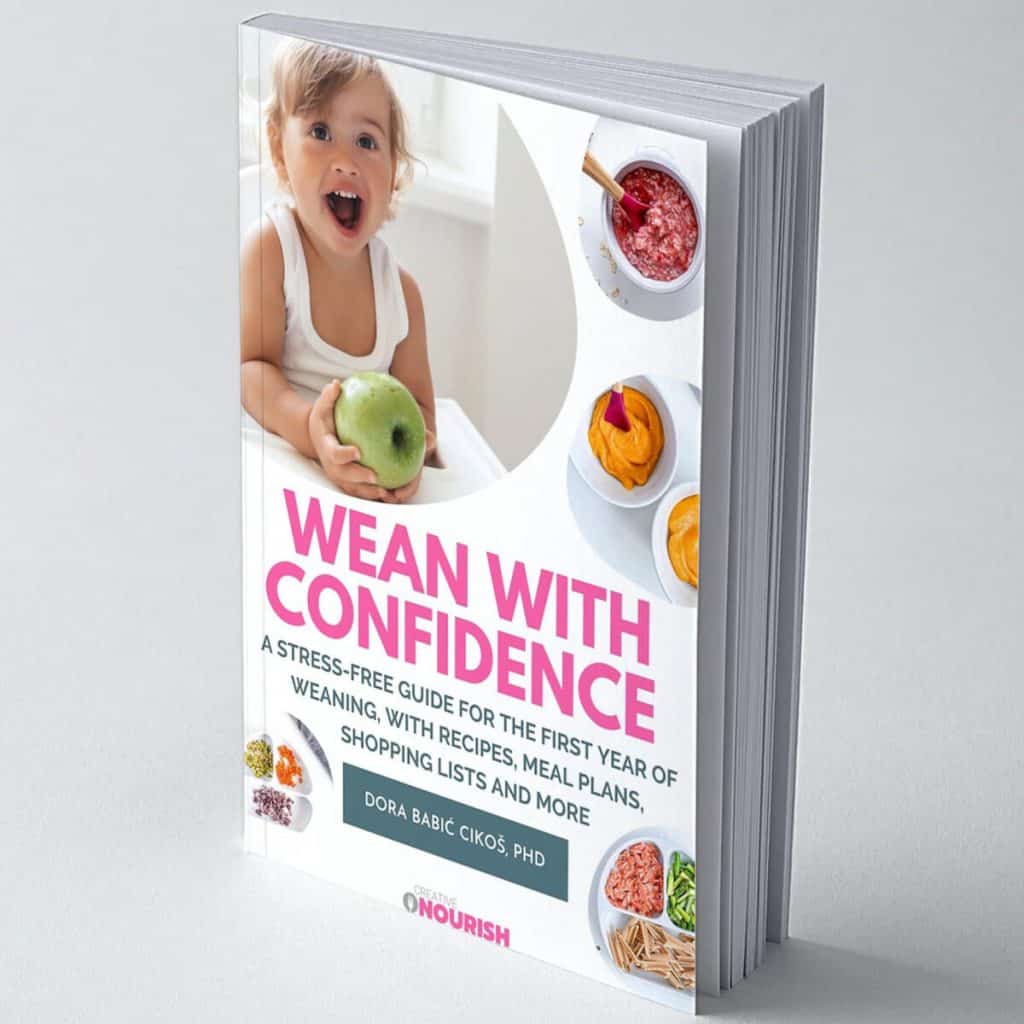 Wean With Confidence eBOOK
This is so much more than a recipe book. This is a full weaning plan written by a PhD nutritionist for your child's entire first year, based on the latest science. This will take away the mental load of wondering if you're feeding your child the right food. It's what we wish we had when we were weaning our own children.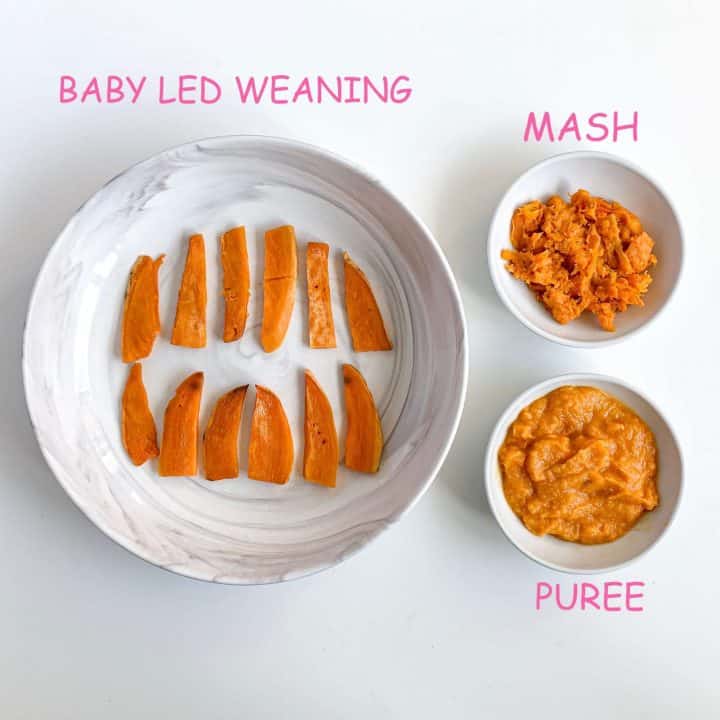 Baked Sweet Potato
Baked Sweet Potato is such an easy, nutritious and healthy food to offer your baby when starting solid foods for the first time.
Ingredients
½

medium sized

sweet potato
Instructions
Preheat the oven to 360°F / 180°C

Wash and peel the sweet potato and cut into strips about the width of your pinky finger

Once preheated, place the sweet potato in the oven and bake for about 30 minutes

Once finished, let it cool for at least 5 minutes prior to serving/storing

For BLW serve as is (has to be so soft you can mash it between your fingers) or else puree in a blender with a teaspoon of boiled water until the desired consistency is reached or mash with a fork
Video
Nutrition