With only 2 ingredients and 5 minutes of preparation you have a creamy, highly nutritious Banana Avocado baby puree.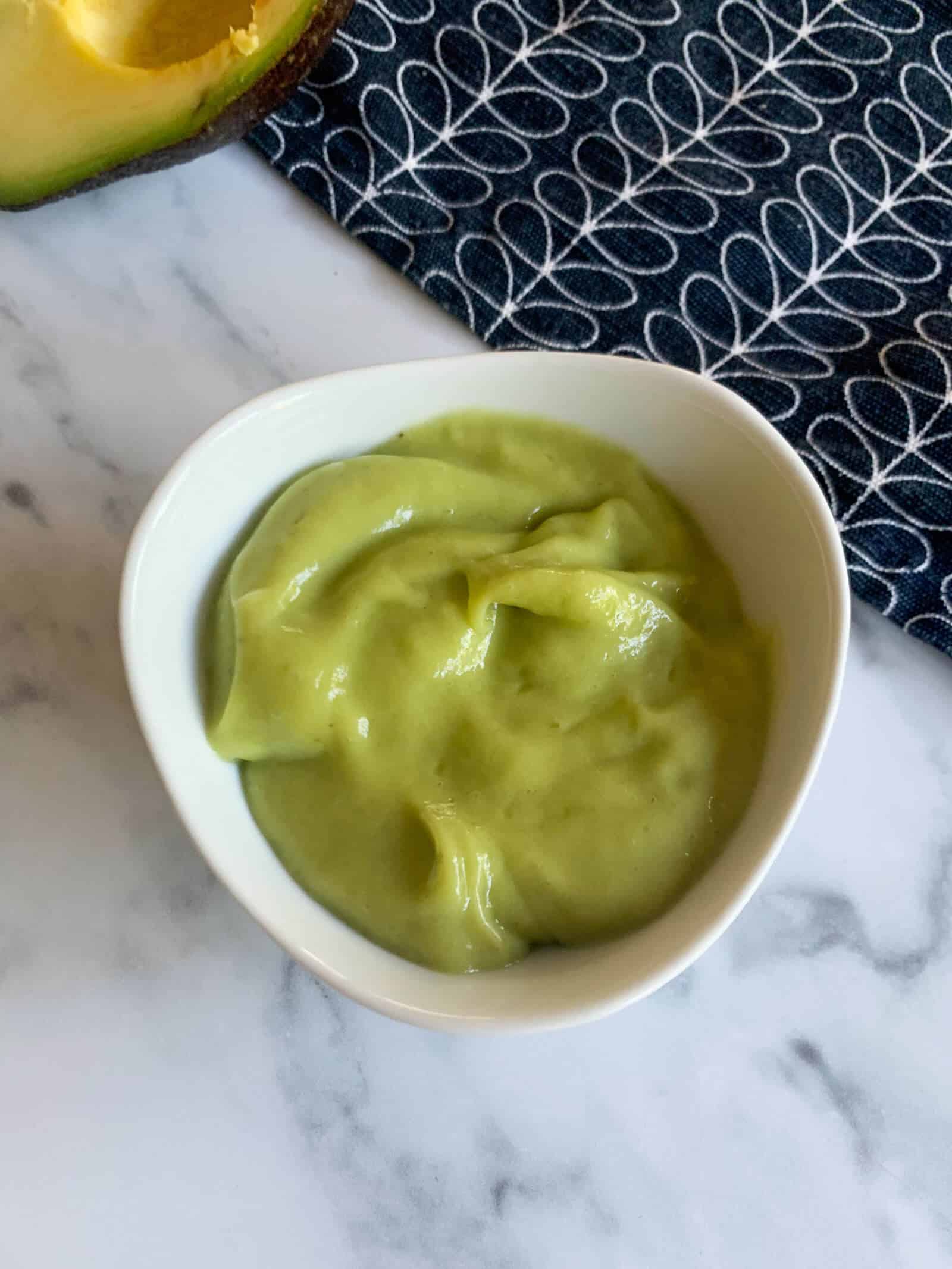 Of all the purees I ever prepared for my son (and there were a lot, believe me), this Banana Avocado Baby Puree is definitely my favorite.
Why?
It's probably the only one I made that didn't require any cooking, steaming, baking etc... Or washing! 😀
Just take it out of the fruit basket, peel, cut and you're almost done. Yay!
The only problem you might see here is that sometimes your avocado might not be just the right amount of ripe. Ok, probably most of the time it's under-ripe or over-ripe. But don't worry. This Banana Avocado Baby Puree has you covered.
If you have an under-ripe avocado you can easily ripen it with a trick, it will just take a little bit of planning ahead.
The day before you plan on making your puree, take your banana and your avocado and place them together in a paper bag. Set aside and come back tomorrow just as you're about to make your Banana Avocado Baby Puree. It should be just the right amount of ripe.
This recipe can be made for babies 6 months and older.
See our Starting Solids Ultimate Guide if you want more information on how, when, and with what to start solids.
If you like this baby food recipe you will also like our carrot puree recipe, banana puree, strawberry puree recipe.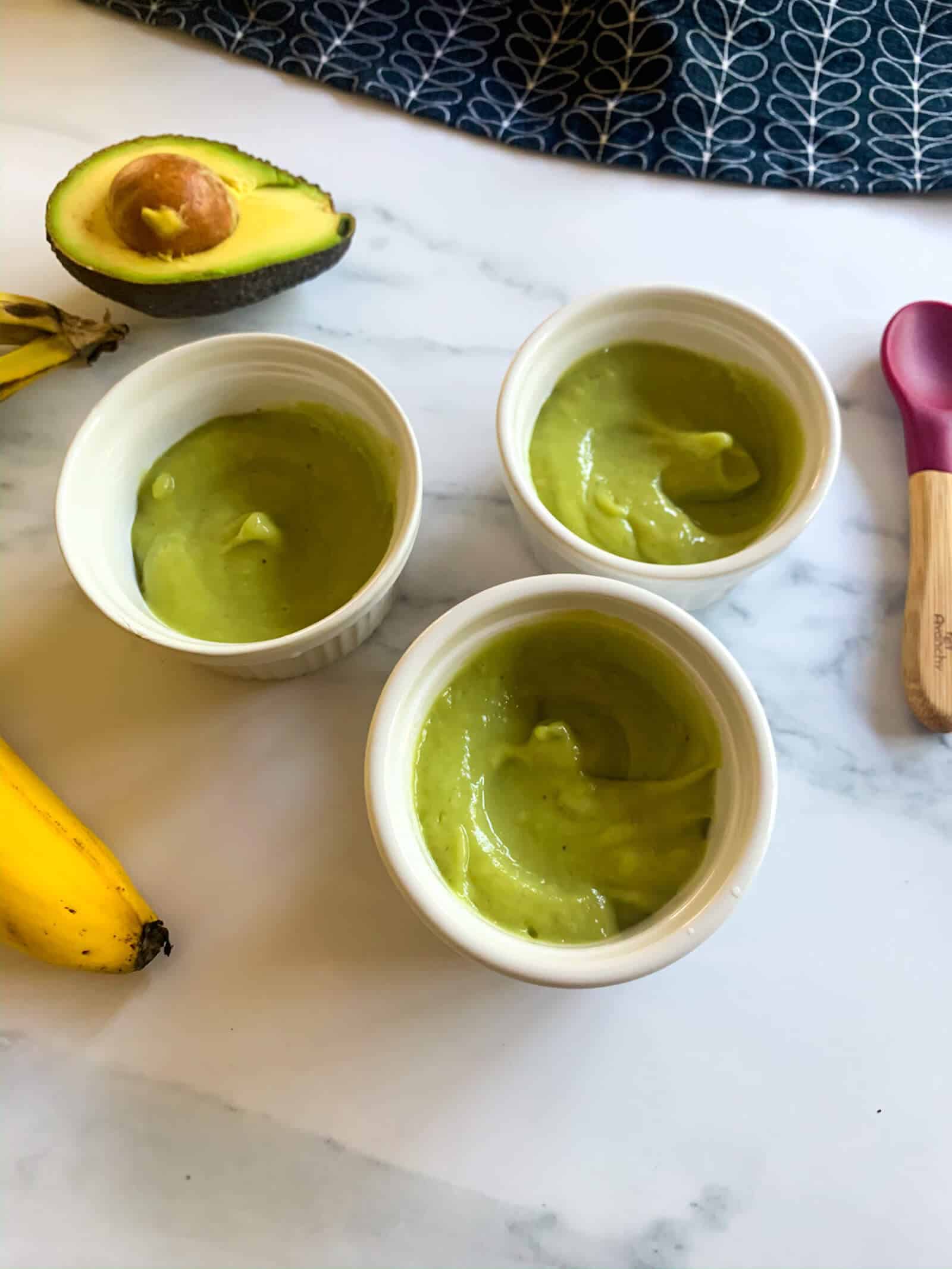 Banana Avocado Baby Puree Ingredients
To make this Banana Avocado Baby Puree, you'll need the following ingredients:
Banana: although we recommend using a ripe banana for this Banana Avocado Baby Puree, a not-so-ripe one will also do as the blender will do its magic. It might take a little longer but the outcome should be the same. A ripe banana will have a sweeter taste because the starches have turned into sugars with the ripening process so that's also one of the reasons we recommend it.
Avocado: if you don't have a ripe avocado that you can easily scoop out from the skin with a spoon just place the whole avocado with the banana in a paper bag the day before. The banana and the paper bag should speed up the process.
Banana Avocado Baby Puree Nutritional Benefits
Banana: they're a great source of carbs (starches or simple sugars, depending on the stage of ripeness) and a wonderful source of multiple vitamins and minerals. Mainly B vitamins, and the minerals potassium and copper.
Avocado: it's our go-to fruit when we want to add some healthy fats and calories to the puree. Since it mainly consists of fats the calorie content per gram is higher than with most other fruits. It's also a great source of fat-soluble vitamins such as the antioxidant vitamin E.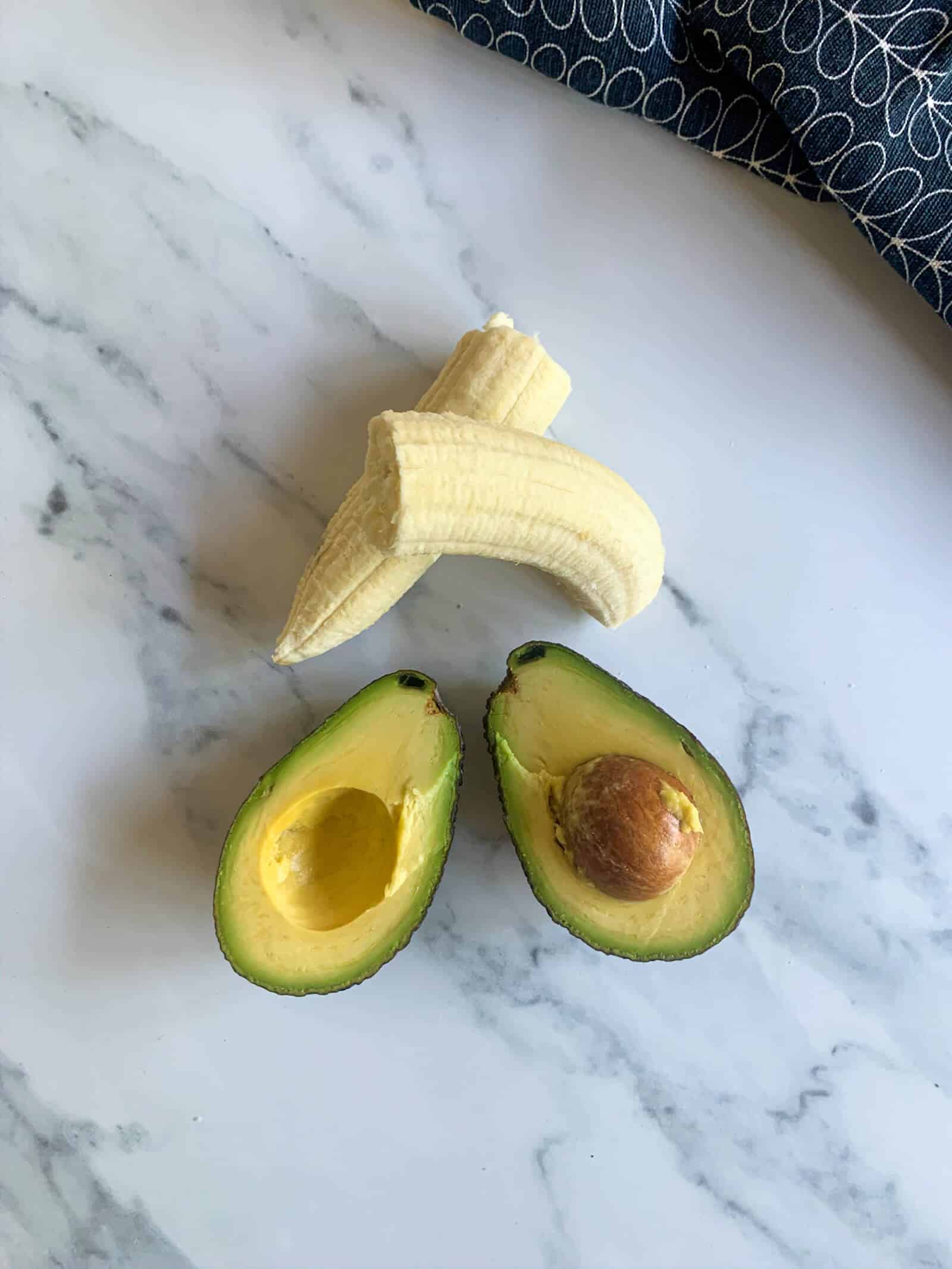 How To Make Banana Avocado Baby Puree
Banana and Avocado are two of the rare fruits that don't require any cooking for a 6-month-old baby.
Peel the banana. Simple as that. No washing, rinsing, drying. Just peel that banana.
Cut the avocado. There are numerous ways to cut the avocado and scoop out the flesh and I've pretty much tried all of them. So I'd like to tell you what I found to be the easiest way. Take a knife and cut the avocado lengthwise all around. That grab the top half with one hand and the bottom with the other and twist in opposite directions. Divide the halves and take out the seed. Now simply scoop the flesh from both halves with a spoon. If you have an avocado slicer like this one, just skip everything I told you above and use your slicer.
Blend. Now that you've prepared both of your ingredients, just throw them in the blender. You'd probably want to cut the banana into a few pieces or just divide it with your fingers to make it a bit easier for the blender. And blend until smooth. You can add a tablespoon of water to make it smoother but it will most likely not need it.
There are certain blenders that were created just for baby food but we have always used this blender for both our baby foods and every day for our (adult) smoothies.
Serving size is just for guidance, if you baby needs more or less food please follow their cue.
Possible Banana Avocado Variations
These two foods come together so well that they don't even have to be made as a puree.
Mashed. If you're over the puree stage or transitioning from purees to finger food then this recipe is perfect if you modify the "how-to" part. Instead of putting in the blender, you can simply mash the food up together. You'd probably want your banana and avocado to be a little bit riper here so that it's easier to mash.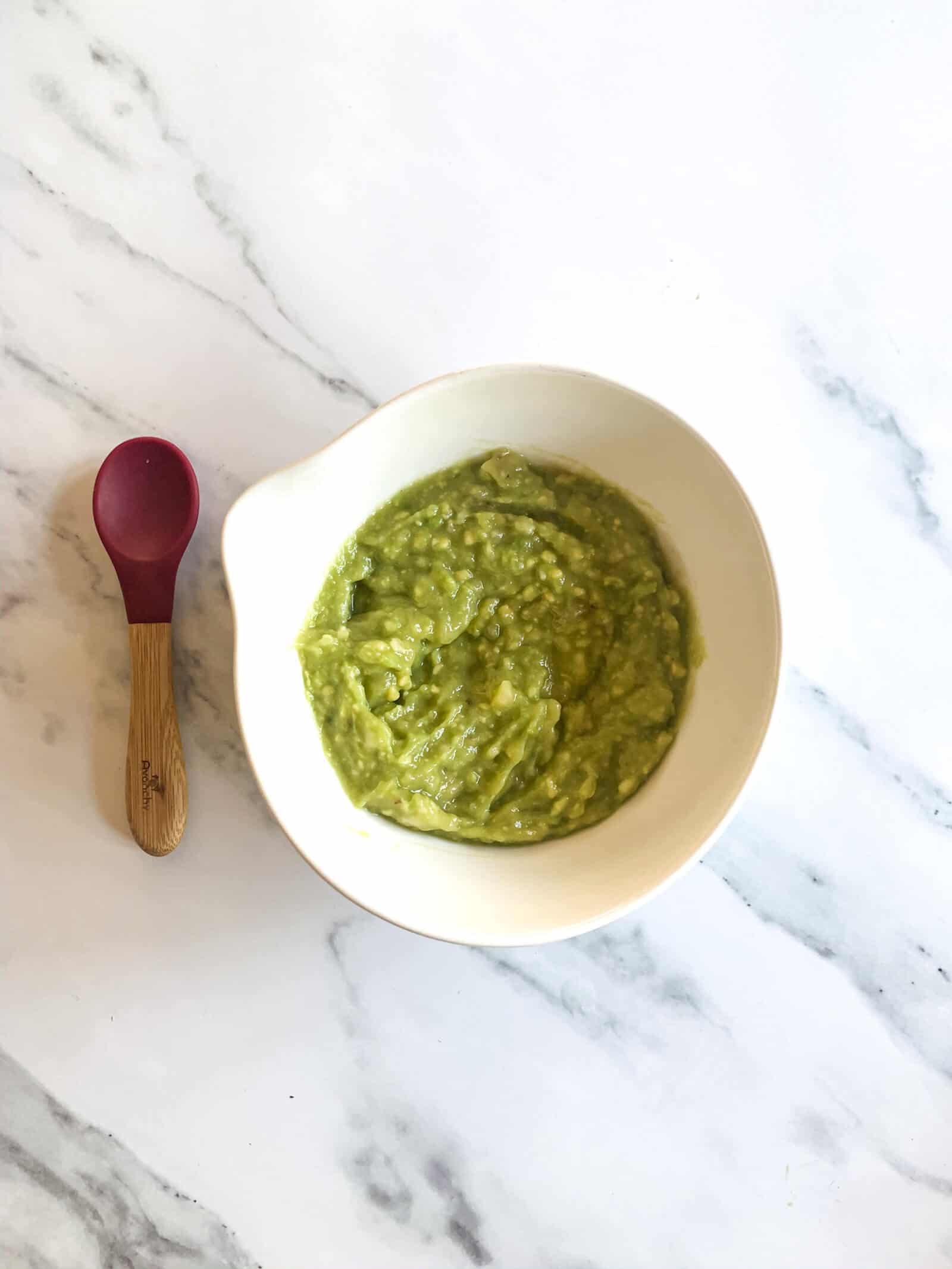 Lumps. If you're just a step away from finger food, you can also blend or mash one half of the banana and avocado and the leave the rest in pieces and then join. That way your child will get used to new textures.
Finger food. Both the banana and avocado are great finger food. Cut the avocado into longer sticks after you've scooped the flesh, or into small cubes if your baby has mastered the pincer grips.
To avoid sticky bananas being hard to grab, cut the banana in half, then simply press your finger through the middle. You should be left with 3 banana sticks that are easier to grab.
More Banana and Avocado Recipes
Looking for more recipes featuring banana and avocado? Here's a list of our favorite ones: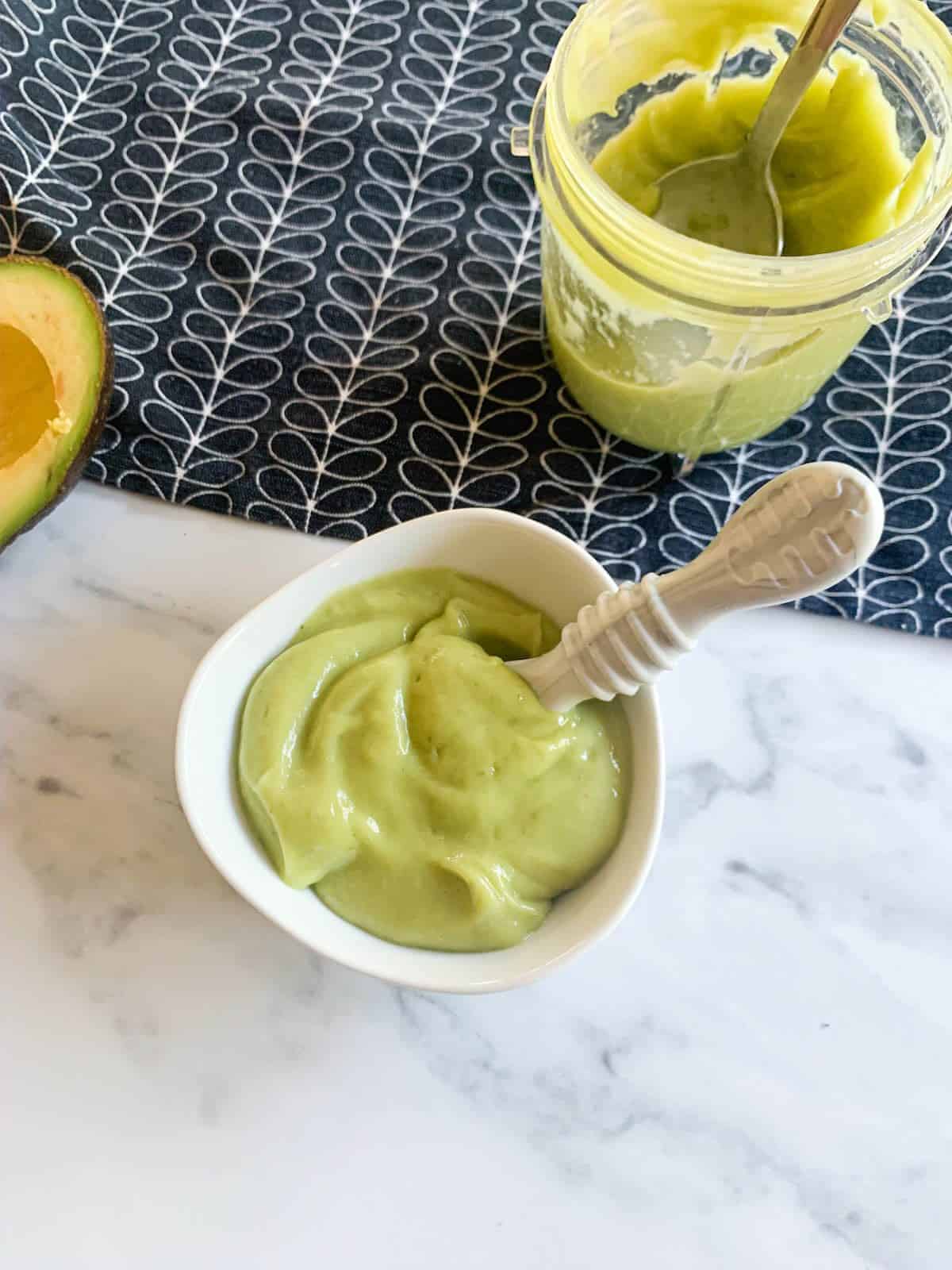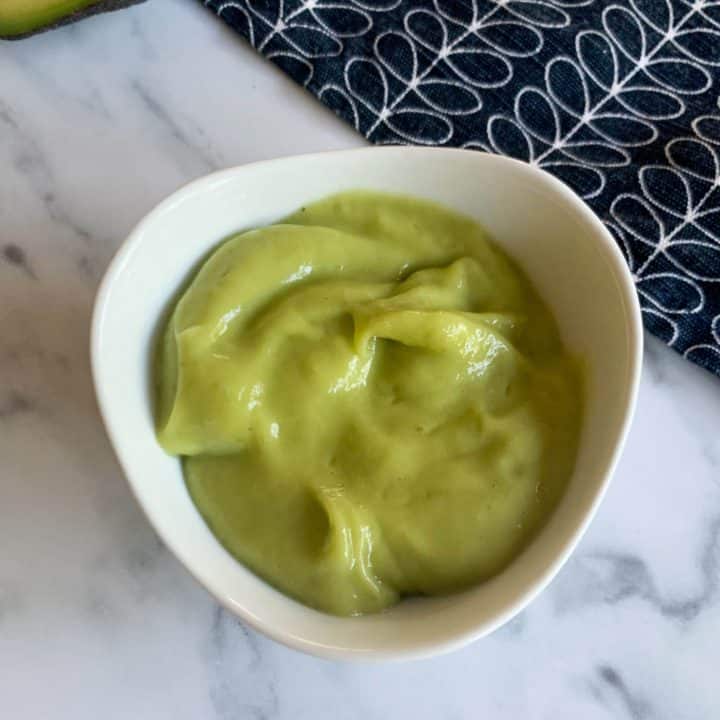 Banana Avocado Baby Puree
With only 2 ingredients and 5 minutes of preparation you have a creamy, highly nutritious Banana Avocado baby puree.
Ingredients
1

ripe avocado

1

large banana
Instructions
Cut the avocado lengthwise all around and twist the halves in opposite ways

Divide the 2 avocado halves and remove the seed

Scoop the avocado flesh from the skin from both halves with a spoon

Put both the banana and avocado flesh in a blender and blend until smooth
Nutrition
Calories:
107
kcal
Carbohydrates:
11
g
Protein:
1
g
Fat:
7
g
Saturated Fat:
1
g
Polyunsaturated Fat:
1
g
Monounsaturated Fat:
5
g
Sodium:
4
mg
Potassium:
349
mg
Fiber:
4
g
Sugar:
4
g
Vitamin A:
92
IU
Vitamin C:
8
mg
Calcium:
8
mg
Iron:
1
mg