Perfect way to start the day
Refreshing, sweet'n'sour and creamy breakfast full of protein, calcium and vitamins? Look no further than our Tropic Cheese recipe for your 8-month-old. The combination of the sweet pineapple taste pairs perfectly with the slightly sour kiwis and creamy cottage cheese.
Instead of the pineapple, you can use mangos and kiwis can be substituted with oranges or tangerines. For the cheese in our recipe we chose cottage for its high protein content and creamy texture which is great in mashed foods and purees.
Nutritional stuff
Kiwis are an excellent source of vitamin C and also have good amounts of vitamin K and copper. They also contain significant amounts of dietary fiber.
Apart from also having a high vitamin C content (which is a great antioxidant by the way!), pineapple is full of manganese and copper. It's nutrients also provide great support for the digestive system and help the body fight against diseases.
Cottage cheese (like many other kinds of cheese) is a great protein and calcium source but also provides significant amounts of fat since at this point in age we encourage consumption of full fat products to support the rapid growth and development of our little ones.
Preparation
Since this recipe is intended for an 8-month old, it is suitable to be served as a mashed or pureed meal. In that case you would cut the fruit in pieces, mix with the cottage cheese and either mash or puree. If you prefer the baby-led weaning method, then the fruit should be cut in long pieces with preferably a bit harder or thicker cheese.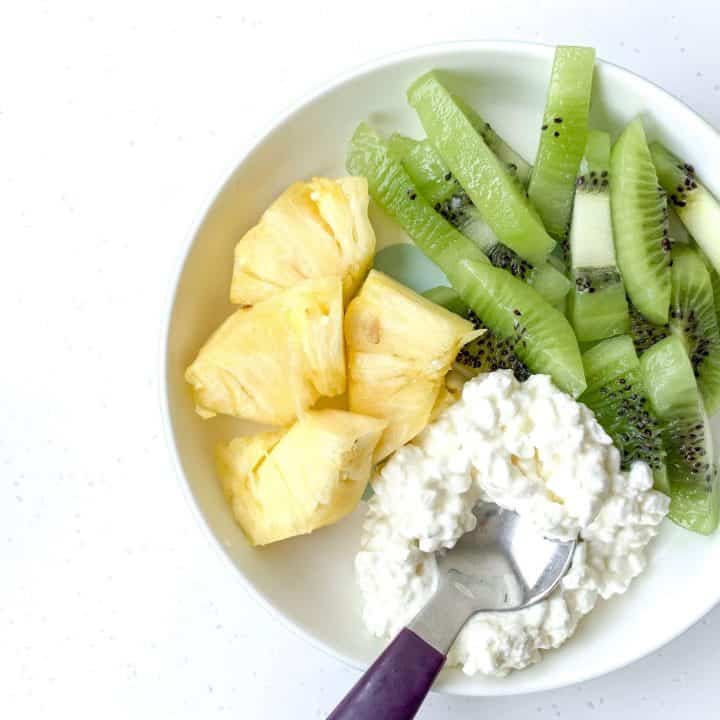 Tropic Cheese
An easy, no-cook, healthy baby breakfast recipe. Full of vitamin C, K, copper, fiber, protein, and calcium for healthy growth.
Ingredients
¾

pineapple ring

1

kiwi

2

tablespoon

cottage cheese
Instructions
Peel the pineapple and kiwi

If you are following the baby-led weaning method cut both into thin long pieces

If serving mashed or as a puree, cut into tiny pieces

Mix well with the cottage cheese or spoon alongside the fruit

if you will be pureeing add ingredients to the blender with a tablespoon of water and blend; keep adding more water to blend to desired consistency
Video
Nutrition
Calories:
111
kcal
Carbohydrates:
21
g
Protein:
5
g
Fat:
2
g
Saturated Fat:
1
g
Polyunsaturated Fat:
1
g
Monounsaturated Fat:
1
g
Cholesterol:
5
mg
Sodium:
112
mg
Potassium:
368
mg
Fiber:
3
g
Sugar:
15
g
Vitamin A:
143
IU
Vitamin C:
88
mg
Calcium:
63
mg
Iron:
1
mg