A list of 21 best chicken tenderloin recipes that don't require deep frying but a more healthier option such as air fryer chicken tenders or baked chicken tenderloins.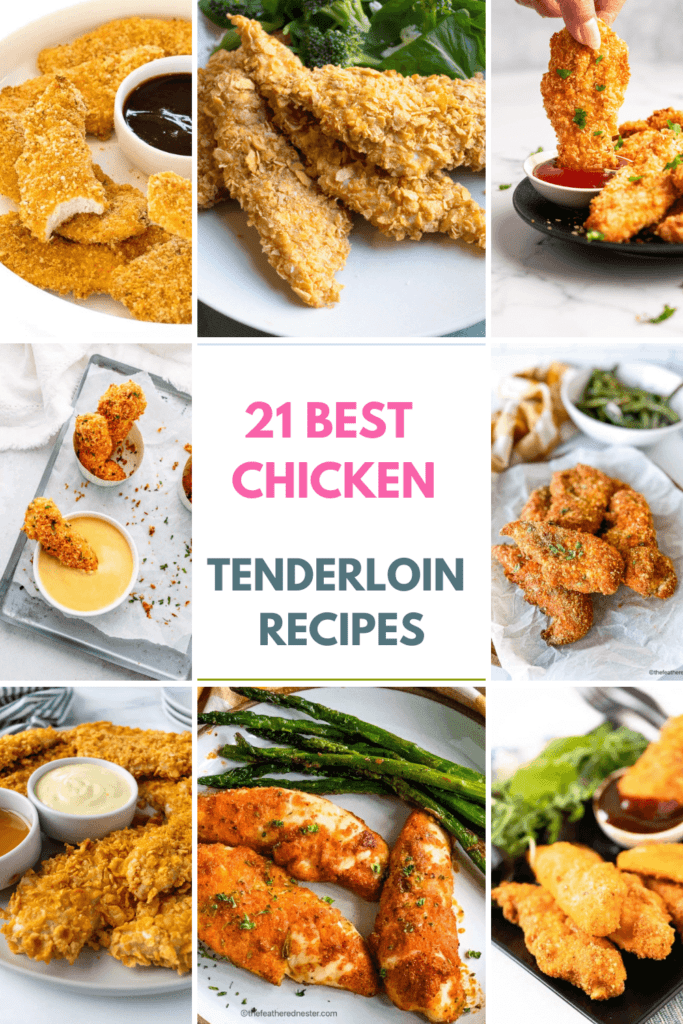 Jump to:
Chicken Breast Tenderloin Recipes
Chicken tenders are one of the best and easiest way to prepare chicken for your appetizer, brunch, lunch or dinner.
They're pretty easy to make and you can play with the ingredients you have at home to make delicious and healthy dishes for the whole family.
They were often in the past made by deep frying them in vegetable oils but more recently, healthier versions of chicken tenderloin recipes have become more popular.
So airfryer chicken tenders, grilled chicken tenderloins and chicken tenders in the oven are healthier options to make this simple yet special dish!
If you want some simpler and still flavorsome chicken recipes for the whole family you can check out our guide on how to boil chicken thighs and use them for meal prep or a delicious clear chicken soup recipe where you can also repurpose the delicious shredded chicken.
What Are Chicken Tenders?
Even though they are often identified in recipes as cut-up chicken breasts, tenderloins are actually parts of meat that are found underneath and attached to the breasts. And each chicken has 2 of them.
Breasts are often very dry when cooked or baked, but when made properly, tenderloins can be very juicy and tender.
To make one of these recipes, you don't need to buy huge amounts of chicken. Chicken tenderloins can be found sold separately in supermarkets and you can also find them under the name of chicken fillets, fingers or strips.
Ingredients For Baked Chicken Tenderloin Recipes
While each recipe will have it's own ingredients and way of cooking, most of them will require the following ingredients to make a super-quick, delicious and nutritious meal:
tenderloins
butter or oil
herbs
breadcrumbs or cornflakes
How To Serve Chicken Tenders
Even though tenderloins can be served as a single food in a meal and are delicious just like that, it is worth serving them with some sides to have a full meal with all the essential nutrients.
According to the type of meal (e.g. lunch, dinner, brunch, appetizer) for which they are served for, you can choose different side-dishes options.
sauce (tomato, cheese, barbecue sauces): perfect when serving as appetizers
potato wedges or french fries: a great lunch option
rocket salad: ideal for brunch
grilled veggies: brunch, lunch or dinner
pasta: a simple and easy dinner option
How To Store
If you're left with some tenderloin leftovers after your meal, don't worry. They can easily be stored in an airtight container in the refrigerator for up to 3 days.
Chicken Tenderloin Recipes List
If you've tried these recipes or any other from our blog, please rate it and leave us a comment below!