Anyone who's spent just a little time in the kitchen preparing food knows how much spices and herbs can change the flavor, smell, and taste of a meal.
And anyone who's tasted homemade baby food from plain cooked or steamed ingredients knows how bland it can be.
So naturally you'll have to introduce some flavor to your child's food eventually!
Salt is the first thing that comes to mind when seasoning any food. But we don't recommend salt at all until your baby reaches the 1-year mark and only small amounts at least until the age of 2. So what spices and/or herbs can you actually add to baby food? And when and how should they be introduced?
If you've ever found yourself wondering the same thing, keep reading.
Benefits Of Adding Spices for Baby Food
Just think of the benefits when you add spices to your meal. Well, they're pretty much the same for babies. With some additional ones related to affinities and food exposure:
Exposure to different flavors
Taste experimentation
Health benefits of particular spices and herbs
How and When To Start Adding Spices to Baby Food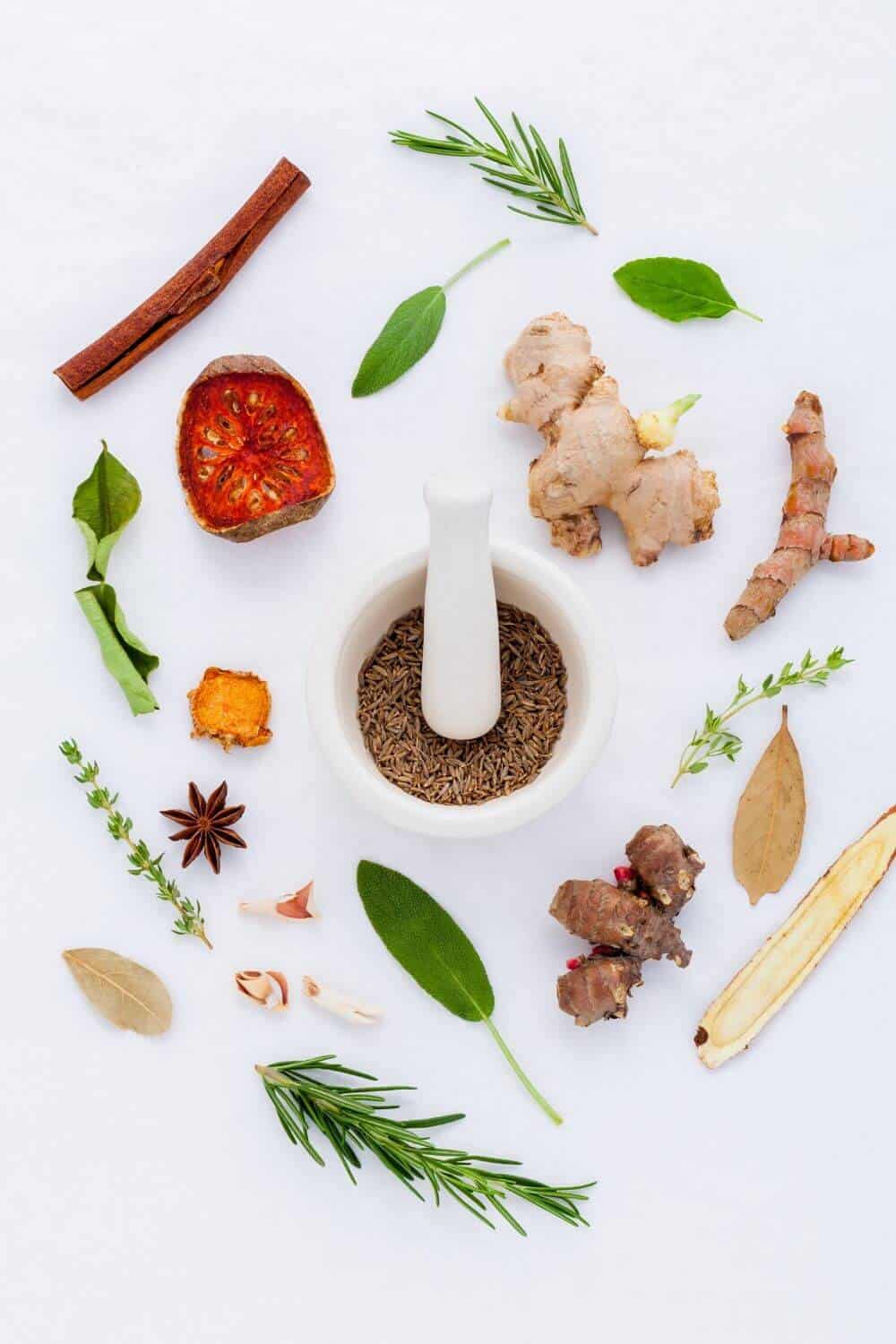 Spices should be treated like any other new food you introduce to your baby.
We recommend introducing new foods one-by-one so that you can easily identify any allergies. And it's no different with herbs and spices. You can read more about this in our 6 Part Starting Solids Guide here.
That way, if an allergy occurs, you'll know straight away from which food (or spice it is).
Fresh or Dried Spices?
If you have fresh herbs, then by all means go with fresh. Of course, not every spice has it's fresh counterpart but whenever you can use fresh you should do so.
Not only because it might contain more beneficial properties than their dried counterparts, but because the aroma and flavor is more intense and therefore provides a clearer experience of the flavor to your child.
You may just have to chop them very small so your child isn't put off by the leafy texture as in my experience that results in them spitting it out.
This of course doesn't mean that dried ones are bad. They're a great addition to any meal. You'll just need more to gain the same benefits that you would with fresh ones.
Which Spices to Start With?
Really anything you choose. Whether it's sweet or spicy flavors, from a nutritional standpoint it really doesn't matter.
That means you should probably start with whatever you use the most. For most parents that means their local, traditional spices.
We eat a very Mediterranean diet, so oregano, basil, and rosemary are some of the first spices we go for.
But for you, turmeric, cardamom, or cumin might be top of the list for example.
The idea isn't to force onto your child any spices or flavors that you wouldn't normally serve for yourselves, but rather to gently get their tastebuds used to the family meals that they'll be having in the future. So local, traditional cuisine.
Here are a few recipes that you may want to try with regards to adding spices:
How Much?
At first start with small amounts like 0.5-1 teaspoon per serving (depending on the spice) to see if there are any reactions and how they react to the taste.
Once you get used to introducing spices you'll probably just make a normal meal with the normal amount of spices and herbs you'd prepare for yourself.
My First Choice?
Cinnamon. I just found it to be the easiest. I was introducing fruit like apples and bananas and grains such as buckwheat and oats at the beginning of our journey so the easiest thing for me was to combine an already introduced fruit and grain with cinnamon.
You can add cinnamon to some of our favorite baby oatmeal breakfast recipes:
And from that point on no apple oatmeal recipe can go without it 😀
How To Pair Spices And Baby Food
Pairing Spices for Baby with Fruit
Cinnamon, vanilla, nutmeg, and ginger are the most common spices used with fruit.
When choosing cinnamon I would advise you to go with the Ceylon one because that is the best and purest one you can get.
Vanilla should be either a bean or an essence that does NOT have the label "pure". Pure varieties tend to have high amounts of alcohol which should not be used in foods that are not cooked or baked.
Cooking and baking helps the alcohol evaporate so it's safe in thermally processed products.
Pairing Spices for Baby with Vegetables
Vegetables are a great basis for spices because they can pretty much go with any spice. But sometimes it's about pairing the type of vegetable with a certain type of spice. Let's see how.
Orange veggies like sweet potatoes, carrots and pumpkin
Orange veggies pair really well with sweet spices like cinnamon and nutmeg but also savory ones like garlic, ginger, and sweet paprika.
Green veggies like zucchini
These go great with fresh herbs like parsley, rosemary, basil, and oregano. And garlic of course.
Cruciferous veggies like broccoli and cauliflower
Perfect for turmeric, cardamom, and cumin. You can coat them in spices and roast in the oven for a super and healthy side dish.
Pairing Spices for Baby with Poultry And Meat
Poultry meat is perfect for dried spices like smoked or sweet paprika, garlic, sage, and thyme while red meat like beef and lamb are great garlic, pepper, and onion powder.
Final Note
Introducing spices to your baby or toddler is pretty much the same as introducing any other single food.
Start small, with one type, and watch for any reactions. Most spices are not allergens so there's very little chance of any allergic reactions but it's better to be safe than sorry.
And you don't have to search the internet for the best spices or herbs to give to your baby. Just go with your instincts and use the local, traditional ones that you already grab for every meal.
What is the first spice you added to your baby's food?