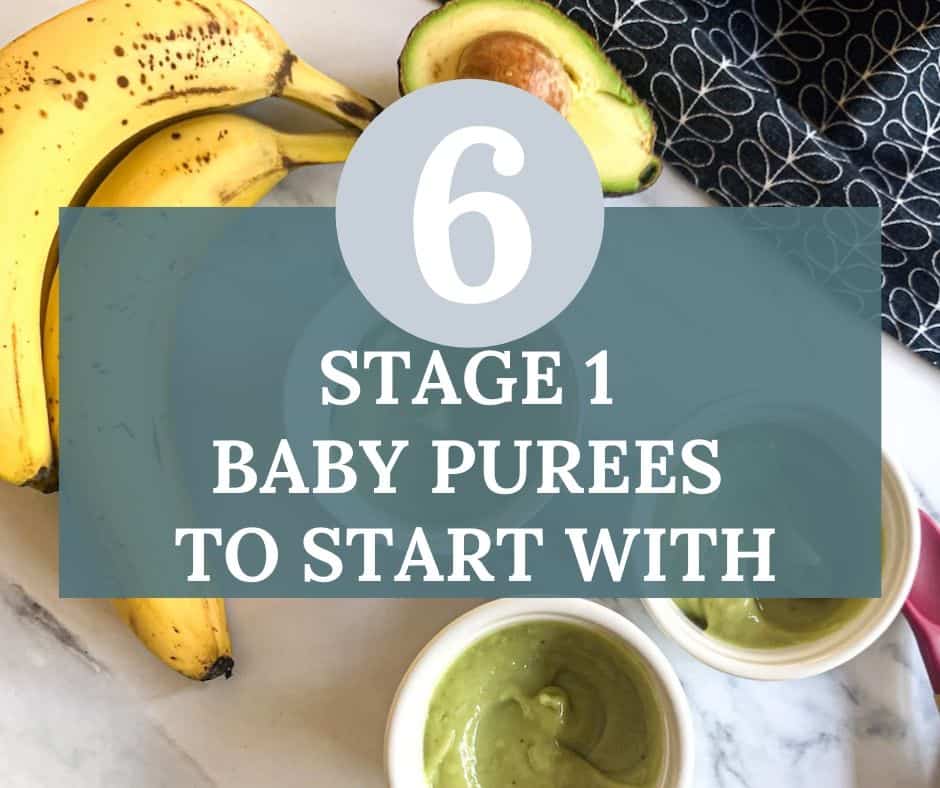 Starting solids can be overwhelming, and you might find yourself not knowing where to start. Don't worry. We've got you covered with these 6 stage-1 baby purees that any 4 - 6-month-old baby can start with.
How To Start Giving Baby Food
If you're reading this, chances are you have a 4 - 6-month-old baby who is ready to start solid food! Yaaaay!
And you decided to go with baby purees rather than the baby-led weaning (BLW) process.
So before I go in-depth into the whole puree process I just wanted to let you know that there is no optimum way of starting solids. The optimum way is the one you choose for you and your baby. No matter what anyone else tells you. So trust your instincts.
What are Stage-1 Baby Purees?
So what are stage 1 baby purees? Real easy to make for start. So that's a plus for baby purees!
Stage-1 baby purees are the smooth baby purees that you blend in a blender until they are creamy, with no lumps. Basically just a super smooth puree.
So actually you'd just throw the foods you'd want in a blender, hit the button and in a few seconds you'd have yourself a nice baby puree.
When To Start With Baby Purees?
This is actually very, very individual. General recommendations say that babies should start with solid food, including baby purees, somewhere between 4 and 6 months of age.
There is no exact day or time that is uniform for every baby but rather you should watch for the signs of readiness. Check out the Part 1 of our Starting Solids Guide for more info.
But how do you choose the foods, spices, and combinations for the perfect baby puree?
What Baby Purees To Start With?
In reality, you can start with any baby puree you want to. We do recommend going with local and seasonal produce for the fruit and veggies for your perfect baby puree but it isn't a must.
There are however a few things you should avoid in baby purees as they are not recommended for children under the age of 1 year: honey, cow's milk, salt, and sugar just being a few. For the complete list, check out our Starting Solids Guide.
Store-bought or Home-made Baby Purees?
Although I do recognize the convenience of store bought baby purees and the simplicity they offer, I'm team homemade all the way.
And I'm not a stay-at-home mom that might actually have some time to do homemade baby purees. So I really know what I'm talking about when I say that it is possible to fit homemade baby puree making in your busy schedule.
Homemade baby purees really don't have to be complicated and you can finish a big batch of them in 30 minutes and that could give you a large amount of baby purees that you can easily store for later.
It really is worth it in the end. If you're still not convinced, check out our whole blog post on why homemade baby food is better.
How To Combine Foods and Spices in Baby Purees
You may have heard that foods should be introduced one-by-one and monitored for any allergic reactions. And while that is an old recommendation that is no longer required to be followed, I find it easier to go one-by-one.
If you don't have a family history of food allergies then doing combo baby purees right from the start would probably not cause any issues for you. But if food allergies are something known in your family, I would stick to one at a time.
It just makes things a whole lot easier in case there is an allergic reaction. You'd easily be able to identify which food is the cause.
And it's the same with spices. I'd add them one-by-one to the food that has already been introduced to your baby.
As for the choice of spices, this is completely individual and mostly based on your culture. We mostly did Mediterranean ones like basil and oregano at first, but I've known babies that started with turmeric and loved it. So the choices are limitless.
You may be interested in reading more in our post on how to spice your baby food: Spices for Baby Foods - which ones and how much?
Kitchen Tools For The Best Baby Puree Experience
1. Blender
2. Baby Cooker
3. Baby Food Storage
4. High Chair
5. Bibs
6. Bowls
7. Spoons
6 Stage-1 Baby Food Purees To Start With
In case you need a small boost and help on how to start making the most delicious and nutritious baby purees, here is a list of 6 of my favorite stage-1 baby purees recipes that are perfect for a 4 - 6-month-old child.
The real benefit here for the parent is that they are pretty easy to make, are quickly finished and all can be made in huge batches that you can freeze and take out whenever you are running out of time.
And they are super nutritious for your baby – which is the most important thing.
So dig in!
Final Note
So really whatever foods you have at home and feel would be a good baby puree combination, you can use to make one for your 4 - 6-month-old child. Just make sure to avoid the food from the "under 1-year-old" list.
And enjoy mixing and matching different flavors for your little ones! 😀
Which baby puree is your favorite?
More Posts on Baby Puree and Preparation