A simple, healthy meal
With a 6-month-old baby, you will likely have started introducing solid foods, one at a time. So chances are your baby has been eating one single food at a time for a week or so until you have a shortlist of food they have tasted and are able to eat.
It might be time to mix it up a little.
With several foods on your list, you can start combining them to introduce new meals.
The Chicken-Carrot Mash is a perfect example. It has just 3 ingredients, 2 of which you have ideally already introduced.
For us the chicken and carrot have already been on our list of baby-approved foods, so we're going to add a little olive oil here.
Nutritional stuff
Chicken is a great source of lean protein and it has good amounts of iron which is crucial for your little one at this age. If you have already introduced chicken, be sure that you are using the same part of the chicken you used before (e.g. white vs. dark meat).
Carrots have loads of beta carotene which is great for our eyesight, and their sweet taste helps the meal to be tastier. Make sure that you remove the skin to remove pesticide residues as much as possible.
Olive oil is loaded with "good" fats which protect the heart and provide loads of energy – crucial for the growth and development of your baby.
Preparation
The Chicken-Carrot Mash is great both for baby-led weaning and pureeing, as you prefer.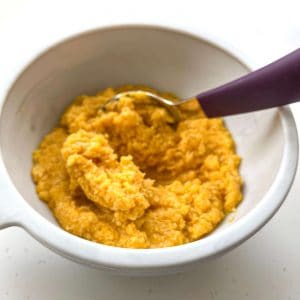 Chicken-Carrot Mash
Chicken Carrot Mash is a quick and nutritious recipe for a 6 month old baby that is simple and can be either BLW or pureed.
Ingredients
1.4

oz

chicken breast

(skinless, boneless)

1 medium sized

carrot

½

tsp

olive oil
Instructions
Wash, peel and slice the carrot into tiny pieces (if baby-led weaning cut into long thin pieces and if you will be serving as a puree cut into small cubes)

Add the carrot in a pot or pan with enough water to cover it. Bring to boil and cook for about 15 minutes

After 15 minutes add the sliced chicken breast and cook for another 15 minutes

Once finished, take out the pan and drizzle with olive oil

Allow to cool for 5 minutes

If following baby-led weaning, cut into long strips so baby can grasp. If pureeing then add to a blender with a tbsp of water. Keep adding water as necessary to achieve desired consistency
Nutrition
Please follow and like us: