Pancakes are a favorite food at our household. Not only because they are simple to make using just a few ingredients you have at home but also because I can make a huge batch and each of us will add spreads and toppings to our own tasting. As a result, I have loads of pancake recipes for babies and toddlers!
Since we are all about healthy eating mainly involving babies and toddlers it means that we don't make "regular" pancakes that often at our house. But that doesn't meant the alternative is less tasty.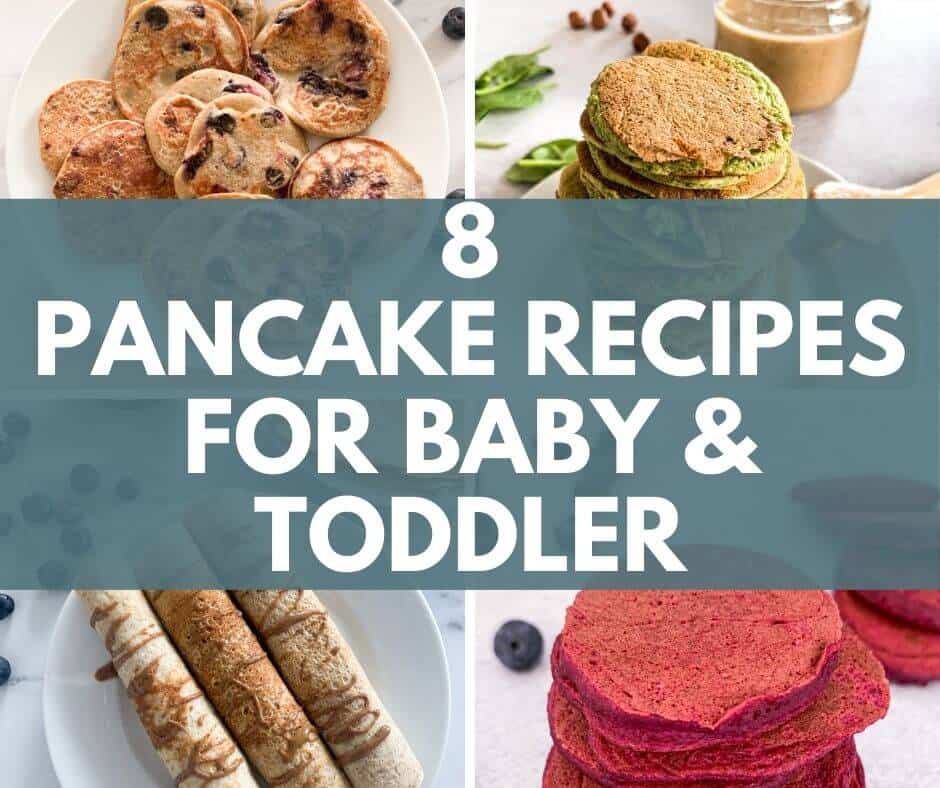 Jump to:
Are Baby Pancake Recipes Tasty?
Yes they are. And the thought of getting such nutritious and healthy ingredients while eating them makes them all that much special. "Regular" pancakes often involve white flour, milk and eggs. And while milk and eggs do have good nutrient profiles that we very much need in our everyday nutrition, we don't really need to be having much white flour.
Especially when you can eat delicious pancakes without it!
How To Make Baby & Toddler Pancakes?
Easy. Usually the basis is still eggs and milk.
Eggs because they just have the ability to keep all of the ingredients together in a firm yet bakeable batter.
Milk because when adding the other ingredients, you'd want to make them a bit runnier and easier to bake. However, if you are non-dairy we have tried most of our recipes that involve milk with a plant-based substitute and they worked just fine.
You'll also need a carb base like wholewheat or spelt flour. Or rolled oats. The type would depend on all the other ingredients you are using. And that is why we have a variety here.
Which Carbohydrate To Choose?
When you are using a banana as one of the ingredients of baby & toddler pancakes rolled oats are usually enough to be blended into the batter to achieve the perfect consistency. That's because the banana provides a fluffy and firm starchy consistency that will make it easier for the batter to hold it's shape when baking. For any other ingredient like apples or sweet potato, I'd recommend going with some kind of wholewheat flour.
You'd probably be able to form a bakeable batter with rolled oats here too but it will be hard to flip them over on the pan and they will likely look burnt from the outside and raw in the middle. And you want to avoid that!
Can I Add Superfoods?
Of course! We love adding chia seeds or flaxseed meal to our pancakes because they give an additional firmness to the batter and also provide some amazing health benefits!
Just make sure you let the batter rest for about 5 minutes after adding this type of ingredients because they do tend to soak up the liquid and may make the batter firmer. So maybe you'll need to add some more milk before baking.
How Big Should I Make Pancakes for Babies and Toddlers?
Pancake recipes for babies and toddler pancakes are often smaller in size than "regular" ones. And although it might seem that the reason for this is better ability for the baby/toddler to grab, the truth is a bit different.
Our baby and toddler pancake batters are a bit thicker than "regular" pancake batters so it would be very hard to make them the same size. That's why we use a tablespoon to scoop out the batter and place it onto the baking pan.
Don't worry. Each of our recipes has an explanation on how to make them perfect. Just keep on reading.
We do also have a "regular" pancake (crepes/ English pancake) recipe that has wholewheat flour and oats instead of white flour where you can make your pancakes in a regular European size. And my toddler loves to eat these too!
8 Baby & Toddler Pancake Recipes
Final Note
Out of these recipes I'm pretty sure you'll find one that you love and regularly make for your baby, toddler or whole family. We love all of them and I make one of these recipes at least weekly. And not only for my toddler 🙂
I suggest you play around with ingredients, try and test your own or simply experiment with different spreads and toppings.
And let us know your favorite!
More Like This