Nutritionist created guide to 1 year old baby food, including a baby food chart, a menu, FREE printable meal planner and recipes including breakfast ideas for 12 month old, lunch ideas, dinner ideas and snacks.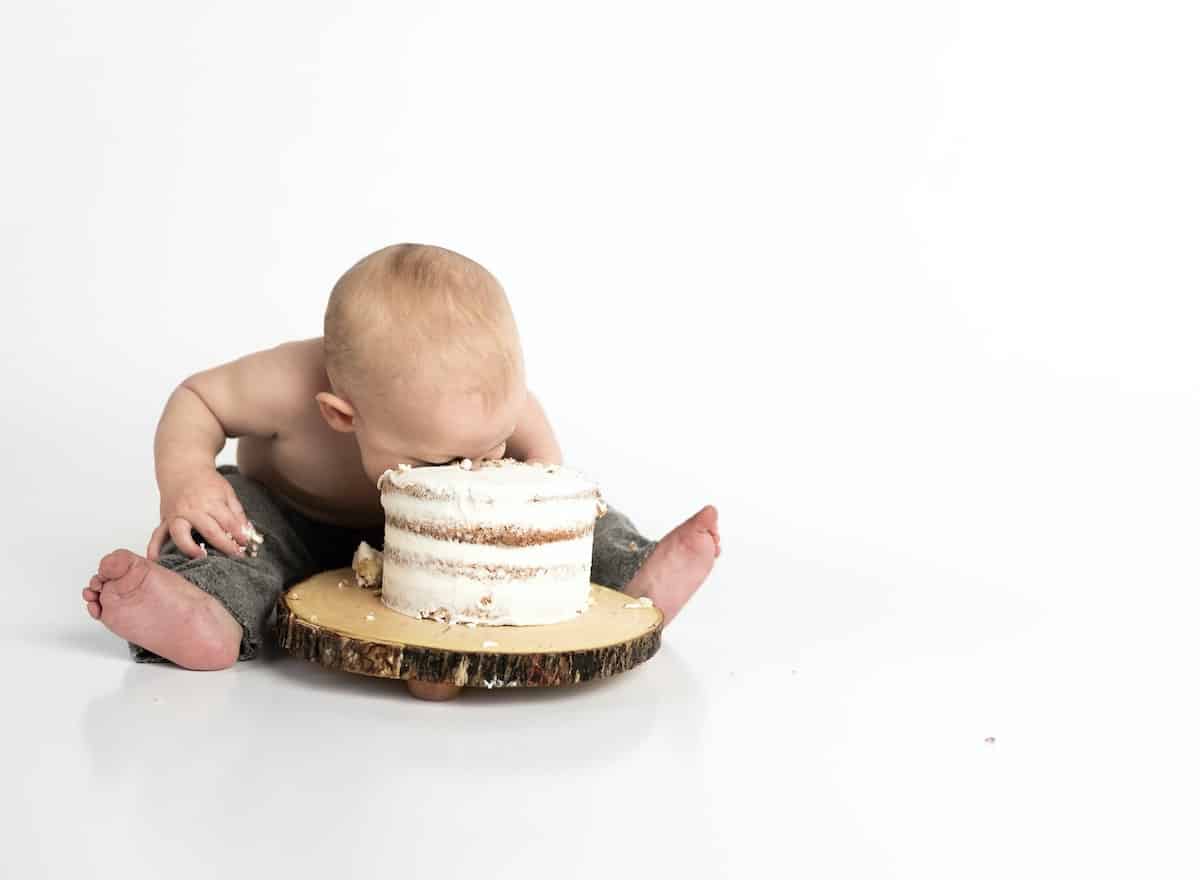 Food for 1 year old baby
At 12 months old your baby should be eating about 1000 calories per day, of which half should come from healthy fats (as reported by American Academy of Pediatrics).
Healthy fats include olive oil, avocado, nut butters (nuts are a choking hazard) and full fat dairy.
These fats should not come from heavily processed fats, fast food, fried food or packaged food.
At this age your baby may be weaning off breastfeeding, if not you can continue breastfeeding until you are ready to wean.
With regards to formula, it should be replaced with full-fat cow's or goat's milk.
1 Year old meal planner and baby food chart
You can easily create meals for your baby by using the below baby food chart for 1 year old baby.
These meal plans were developed by Dora Babic-Cikos, Phd, our resident nutritionist.
Once your child hits the 12 month / 1 year mark their nutritional recommendations increase a bit from 11 months.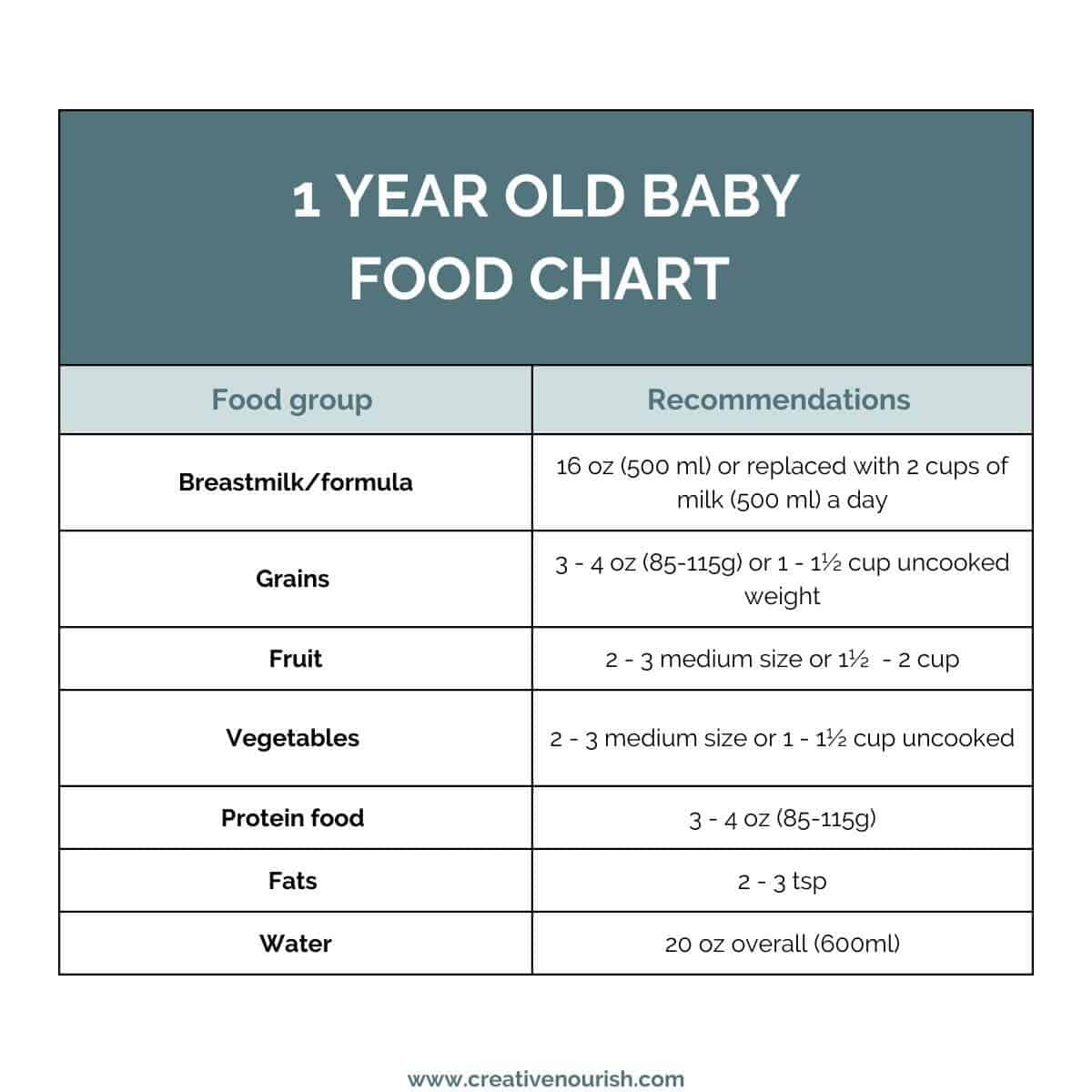 Below you will see our sample 1 year old baby food menu, but you can also download print and stick to your fridge this easy to use meal planner for your baby.
Click here to download the PDF Meal Planner for Baby.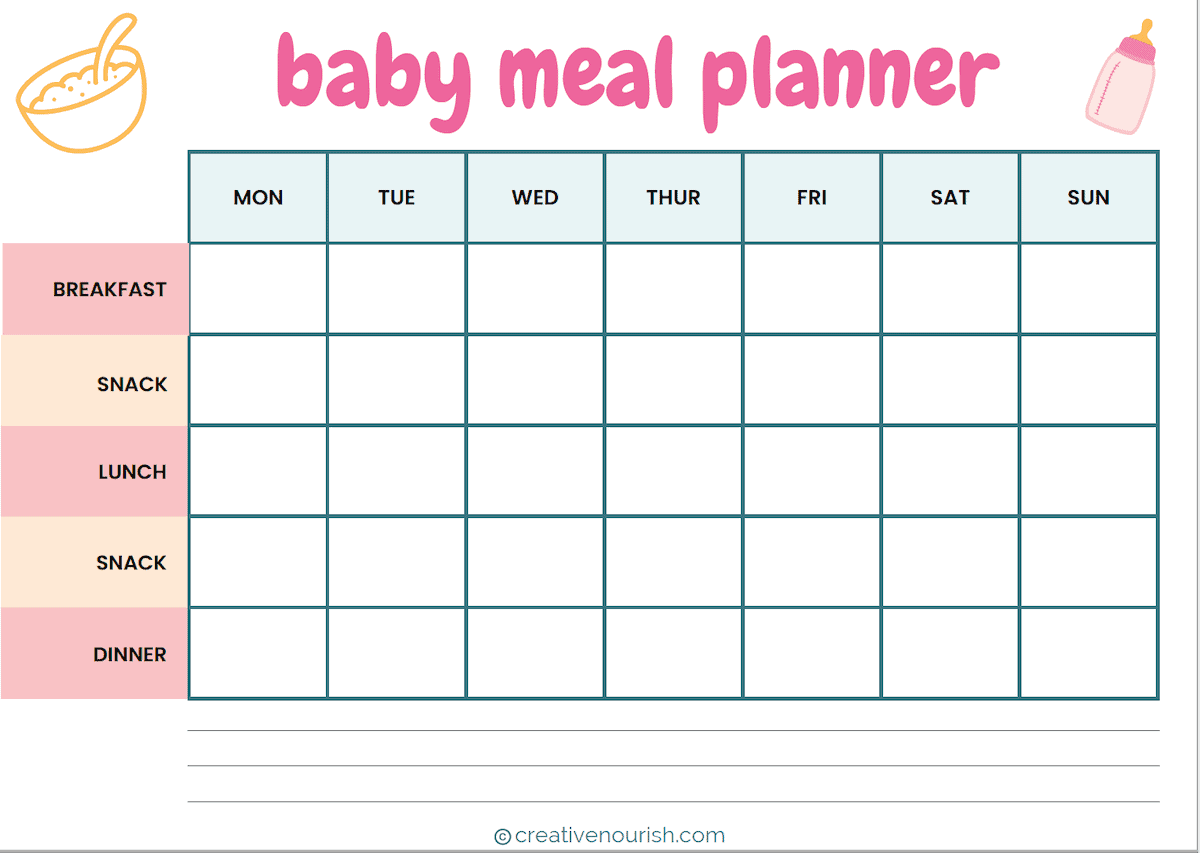 1 Year old baby food - what can they eat?
At this age a baby can eat mostly anything but do avoid:
Low-fat milk and dairy products – cause excessive intake of protein and low intake of essential fats
High salt – kidneys not sufficiently developed
Fruit juices – high sugar content
Unpasteurized products – can contain dangerous bacteria
Smoked & cured meats / processed food – excessive salt intake
High mercury fish (fresh tuna, halibut, grouper, shark) – excessive intake of mercury
Chocolate, especially dark – caffeine content
How much milk should a 1 year old drink?
At 1 years old the child should be switching from formula to full fat cow's or goat's milk.
They should have approximately 2 servings of dairy per day where 1 serving is equivalent to:
1 cup milk
1 cup yogurt
1.5 oz (40g) hard cheese
½ cup ricotta cheese
2 cups cottage cheese
If you have been breastfeeding you can continue to breast until you are ready to wean.
How much water should I give a 1 year old baby?
Once babies reach 1 year of age, water requirements start to rise rapidly.
However, the food they are eating also contains water which contributes to these requirements.
Ideally, with the sample meal plan below, you would also give your child up to 20 oz (600ml) of water (assuming your child is getting breastmilk/formula – if not, add in another 3-4 oz / 90-120ml).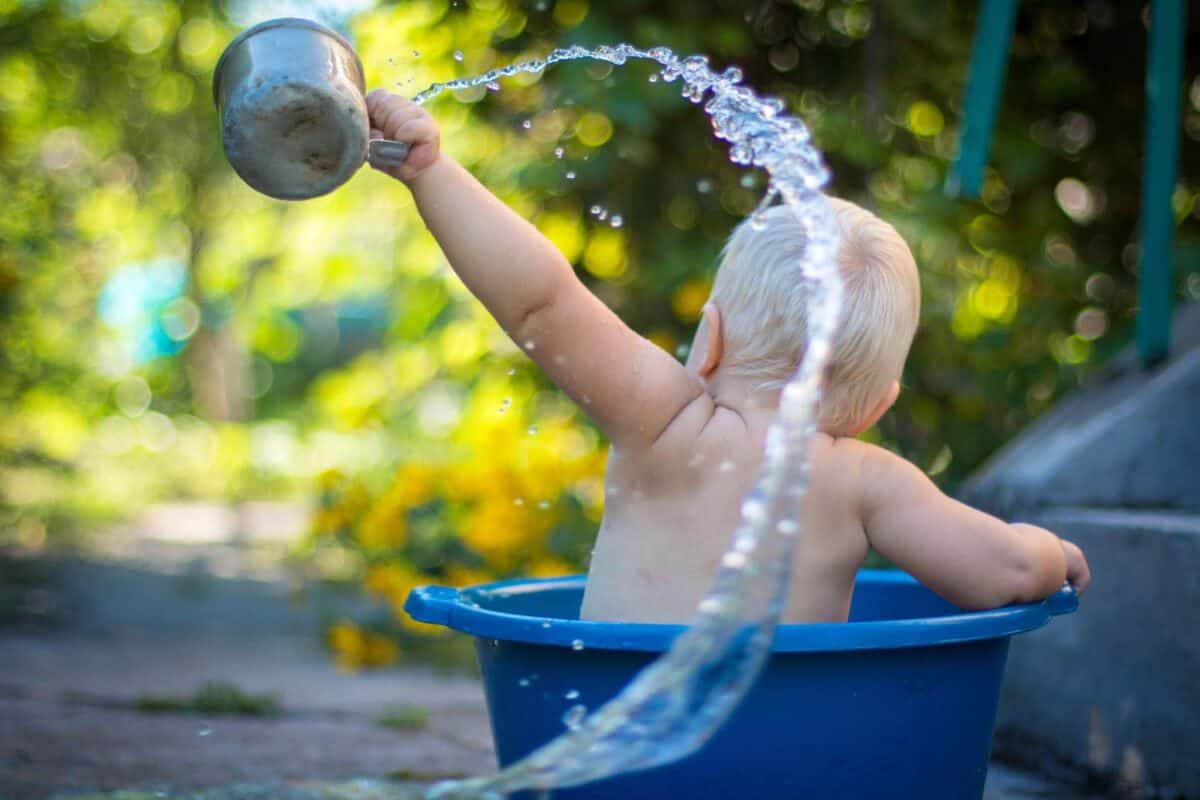 What is a 1 year old baby food menu?
The sample menu below is based on the FAO/WHO/UNU Energy Requirements for an average 12-month-old who weighs 25.4 lbs (11.5 kg).
This meal plan was developed by Dora Babic-Cikos, Phd, our resident nutritionist.
If your baby is bigger or smaller than this that is ok. Every baby is different and this is just an average.
This is not a personalized plan, so please bear this disclaimer in mind.
By 12 months, you may have already chosen to remove breastmilk and/or formula from your child's diet and you may have started to wean from the bottle.
For this reason, the sample menu includes alternatives to replace breastmilk/formula.
These are based on approximate energy needs at this age, but if your child needs less or wants more food/breastmilk/formula throughout the day, allow them to guide you.
The amounts per meal can also be split into multiple meals.
Because of physical differences, growth spurts, or teething, your child may need/want more or less food than what's proposed. This is completely normal as every child is unique.
The idea is to offer the proposed average amount of food needed and to go from there.
If however, you need or want personalized advice or have any concerns related to eating, please speak to your pediatrician or a pediatric nutritionist.
---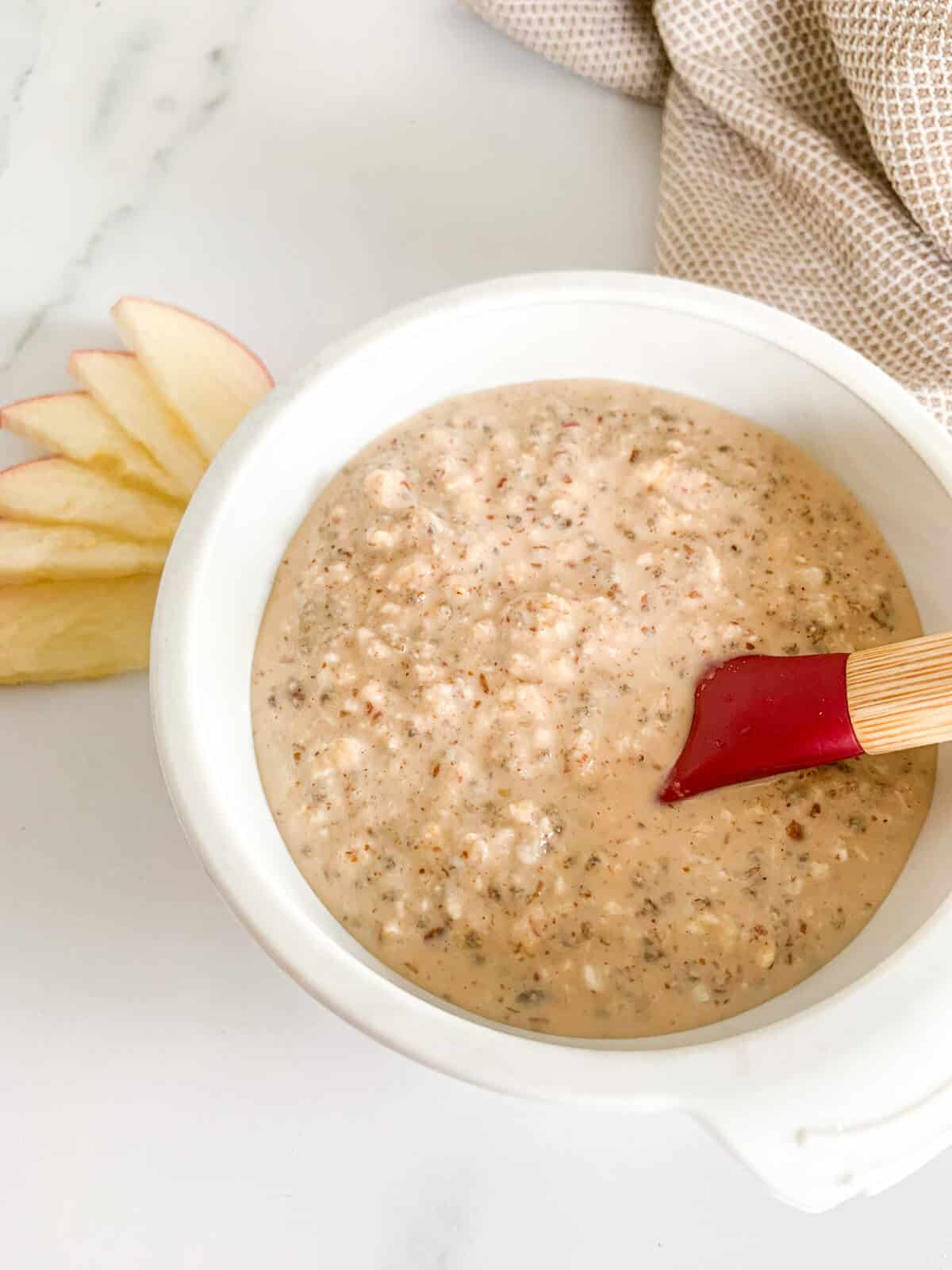 Meal Plan for 1 Year Old
Breakfast – Apple Cinnamon Overnight Oats (click here for recipe)
4 tbsp rolled oats
1 tsp chia seeds
1 tsp flaxseed
1 apple medium-sized
1 cup whole milk
½ tsp cinnamon
Lunch – Salmon Cheese Pasta
1.8 oz salmon
½ cup whole wheat pasta
1 medium cucumber
2 tablespoons grated goat cheese
Snack
Dinner – Potato Carrot Lamb (click here for recipe)
1.8 oz lamb, lean meat, without skin and bone
1 medium-sized potato
1 medium-sized carrot
⅛ medium-sized onion
2 teaspoons olive oil
Before bedtime
Feeding tips
offer foods one by one to control for allergies
offer finger food or bite sized pieces with child appropriate cutlery
offer small servings of food so child does not get overwhelmed
always be present when baby is eating
avoid salt and sugar
have a great bib to minimize cleaning
teach them to drink little sips from an open cup from the beginning
notice when baby is full because they will start turning their head away, clamp lips, throw food on the floor, spit food out, push food away
start teaching them simple baby sign language (teaching the signs for "eat", "water" and "milk" can be helpful to allow your baby to tell you when they are hungry)
Recipes and Meal ideas
Below you will find a range of breakfast, lunch, dinner and snack ideas for your one year old baby.
Breakfast ideas for 1 year old
1 year old lunch ideas and dinner ideas (and for parents)
Snacks recipes for one year old baby
More 9-12 month old baby recipes
See more 9-12 month old recipes