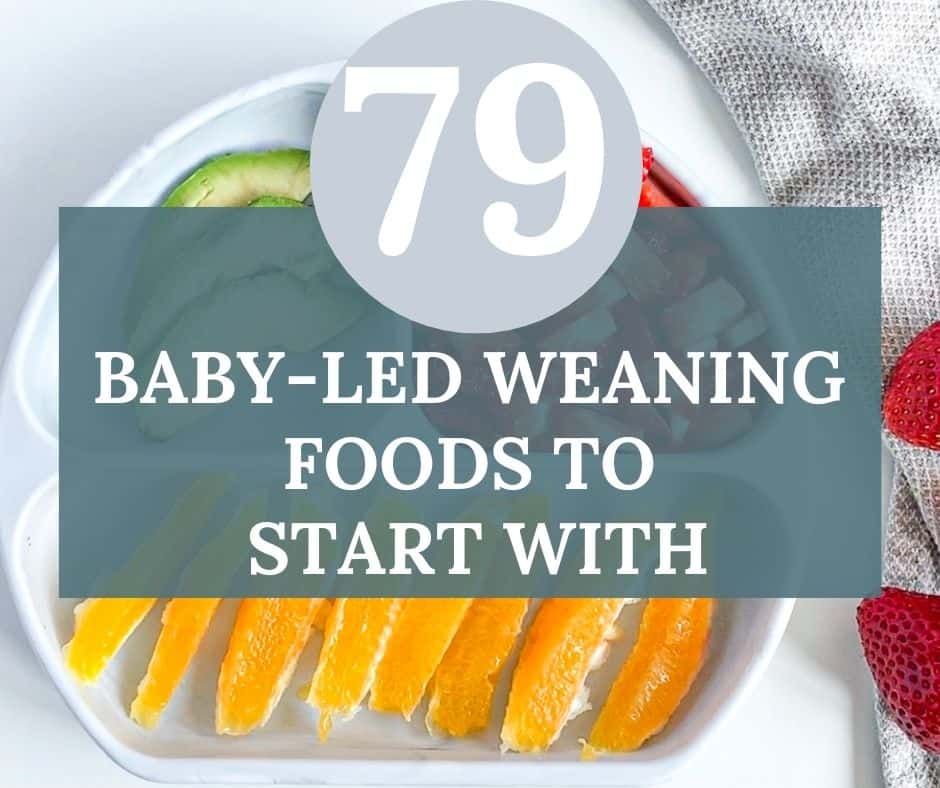 Starting solids can be overwhelming.
We know.
We have been there.
And if you've chosen the baby-led weaning approach, you also might be going out of your way thinking about what to serve as the first baby-led weaning foods.
This guide with around 60 foods and 19 recipes can be your one and only go-to when choosing what, when, and how to serve your baby their first BLW foods.
Jump to:
Baby-Led Weaning Foods
Baby-Led Weaning (BLW) is a method of introducing solids that puts your child in control of how they eat as well as how much they eat.
It allows your child to completely follow their own instincts and skips out any need for purees or mashed food.
So naturally, baby-led weaning foods are a bit different than puree foods. If you are interested in starting solids with purees please read our Starting Solids Part I Guide here.
When serving BLW foods, you need to make sure that your baby can easily grab it and eventually chew it off and swallow.
This means that the baby led weaning starter foods need to be prepared, cut and served in a way that prevents choking.
So this ultimate guide of 79 different ideas on how to choose, prepare, and serve baby-led weaning foods is your ideal one to get you started.
When Can You Start Baby-led Weaning?
The recommended age to start baby-led weaning is the same as any other way of introducing solids – around 6-months-old, or once you see that your child is ready to start solids (see part 1 of this guide for signs of readiness). This guide also includes information on how to safely prepare baby-led weaning foods.
In order to start any weaning process, you should get a high chair, a baby-led weaning bib, and a cup.
Baby-Led Weaning Starter Foods?
So let's start with our list of the ultimate baby-led weaning starter foods. Just to make it easier to follow, print-out, and stick on your fridge, I've divided them into food groups. Fruit, veggies, milk and dairy products, grains, and protein.
Fruit
Apple
Apricot
Avocado
Banana
Blueberries
Cantaloupe
Grapes
Kiwi
Mango
Oranges
Papaya
Peach
Pear
Pineapple
Plum
Raspberries
Strawberries
Watermelon
Vegetables
Asparagus
Beets
Broccoli
Butternut squash
Cauliflower
Carrots
Cherry tomatoes
Corn
Cucumber
Eggplant
Green beans
Parsnip
Potato
Pumpkin
Sweet potato
Zucchini
Milk And Dairy Products
Medium-hard cheese
Mozarella
Shredded cheese
Sliced cheese
Grated Cheese
Grains
Muffins
Pancakes
Pasta
Sheet pan pancakes (recipe here)
Toast
Waffles
Protein
Beans
Beef
Chicken
Edamame
Ground meat
Hard-boiled eggs
Lamb
Lentils
Nut butters (smoothly spread)
Salmon
Scrambled eggs
Shredded meat
Tofu
Turkey
White fish
Baby-Led Weaning Recipes
Apart from the list of the perfect baby-led weaning foods to start with, I've also made a list of my top 19 baby-led weaning recipes that are simple, quick, and easy to make alongside being nutritious and healthy.
Baby-led Weaning Breakfasts
Baby-led Weaning Snacks
Baby-led Weaning Lunches
Baby-Led Weaning Dinners
This is for children above the age of 8 months, if you feel that they are ready for smaller chunks of food.
Final Word On BLW
If you've chosen baby-led weaning for your baby, I hope that this list can give you the starter push that you need to gain the confidence to feed your baby healthy, nutritious food appropriate for their age. We'd love to hear any new baby-led weaning recipes you've come up with so leave a comment below.
More Posts On Baby Led Weaning